El Manchester United toma Oxígeno en la Premier League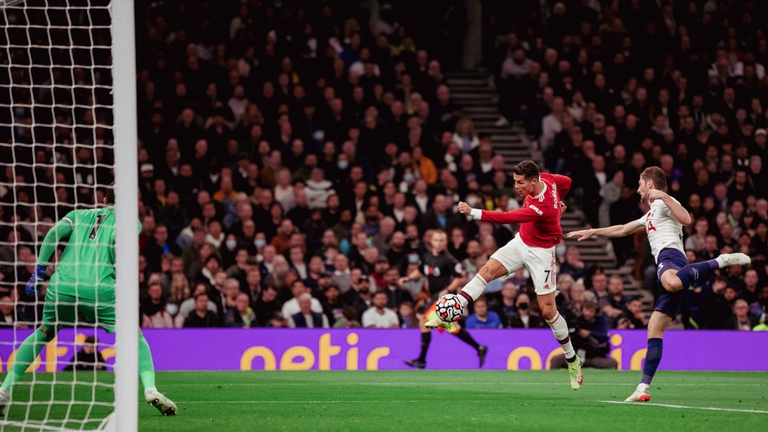 Español
Este fin de semana tuvimos fútbol de muy buen nivel y partidos bastante interesantes, pero un encuentro que llamó mucho la atención fue el del Tottenham contra el Manchester United, el cojunto de Londres no la pasa nada bien en la presente temporada, y el United venía de una dolorosa y escandalosa goleada frente al Liverpool, dos equipos bastante tocados que buscaban reivindicarse con la senda del triunfo, que les ayudara a recuperar la confianza y retomar el perfil ganador.
Una dura visita que el United con su pilar fundamental (Cristiano Ronaldo) en cancha, buscarían asaltar Londres y llevarse tres puntos valiosos en sus aspiraciones por ganar la Premier League un título que no levantan desde la temporada 2012-13, hace ya 8 años.
English
This weekend we had a very good level of soccer and very interesting matches, but one match that attracted a lot of attention was that of Tottenham vs. Manchester United, the London team is not doing well this season, and United was coming from a painful and scandalous defeat against Liverpool, two teams that were quite affected and were looking for a victory that would help them to recover their confidence and regain their winning profile.
A tough visit that United, with their main pillar (Cristiano Ronaldo) on the pitch, would seek to storm London and take three valuable points in their aspirations to win the Premier League, a title they have not won since the 2012-13 season, 8 years ago.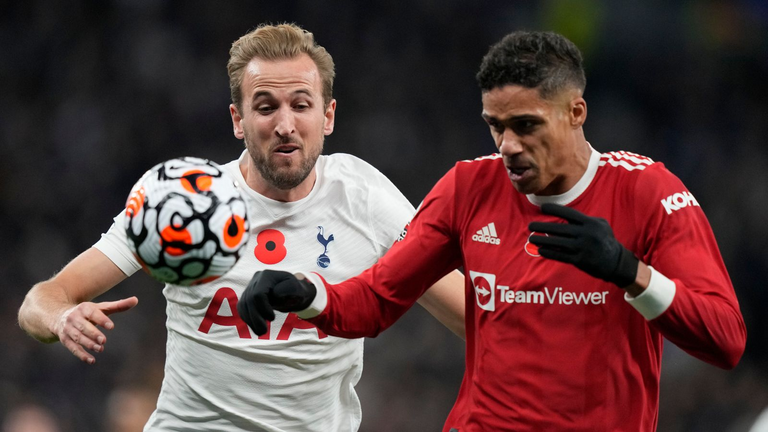 Ambos equipos salieron al terreno de juego con una actitud bastante ofensiva, Solskjaer alineó con una 3-5-2 poniendo a Wan-Bissaka y a Shaw a correr por las bandas, cumpliendo el rol de mediocampistas y laterales, cambiando constantemente a una 5-3-2 cuando les tocaba defender y a una 3-5-2 en ataque, una formación que personalmente me agrada bastante, pero con el único detalle en que estos estilo "carrileros" agotan rápidamente su estado físico, pues es difícil subir y bajar durante 90 minutos y más frente a un club de tanto ímpetu como el Tottenham.
Nuno por su parte alineó con una 4-2-3-1, buscando dominar en mitad de cancha y aprovechar los espacios por las bandas de la mano de Son Heung-Min y Lucas Moura, en punta estaría el de siempre y su gladiador indiscutible Harry Kane. Ambos técnicos alinearon como se debía, pero las genialidades terminarían dándole el triunfo al United en un partido limitado a espacios reducidos y juego de precisión.
Solskjaer lined up with a 3-5-2 formation with Wan-Bissaka and Shaw running down the flanks, playing the role of midfielders and wingers, constantly changing to a 5-3-2 when it was their turn to defend and a 3-5-2 in attack, a formation that I personally like quite a lot, but with the only detail in that these "wingers" style quickly exhaust their physical condition, as it is difficult to go up and down for 90 minutes and even more so against a club with as much momentum as Tottenham.
Nuno, for his part, lined up with a 4-2-3-1 formation, looking to dominate in midfield and take advantage of the spaces on the flanks with Son Heung-Min and Lucas Moura, and up front would be the usual player and his undisputed gladiator Harry Kane. Both coaches lined up as they should, but the geniuses would end up giving the victory to United in a match limited to tight spaces and precision play.
---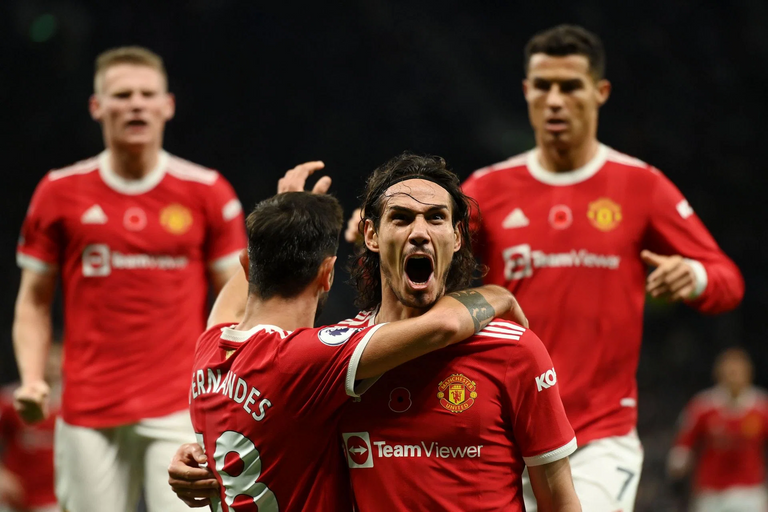 La presión en mitad de campo impuesta por el United sirvió para ensanchar la distancia en el marcador, un pase en un control errado terminaba en una contra fulminante en la que se combinaban Bruno, Ronaldo y Cavani, siendo este último el encargado de facturar con una definición de mucha clase ante Hugo Lloris.
Bruno Fernandes es sinónimo de visión de juego, su increíble forma de leer cada jugada le permite generar espacios en donde no los hay, en el primer gol del United lo demostraba, generando un pase milimétrico bombeado que llegaba a los pies de Ronaldo y este la mandaba a guardar desde una posición de poco ángulo en la que hacía resaltar su calidad, Bruno era parte de la construcción de dos de los tres goles conseguidos por el Manchester, un jugador que se convierte en una pieza más que importante para este equipo plagado de estrellas y con funcionamiento ciertamente irregular en todas las competiciones.
The pressure in midfield imposed by United served to widen the gap on the scoreboard, a pass in an erroneous control ended up in a brilliant counter in which Bruno, Ronaldo and Cavani combined, the latter being in charge of scoring with a very classy definition in front of Hugo Lloris.
Bruno Fernandes is synonymous with vision, his incredible way of reading each play allows him to generate spaces where there are none, in United's first goal he demonstrated it, generating a millimetric pass that reached Ronaldo's feet and he sent it to save from a position of little angle in which he highlighted his quality, Bruno was part of the construction of two of the three goals scored by Manchester, a player who becomes a more than important piece for this team full of stars and with a certainly irregular performance in all competitions.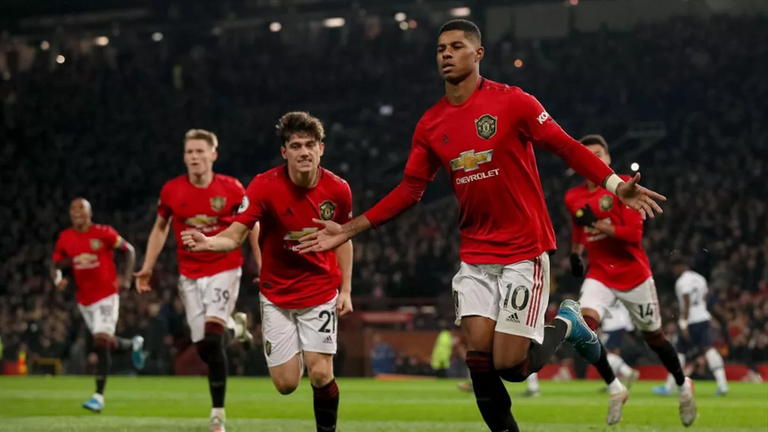 A veces resulta inexplicable ver como un equipo plagado de tantas estrellas un día puede caer aplastado por un rival directo y unos días después destruir el fútbol de un rival de igual jerarquía, esto es el fútbol y esto es la Premier.
Al United no le falta mucho para encontrar ese juego ideal que por nombres ya tiene, pero que por fútbol aún carece, un club que se da el lujo de tener en banca a titanes como Greenwood, Sancho y Rashford, con profundidad de plantilla más que notable, con un presente económico envidiable al que solo le faltan sumar títulos en esta temporada, todo para hacer valer el esfuerzo de conseguir reunir tantas estrellas en su solo plantel.
Estos tres puntos le han valido al United para sumar 17 puntos, aunque aún se encuentran bastante lejos de la cima, una posición que ocupa el conjunto del Chelsea, actual campeón de la Champions con 25 unidades. El Tottenham vive un presente incluso bastante similar al del FC Barcelona, con un fútbol que no termina de funcionar, con buenos nombres en su plantilla pero con la falta de magia y eficacia, aunque el conjunto de Londres a este presente le debe sumar el hecho de no tener espacio en ninguno de los 2 torneos importantes de Europa, pues este año se están teniendo que conformar con la Conference League, torneo en el que marchan terceros en su grupo y en donde no demuestran un rostro diferente al ya conocido en la Premier, una situación bastante difícil para un club que suele dar pelea en la élite del fútbol mundial.
Sometimes it is inexplicable to see how a team full of so many stars can be crushed one day by a direct rival and a few days later destroy the soccer of a rival of equal hierarchy, this is soccer and this is the Premier League.
United does not lack much to find that ideal game that it already has in terms of names, but still lacks in terms of soccer, a club that has the luxury of having titans like Greenwood, Sancho and Rashford on the bench, with more than remarkable squad depth, with an enviable economic present that only needs to add titles this season, all to make worth the effort to gather so many stars in its single squad.
These three points have been enough for United to reach 17 points, although they are still far from the top, a position occupied by Chelsea, current Champions League champions with 25 points. Tottenham lives a present even quite similar to that of FC Barcelona, with a soccer that does not quite work, with good names in their squad but with a lack of magic and efficiency, although the London team must add to this present the fact of not having space in any of the 2 important tournaments in Europe, because this year they are having to settle for the Conference League, a tournament in which they are third in their group and where they do not show a different face to the one already known in the Premier, a quite difficult situation for a club that usually fights in the elite of world soccer.

Fuente de imágenes || Source of images
---
1 - 2 - 3 - 4 - 5

---

---
---