Hoy juega el Barça, hoy tenemos más Champions League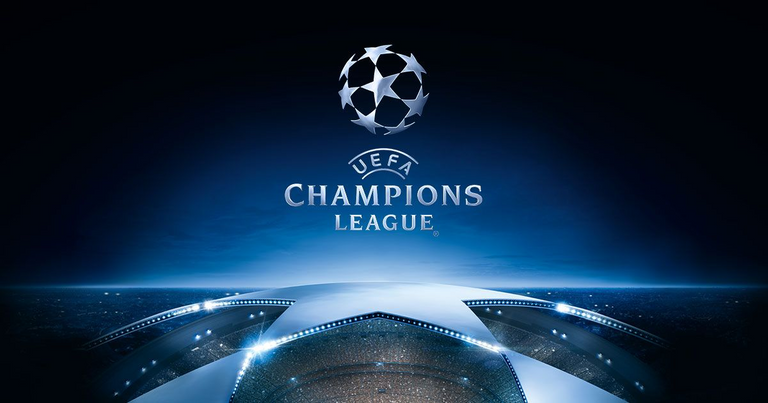 Español
El día de ayer la UEFA Champions League nos regaló unos increíbles partidos, tuvimos a un PSG que sufrió para ganar su encuentro ante el Leipzig, Messi marcó doblete y Mbappe registró un gol y una asistencia para guardarse los tres puntos y trepar a la cima de su grupo, por su parte el Manchester City de Pep Guardiola destrozaba al Brujas en su visita a Bélgica, el sorprendente Ajax vapuleó 4x0 al Dortmund que poco pudo hacer ante la furia de Amsterdam, el Madrid hizo lo propio ante el Shakhtar llevandose los tres puntos de tierras ucranianas con un gran partido de Vinícius, el Inter hizo volver a la realidad al Sheriff y lo derrotó por 3 a 1, y en otro de los partidos destacados y siendo el encuentro estelar del día, el Liverpool se llevó el triunfo ante el Atlético en un partido que arrancaron bastante dormidos los españoles y en el que tan solo en 13 minutos ya perdían por diferencia de dos goles, terminando con un marcador de 2x3 a favor de los ingleses.
La Champions continúa hoy miércoles y se vienen más partidos interesantes de los que les estaré hablando a continuación.
English
Yesterday the UEFA Champions League gave us some incredible matches, we had a PSG that suffered to win their match against Leipzig, Messi scored a brace and Mbappe registered a goal and an assist to keep the three points and climb to the top of their group, while Pep Guardiola's Manchester City destroyed Brugge in their visit to Belgium, the surprising Ajax smashed Dortmund 4x0 who could do little against the fury of Amsterdam, Madrid did the same against Shakhtar taking the three points from Ukrainian lands with a great match of Vinícius, Inter made Sheriff come back to reality and defeated them 3-1, and in another of the outstanding matches and being the stellar match of the day, Liverpool won against Atlético in a match that started quite sleepy and in which only in 13 minutes they were already losing by a difference of two goals, ending with a score of 2x3 in favor of the English.
The Champions League continues today, Wednesday, and there are more interesting matches coming up, which I will be talking about next.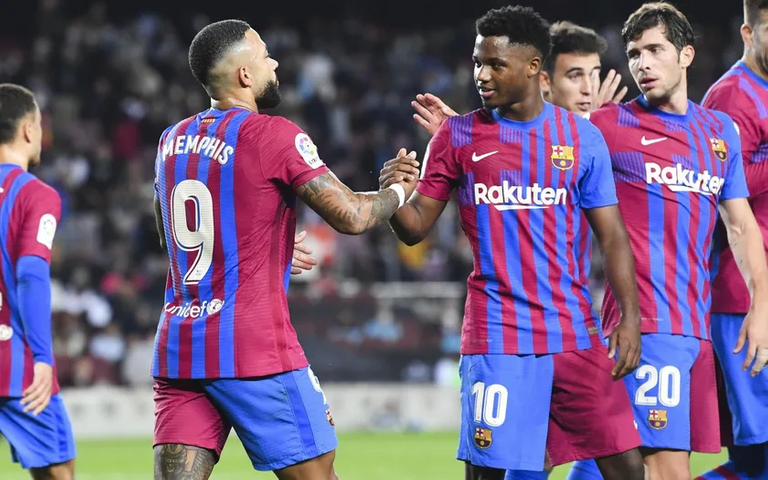 Luego de la gran victoria por liga el fin de semana, el FC Barcelona centra por completo su atención en la Champions, torneo en el que no la está pasando nada bien y en el que está prácticamente obligado al triunfo. Recibirán en el Camp Nou al Dynamo Kiev con la idea de acortar distancias con el Bayern y el Benfica, equipos que también se verán las caras en esta jornada. El Barcelona ha estado recuperando de a poco sus piezas, el Kun Agüero se sumó a la disposición técnica de Koeman, y estará posiblemente en el banquillo esperando indicaciones, el equipo se ve bastante compacto, mucho más fuerte y transmite sensaciones de triunfo y reivindicación, el técnico neerlandés probablemente repita la formación 4-3-3 del fin de semana pero con algunas variantes, en la portería estará Ter Stegen, un fijo en su posición, en el centro de la saga podría entrar Lenglet acompañando a Piqué en una dupla de mucha seguridad, mientras que por las bandas estarían acompañando Alba y Sergi Roberto.
El medio del campo parece que será una zona que podrá controlar el Barcelona, Busquets espera mantener el orden del equipo como único volante 5, y por delante de el estarán Coutinho y el habitual De Jong, esto brindaría aporte tanto en ataque como en defensa, dos jugadores con perfil variado que contribuiría en un juego de toque y de creación de espacios. La delantera repetiría Depay estaría como punta y estaría acompañado de Ansu Fati y del ahora extremo derecho Sergiño Dest, un jugador que cumplió muy bien en esta posición no tan habitual para el, algo que recuerda lo sucedido con Gareth Bale en el Tottenham.
After the great league victory at the weekend, FC Barcelona is fully focused on the Champions League, a tournament in which they are not having a good time and in which they are practically obliged to win. They will welcome Dynamo Kiev to the Camp Nou with the idea of closing the gap on Bayern and Benfica, teams that will also meet this matchday. Barcelona has been recovering its pieces little by little, Kun Agüero joined Koeman's technical disposition, and will probably be on the bench waiting for indications, the team looks quite compact, much stronger and transmits sensations of triumph and vindication, The Dutch coach will probably repeat the 4-3-3 formation of the weekend but with some variations, in goal will be Ter Stegen, a fixed in his position, in the center of the saga could enter Lenglet accompanying Piqué in a duo of great security, while on the wings would be accompanied by Alba and Sergi Roberto.
The midfield seems to be an area that Barcelona will be able to control, Busquets hopes to maintain the order of the team as the only midfielder 5, and ahead of him will be Coutinho and the usual De Jong, this would provide input both in attack and defense, two players with varied profile that would contribute in a game of touch and space creation. The forward line would repeat Depay would be as a forward and would be accompanied by Ansu Fati and the now right winger Sergiño Dest, a player who performed very well in this position not so usual for him, something that reminds us of what happened with Gareth Bale at Tottenham.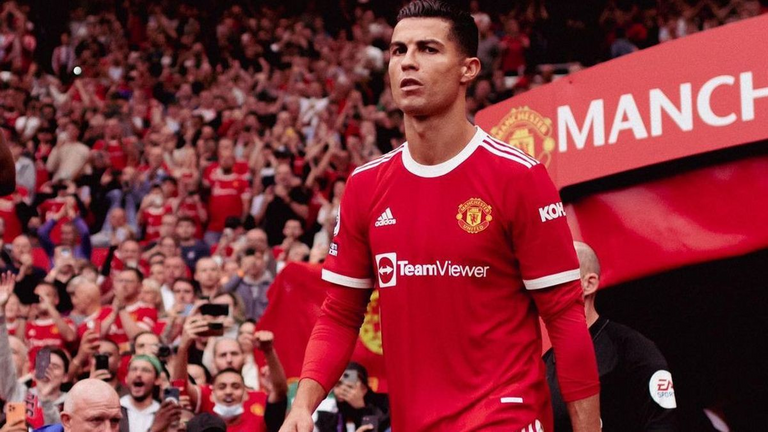 El Manchester United no quiere más problemas, luego de la dolorosa derrota el pasado fin de semana ante el Leicester que los envió al sexto lugar de la tabla, el United de Solskjaer solo piensa en el triunfo, luego de su última victoria por el campeonato ante el Villareal, el equipos de los reds piensa en grande y aspira no tener problemas para vencer al peligroso Atalanta de Duván Zapata y compañía, de los ingleses se presumen que saldrán a la cancha con una 4-2-3-1, como punta tendrán al gran Cristiano ronaldo, y oxigenando su juego estarán Raashford, Greendwood y Bruno Fernández, más atrás Pongba y Mctominay/Matic serán los encargados de regular las amenazas en ataque del conjunto italiano, posicionados como bombona de oxigeno para la defensa de los reds, por su parte, el eje de centrales estaría conformado por el recuperado Maguire y lindelof, quien estaría en la titular en virtud de la lesión que sufrió Varane con su selección, lo laterales estarían cubiertos por Bissaka y Shaw, mientras que en portería estará la garantía del español De Gea.
El club inglés no puede darse ni el lujo de un empate, pues esto podría en riesgo sus aspiraciones para quedar primeros de grupo, se espera que el United funcione correctamente en todas sus lineas y los jugadores puedan aportar un muy buen espectáculo a la siempre majestuosa UEFA Champions League.
Manchester United does not want more problems, after the painful defeat last weekend against Leicester that sent them to sixth place in the table, Solskjaer's United only thinks about the triumph, after their last championship victory against Villareal, the Reds team thinks big and hopes to have no problems to beat the dangerous Atalanta of Duván Zapata and company, the English are expected to take the field with a 4-2-3-1, the great Cristiano Ronaldo will be at the forefront, and oxygenating their game will be Raashford, Greendwood and Bruno Fernandez, further back Pongba and Mctominay/Matic will be in charge of regulating the Italian team's attacking threats, positioned as a gas cylinder for the Reds' defense, The central axis would be formed by the recovered Maguire and Lindelof, who would be in the starting line-up due to the injury suffered by Varane with his national team, the fullbacks would be covered by Bissaka and Shaw, while in goal there will be the guarantee of the Spanish De Gea.
The English club can not afford even a draw, as this could jeopardize their aspirations to finish first in the group, it is expected that United works properly in all its lines and the players can bring a very good show to the always majestic UEFA Champions League.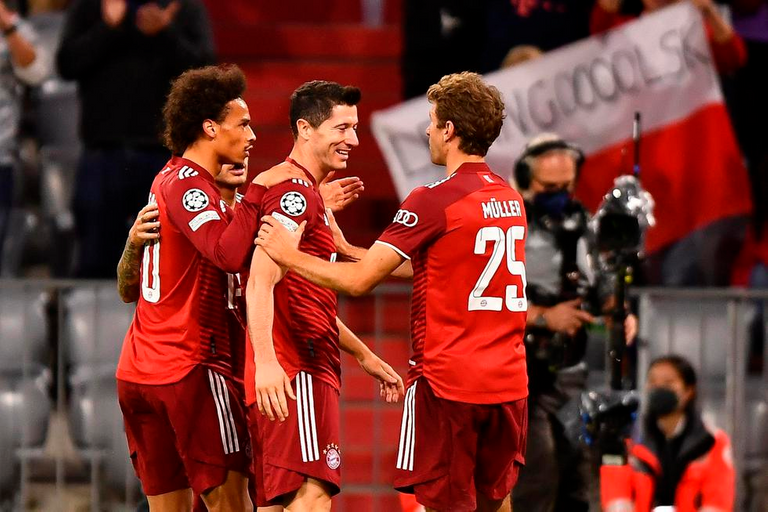 En el resto de los partidos interesantes del día de hoy, el Bayern espera hacer lo propio en su visita a la casa del Benfica, el equipo portugués buscará ver de que está hecho realmente midiendo fuerzas ante un grande de Europa, el Lille recibirá en Francia al Sevilla en un choque de dos equipos con muy buen trato de balón, el Chelsea recibirá en Inglaterra al modesto Malmo y finalmente la Juventus tendrá una dura visita ante el Zenit en tierras rusas, todos esperamos que se repita la misma formula de del día de ayer, y la Champions nos regale un día mágico plagado de goles.
In the rest of today's interesting matches, Bayern hopes to do the same in its visit to Benfica, the Portuguese team will try to see what it is really made of by measuring its strength against a big European team, Lille will host Sevilla in France in a clash of two teams with very good ball handling, Chelsea will host modest Malmo in England and finally Juventus will have a tough visit to Zenit in Russia, we all hope that the same formula of yesterday will be repeated, and the Champions League will give us a magical day full of goals.

Fuente de imágenes || Source of images
---
1 - 2 - 3 - 4 - 5

---

---
---