La Xavineta en un partido de vital importancia por Liga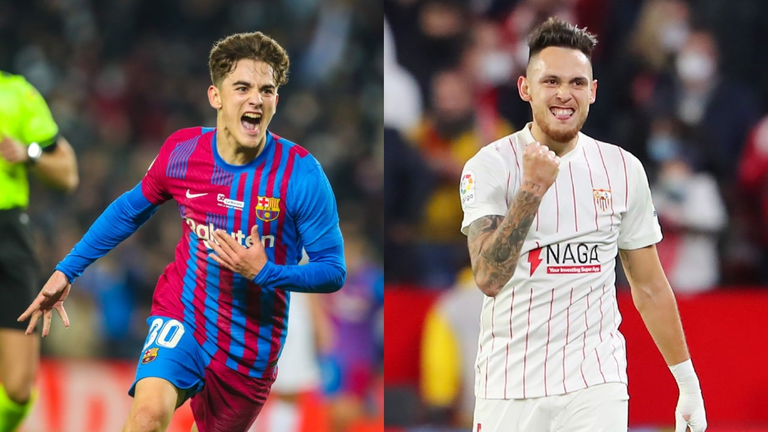 Luego de un parón por fechas eliminatorias, los clubes del mundo retoman deberes en sus respectivas ligas, en España, El Barcelona tendrá un partido clave, que de ganarlo, los llevaría a la segunda plaza de la liga, un puesto impensado a inicios de temporada y del que solo están a 90 minutos de conseguir, su rival, el Sevilla, un club de jerarquía que quiere evitar ser desplazado por los azulgranas, el segundo, contra el tercero de la liga, una dura y férrea batalla que podremos disfrutar este día domingo, el escenario será el imponente Camp Nou, toda la previa a continuación.
After a break for elimination dates, the clubs of the world resume their duties in their respective leagues, in Spain, Barcelona will have a key match, which if won, would take them to the second place in the league, a position unthinkable at the beginning of the season and which they are only 90 minutes away from achieving, Their rival, Sevilla, a club of hierarchy that wants to avoid being displaced by the azulgranas, the second, against the third of the league, a hard and fierce battle that we can enjoy this Sunday, the scenario will be the imposing Camp Nou, all the previous below.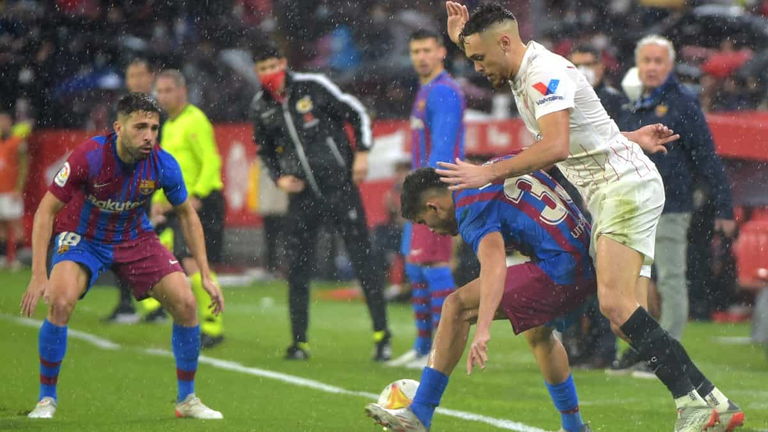 Una extensa temporada a la que solo le restan 9 jornadas, ambos equipos han dejado el alma en los diferentes partidos cada fin de semana, el desgaste ha sido enorme, pero el crecimiento aún mayor, Xavi ha sabido hacer resurgir a un club que se encontraba en un profundo poso de dudas, mientras que Lopetegui le ha dado al Sevilla mucha calidad y regularidad a pesar de algunos tropiezos, un punto de la temporada en el que cada error cuenta y cualquier derrota podría tener consecuencias muy altas, ambos clubes lo saben y lo arriesgarán todo por la victoria.
An extensive season with only 9 games left, both teams have left their souls in the different matches every weekend, the wear has been enormous, but the growth has been even greater, Xavi has managed to revive a club that was in deep doubt, while Lopetegui has given Sevilla a lot of quality and consistency despite some setbacks, a point of the season in which every mistake counts and any defeat could have very high consequences, both clubs know it and will risk everything for the victory.
Al Sevilla solo le queda la liga, por lo que un buen cierre de temporada ocupando al menos la segunda plaza, sería un consuelo para el equipo y su afición, una temporada en la que aspiraban al menos un poco más por Europa League, pero que terminaron siendo eliminados por el grandiosos West Ham, mientras que el Barcelona sigue dando de qué hablar, y a pesar de que el torneo de Europa League sea de segundo nivel, podría ser un gran botín, y además una gran posibilidad para rivalizar contra el campeón de Champions, un nuevo título de Super Copa de Europa.
Sevilla only has the league left, so a good closing of the season occupying at least the second place, would be a consolation for the team and its fans, a season in which they aspired at least a little more for Europa League, but ended up being eliminated by the great West Ham, while Barcelona continues to give something to talk about, and although the Europa League tournament is second level, it could be a great booty, and also a great chance to rival against the Champions League champion, a new title of Super Cup of Europe.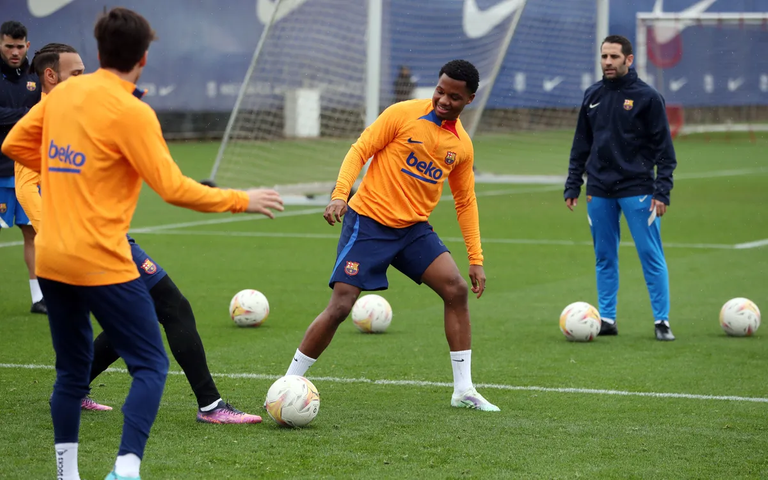 Ansu Fati se ha recuperado ⚽️ Ansu Fati has recovered
El joven jugador azulgrana y una de las fichas con mayor proyección de cara al futuro se ha recuperado y ha vuelto a los entrenamientos con el primer equipo, un jugador con mucho talento al que dos lesiones seguidas no le han permitido gozar de la dicha del fútbol, esta vez el área médica del club, ha procurado que el jugador se recupere al 100% y evitar cualquier nueva recaída, un jugador al que habrá que llevar con tranquilidad y al que se le irá dando minutos de forma progresiva para evitar cualquier sobrecarga.
The young azulgrana player and one of the most promising players for the future has recovered and has returned to training with the first team, a very talented player that two consecutive injuries have not allowed him to enjoy the joy of soccer, this time the medical area of the club, has ensured that the player recovers 100% and avoid any new relapse, a player who will have to take it easy and will be given minutes progressively to avoid any overload.
Ansu es fundamental para el club, su estilo, desborde, capacidad técnica, visión y excelente pegada, le permiten a Xavi tener una alternativa por los extremos, de falso 9 o incluso como centro delantero, un jugador que se adapta muy bien a todas las posiciones en ataque y que se transforma en un dolor de cabeza para cualquier defensa rival, sin duda un gran jugador que ha recuperado el equipo, aún no se sabe si tendrá minutos ante el Sevilla, pero probablemente sea así.
Ansu is essential for the club, his style, overflow, technical ability, vision and excellent punch, allow Xavi to have an alternative for the ends, false 9 or even as a center forward, a player who adapts very well to all positions in attack and becomes a headache for any opposing defense, certainly a great player who has recovered the team, it is not yet known if he will have minutes against Sevilla, but probably so.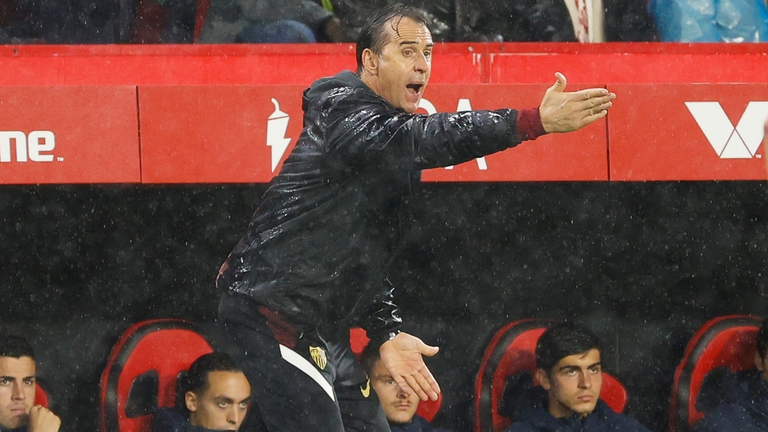 Lopetegui y su esquema ⚽️ Lopetegui and his scheme
Es difícil ante un club como el renovado Barcelona, generar un planteamiento táctico que les de una carta de garantía par aun buen resultado, ya se vio que la improvisación no es un buen plan, Ancelotti le demostró a los clubes del mundo, que un planteamiento mal gestionado, puede llevarlos a un desastre ante los azulgranas, por ello, Lopetegui deberá asumir un sistema táctico con mucha sabiduría.
It is difficult against a club like the renewed Barcelona, to generate a tactical approach that gives them a letter of guarantee for a good result, it was already seen that improvisation is not a good plan, Ancelotti showed the clubs of the world, that a poorly managed approach, can lead to a disaster against the azulgranas, therefore, Lopetegui must assume a tactical system with great wisdom.
Ambos clubes y ambos técnicos ya se enfrentaron por liga en el partido de ida, en aquel momento el entrenador del Sevilla formó con una arriesgada 4-3-3 al igual que el Barcelona, el partido terminó en paridad pero su club solo tuvo un disparo bajo los tres postes, aquel del gol, por lo que en este duelo, una formación calcada podría traer consecuencias, tomando en cuenta la calidad que ahora tienen los de Xavi en delantera.
Both clubs and both coaches already faced each other in the first leg of the league, at that time the Sevilla coach formed with a risky 4-3-3 like Barcelona, the match ended in parity but his club only had one shot under the three posts, that of the goal, so that in this duel, a similar formation could bring consequences, taking into account the quality that Xavi's team now has up front.
Lopetegui está muy acostumbrado a variar entre la 4-3-3 y la 4-2-3-1, por lo que probablemente se vea formar a su equipo con alguna de estas dos alineaciones, la primera formación mencionada le da mayor volumen ofensivo con pocas garantías en defensa tomando en cuenta el rival, mientras que la segunda formación mencionada podría ser la más idónea, ya que es mucho más compacta y podría con ella intentar disputar el esférico en el mediocampo, algo vital para hacerle frente a un club de tanta posesión de balón.
Lopetegui is very used to varying between 4-3-3 and 4-2-3-1, so it is likely to see his team form with one of these two lineups, the first mentioned formation gives greater offensive volume with few guarantees in defense taking into account the opponent, while the second mentioned formation could be the most suitable, as it is much more compact and could try to dispute the ball in midfield, something vital to face a club with so much ball possession.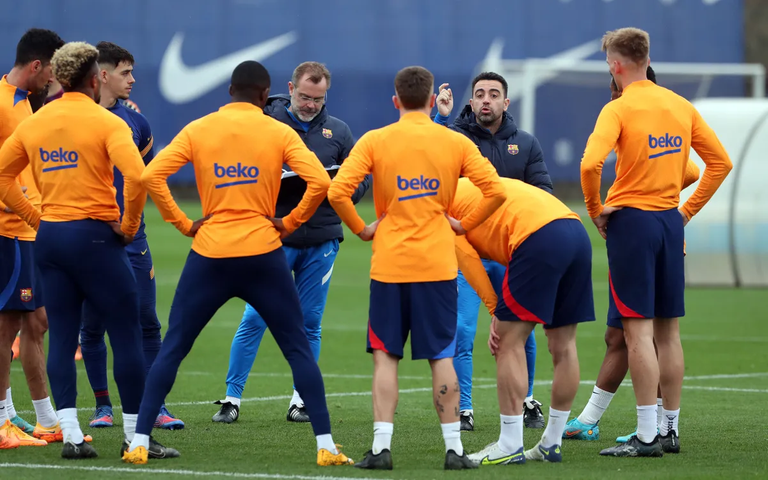 Xavi y su 4-3-3 ⚽️ Xavi and his 4-3-3
Es indiscutible que Xavi forme con otra alineación que no sea la 4-3-3, un entrenador al que le gusta en exceso jugar con extremos abiertos y generar mucho volumen ofensivo, acostumbrar a sus dirigidos a este esquema, les permite estar totalmente familiarizados con lo que se busca transmitir en el campo, jugadores que comprenden a la perfección cada uno de sus roles y que solo varían las formas de acceso a la defensa rival, y que hacen de la marca libre un completo campo variable en el que ajustan su estilo a las exigencias del partido, llevar las riendas es lo que más les gusta hacer al Barcelona, Aubameyang en punta, con Ferran y Dembélé por extremos quizás sea la carta de presentación de Xavi en ataque.
It is unquestionable that Xavi will form a lineup other than the 4-3-3, a coach who likes to play with open wingers and generate a lot of offensive volume, accustoming his players to this scheme, allows them to be fully familiar with what is sought to convey on the field, players who perfectly understand each of their roles and who only vary the ways of accessing the opposing defense, and who make the free mark a complete variable field in which they adjust their style to the demands of the match, taking the reins is what they most like to do at Barcelona, Aubameyang up front, with Ferran and Dembélé as wingers is perhaps Xavi's calling card in attack.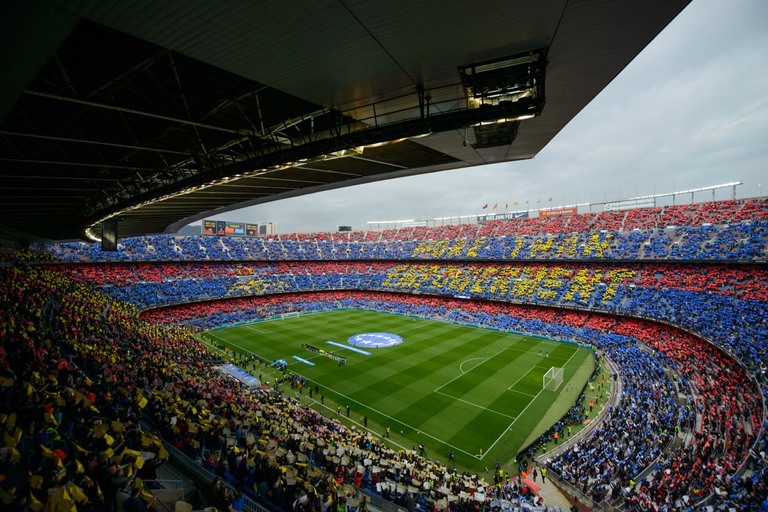 El Camp Nou se prepara a casa llena para recibir este partido de gran relevancia en la Liga Española, ganar el domingo es la máxima prioridad de ambos clubes, por lo que será un partido electrizante el que veremos en la casa azulgrana, Xavi contra Lopetegui ¿Cuál será el ganador del duelo?.
The Camp Nou is preparing a full house to receive this match of great importance in the Spanish League, winning on Sunday is the top priority for both clubs, so it will be an electrifying match that we will see at the home of Azulgrana, Xavi against Lopetegui Who will be the winner of the duel?

Fuente de imágenes || Source of images
---
1 - 2 - 3 - 4 - 5 - 6

---

---
---