Master 1000 Montecarlo [ESP] - Monte Carlo Master 1000 [ENG] 2022
Hola amigos de Full Deportes.

Ya empezó el Master 1000 de Montecarlo que es el tercer Master 1000 del año y el primero en tierra batida.
Muchos nombres de nuevos tenistas están en las llaves. Ya varios fueron eliminados porque hoy cuando escribo este post se está jugando la segunda ronda.
Hello friends of Full Deportes.

The Monte Carlo Master 1000 has already started, which is the third Master 1000 of the year and the first on clay.

Many names of new tennis players are in the keys. Several have already been eliminated because today when I write this post the second round is being played.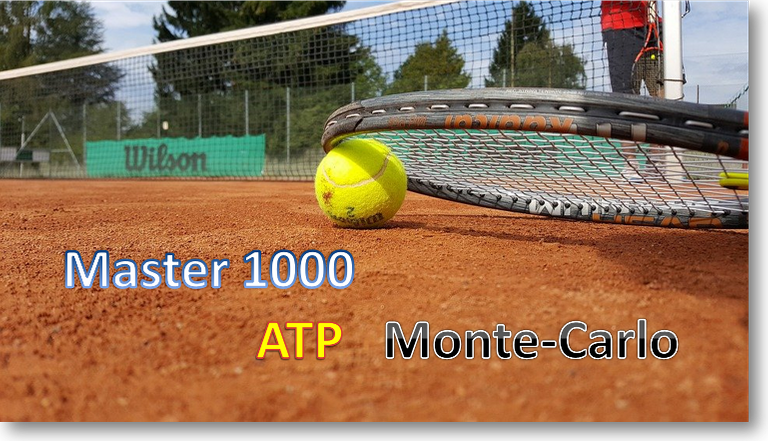 Fuente-Source: Pixabay BackGround

Escribir sobre el Master 1000 Montecarlo tiene un nombre obligatorio, es decir Rafael Nadal.
Writing about the Master 1000 Monte Carlo has an obligatory name, that is Rafael Nadal.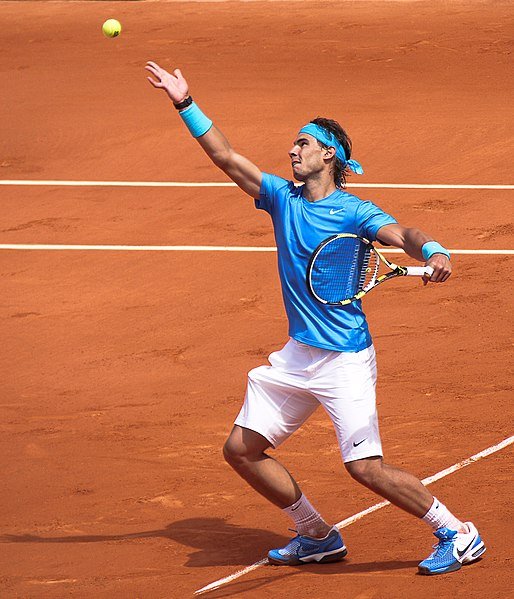 Fuente-Source: wikipedia
El tenista balear ha dominado a su antojo este Master 1000 con sido campeón 11 veces en este torneo. Su dominio en superficie de arcilla es absoluto y eso ha incluido este Master 1000.
No obstante, en este año Rafa Nadal no estará presente por lesión.
Igualmente, ocurre con Matteo Berretini, número 6 en el ranking de la ATP, quien tampoco estará presente.
The Balearic tennis player has dominated at will this Master 1000 and has been champion 11 times in this tournament. His dominance on clay surface is absolute and that has included this Master 1000.

However, this year Rafa Nadal will not be present due to injury.

Likewise, Matteo Berretini, number 6 in the ATP ranking, will not be present either.

La novedad en este Master 1000 es el regreso de Novak Djokovic, número 1 de la ATP, con apenas 10 puntos de diferencia con el Daniil Medvedev.
También, estará en Montecarlo el campeón en 2021, el griego Stefanos Tsitsipas y el finalista en ese certamen el ruso Andrey Rublev.
The novelty in this Master 1000 is the return of Novak Djokovic, number 1 in the ATP, with only 10 points difference with Daniil Medvedev.

Also, the champion in 2021, the Greek Stefanos Tsitsipas and the finalist in that event, the Russian Andrey Rublev, will be in Monte Carlo.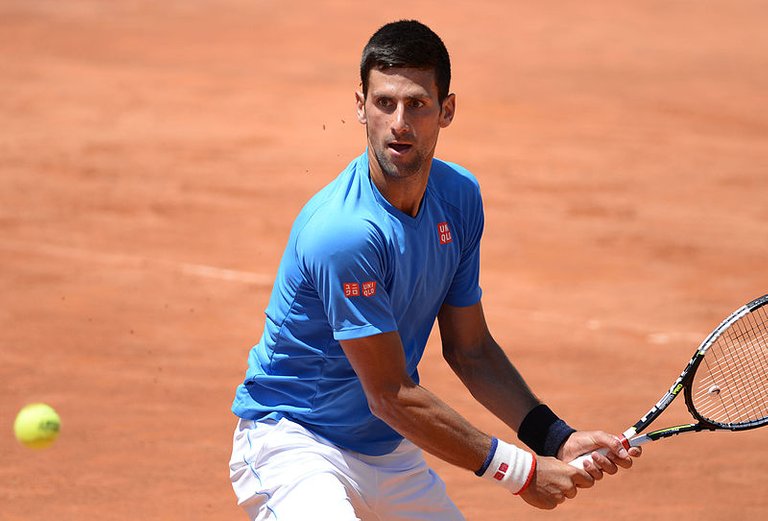 Fuente-Source: Commons Wikimedia

Hablemos acerca de las llaves y los posibles avances de los tenistas.
En la primera llave nos encontramos con Novak Djokovic quien hizo debut y despedida. Luego, la otra cabeza de serie es el español Carlos Alcaraz (8). Recordemos que Alcaraz viene de ganar su primer Master 1000 en Miami con un tenis que cada día mejora más.
En esa misma llave, los dos cabezas de serie son Casper Ruud (7) y Cameron Norrie (10). El tenista británico tiene en su haber un Master 1000 en Indian Wells en el año 2021, mientras que Casper Ruud solo ha podido alcanzar una final en este tipo de torneos, precisamente contra Alcaraz en Miami este año.
Let's talk about the keys and the possible advances of the tennis players.

In the first key we find Novak Djokovic who made his debut and farewell. Then, the other seed is the Spaniard Carlos Alcaraz (8). Let's remember that Alcaraz comes from winning his first Master 1000 in Miami with a tennis that is getting better every day.

In the same key, the two seeded players are Casper Ruud (7) and Cameron Norrie (10). The British tennis player has to his credit a Master 1000 in Indian Wells in 2021, while Casper Ruud has only been able to reach a final in this kind of tournaments, precisely against Alcaraz in Miami this year.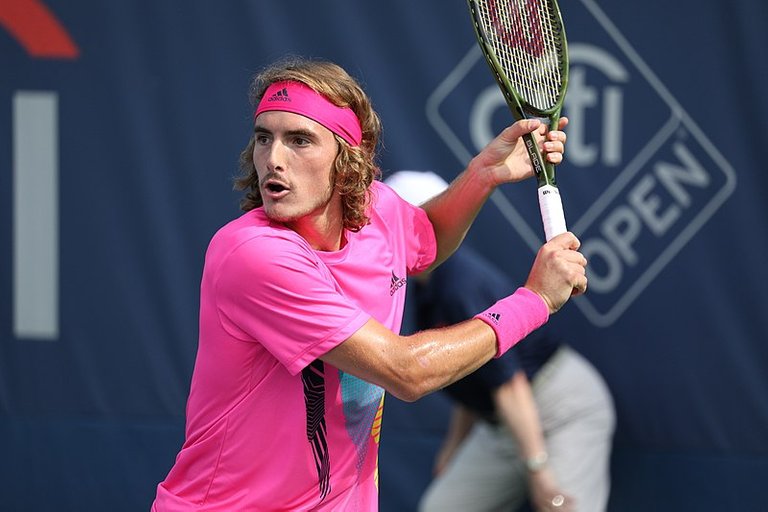 Fuente-Source: Commons Wikimedia
En la otra llave se encuentran como cabezas de serie Félix Auger-Aliassime (9) y Stefanos Tsitsipas (5). Como mencioné anteriormente el griego fue el campeón en el 2021 y en tierra batida también fue finalista en Madrid en el año 2019.
Por su parte el joven canadiense Auger-Aliassime aún no gana ningún Master 1000.
Para cerrar esta llave, Andrey Rublev (8), el finalista del año pasado que no ha ganado ningún Master 1000 en su carrera tenística puede encontrarse en cuartos contra Alexander Zverev (3).
In the other key are seeded Felix Auger-Aliassime (9) and Stefanos Tsitsipas (5). As I mentioned earlier the Greek was the champion in 2021 and on clay he was also a finalist in Madrid in 2019.

For his part the young Canadian Auger-Aliassime has yet to win a Master 1000.

To close this key, Andrey Rublev (8), last year's finalist who has not won any Master 1000 in his tennis career may find himself in the quarterfinals against Alexander Zverev (3).
El tenista alemán es el más ganador de la actual generación de revelo. Zverev ha ganado 5 títulos de Master 1000 que son los siguientes: Madrid (2018 y 2021), Roma (2017), Montreal (2017) y Cincinnati (2021). Zverev es también Oro o en Olímpico en Tokio 2021 y en el 2018 se alzó con el trofeo de ATP Finals.
The German tennis player is the most winningest of the current generation of revelo. Zverev has won 5 Master 1000 titles which are as follows: Madrid (2018 and 2021), Rome (2017), Montreal (2017) and Cincinnati (2021). Zverev is also Gold or in Olympic in Tokyo 2021 and in 2018 he won the ATP Finals trophy.

Análisis / Analysis
Sinceramente, los nuevos nombres en la ATP han traído nuevos aires al tenis. ¿Qué podemos esperar?
Djokovic perdió contra el español Davidovich. El serbio siempre estuvo por debajo y nunca encontró su time. Mientras que Davidovich avanzó en buena lid, ganado en tres sets pero pudo ser en dos sets.
En esa llave el camino más difícil lo tiene Alcaraz que tiene que vencer a Korda y probablemente a Taylor Fritz (el campeón de este año de Indian Wells). Para después encontrarse muy posiblemente con David Goffin.
Si Alcaraz logra superar a estos tenistas me gustaría que se encontrara en semis contra Casper Ruud que es un chico que viene ejecutando un tenis de buen nivel.
Con esto quiero decir que veo a Alcaraz en semifinales e incluso en la final.
Honestly, the new names in the ATP have brought new airs to tennis. What can we expect?

Djokovic lost to the Spaniard Davidovich. The Serb was always behind and never found his time. While Davidovich advanced in a good way, winning in three sets but it could have been in two sets.

In this key the most difficult path is for Alcaraz who has to beat Korda and probably Taylor Fritz (this year's champion of Indian Wells). After that, he will probably meet David Goffin.

If Alcaraz manages to overcome these players I would like him to meet in semis against Casper Ruud who is a guy who has been playing a good level of tennis.

With this I mean that I see Alcaraz in the semifinals and even in the final.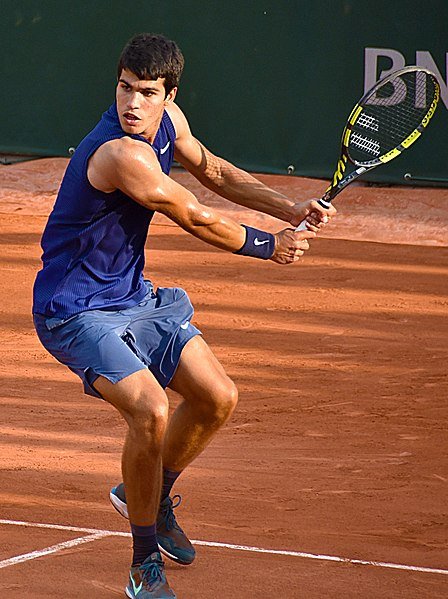 Fuente-Source: Commons Wikimedia

La otra llave es sumamente compleja. Tsitsipas sigue avanzando a paso de vencedores, y de seguir los partidos como hasta el día de hoy, lo más probable pueda haber una final adelantada entre Zverev y el griego, lo que va a ser un verdadero espectáculo.
Estos tenistas oyen muy bien a la pelota en el terreno de arcilla. Tanto Zverev como Tsitsipas ya han ganado en tierra batida y es una verdadera lástima que tengan que encontrarse en semifinales si avanzan como lo vienen haciendo.
Como me gusta escribir mi criterio por adelantado, pienso que Zverev y Alcaraz pueden estar en la final de este año en Montecarlo.
The other key is extremely complex. Tsitsipas continues to advance at a winning pace and if the matches continue as they are today, there will probably be an early final between Zverev and the Greek, which will be a real spectacle.

These tennis players hear the ball very well on clay. Both Zverev and Tsitsipas have already won on clay and it is a real shame that they will have to meet in the semifinals if they advance as they have been doing.

As I like to write my criteria in advance, I think Zverev and Alcaraz can be in this year's final in Monte Carlo.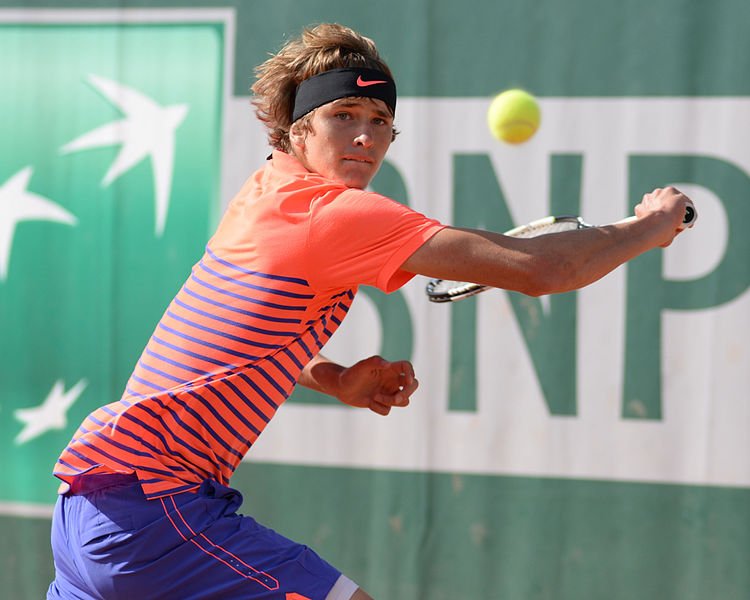 Fuente-Source: Commons Wikimedia
---
---
Fuentes Documentales-Documentary sources:
Wikimedia ATP Tour Master 1000
ESPN Ranking ATP
ATP Tour Monte Carlo - Score and Stats

Espero que les haya gustado este resumen de lo está ocurriendo en el tercer Master 1000 de año y que me digan a quién esperan ver en la final de Montecarlo.
I hope you liked this summary of what is happening in the third Master 1000 of the year, and that you tell me who you expect to see in the final of Monte Carlo.
Gracias por leerme. Bienvenidos los comentarios.
Thanks for reading me. Comments are welcome.
¡Saludos infinitos! / Infinite greetings!

Los separadores fueron diseñados por mí.
---
---