Wanderung an der Linachtalsperre / Hike at the Linachtalsperre (GER/ENG)

Wanderung an der Linachtalsperre / Hiking at the Linachtalsperre
Am vergangenen Samstag war ich wieder in der Natur unterwegs. Start- und Zielpunkt war die Linachtalsperre bei Vöhrenbach (Furtwangen) im Schwarzwald.
Last Saturday I was out in nature again. Start and finish point was the Linachtalsperre near Vöhrenbach (Furtwangen) in the Black Forest.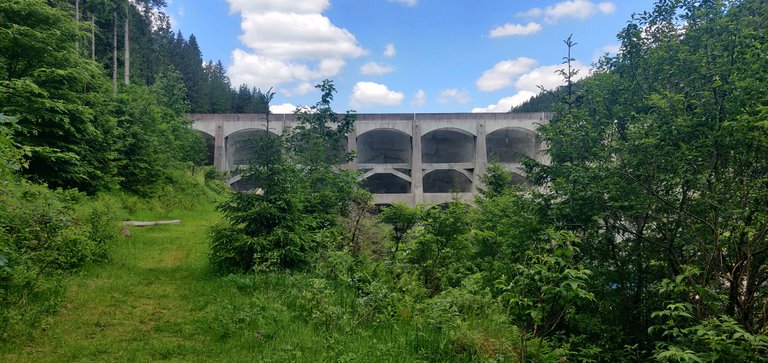 Erbaut wurde die Talsperre im Linachtal (Seitental der Breg) von 1922 bis 1925 zur Stromgewinnung mittels Wasserkraftwerk. 1969 wurde der Kraftwerksbetrieb eingestellt. Ausschlaggebend dafür war eine Zahlung des regionalen Energieversorger-Unternehmens. Da man die Abrisskosten scheute, blieb die Anlage erhalten. 1988 wurde aus Sicherheitsgründen das Wasser abgelassen. Seitdem diente das Tal vorwiegend als Naherholungsgebiet. Nach einer Sanierung wurde 2007 das Wasser wieder aufgestaut und seit 2008 ist das Kraftwerk wieder in Betrieb.
The dam in the Linachtal (side valley of the Breg) was built from 1922 to 1925 to generate electricity by means of a hydroelectric power plant. In 1969, power plant operation was discontinued. The decisive factor for this was a payment by the regional energy supplier company. Since the demolition costs were shied away from, the plant was preserved. In 1988, the water was drained for safety reasons. Since then, the valley has served mainly as a recreational area. After a renovation, the water was dammed up again in 2007 and since 2008 the power plant has been in operation again.

Quelle / Source: https://de.wikipedia.org/wiki/Linachtalsperre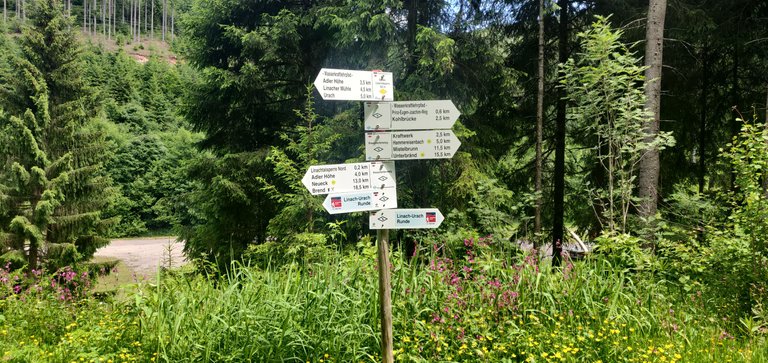 Ich startete meine kleine Runde vom Parkplatz aus und begab mich zuerst unterhalb der Sperre auf einen breiten unbefestigten Waldweg.
I started my small round from the parking lot and went first below the barrier on a wide unpaved forest path.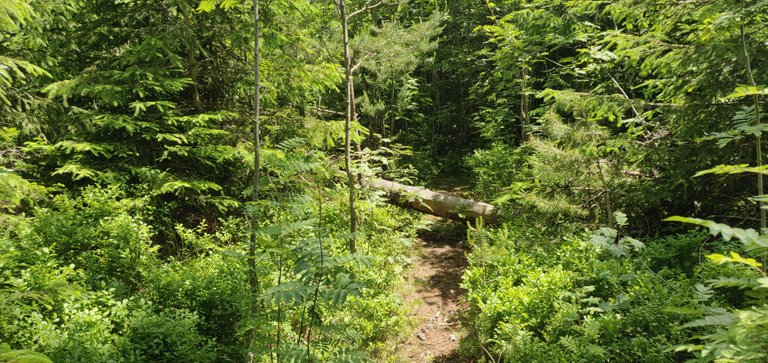 Im späteren Verlauf kam ich zu einigen kleinere Pfaden mit umgestürzten Bäumen.

Egal auf welchem Abschnitt dieser Tour, es war überall eine absolute Ruhe, wenn nicht die Vögel zwitscherten oder irgendwelche Insekten Laute von sich gaben, von Menschen (außer mir) keine Spur🙂.
In the later course I came to some smaller paths with fallen trees.

No matter on which section of this tour, it was everywhere an absolute silence, if not the birds chirping or any insects sounds from themselves gave, from people (except me) no trace🙂.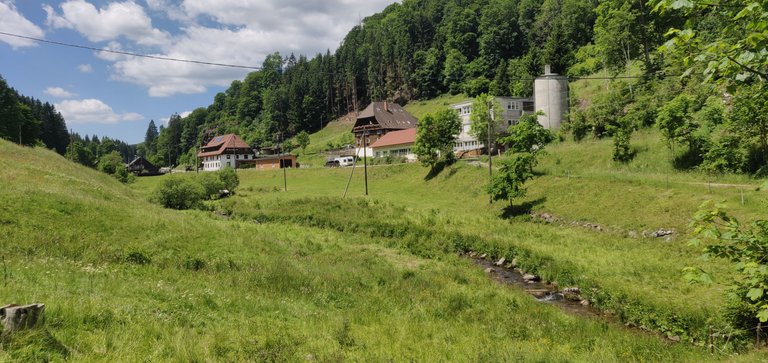 Nach etwa der dreiviertel Strecke kam ich wieder aus dem Wald heraus. Hier seht ihr das Bächle (für Nicht-Badener = kleiner Bach), welches zur Talsperre führt.
After about three quarters of the way I came out of the forest again. Here you can see the small brook, which leads to the dam.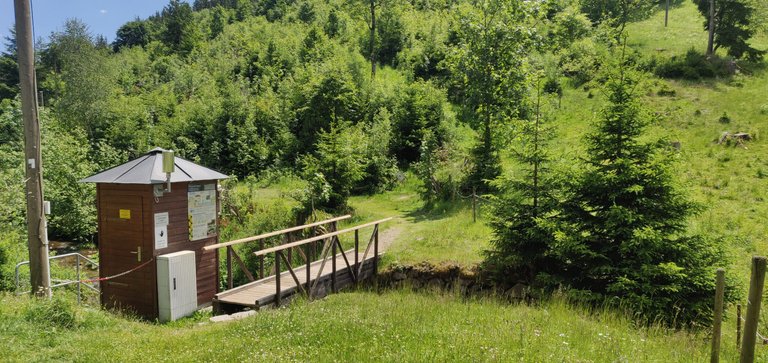 Über die Brücke und auf der anderen Seite...
Across the bridge and on the other side...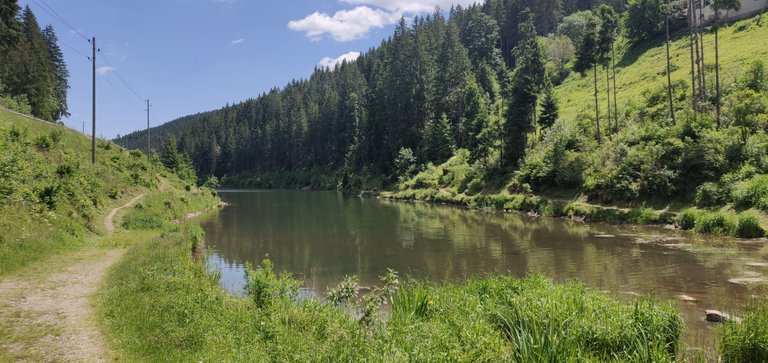 ...ging ich dann den schön angelegten Pfad am Ufer entlang.
...I then walked along the beautifully landscaped path along the shore.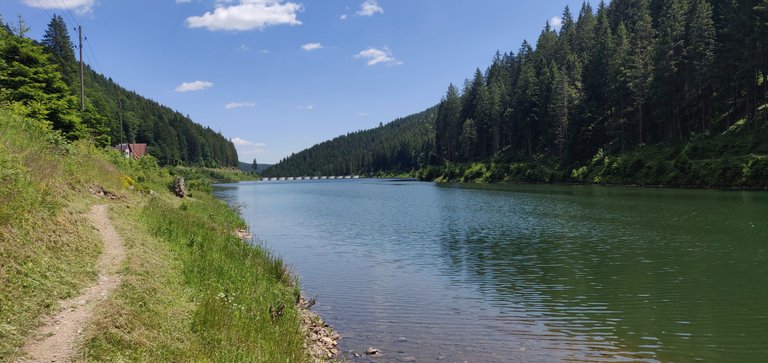 Entlang des Pfades gibt es einige Sitzmöglichkeiten um etwas aus zu ruhen und den Ausblick zu genießen. Auch ein Tisch um zu Vespern ist zu finden. Wer Picknicken möchte, findet auch einige Stellen um sich mit Handtuch etc. aus zu breiten. Auch zum Baden lädt der kleine Stausee v.a. bei so tollem Wetter ein, daher hindert auch ein Badeverbot einige Besucher nicht daran.
Along the path there are several places to sit and rest for a while and enjoy the view. Also a table to Vespern is to be found. If you want to have a picnic, you will also find some places to spread out with a towel. Also for bathing the small reservoir invites especially in such great weather, so even a bathing ban does not prevent some visitors.
---
Tourdaten / Tour Data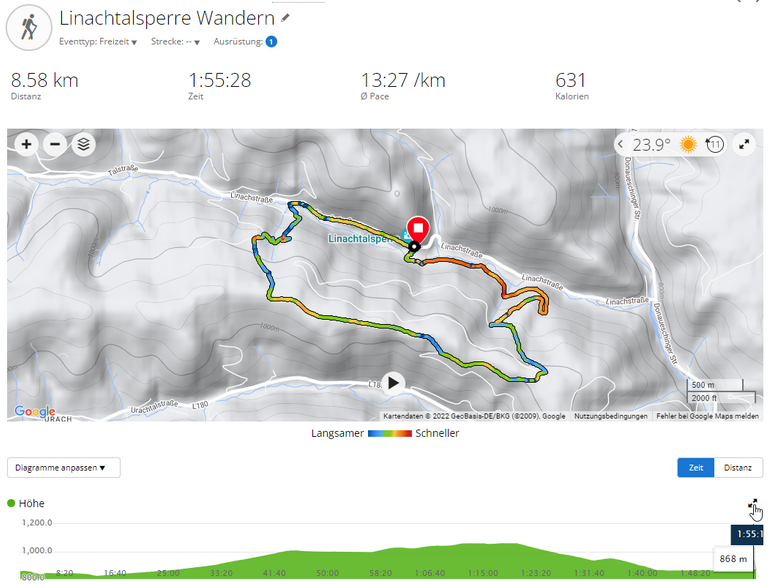 ---
Müll sammeln / collect rubbish
@cleanplanet
Wer nur den schönen Teil der Wanderung lesen und sehen wollte, kann ab hier aufhören zu lesen, denn wie immer habe ich unterwegs den Müll anderer mitgenommen...
If you only wanted to read and see the nice part of the hike, you can stop reading from here on, because as usual I took other people's trash along the way....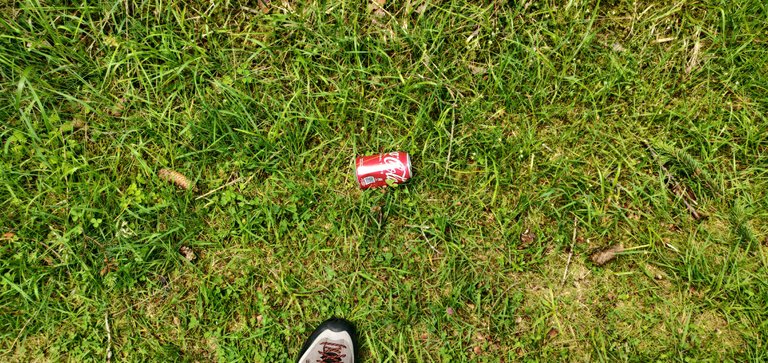 Gleich nach den ersten paar Metern unterhalb der Sperre lag eine geöffnete halb volle Coladose.
Just after the first few meters below the barrier was an opened half-full Coke can.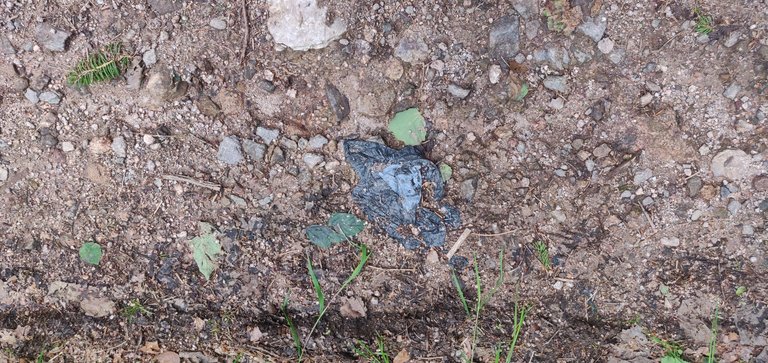 Nicht unweit davon entfernt eine Plastiktüte, das darf natürlich nirgends fehlen.
Not far from it a plastic bag, of course, that can not be missing anywhere.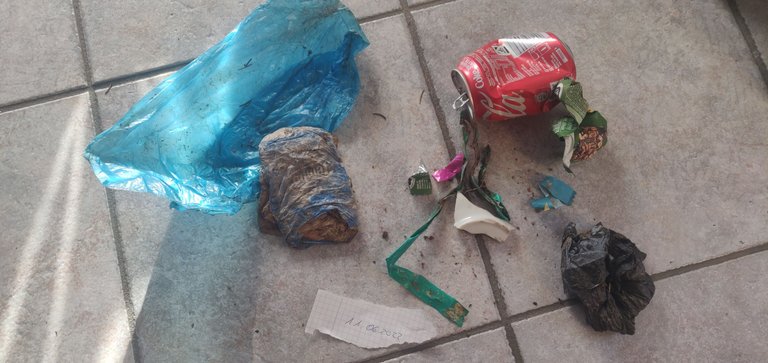 Ergebnis waren zwei Plastiktüten, ein Plastikband, ein Tempopäckchen etwas zerbrochenes Porzelan, die Coladose und kleinere Teile von Plastikverpackungen. Die Plastikverpackung rechts unterhalb der Coladose befindet sich fälschlicherweise auf dem Bild. Das war die Verpackung meines Riegels, welchen ich unterwegs gegessen hatte.

Für knapp 9km Strecke erstaunlich wenig. Ich kann mir das aber mit zwei Gründen erklären. Zum einen war ich zu 70% im Wald auf wohl sehr wenig frequentierten Wegen unterwegs und zum anderen gehe ich davon aus, dass der Pfad rund um den kleinen Stausee regelmäßig gepflegt und somit auch gesäubert wird.
The result was two plastic bags, a plastic band, a tempo pack of some broken porcelain, the Coke can and smaller pieces of plastic packaging. The plastic packaging on the right below the Coke can is wrongly in the picture. That was the packaging of my bar, which I had eaten on the way.


For nearly 9km distance amazingly little. I can explain myself however with two reasons. On the one hand, I was 70% in the forest on probably very little frequented paths on the way and on the other hand I assume that the path around the small reservoir is regularly maintained and thus also cleaned.
---
The photos were taken by me with my OnePlus 6.
I recorded the data with my Garmin Fenix 6X Pro.
The screenshots are from Garmin Connect.
Mostly translated with www.DeepL.com/Translator (free version)

---
---
---