Llega por fin la alegría para el FCB (es/en)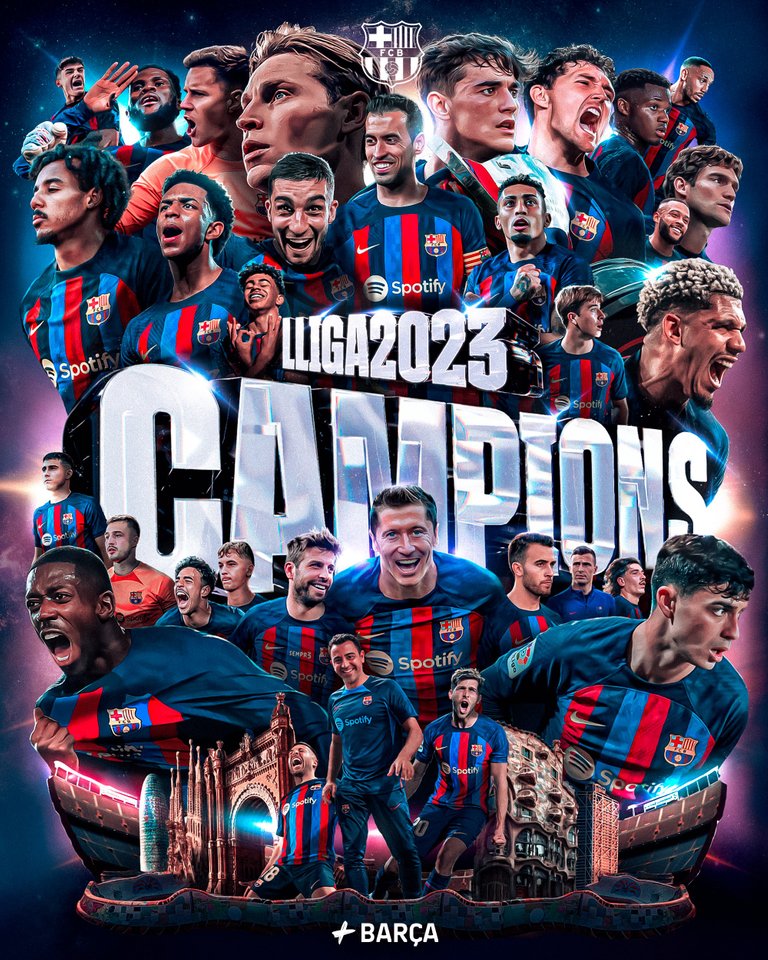 Sources:
Conquistar LaLiga de Fútbol de España tiene su sabor especial para el Barcelona, que después de sufrir sequías de galardones para tristeza de sus seguidores, durante algún tiempo, vuelve a ser noticia.
En una temporada que tuvo sus tragos amargos para la afición, de los cuales el equipo terminó recuperándose, como solo saben hacerlo los grandes, en el torneo español. El mérito recae en haberlo alcanzado en la jornada 34, a cuatro del cierre del calendario.
Es válido destacar, el balance positivo que ha mantenido en su gestión, el técnico exjugador Xavi Hernández, dejando en las vitrinas el galardón de la Supercopa Nacional, tras batir a su archirrival, el Real Madrid, ahora nos trae el de LaLiga.
Conquering LaLiga de Fútbol de España has a special flavor for Barcelona, which, after suffering a drought of awards to the sadness of its followers for some time, is back in the news.
In a season that had its bitter moments for the fans, from which the team ended up recovering, as only the great ones know how to do, in the Spanish tournament. The merit lies in having achieved it in the 34th matchday, four days before the end of the calendar.
It is worth highlighting the positive balance that former player and coach Xavi Hernández has maintained during his tenure, having won the National Super Cup after beating arch-rivals Real Madrid, and now he brings us the LaLiga trophy.
Sources:
Mucho se sufrió para llegar hasta aquí, los tropiezos no le faltaron a los catalanes en su recorrido hacia el éxito. Para poca fortuna fueron eliminados de la Champions League en la fase de grupos, sumémosle que tampoco pudieron avanzar en la Europa League, a consecuencias se dejaron ver remontados por el Madrid en la Copa del Rey justo en semifinales.
Sin lugar a dudas, el pulso culé se hizo sentir con un hermetismo defensivo aplaudible, especialmente con actuaciones de altos quilates del guardameta germano Marc André Ter- Stegen. Siendo este departamento precisamente uno de sus talones de Aquiles, la defensa que tuvo recomponerse de varias lesiones, así como del retiro inesperado del veterano Gérard Piqué.
El uruguayo Ronald Araujo, así como el francés Jules Koundé, fueron las alternativas de la solidez de la línea zaguera, acompañados por el ascendente joven lateral Alejandro Balde, en varias ocasiones por el danés Andreas Christensen y Marcos Alonso, quienes fueron claves.
The Catalans suffered a lot to get this far, and there was no shortage of setbacks on their road to success. To their misfortune, they were eliminated from the Champions League in the group stage, they also failed to advance in the Europa League, and they were beaten by Madrid in the Copa del Rey in the semifinals.
Undoubtedly, the Culé pulse was felt with an applaudable defensive tightness, especially with high-class performances by German goalkeeper Marc André Ter-Stegen. This department being precisely one of their Achilles' heels, the defense had to recover from several injuries, as well as the unexpected retirement of veteran Gérard Piqué.
The Uruguayan Ronald Araujo, as well as the French Jules Koundé, were the alternatives for the solidity of the back line, accompanied by the rising young fullback Alejandro Balde, on several occasions by the Danish Andreas Christensen and Marcos Alonso, who were key players.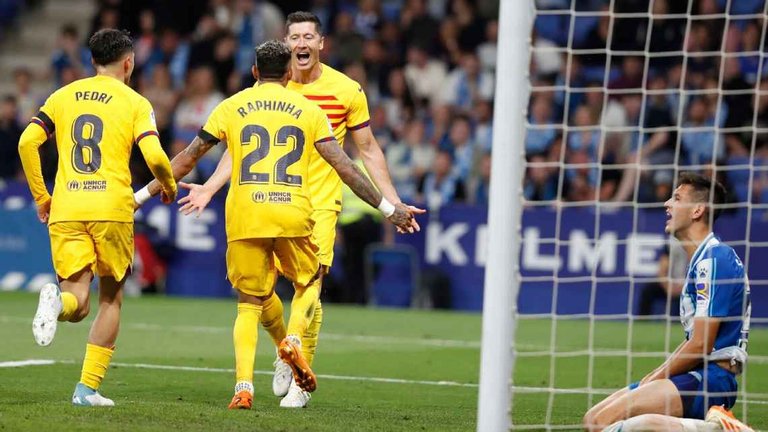 Sources:
Todos destacados en su desempeño, aunque todos sufrimos, además, con el mediocampo, quien pasó varios momentos difíciles. En particular, con la lesión de Pedri, aunque vale destacar que la labor del capitán Sergio Busquets y el neerlandés Frenkie de Jong, permitieron amortiguar el temporal que se les vino encima, con ayuda de Gavi y a veces de Franck Kessié, así como Sergi Roberto.
Podemos afirmar al menos que en el ataque teníamos la garantía con el polaco Robert Lewandowski, quien se confirma como Pichichi de la justa. Sin embargo, en los instantes más espléndidos del Barcelona, el francés Ousmane Dembelé se hizo sentir en su ausencia, durante tres meses, por lesión.
Para el brasileño Raphinha no fue uno de sus mejores días, más considero que no lo hizo mal. Xavi no las tiene fácil, deberá buscar soluciones pensando en la próxima contienda, porque como todos sabemos, sus rivales también se rearman buscando lograr subirse en lo más alto del podio de LaLiga.
All of them were outstanding in their performance, although we all suffered with the midfield, which went through several difficult moments. In particular, with Pedri's injury, although it is worth noting that the work of captain Sergio Busquets and Dutchman Frenkie de Jong, with the help of Gavi and sometimes Franck Kessié, as well as Sergi Roberto, helped to cushion the storm.
We can at least affirm that in the attack we had the guarantee with the Polish Robert Lewandowski, who confirms himself as the Pichichi of the competition. However, in the most splendid moments of Barcelona, the Frenchman Ousmane Dembelé made himself felt in his absence, for three months, due to injury.
For the Brazilian Raphinha, it was not one of his best days, but I think he did not do badly. Xavi does not have it easy, he will have to look for solutions thinking about the next contest, because as we all know, his rivals are also rearranging themselves looking to climb to the top of the podium of LaLiga.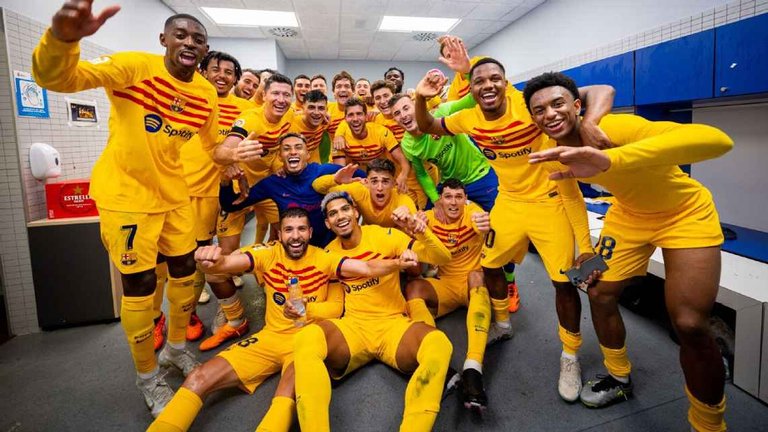 Sources:
Con una amplia ventaja, de 14 puntos sobre el Real Madrid, 16 en relación con el Atlético de Madrid, el Barza tiene un camino a seguir que incluso pudiera plantearse, superar la barrera de los 100 puntos (actualmente tiene a su haber 85) a falta de cuatro fechas en el calendario.
Y por el momento, para los merengues hay una posible variable este miércoles, en el partido de vuelta de la semifinal de la Champions League contra el Manchester City.
With a wide lead of 14 points over Real Madrid, 16 over Atletico Madrid, Barça have a way to go that could even see them surpassing the 100-point barrier (they currently have 85 points to their credit) with four games left on the calendar.
And for the moment, there is a possible variable for Los Merengues this Wednesday, in the second leg of the Champions League semi-final against Manchester City.
Traducción al Inglés por Deepl Traslate.
English translation by Deepl Translate.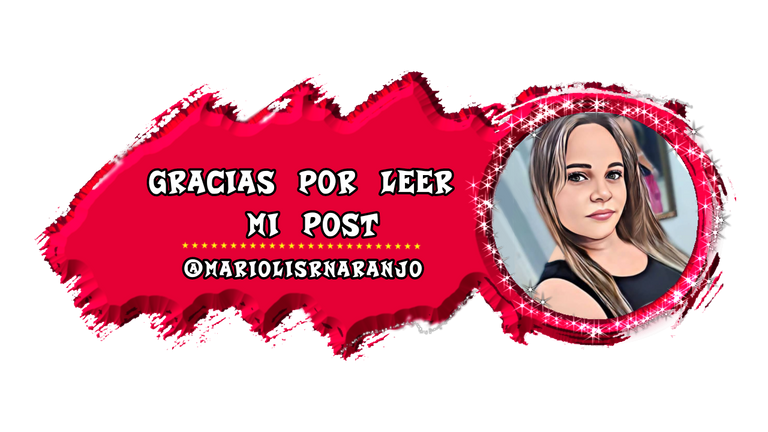 ---
---