[ESP-ENG]Simeone pasa por su peor momento desde que llegó al Atlético de Madrid//Simeone is going through his worst moment since he arrived at Atlético de Madrid
Saludo amigos de hive y @fulldeportes, hoy viene 21 de enero quiero hablarles sobre el mal momento que vive el Atlético de Madrid del cholo Simeone desde que llego al equipo.
Greetings friends from hive and @fulldeportes, today is January 21st I want to talk to you about the bad moment that Atlético de Madrid has been going through with cholo Simeone since he joined the team.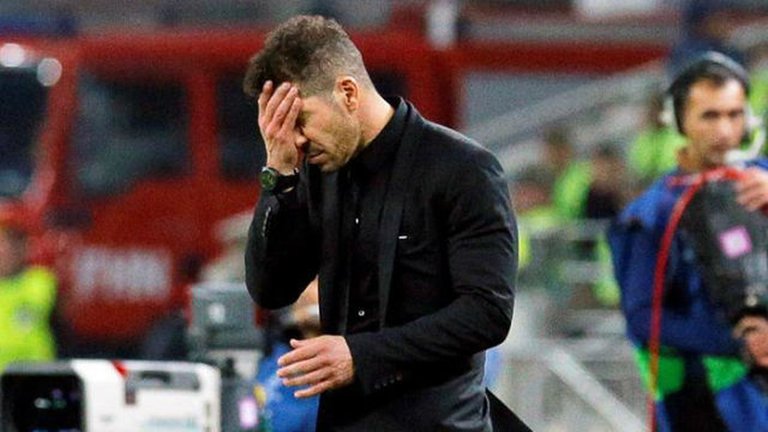 Fuente
La temporada empezaba con la vara alta para los colchoneros por haber ganado el título de la liga, y ahora ser los campeones defensores, sin duda se veían favoritos sobre el Real Madrid y el Barcelona que ya sabíamos los problemas que atravesaban, pero hasta los momentos el equipo no ha respondido como esperábamos.
Fichajes y salidas
El Atlético ya con un plantel muy bueno y jugadores de alto nivel, no tendría la exigencia de ir al mercado por grandes jugadores más sin embargo, trajo jugadores muy buenos.
Incorporaciones
*Antoine Griezmann
*Matheus Cunha
*Marcos Paulo
*Benjamin Lecomte
*Sergio Guerrero Romero
*Rodrigo de Paul
*Ivan Šaponjić
Salidas
*Saúl Ñíguez
*Víctor Mollejo
*Toni Moya
*Santiago Arias
*Javi Montero
*Nehuen Pérez
*Kieran Trippier
En lo personal creo que se reforzó muy bien con la llegada de Rodrigo de Paul y Griezmann para terminar de compactar el equipo, aunque si tuvieron salidas sensibles como la de Saúl Ñíguez, Santiago Arias y Kieran Trippier este último saldría en el mercado de invierno.
transfers and departures
The season began with a high bar for the colchoneros for having won the league title, and now being the defending champions, without a doubt they were favorites over Real Madrid and Barcelona, ​​we already knew the problems they were going through, but until now the team has not responded as we expected.
Transfers and departures Atlético, already with a very good squad and high-level players, would not have the need to go to the market for great players; however, they brought very good players.
Incorporations
*Antoine Griezmann
*Matheus Cunha
*Marcos Paulo
*Benjamin Lecomte
*Sergio Guerrero Romero
*Rodrigo de Paul
*Ivan Saponjic
Exits
*Saul Ñiguez
*Victor Mollejo
*Toni Moya
*Santiago Arias
*Javi Montero
*Nehuen Perez
*Kieran Trippier
Personally, I think it was reinforced very well with the arrival of Rodrigo de Paul and Griezmann to finish compacting the team, although they did have sensitive departures such as Saúl Ñíguez, Santiago Arias and Kieran Trippier, the latter would come out in the winter market.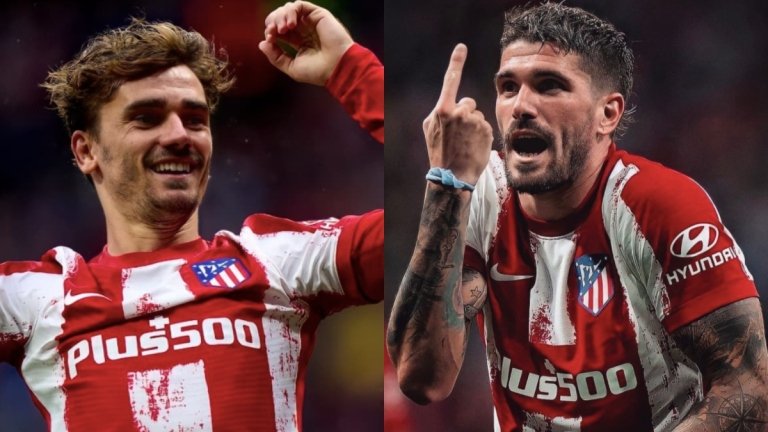 Fuente
Un andar muy irregular en liga
Los dirigidos por el cholo tuvieron un comienzo de liga aceptable en los primero 10 partidos con 5 victorias, 4 empates y tan solo 1 derrota, pero empezaba la liga y muchos pensamos que iba a mejorar pero no fue así.
En los siguientes 10 encuentros de liga, los colchoneros empezaban a tener problemas serios con, 4 victorias, 2 empates y 4 derrotas, perdiendo el derbi madrileño, perdiendo contra el Mallorca que en los papeles era un encuentro para llevarse los tres puntos, y las dos derrotas contra Sevilla y Granada que son duelos directos para aspirar al título.
En estos momentos es cuarto en la tabla de posiciones con 33 puntos los mismo que tiene la Real Sociedad, pero el Barça es quinto con 32 y el Rayo Vallecano es sexto con 31 una lucha fuerte por entra en champions, el cholo Simeone debe mejorar sus tácticas si quiere estar en liga de campeones la temporada que viene.
A very irregular walk in League
Those led by the cholo had an acceptable start to the league in the first 10 games with 5 wins, 4 draws and only 1 loss, but the league was starting and many of us thought it was going to improve but it wasn't.
In the following 10 league matches, the colchoneros began to have serious problems with 4 wins, 2 draws and 4 losses, losing the Madrid derby, losing against Mallorca, which on paper was a match to take all three points, and the two defeats against Seville and Granada that are direct duels to aspire to the title.
Right now he is fourth in the standings with 33 points, the same as Real Sociedad, but Barça is fifth with 32 and Rayo Vallecano is sixth with 31, a strong fight to enter the champions, the cholo Simeone must improve his tactics if you want to be in the champions league next season.
https://latinus.us/2021/02/20/atletico-madrid-levante-segundo/amp/
Champions League
Sin duda les tocó en el grupo de la muerte, más sin embargo era el favorito junto a Liverpool para pasar de ronda, aunque lograron con sufrimiento clasificar a octavos de final.
They were undoubtedly in the group of death, however, they were the favorite along with Liverpool to go through the round, although they managed to qualify for the round of 16 with suffering.
Gupo /group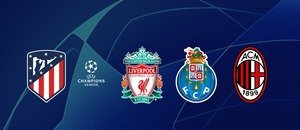 Fuente
Resultados
*Atlético de Madrid 0-0 Porto
*Milán 1-2 Atlético de Madrid
*Atlético de Madrid 2-3 Liverpool
*Liverpool 2-0 Atlético de Madrid
*Atlético de Madrid 0-1 Milán
*Porto 1-3 Atlético de Madrid
Ahora tendrá un examen verdaderamente difícil al enfrentar al Manchester united de Cristiano Ronaldo y compañía, veremos como se prepara el cholo para ir a jugar al teatro de los sueños, creo que para empezar a salvar la temporada tiene que hacer una eliminatoria espectacular contra los reds devils.
Results
*Atletico Madrid 0-0 Porto
*Milan 1-2 Atletico Madrid
*Atletico Madrid 2-3 Liverpool
*Liverpool 2-0 Atletico Madrid
*Atletico Madrid 0-1 Milan
*Porto 1-3 Atletico Madrid
Now he will have a really difficult exam when facing Manchester United of Cristiano Ronaldo and company, we will see how the cholo prepares to go to play in the theater of dreams, I think that to start saving the season he has to make a spectacular tie against the reds devils.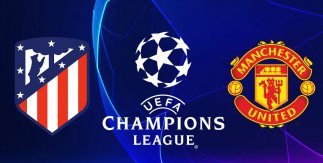 Fuente
Sorprendidos en la Supercopa
Cuando todos queríamos ver el derbi madrileño, ya sabiendo que el Real Madrid estaba clasificado a la final dejando en el camino al Barcelona,
Los leones sorprendieron al equipo rojiblanco ganándole por 2-1 en una gran remontada, el Atlético perdía la oportunidad de llevarse el título a casa.
surprise in the super cup
When we all wanted to see the Madrid derby, already knowing that Real Madrid was qualified for the final leaving Barcelona on the way, The lions surprised the rojiblanco team by beating them 2-1 in a great comeback, and Atlético lost the opportunity to take the title home.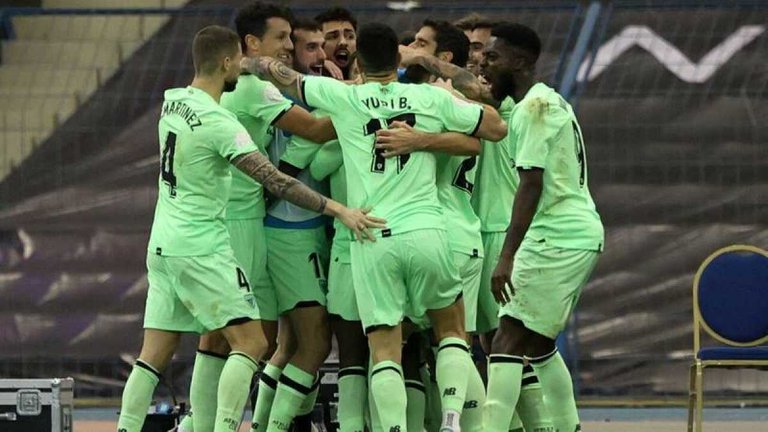 Fuente
Eliminados de la copa del rey
Para seguir el mal momento del Atlético esta temporada, inesperadamente quedarían fuera de la copa del rey ante la Real Sociedad que les ganó por 2-0 en octavos de final, en un partido donde se no notó la debilidad defensiva del los colchoneros, durísima esta derrota para el cholo.
Eliminated from the King's cup
To follow Atlético's bad moment this season, they would unexpectedly be left out of the King's Cup against Real Sociedad, who beat them 2-0 in the round of 16, in a match where the defensive weakness of the colchoneros was not noticed, very tough this defeat for the cholo.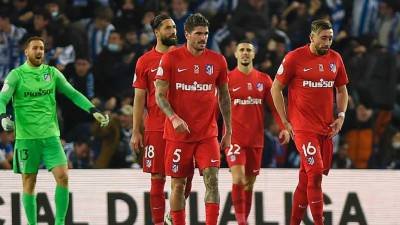 Fuente
Conclusión
En lo personal pienso, que algo que a caracterizado año tras año al Atlético del cholo en su capacidad para defender creo que hay esta su esencia, que este año lamentablemente no ha podido plasmar en el campo de juego, creo que hay empieza el problema.
Vemos un equipo con mucho errores en el fondo digamos que desconcentrados, y el ataque no ha sido un de los mejores, entonces si no defiendes bien y tampoco tienes buen nivel defensivo entonces estas muy mal.
Estamos claros que las lesiones no han ayudado al cholo solo 5 jugadores no han sufrido lesión, Oblak, Lecomte, Correa, De Paul y Hermoso son los únicos que se han mantenido sanos, el resto han presentado algún problema.
Hay muchos jugadores intermitentes en el equipo creo que dos han mantenido su nivel, son Koke y Ángel Correa, el resto han estado muy flojo, es muy difícil competir así.
conclusión
Personally, I think that something that has characterized Atlético del cholo year after year in its ability to defend, I believe that this is its essence, that this year, unfortunately, it has not been able to capture on the field of play, I think that the problem begins.
We see a team with a lot of mistakes in the background, let's say unfocused, and the attack has not been one of the best, so if you don't defend well and you don't have a good defensive level either, then you are very bad.
We are clear that the injuries have not helped the cholo, only 5 players have not suffered an injury, Oblak, Lecomte, Correa, De Paul and Hermoso are the only ones who have remained healthy, the rest have presented some problem.
There are many intermittent players in the team, I think two have maintained their level, they are Koke and Ángel Correa, the rest have been very weak, it is very difficult to compete like this.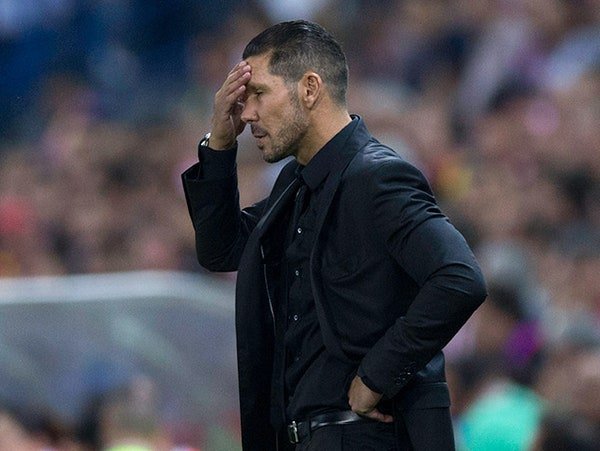 Fuente
Veremos como el cholo Simeone trata sacar de esta situación al Atlético, por ahora les toca enfrentar al Valencia de local esperemos que se reencuentre con la victoria.
Esto fue todo por hoy, será hasta la próxima,gracias.
We will see how the cholo Simeone tries to get Atlético out of this situation, for now they have to face Valencia at home, let's hope they meet again with victory.
That was all for today, until next time, thanks.
---
---