OVER TO HAG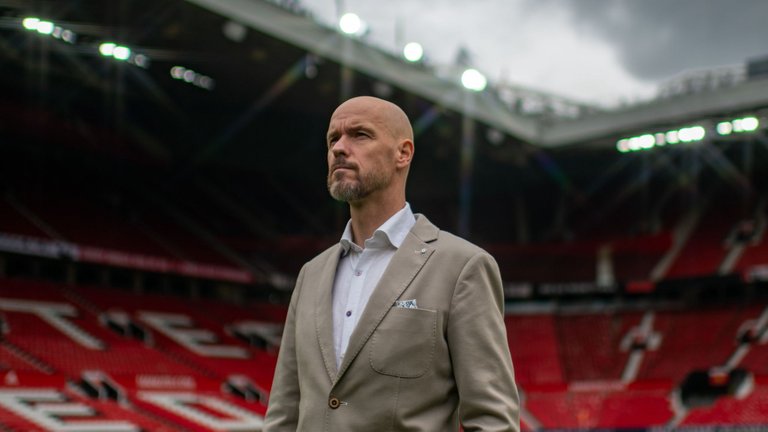 source
Guten Tag! That's Good afternoon in Deutch (German). And I'm not German incase you're wondering. I just have an inexplicable love for the language and maybe their rich footballing history is one factor.
Today, after a long while I actually did a little research on Erik Ten Hag. Yes, I'm a United Fan and even with all the Hype and the excitement over his appointment as the new gaffer, I've not taken time to do my own research on Erik. Before his appointment I didn't quite know much about him, I think it was his 2018/2019 UCL campaign with Ajax that first drew my attention to him.
And when they say first impressions are everything, they didn't lie.
And the way Ten Hag flew to England after completing the season with Ajax, without thinking of vacation but just wanting to get right to work goes to show how committed he is to the course. It's the icing on the cake for me.
Well, that been said.I've first had to listen to his first official interview as a United Manager. And I must say I was really impressed. First with his spoken English ( and even with the little research I've done, I can't seem to find when and where he learnt english) because obviously his Dutch and outside the Netherlands I think he's only worked in Germany.
Then also I was impressed with his replies to questions thrown to him by the journalists. Especially how he was so cautious to avoid setting off the bad blood vibe.
When he was asked why he picked up the Job he simply said it was for the challenge, that he wanted to take the club back to its glory days. Well, you can say it's just talk and it's all for the money but then we can never say.
Also there's one particular thing he said that I really liked. He said "I speak with people, hear what they say but I draw my line". This was when they asked him about comments made by Luis Van Gaal and people in and around the club.
Going to his "CV". I'll start with the fact that Ten Hag played as a CB!. And if you're familiar with United woes you'd understand why I'm excited 😂. The United defense line has been very poor and I want to believe that Ten Hag being a defender in his days would have concrete inputs to make to the backline.
Also, he was a winner in his days with Twente and em...I can't remember the name of the other club. And also he's won trophies with Bayern Munich II, Utrecht and Ajax.
And though his trophy cabinet isn't that large but then he's still a winner. And what he has done with Ajax in the last 2years goes to show he still has the winning DNA.
To his style of play. If you've watched Ajax in the last 2years especially in the UCL, you can tell it's beautiful football they play.
Then coming back to the theatre of dreams, where Hag is at the moment. I really hope he succeeds for the club's good and for his own good to. There's a lot of expectations around his appointment with his contract that extends to June 2025. The fans still believe United can go back to the glory days of SAF but if we're being realistic there's a lot of Job for Ten Hag to do. It might not be a Season's magic but again it might. What I'm saying is he would need time.
There are a lot of issues at United at the moment. Ranging for quality of players, to dressing room issues, to leadership amongst others. And Ten Hag needs all the support he can get to build a team that would play for him.
A fan can hope can't he? At the moment our hope is all we got. Last season wasn't great but we still hope for something good next season.
The prospect of Erik Ten Hag being on the touchline for United next season is evidently exciting to the fans and the frenzy has got then composing a song for him already. It goes "One Hag, two Hag, three Hag...Eight Hag, Nine Hag, Ten Hag".
We've opened our hearts to Ten Hag and our expectations are up there, maybe too early, but we can't help it. Right now all we have on the tip of our tongues is** "OVER TO YOU TEN** HAG"
What's your take, do you think Ten Hag and Manchester United could be a perfect match?? Where do you think United will finish next season?
#sports #soccer #football #Epl #sportstalk #proofofbrain #writing
---
---