Ejercicios en Bicicleta Estática y con Banda Elástica para Fortalecer Músculos y Articulaciones / Exercises on Stationary Bikes and Elastic Bands to Strengthen the Muscles and Joints [ESP / ENG]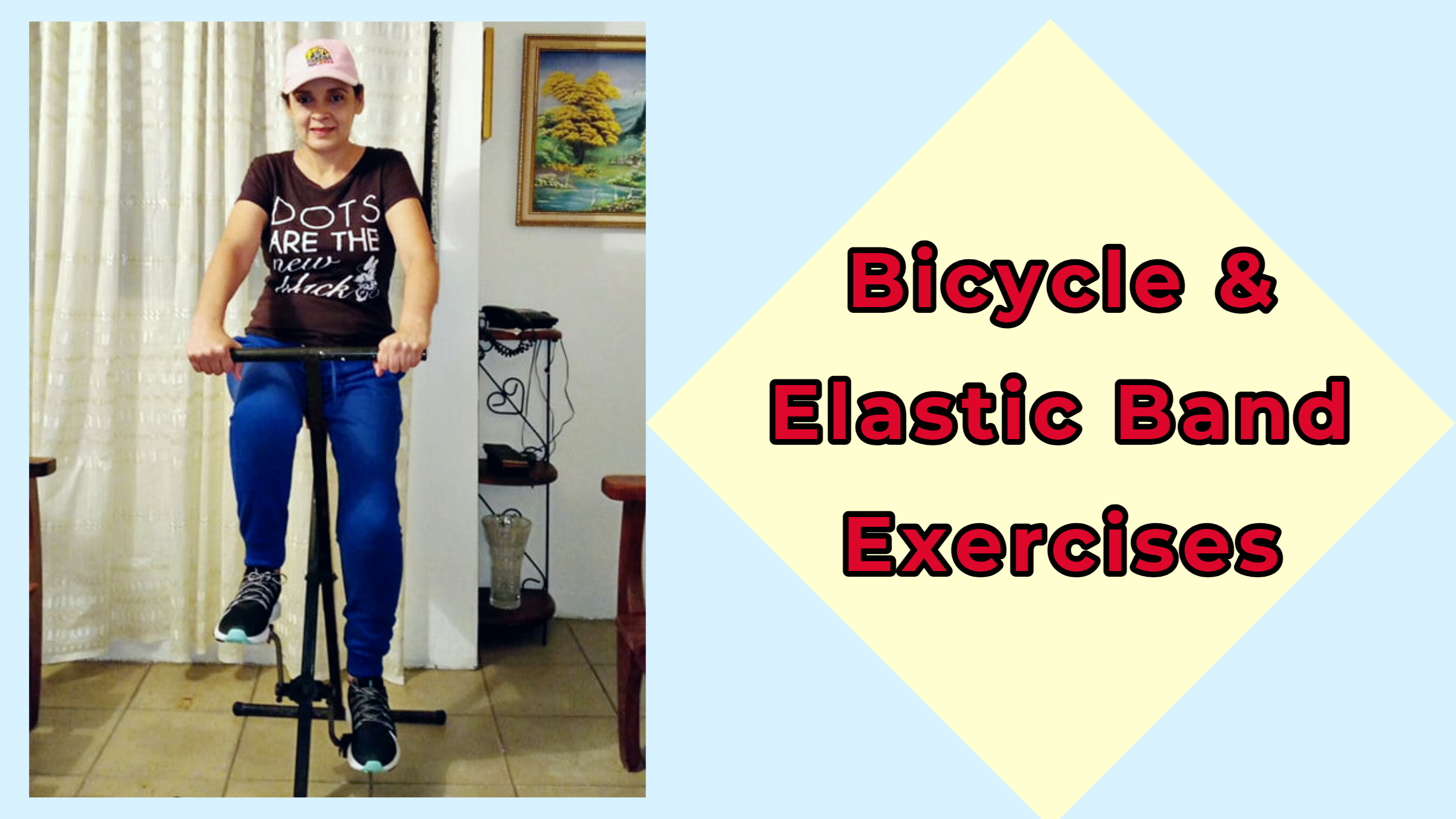 Hola queridos amigos de la comunidad de Full Deportes, hoy les traje varios ejercicios para fortalecer los músculos de los brazos y las piernas.
Estaré utilizando banda elástica y bicicleta estática. Este tipo de ejercicio en bicicleta estática son muy eficaces para las rodillas, pantorrillas y glúteos
Hello dear friends of the Full Deportes community, today I brought you several exercises to strengthen the muscles of the arms and legs.
I will be using elastic band and exercise bike. This type of exercise on an exercise bike is very effective for the knees, calves and glutes.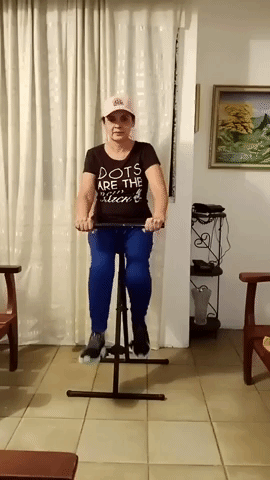 Ejercicio #1: Sentada con la espalda recta en mi bicicleta estática pedaleo despacio hacia adelante y hacia atrás 10 min en cada sesión.
Este ejercicio es muy eficaz para la movilidad de las rodillas, fortalecer los cuádriceps, glúteos y otras articulaciones y músculos del cuerpo.
Exercise #1: Sitting with my back straight on my exercise bike, I slowly pedal back and forth for 10 minutes each session.
This exercise is very effective for the mobility of the knees, strengthen the quadriceps, glutes and other joints and muscles of the body.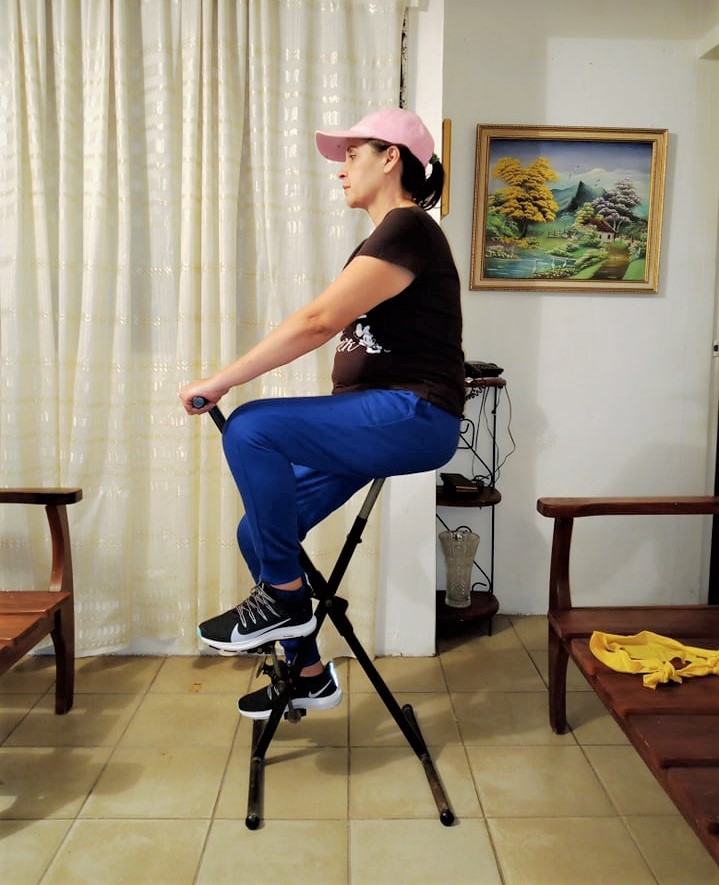 Ejercicio #2. Tomo la banda y estiró el brazo izquierdo, luego con el codo flexionado a la altura del pecho halo la banda elástica hasta la cadera y repito 10 veces. Luego hago el mismo ejercicio con el brazo derecho 10 veces.
Exercise #2. I take the band stretched the left arm and then with the elbow bent at chest level I pull the elastic band to the hip and repeat 10 times. Then I do the same exercise with the right arm 10 times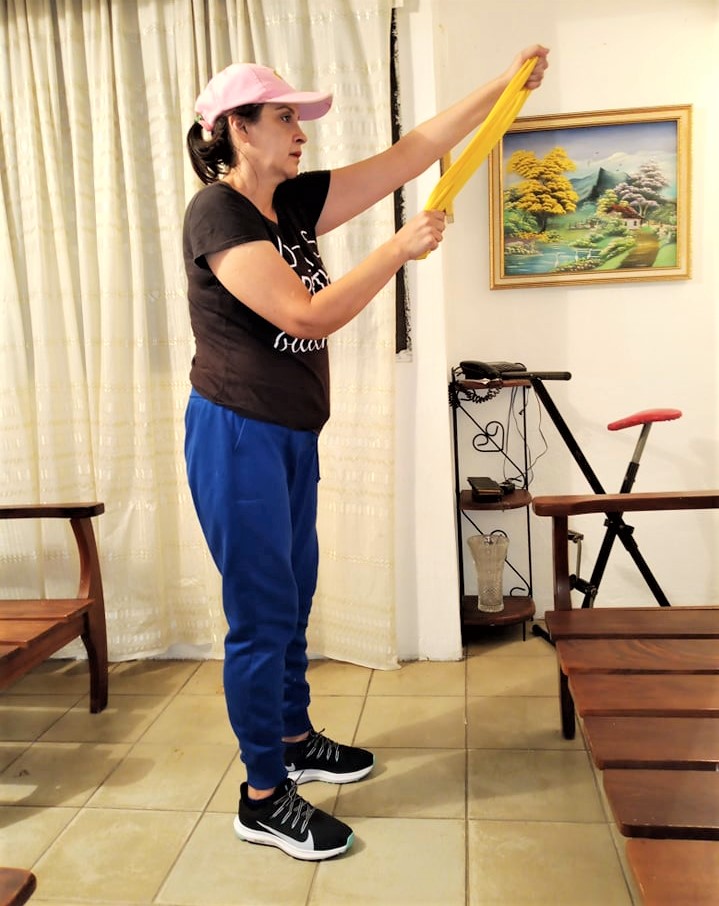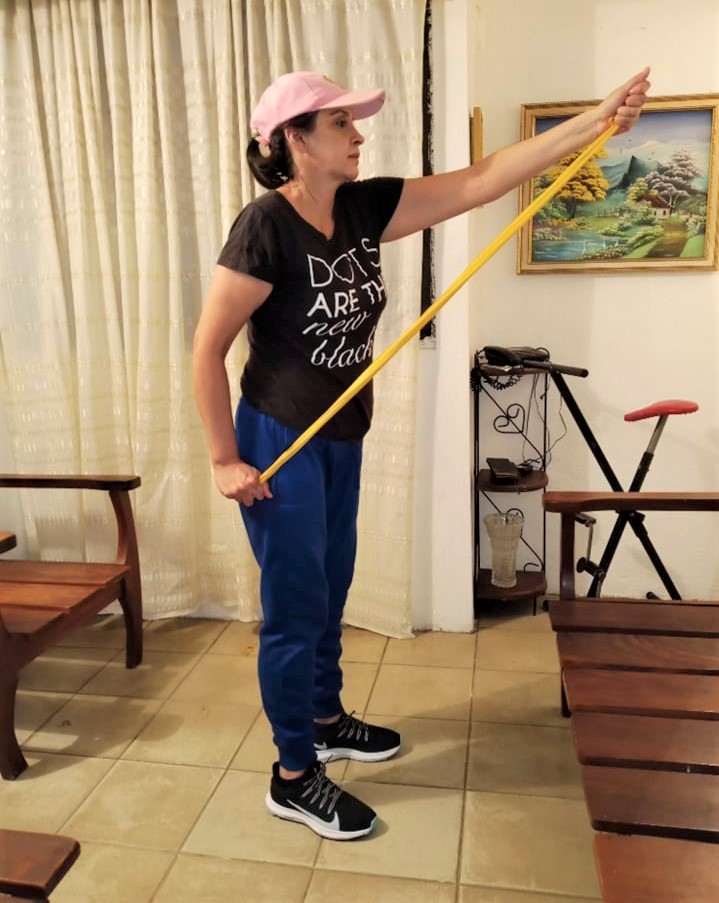 Ejercicio #3. Tomo la banda en uno de los brazos y con el codo flexionado bajo el otro brazo hasta la cadera halo hacia atrás 10 veces. Luego repito el ejercicio con el otro brazo igualmente 10 veces.
2.-Exercise #3. I take the band in one of my arms and with the elbow bent I lower the other arm to the hip and pull backwards 10 times. Then I repeat the exercise with the other arm 10 times.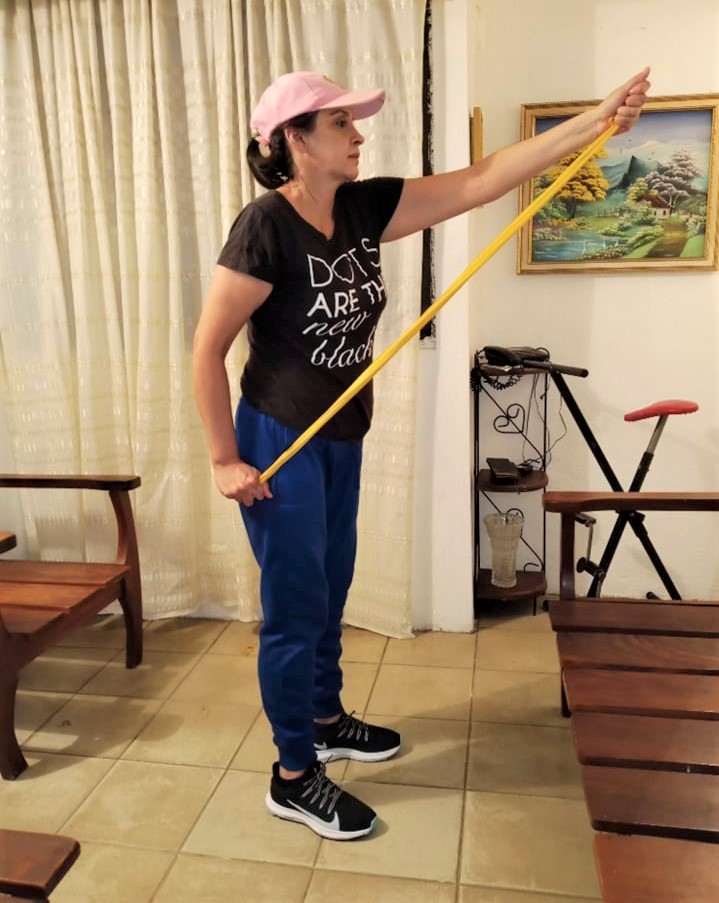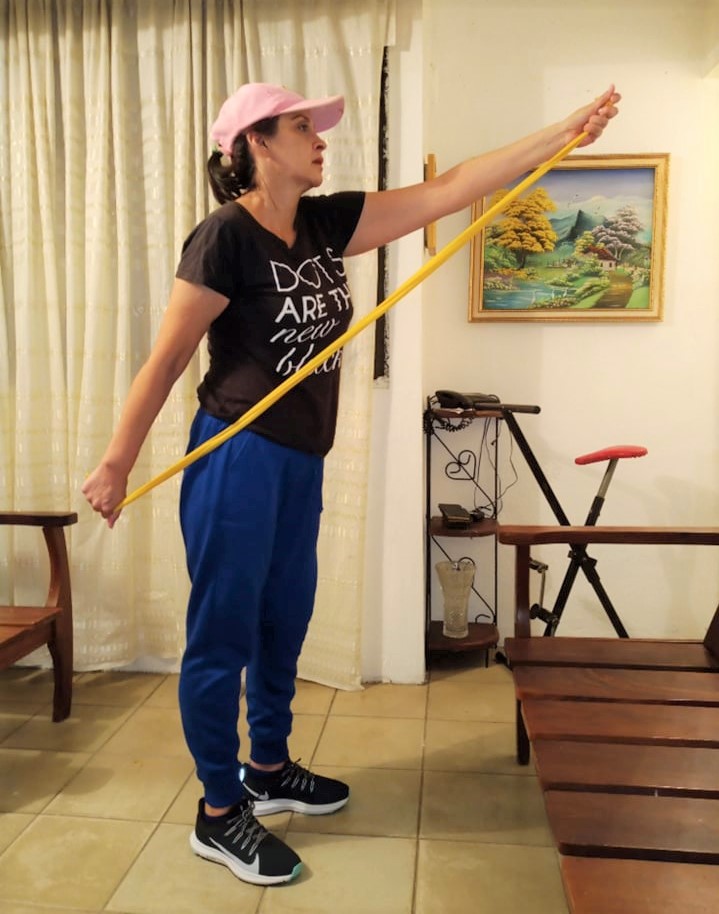 Ejercicio #4. Parada de frente llevo la banda a la altura de los hombros y estiro ambos brazos hacia los lados 10 veces. Este ejercicio es ideal además de los brazos también ayuda a fortalecer la espalda
Exercise #4. Standing in front of me, I bring the band to shoulder height and stretch both arms to the sides 10 times. This exercise is ideal in addition to the arms also helps to strengthen the back.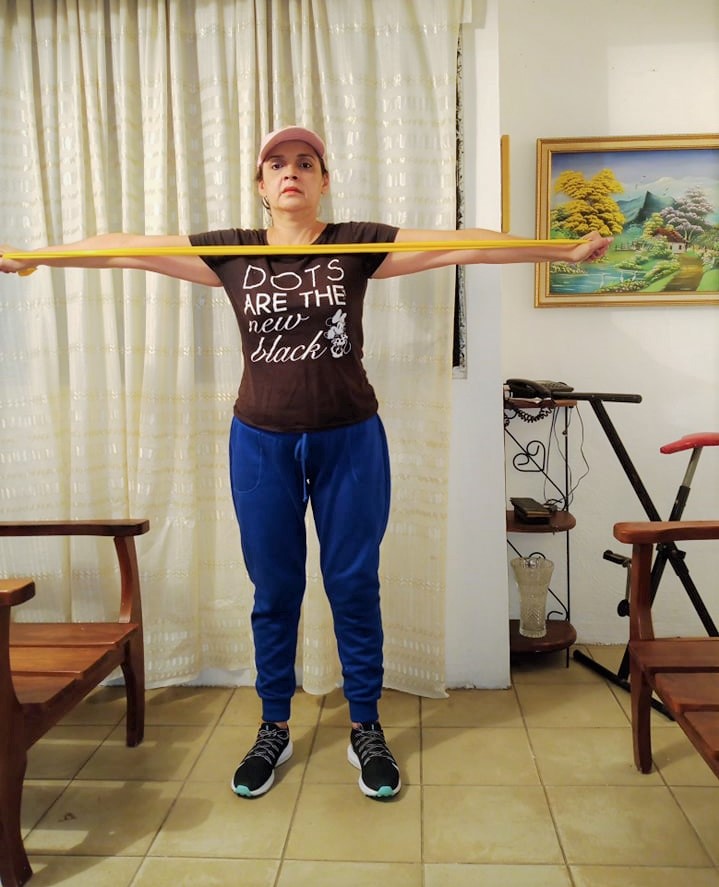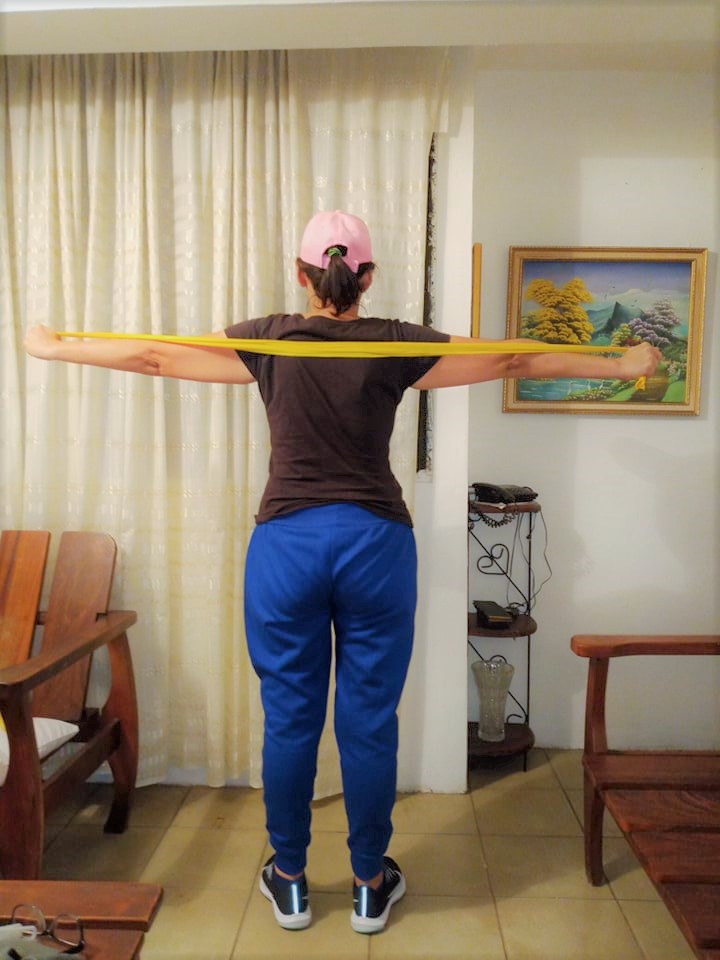 Ejercicio #5. De pie coloco la banda elástica en los tobillos de ambos pies y estiro con una pierna hacia los lados y hago repeticiones en cada pie 10 veces
Exercise #5. De pie coloco la banda elástica en los tobillos y estiro hacia atrás 10 veces en cada pierna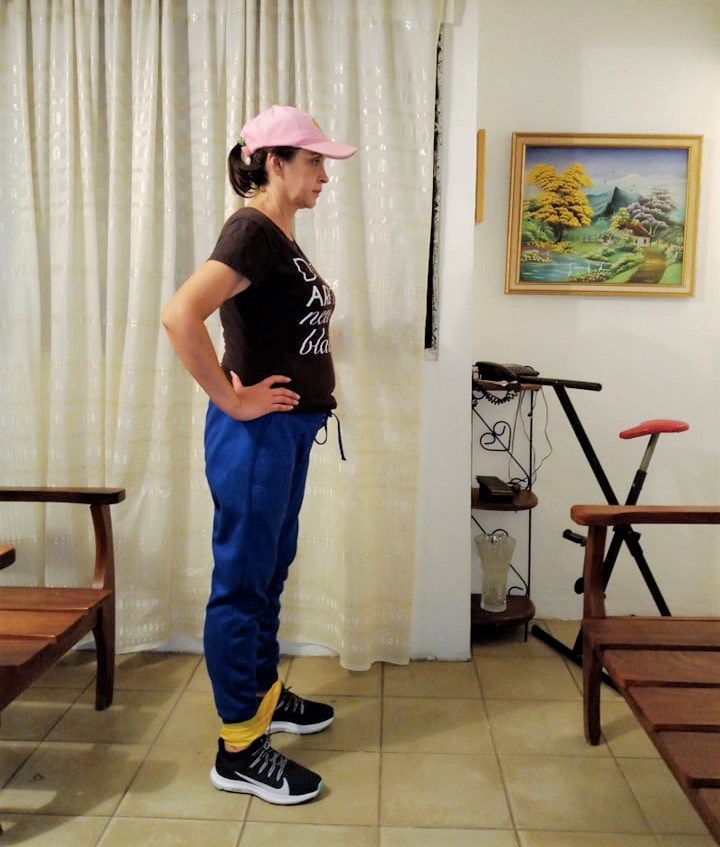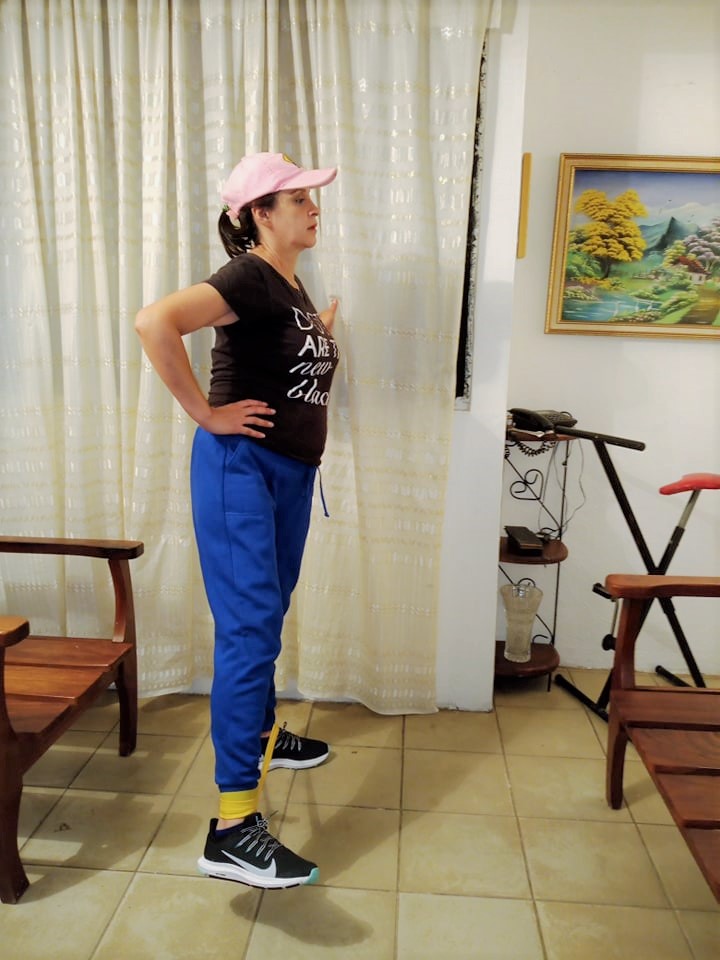 Ejercicio #6. De pie coloco la banda elástica en los tobillos y estiro hacia atrás 10 veces en cada pierna.
Exercise #6. Standing up, I place the elastic band around my ankles and stretch backwards 10 times on each leg.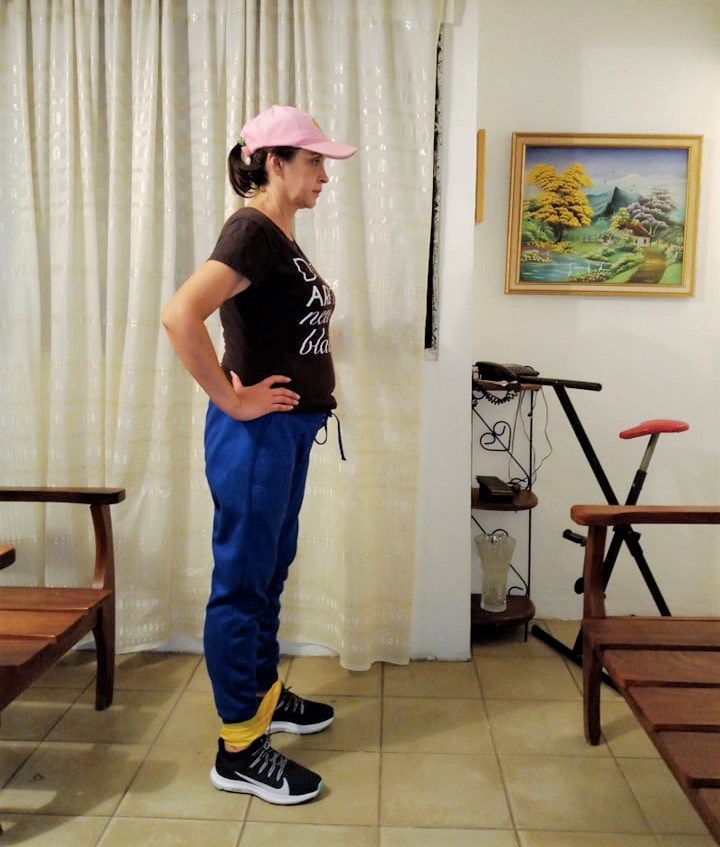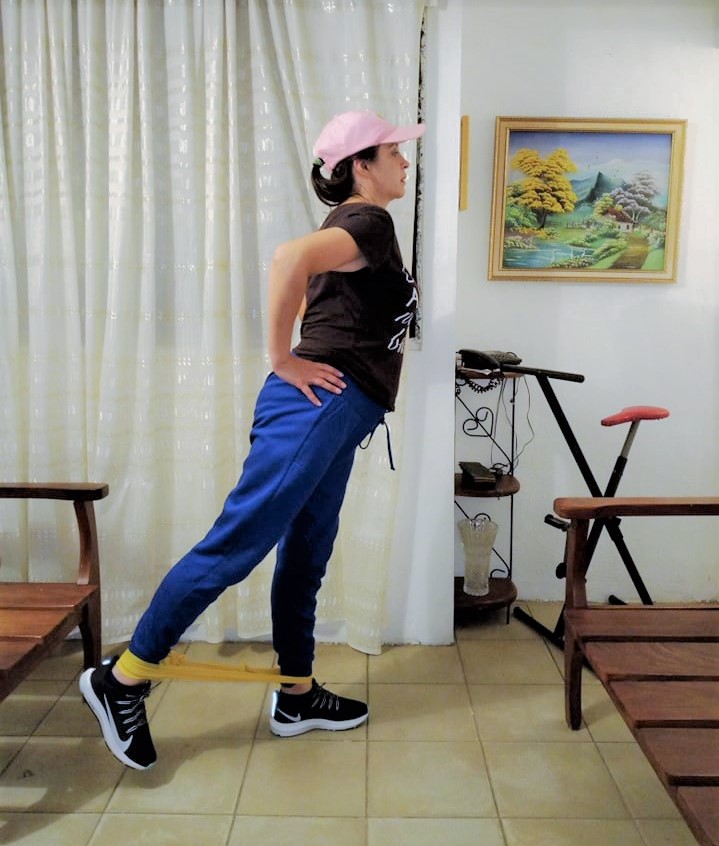 Les recomiendo además de hacer los ejercicios con mucha prudencia para no caer en los excesos, una alimentación sana a base de frutas, cereales y proteínas.
Gracias amigos. Hasta un próximo post!
I recommend that in addition to doing the exercises with great caution so as not to fall into excess, a healthy diet based on fruits, cereals and proteins.
Thank you friends. Until a future post!
Algunas imagenes fueron editadas en Canva. Traducido en www.deepl.com
Some images were edited in Canva. Translated at www.deepl.com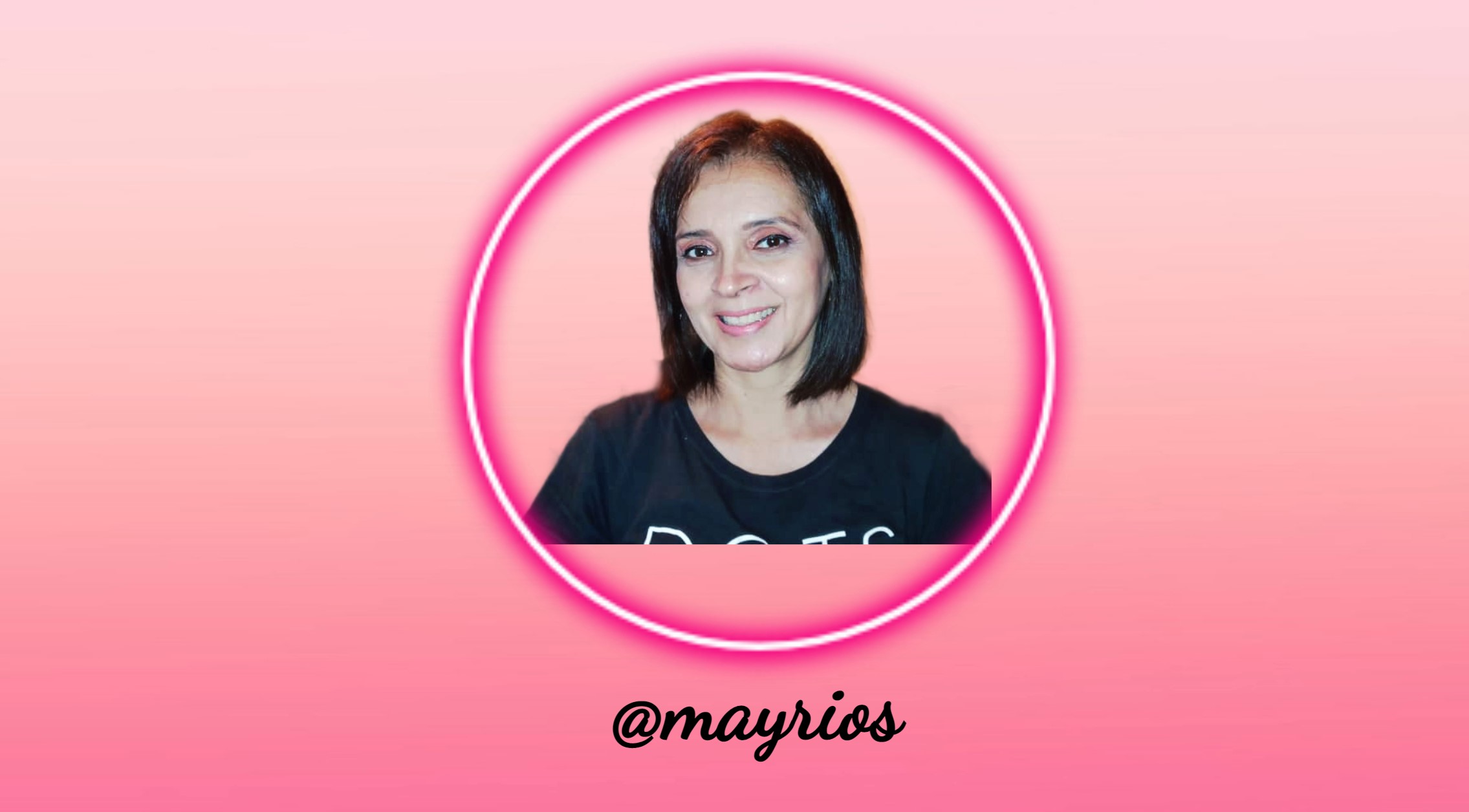 ---
---