What A Start!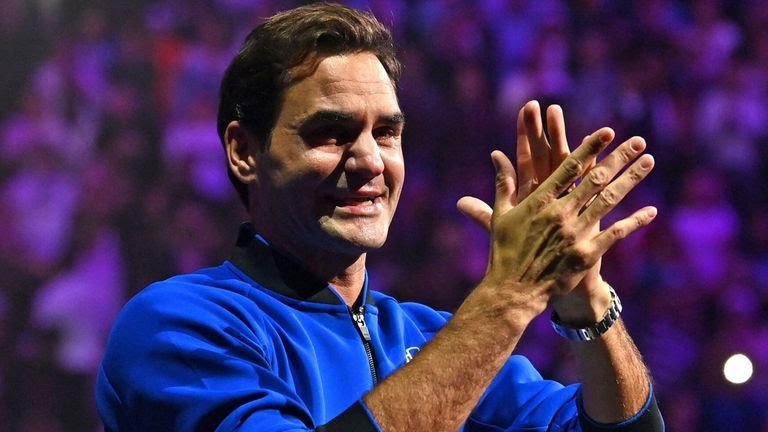 Bye, Roger
With no club football, this weekend looks scarier than the last. However, I couldn't have prayed for a better start to the weekend. When I heard the news about the impending retirement of Roger Federer, I was heartbroken and relieved at the same time. Heartbroken because it's time to say goodbye to the man who made me fall in love with such a wonderful sport; relieved because it has been a painful watch each time Roger Federer comes back from an injury setback only to get beaten in the Grand Slam by one of the new boys. I can stomach Federer losing to Nadal or, to a lesser extent, Djokovic. However, it's frustrating to see him beaten by these boys who are yet to earn their stripe at the top level.
A Federer-Nadal pairing is the dream. Growing up, I disliked Nadal solely because he scared the shit out of me whenever Federer had to play him. I compared the Spaniard with the Swiss great on several occasions and always come out with the same result - Federer is better. At least, that's my opinion. Despite my belief, a match against him was always hell for Federer.
As time went by, I learned to appreciate the Spaniard warriors' greatness so much that I fell in love with him - after all, there's always room for two. After Federer, Nadal is the man I want to watch. While Federer oozes grace, class and poise, Nadal gives energy, tenacity and ruthlessness in abundant quantities. Watching two modern greats together for Federer's last dance was emotional. I wiped tears off my face a few times as a teary Federer bid goodbye for the last time. We will never see his likes again.
Doomed England?
The match between Italy and England only made the start of another sporty weekend a lot more interesting. In the afternoon, SkySports senior reporter Rob Dorsett answered a couple of questions about the England squad. As he answered those questions I noticed a recurring phrase "the better teams" in his answers. He answered questions while constantly referencing the fact that some teams are better than this England squad. If a reporter who is privy to inside knowledge continuously hammer home the point, why are most England football fans talking about the World Cup trophy "coming home"? Why do they see themselves as favourites for this tournament?
In typical fashion, an out of form and seriously depleted Italy beat England 1-0. In fact, they should've scored more. And, England goes another game without a goal from open play. That makes it five or so in a row. During the question and answer section with Dorsett, one fan asked why Southgate continues to play with three central defenders, two wing backs and two defensive midfielders despite being blessed with a lot of attacking talents. The game against Italy gave a perfect answer to that question.
Before Kyle Walker's error that led to the goal, England were relatively untroubled; they carried no serious threat upfront too. Immediately they switched from the 3-4-3 to a four man defence, it all started happening; England looked more dangerous upfront, but they also looked more vulnerable at the back - Italy should've scored more. Is Southgate using an ultra-defensive approach because he doesn't trust his defenders?
Despite the popularity of the English Premier League, England is yet to have a team that can be labelled as the best in the world. I'm not sure they are even in the top 3. Is the influx of foreigners to the EPL the reason to blame for this? In all sincerity, the top teams in England have the least amount of locals in their regular starting 11. Man U has just two (Sancho, Rashford), Man City has two (Walker, Foden), Arsenal has three (Ramsdale, White, Saka), Chelsea has three (James, Mount, Sterling), Liverpool has two (Arnold, Elliott), Tottenham has two (Dier, Kane). Real Madrid (Carvajal) and PSG (Kimpembe, Mbappe) are probably the only top teams with as few locals in their starting 11.
With just under two months to the start of the World Cup in Qatar, English fans look primed and destined for another heartbreak. They've waited for success for so long. It looks so close, yet so far.
Image Source: www.skysports.com/amp/tennis/news/12110/12704183/laver-cup-roger-federer-brings-glittering-career-to-tearful-end-alongside-rafael-nadal
---
---