Rutina para ayudar a la flexibilidad con bandas elásticas // Routine to help flexibility with elastic bands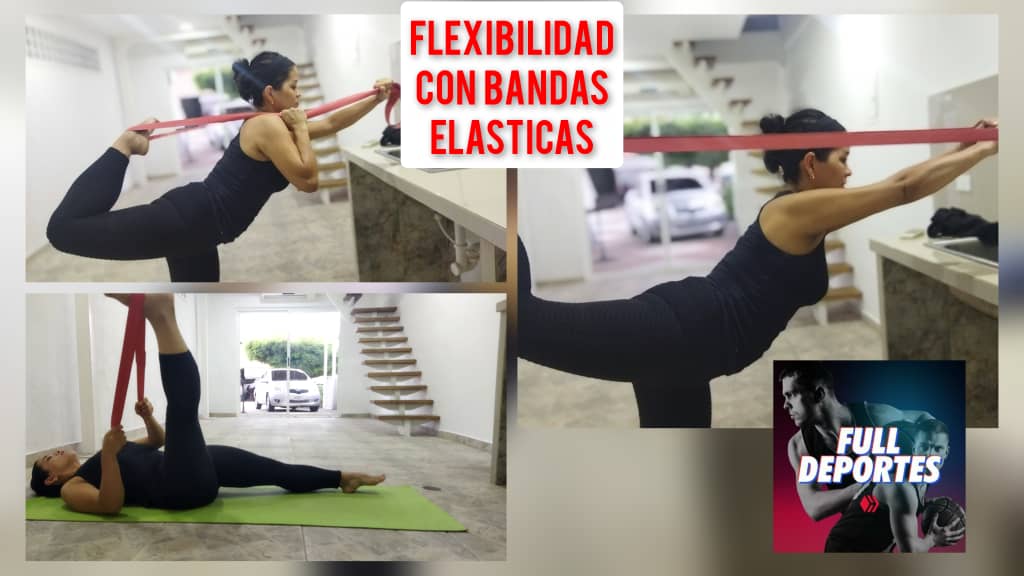 ---
Saludos amigos,bienvenidos a mi blog. Hoy les comparto mi rutina de ejercicios para mantener la flexibilidad. Esta practica va dirigida principalmente aquellas personas que ya tienen algo de flexibilidad, pero sino la tienen también puedes hacer esta rutina usando las bandas elásticas para ayudarte sin forzar mucho las posiciones. Yo hago esta practica una vez a la semana para mantenerme, ya que practique ballet desde muy niña por muchos años, y a pesar de mi edad se mantiene mi flexibilidad en buen termino, la flexibilidad es un don que debemos mantener a lo largo de los años, para así también evitar o retrasar dolencias cuando seamos mas adultos. Yo soy flexible debido a que comencé la disciplina del ballet desde muy niña y a mediada que mis huesos se formaban se adaptaron a las posiciones donde permanecía y practicaba por mucho tiempo por los requerimientos del ballet.
---
Greetings friends, welcome to my blog. Today I share with you my exercise routine to maintain flexibility. This practice is mainly for those who already have some flexibility, but if you don't you can also do this routine using the elastic bands to help you without forcing the positions too much. I do this practice once a week to maintain myself, as I practiced ballet as a child for many years, and despite my age my flexibility is still in good shape, flexibility is a gift that we must maintain over the years, to avoid or delay ailments when we are older. I am flexible because I began the discipline of ballet as a child and as my bones formed they adapted to the positions I stayed in and practised for a long time due to the demands of ballet.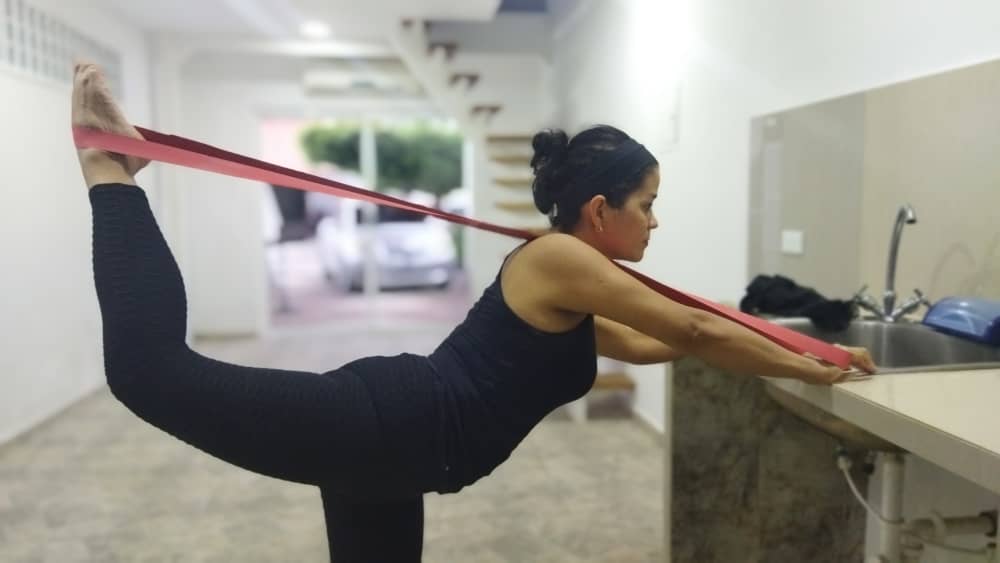 ---
La flexibilidad de nuestros músculos es muy importante como su tonificación y frecuentemente nos olvidamos de esto. Para ayudar a la flexibilidad existen unas bandas elásticas que representan una gran ayuda , con ellas podemos realizar muchos estiramientos, son como nuestra amiga para la flexibilidad.
The flexibility of our muscles is as important as their toning and we often forget this. Para ayudar a la flexibilidad existen unas bandas elásticas que representan una gran ayuda , con ellas podemos realizar muchos estiramientos, son como nuestra amiga para la flexibilidad.
---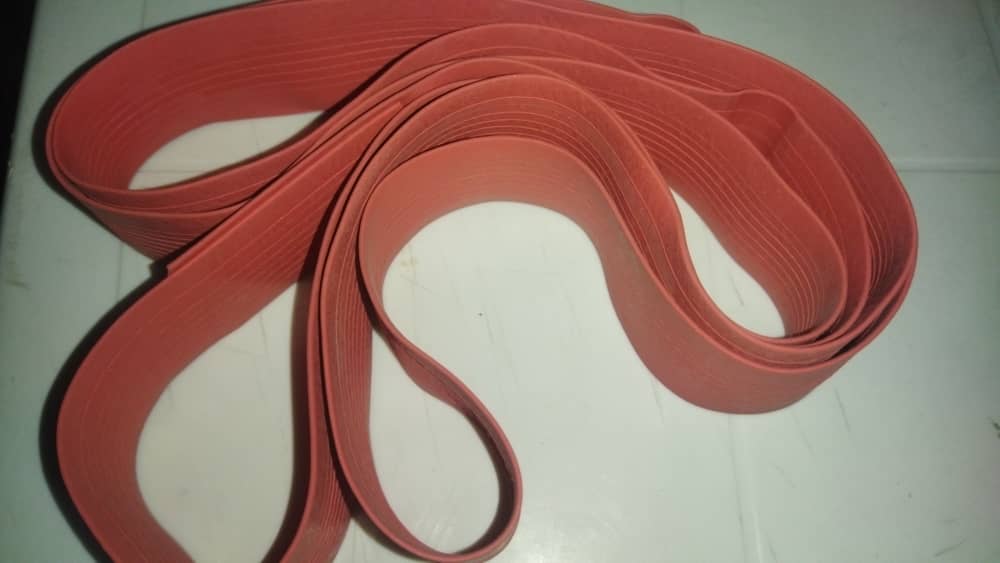 ---
Las bandas elásticas ayudan a la elongación de los músculos, al ser elasticas nos ayudan a llegar a nuestros limites, eso si siempre teniendo precaución.Estas bandas son de goma que permiten realizar diferentes tipos de ejercicios. Debemos fijarnos en la capacidad de estiramiento al momento de adquirir una banda elástica.
The elastic bands help the elongation of the muscles, as they are elastic they help us to reach our limits, but always with caution, these bands are made of rubber that allow us to perform different types of exercises. We must pay attention to the stretching capacity when purchasing an elastic band.
---
Vamos a realizar una rutina de mantenimiento de flexibilidad
We are going to perform a flexibility maintenance routine
Ejercicio 1
Exercise 1
---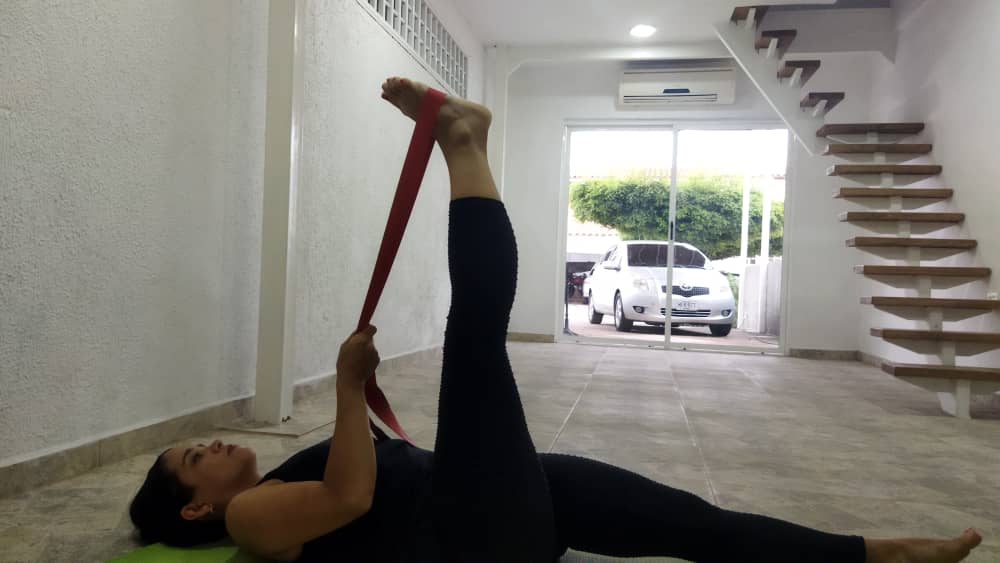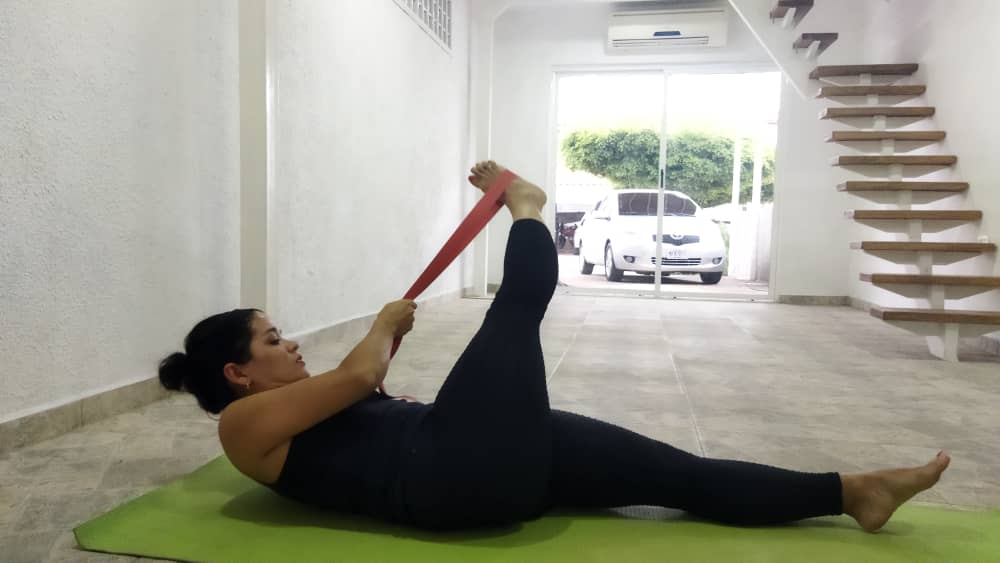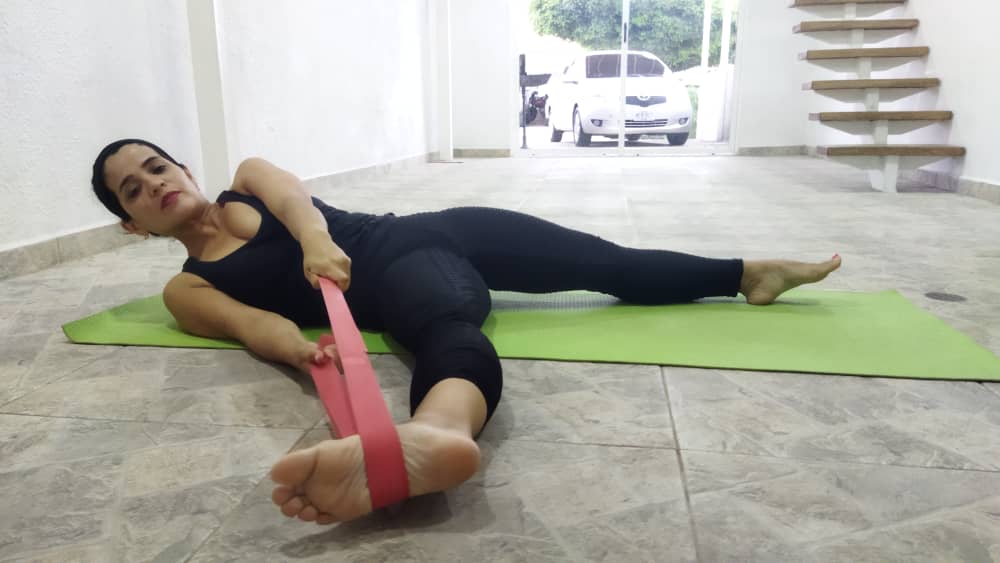 ---
Este ejercicio lo realizamos acostado en el suelo, es importante que la espalda permanezca lo más recta posible durante todo el ejercicio; la espalda se hace curva, hay que subir menos la pierna en este ejercicio estamos estirando los isquiotibiales, glúteos y gemelos. Permanecemos series de 30 segundos y tumbamos por adelante la pierna y luego hacia el piso, hacemos 5 repeticiones permaneciendo 30 segundos en la posición, luego cambiamos de pierna.
This exercise is performed lying on the floor, it is important that the back remains as straight as possible throughout the exercise; the back becomes curved, you have to raise the leg less in this exercise we are stretching the hamstrings, buttocks and calves. We remain in a series of 30 seconds and then we lie the leg forward and then towards the floor, we do 5 repetitions remaining in the position for 30 seconds, then we change legs.
---
Ejercicio 2
Exercise 2
---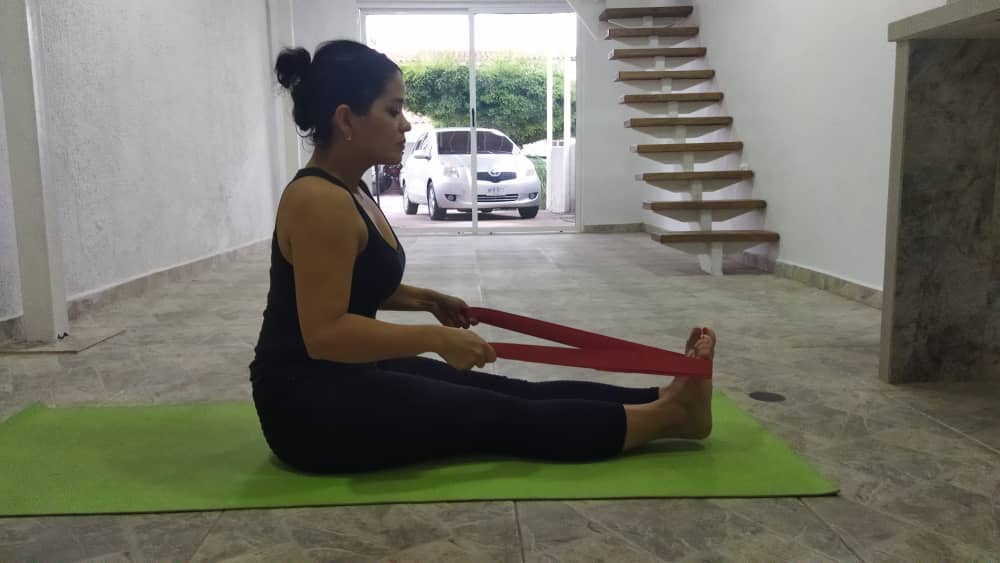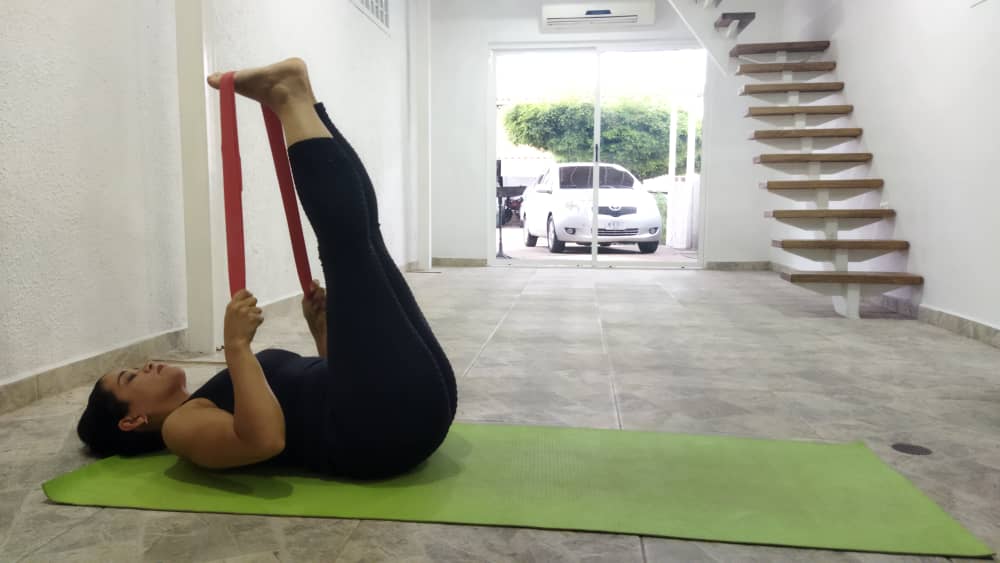 ---
Aun en el piso con la espalda levantada, pasamos las bandas alrededor de nuestros pies y y tomamos las bandas por cada lado con tensión, y nos balanceamos hacia adelante y hacia atrás con las piernas estiradas trabajando de esta forma las piernas y los abdominales, permanecemos 20 segundos en cada posición, hacemos 5 repeticiones.
Still on the floor with our backs up, we pass the bands around our feet and take the bands on each side with tension, and we swing back and forth with our legs straight working our legs and abdominals, we stay 20 seconds in each position, we do 5 repetitions.
---
---
Ejercicio 3
Exercise 3
---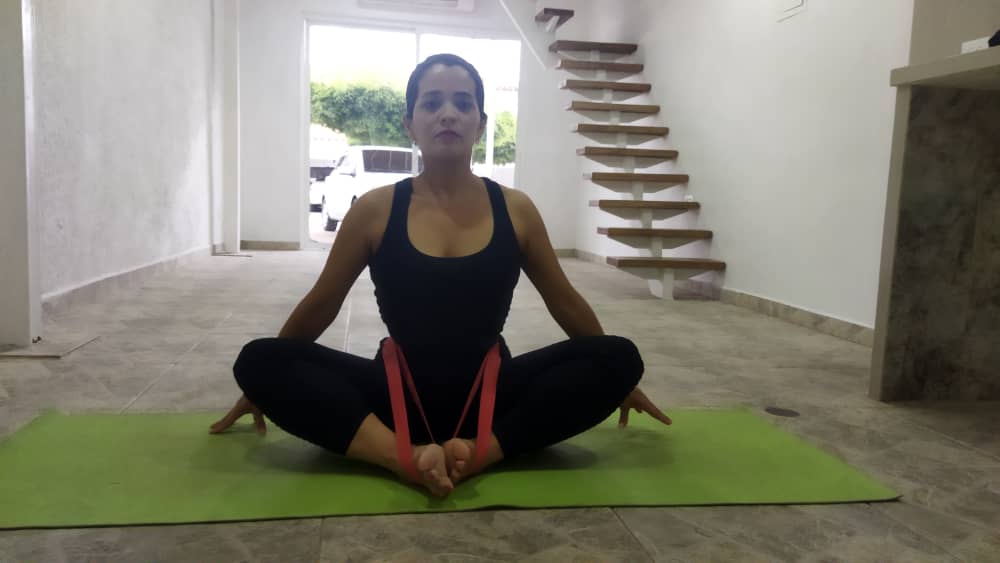 ---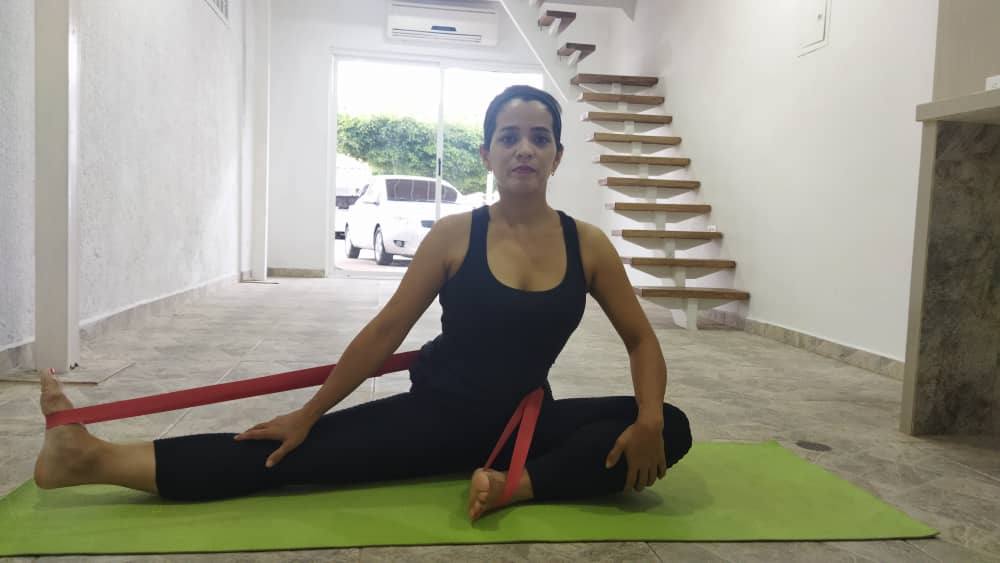 ---
---
---
Sentados en el piso con la posición de las piernas en mariposa, pasamos la banda por detrás de nuestra espalda, colocado cada pie en los extremos de la balda, permanecemos con la espalda estirada, dejando la rodilla derecha recogida, estiramos la izquierda, sintiendo la tensión de la banda y de nuestros músculos, permanecemos 20 segundos en la posición, y cambiamos de pierna, hacemos 5 repeticiones con cada pierna.
Sitting on the floor with our legs in butterfly position, we pass the band behind our back, placing each foot on the ends of the shelf, we remain with our back stretched, leaving our right knee tucked in, we stretch our left knee, feeling the tension of the band and our muscles, we remain 20 seconds in the position, and we change legs, we do 5 repetitions with each leg.
---
Ejercicio 4
Exercise 4
---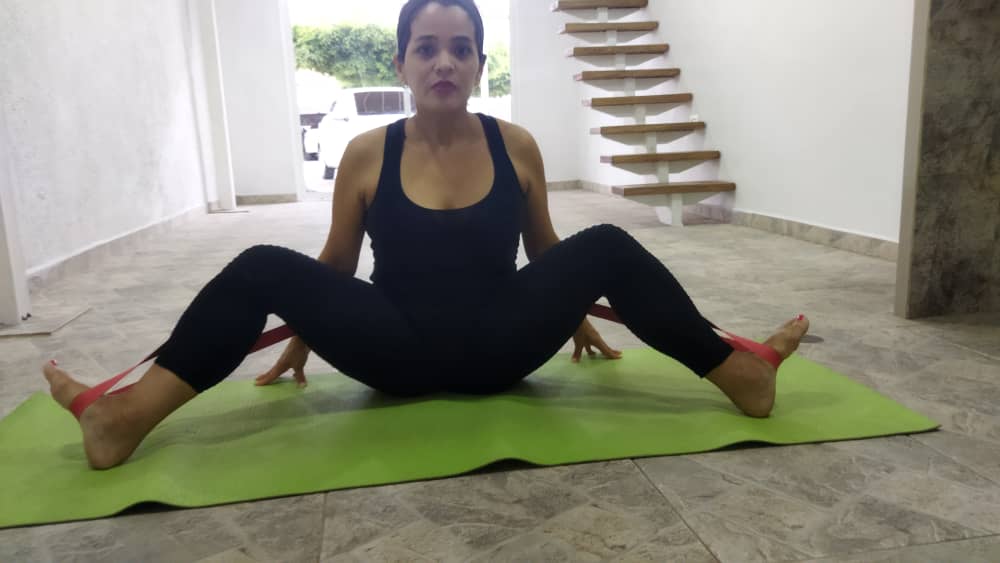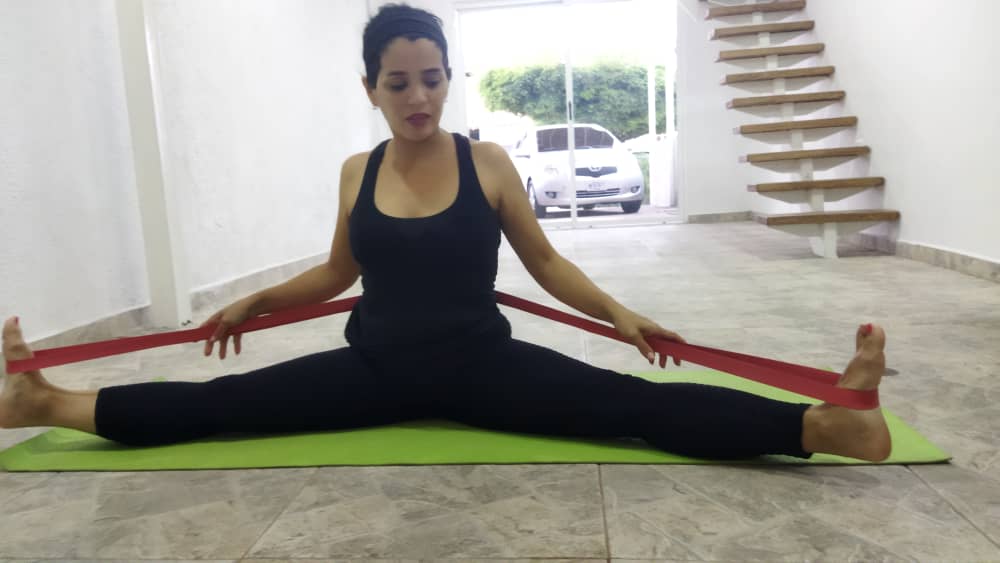 ---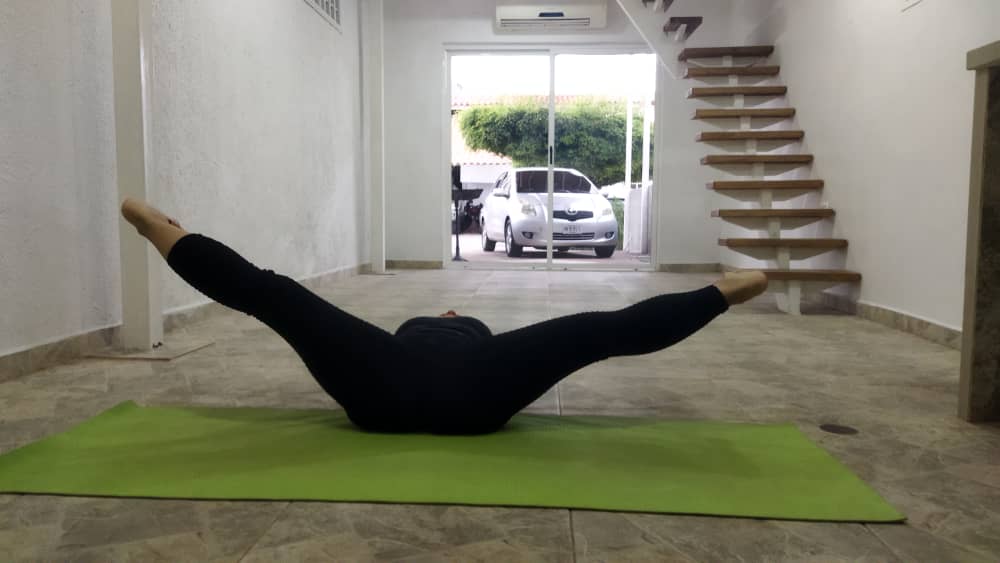 ---
Aumentando la flexibilidad, sentados en el piso con las piernas abiertas hacia los lados recogemos las rodilla y las volvemos a estirar tratando de quedar completamente abiertos, con la espalda recta, y nos tumbamos hacia atrás, realizamos nuevamente el ciclo 5 veces, si no sentimos mucho dolor permanecemos 20 segundos en cada posición.
Increasing flexibility, sitting on the floor with our legs open to the sides, we pick up our knees and stretch them again trying to be completely open, with a straight back, and we lie backwards, we do the cycle 5 times, if we do not feel much pain we stay 20 seconds in each position.
---
Ejercicio 5
Exercise 5
---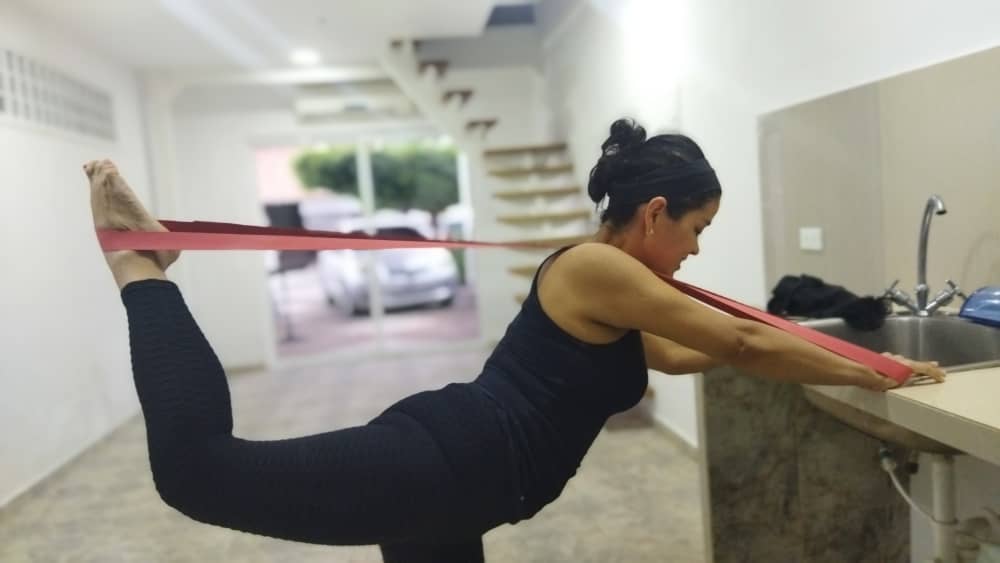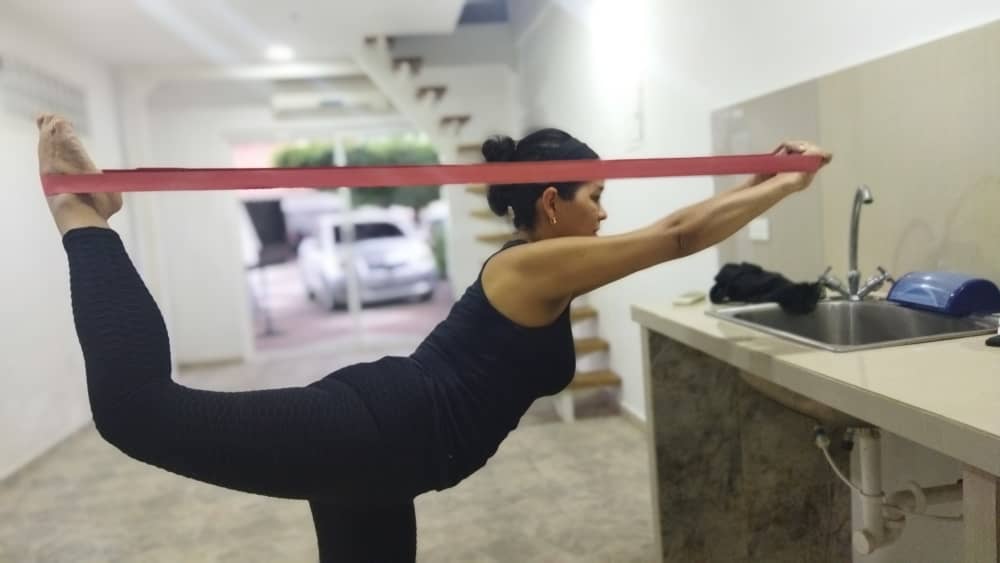 ---
Nos levantamos del piso y con el apoyo de una superficie. tomamos nuestro pie con la banda, la pasamos por el hombro y la aguantamos con la mano, estirando de esta forma todo nuestros músculos, sintiendo la tensión, soltamos las manos de la superficie y nos quedamos en posición de bailarina, estirando todos nuestros músculos. Hacemos 5 repeticiones en cada posición
We get up from the floor and with the support of a surface, we take our foot with the band, we pass it over our shoulder and hold it with our hand, stretching in this way all our muscles, feeling the tension, we release our hands from the surface and we stay in the dancer's position, stretching all our muscles. We do 5 repetitions in each position.
Practicando esta rutina dos veces a la semana y con la ayuda de las bandas elásticas, mantenemos nuestra elasticidad.
By practising this routine twice a week and with the help of the elastic bands, we maintain our elasticity.
---
La rutina de estiramiento con bandas se pueden hacer antes o después de un entrenamiento, o cuando sentimos nuestro cuerpo muy rígidos.
The stretching routine with bands can be done before or after a workout, or when our body feels very stiff.

..
---
Hasta otro día amigos, disfruten sus días manteniendo su saluda con los ejercicios.
Till another day friends, enjoy your days keeping your health with the exercises.
---

Todo el contenido es de mi autoría y las imágenes son de mi propiedad
Separador editado con Canva.
Las fotos fueron tomadas con mi Redmit 9T
Traducido con Deepl
All content is my own and images are my property.
Separator edited with Canva.
The photos were taken with my Redmit 9T
Translated with Deepl
---
---