SHARE YOUR BATTLE Weekly Challenge! DRAGONS!
SHARE YOUR BATTLE Weekly Challenge! DRAGONS!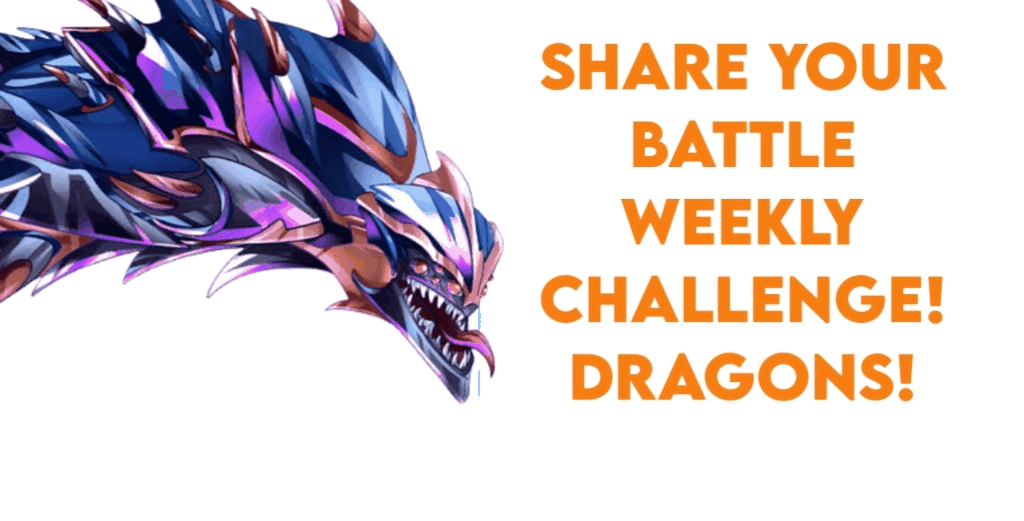 Hello Guys "Assalamualaikum" How are you all, I hope everyone is well. I am also well in your prayers Alhamdulillah. Today I played My Weekly Challenge with #Dragons. Today I had a lot of fun playing with this dragon. My first battle of the day was the one I won. My daily challenge today was Water Quest . To complete that daily challenge I started playing with dragons because today is my weekly challenge and dragon. The funny thing is that today I want to play the first game with #Dragon and I win that first game. I like it very much. I got the fun of playing with fire in this place. I have never been able to complete the Daily Challenge on the first day before.
First I will present to you the details of the dragon that I played with today, then I will do my battle in front of you, so let's go.
DIEMONSHARK
RARE Water Unit
Diemonsharks travel alone throughout the stars searching for prey and territory. They are fearsome beasts with lightning-fast reflexes. Diemonsharks are extremely territorial and attack any creature that encroaches on their land. The Chaos Legion trains them as transports for equipment. Since they can travel by air, ground, or sea, they are ideally suited for the task.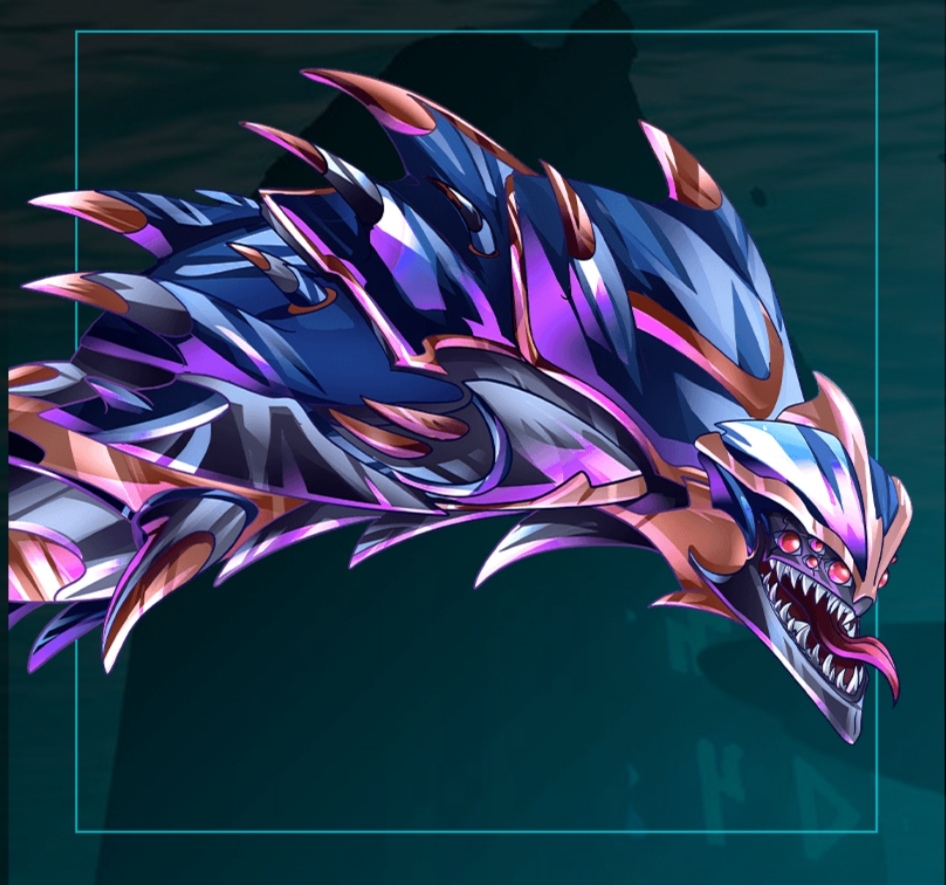 "You heard him," Saldy said with a wave of his hand to Cooper, who stood at the wheel of the little trawler. "Slow ahead."
Saldy scooped a handful of chum out of the bucket and threw it into the water. Muttering, he repeated, "Slow ahead," and cast a baleful glare at the ship's cabin, where the captain was. "I can go slow ahead. Come on down and chum some of this mess."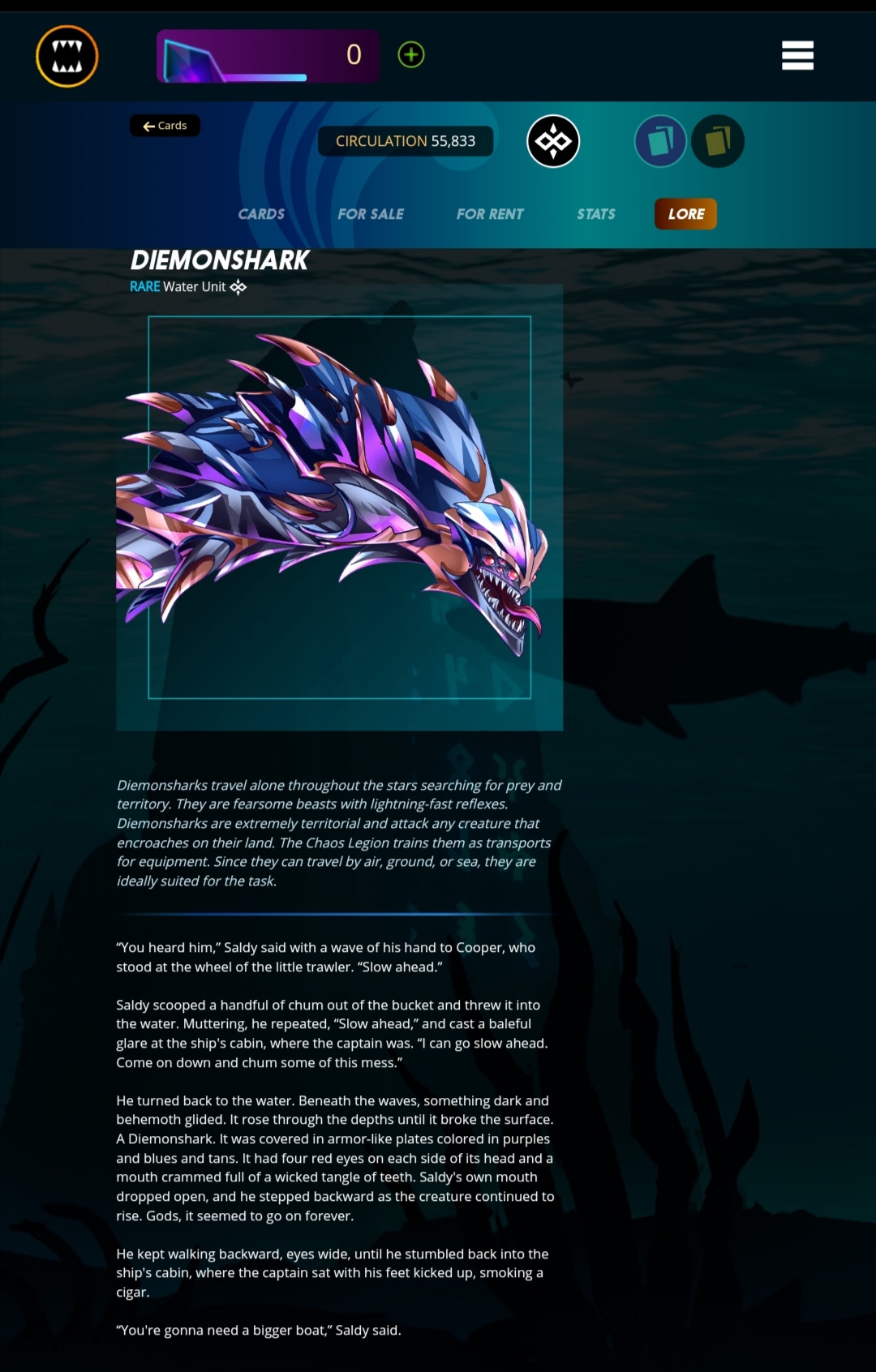 He turned back to the water. Beneath the waves, something dark and behemoth glided. It rose through the depths until it broke the surface. A Diemonshark. It was covered in armor-like plates colored in purples and blues and tans. It had four red eyes on each side of its head and a mouth crammed full of a wicked tangle of teeth. Saldy's own mouth dropped open, and he stepped backward as the creature continued to rise. Gods, it seemed to go on forever.
He kept walking backward, eyes wide, until he stumbled back into the ship's cabin, where the captain sat with his feet kicked up, smoking a cigar.
"You're gonna need a bigger boat," Saldy said.
FOR SALE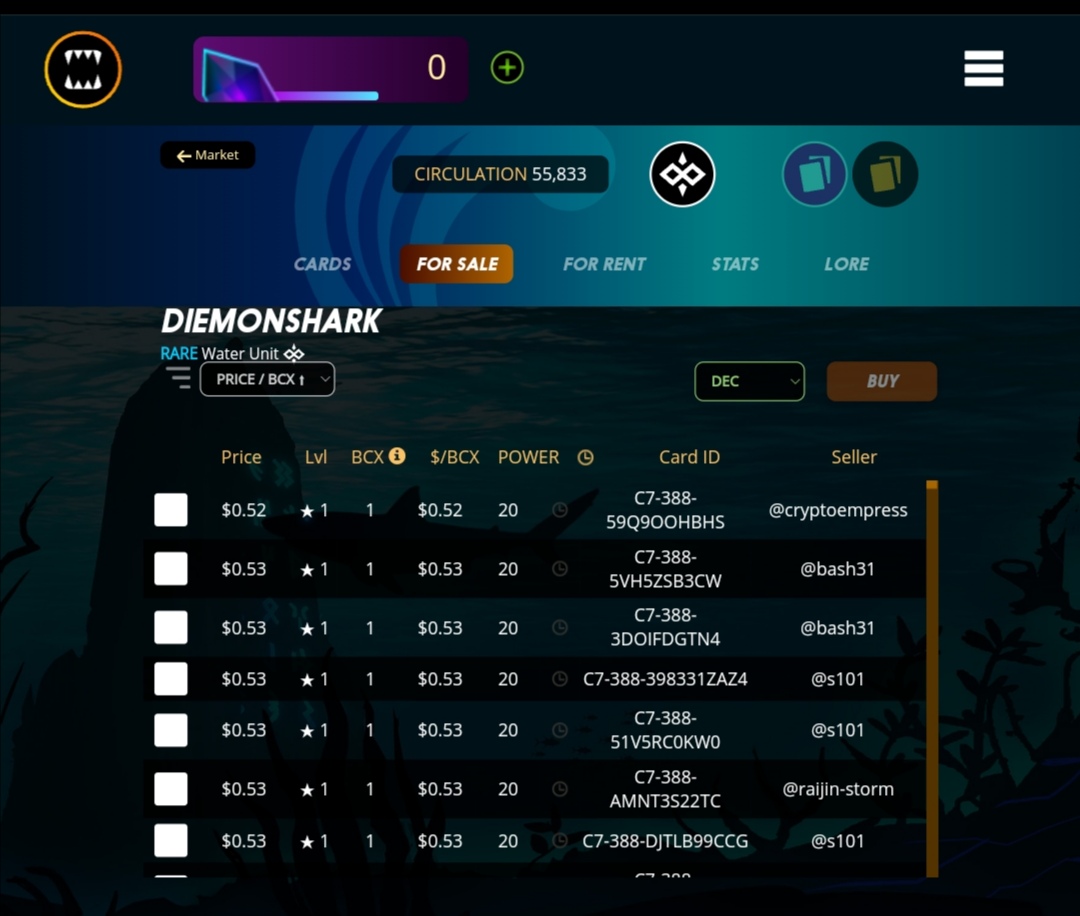 FOR RENT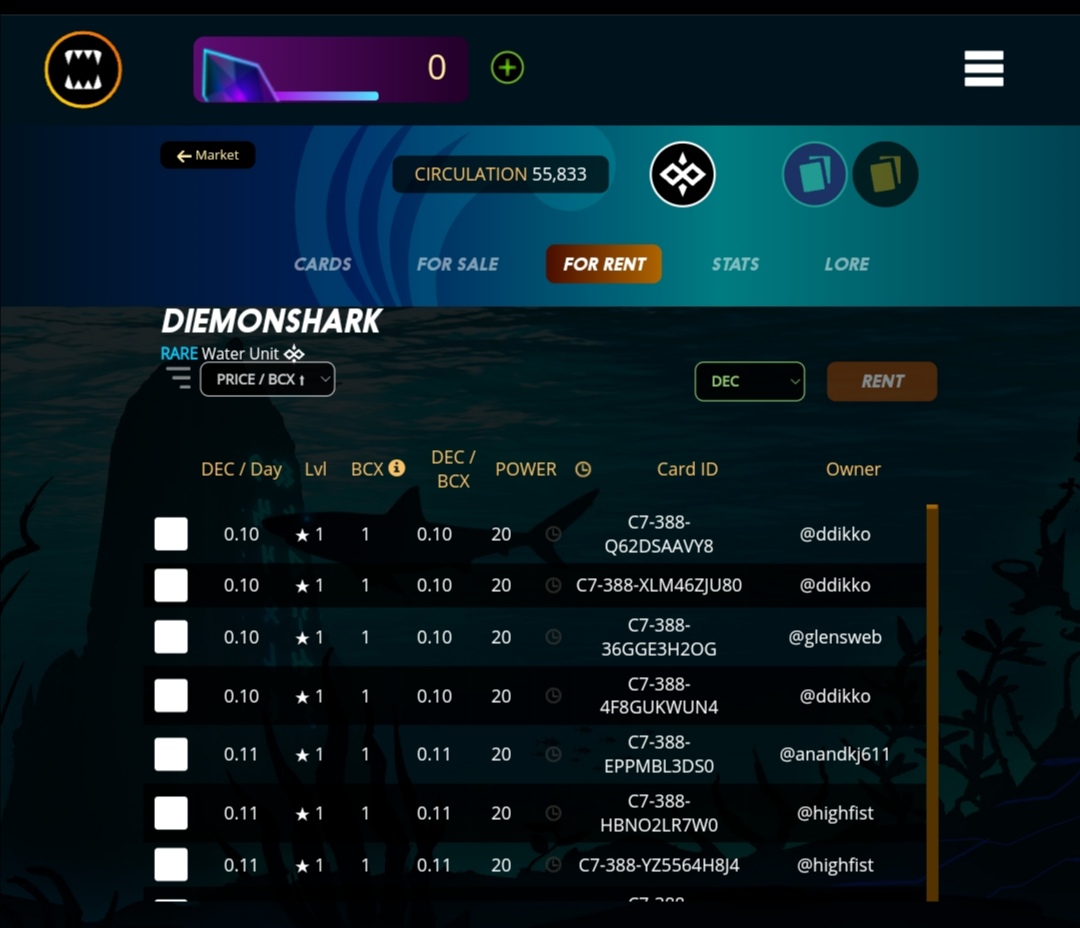 STATS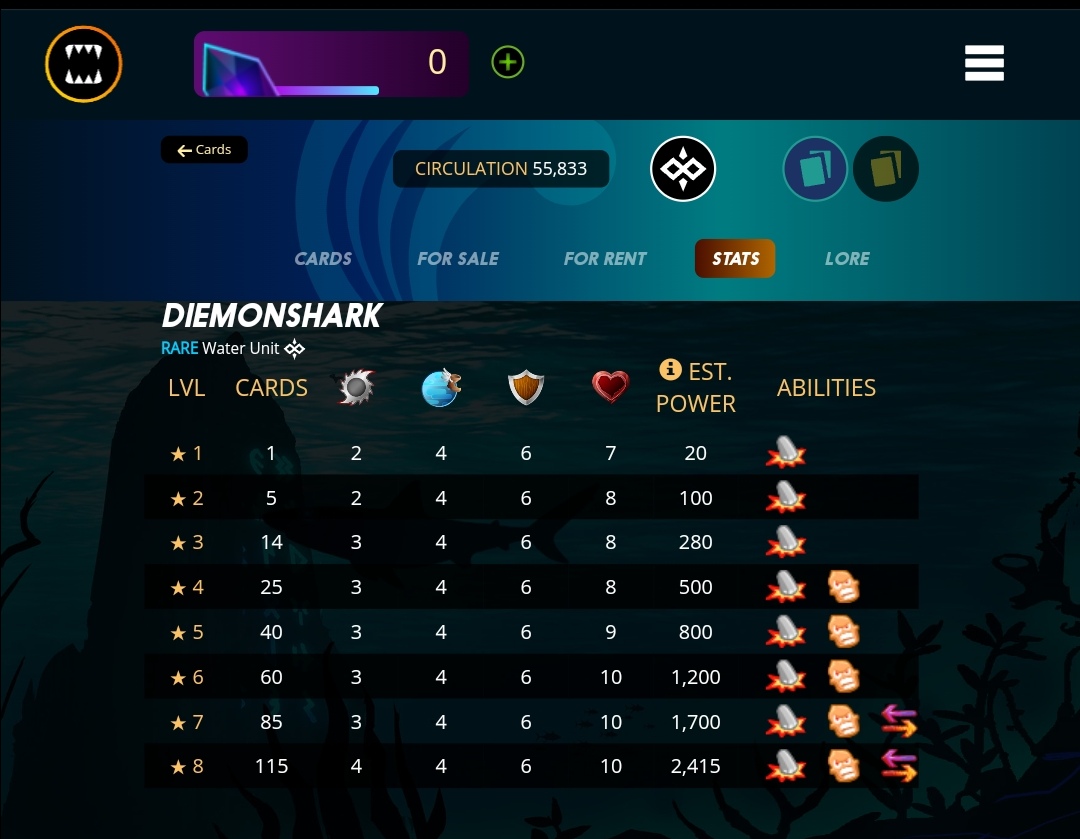 Hello, Splinterland warriors!, I hope that you are fine.
Good morning all friends. I played the Splinterlands game for my daily assignment last night. I got a chance to play Water Quest last night. I have not been allowed to play Water quest for a long time. Today, I'm happy to play Water Quest. I play water quest skillfully.
Because of I am a New player at Splinterlands Game, I meet difficulties many problems. I was unable to arrange my Battles properly due to Splinterlands' new Starter Cards. However, the previous matches were difficult with experience but well planned. After playing about few games, I was able to make sure my Battle plan was in place.

WATER QUEST

MOTHER KHALA Vs THADDIUS BROOD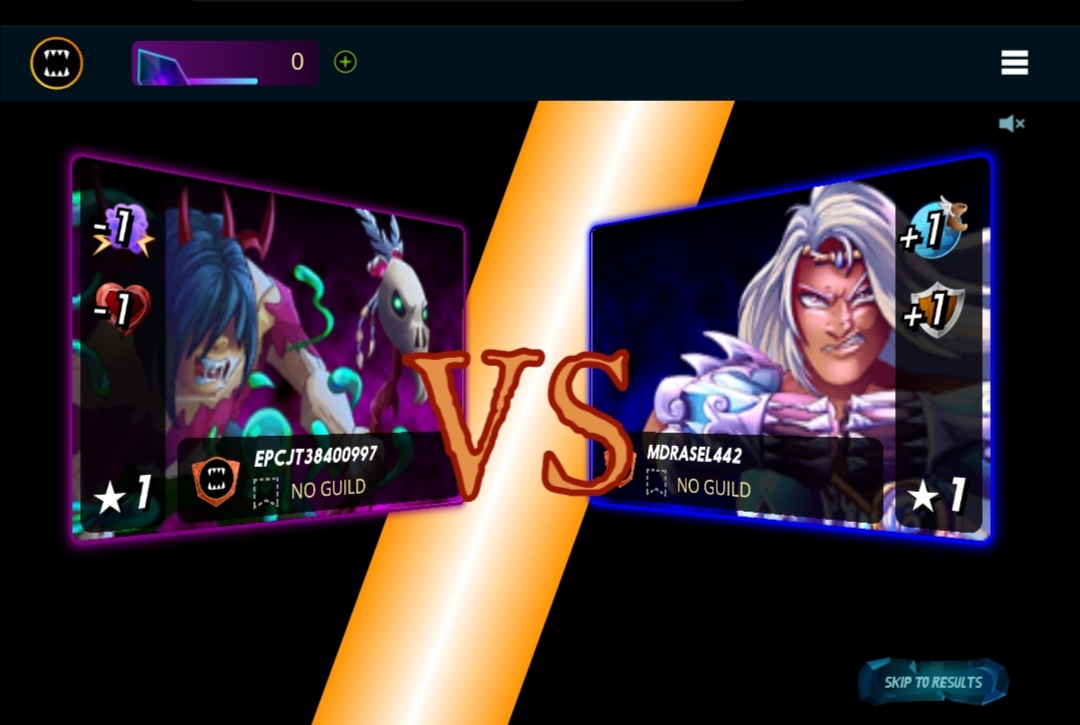 And the match started with cheers and applauses! People are really trying to cheer me up, but I believed in that chance and keep my hopes higher.
The battle lasted up to only 4 rounds.

The first skins hot of the card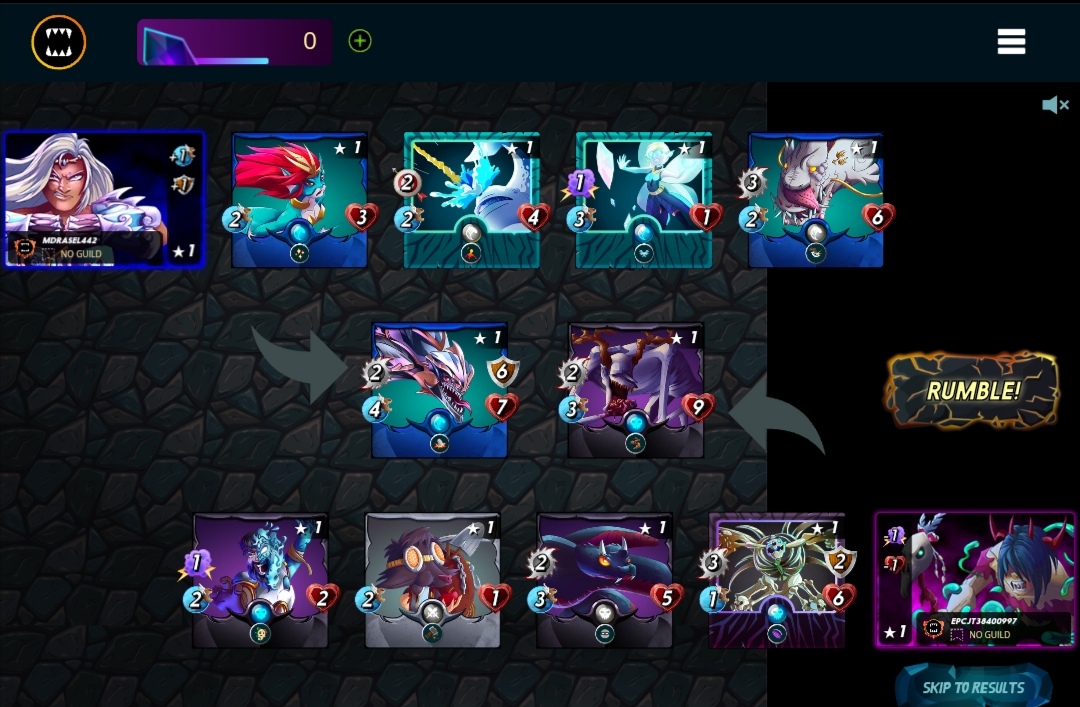 Round 1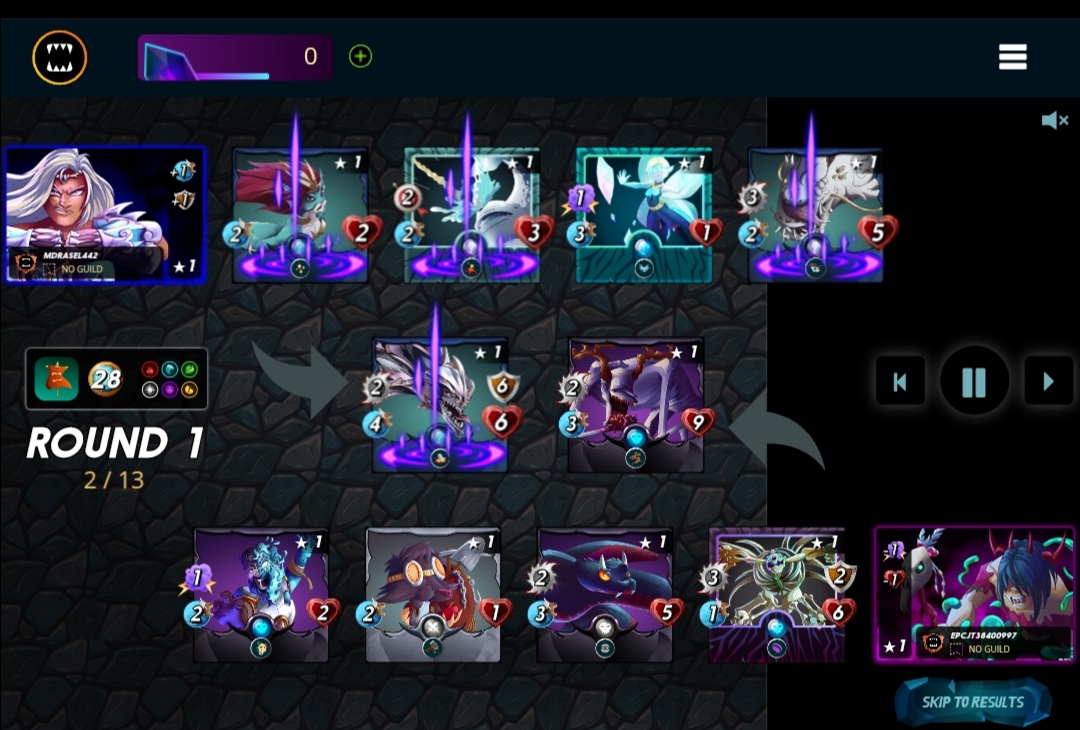 Round 2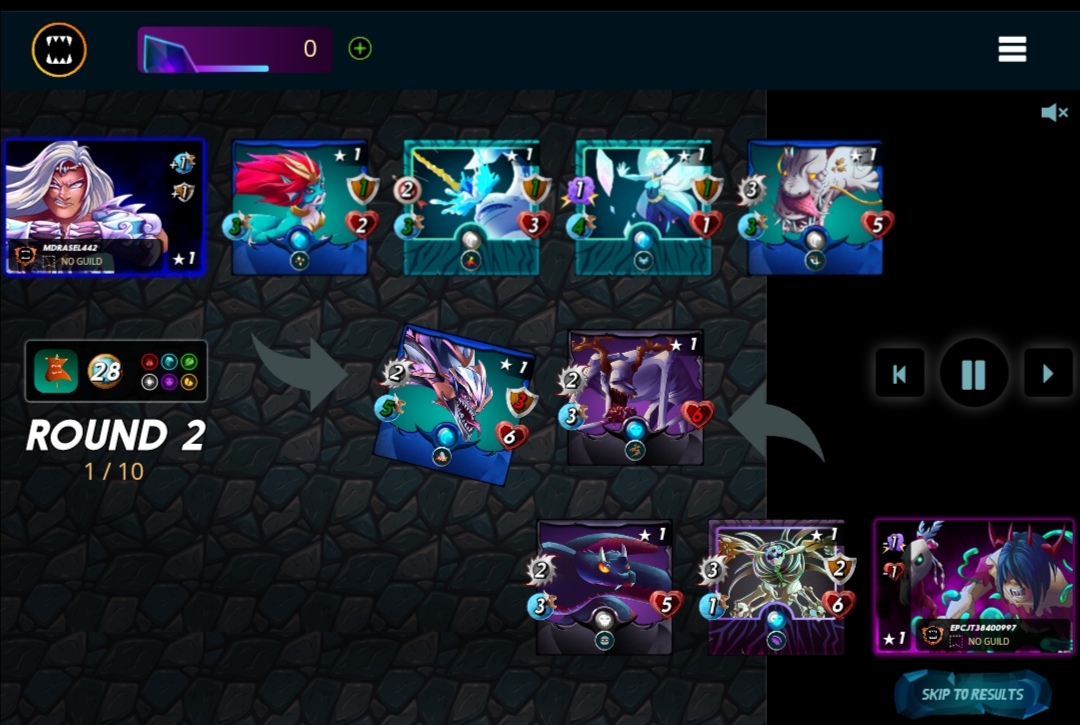 Round 3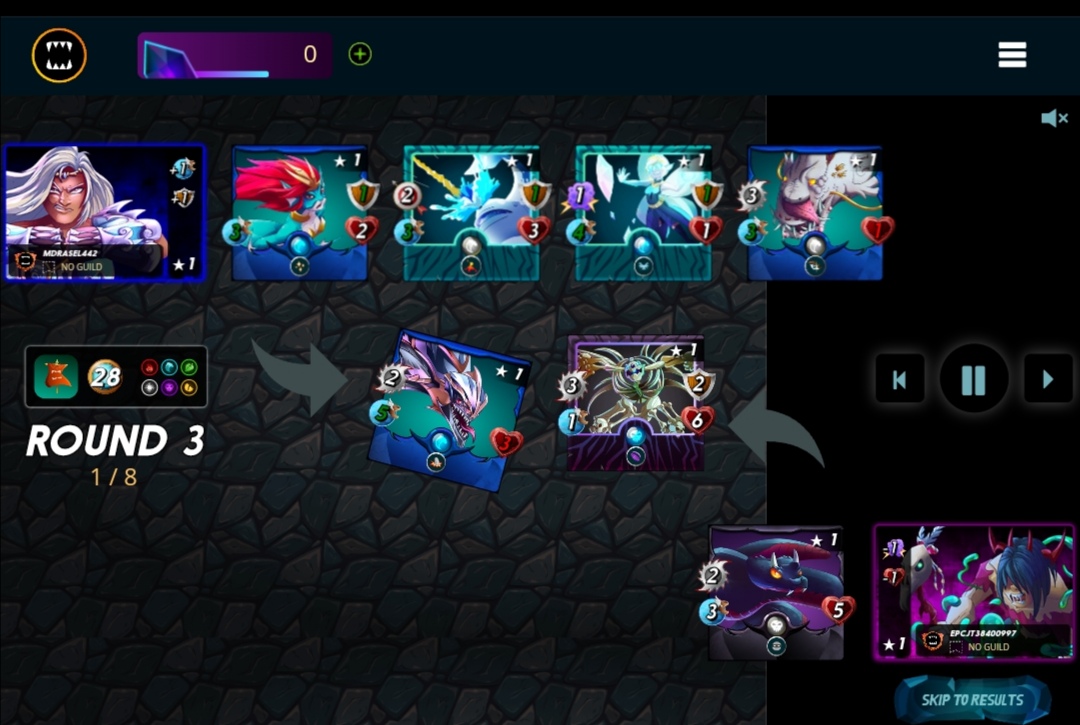 Round 4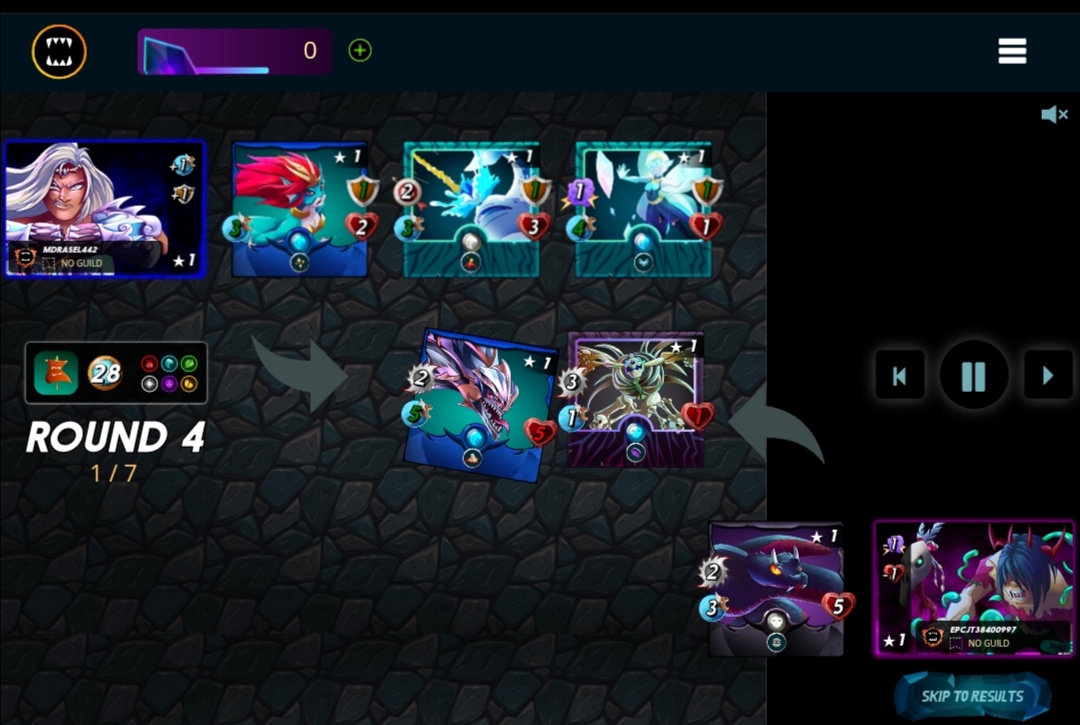 Finally I win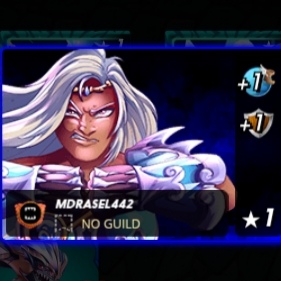 The final match is won #BATTE-RESULTS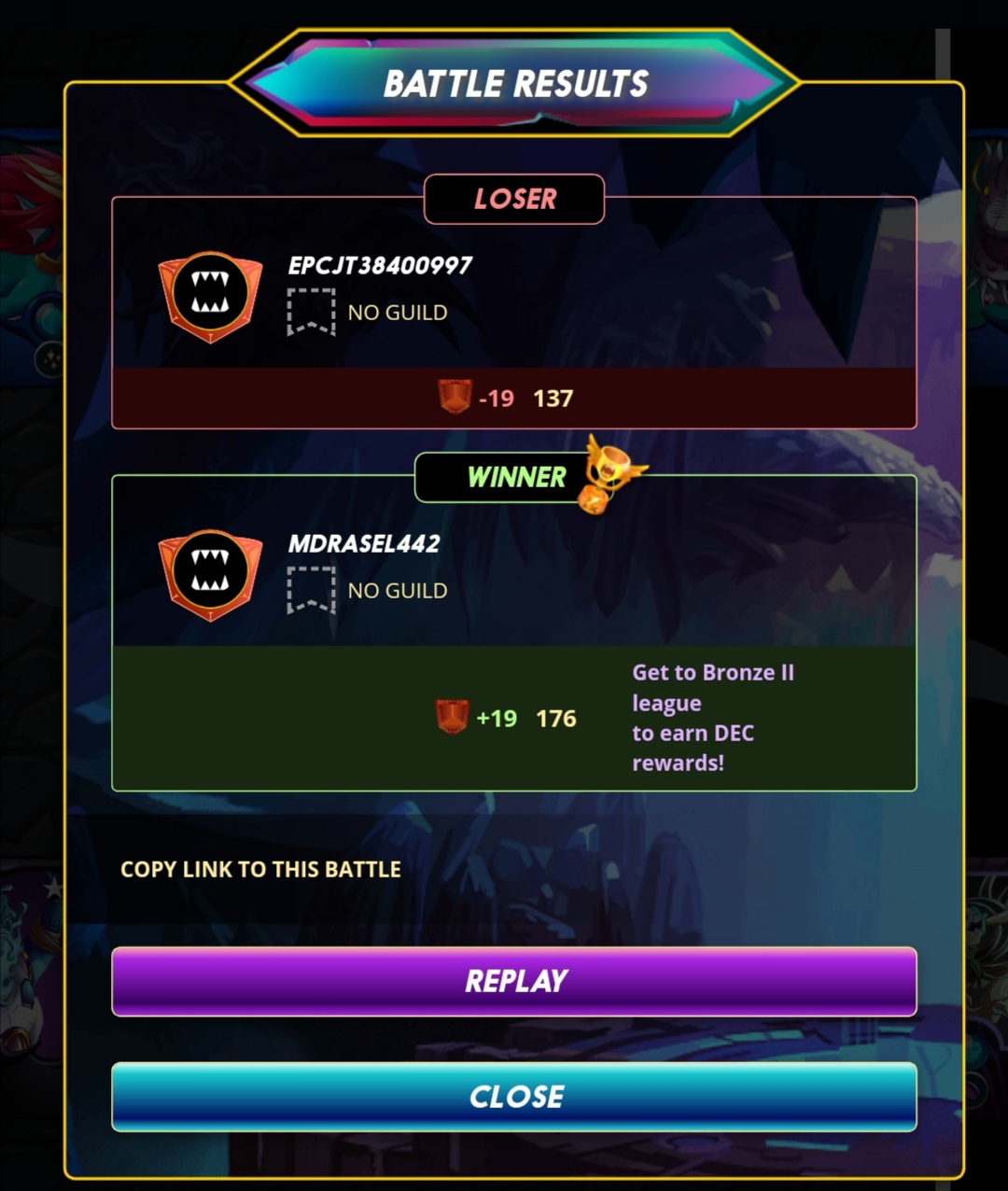 My Splinterlands account name @mdrasel442
My Splinterlands Reference link
My Battle Link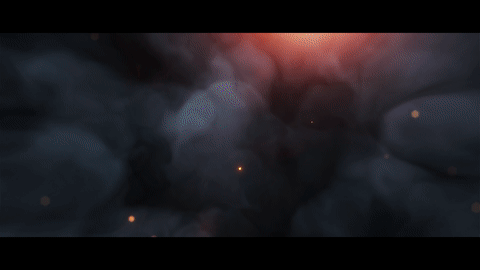 Posted using Splintertalk
---
---