Rabona - Stabilization.. or Stagnation?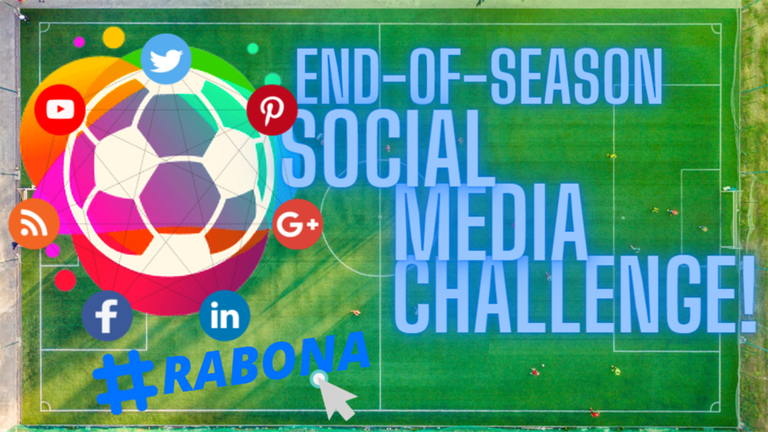 Hello! After a long time away, I am back with Rabona challenges and it seems I chose the right time, as I see Rabona had a break from providing themes for social media challenges as well! I have been missing for what was essentially three full seasons, but there is no real need in separating their story, as they were all very similar. I will do this explanation later on, as I will start with the social media challenge.
I really like the social emdia challenge this time, as it is quite different and I think there is a lot of interesting takes on how to answer it - it is how to make a Rabona club successful. Of course, I don't feel like I have much of an authority to try and answer it, still being in League 2, but I will do my best!
How to Make a Club Successful?
If I was to give a short answer to this, I think it would be - I have no freaking idea. I do have to try though, so let's do this.
The first thing that comes to mind is abusing the system. This is extremely important with games with so many stats - find a small hole and abuse it! This is the case with player stats vs their positions, leading to the possibility of signing better players at lower salaries - that is a great way to get the team ahead, while ensuring you do not spend a fortune.
Secondly, you gotta be active. While the game does not require you to check in all the time, taking 2 minutes to check injuries as well as do a quick check on opponent's formation development can give you the edge you need to get a few extra points - which can be the difference between relegation and a safe spot in the league.
Of course, the game results aren't the only success factor - you need to make sure you upgrade your buildings the right way so that you are profitable. Starting to build ahead of time to ensure that you have the right level ready before you hit the threshold can be crucial - but spending money on an upgrade you won't use will just mean you're wasting it. For me, this is actually the most difficult part - especially with how expensive it gets to upgrade the stadium.

The Stagnation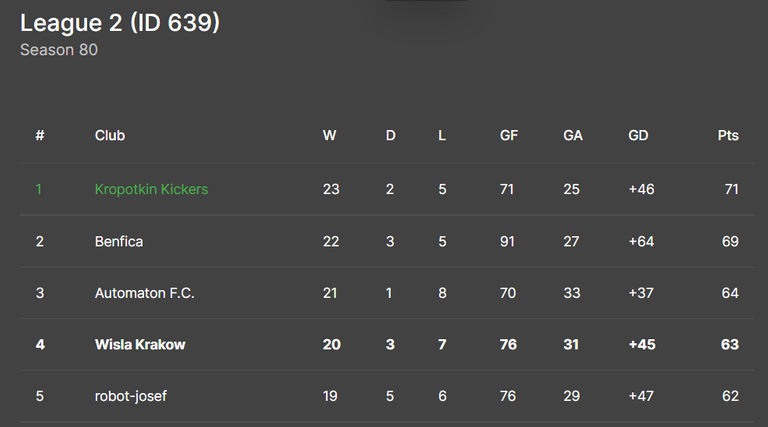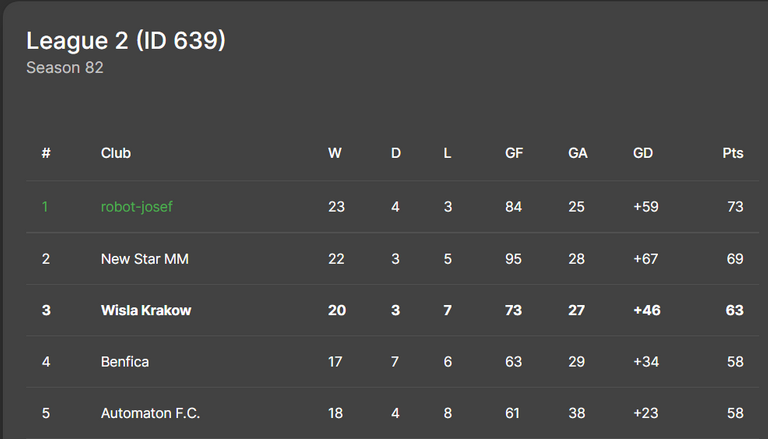 On the screenshots above, you can see seasons 80, 81 and 82. As you can tell, there was practically no progress. Not only in the fact that I still remain in the same league, but more so - my team has scored the exact same amount of points every single season, with the counter just getting stuck at 63.
The few positives are that due to winning most of the games, the fan growth is fairly fast, slowly reducing the RBN loss per game and making the club get closer to being sustainable. On top of that, I have slightly improved the overall performance of the team through some great signings. Something that I dislike, but is a part of the game is that I also signed a few players with extremely low OS, but high stats. This is because a player that is classified as a Goalkeeper could be a great striker, midfielder or a defender and there is no punishment or downside to fielding them out of GK position.
Another interesting point is the way relegation works. The team that is 13 always goes to the same league, etc. This means that the league I am in is getting the strongest relegated teams, making it even more difficult! Of course, this also means that it prepares me best for the comeback, so there's always both upsides and downsides.
In general though, I can't say I am very satisfied with my performance. In season 81 I was only 5 points behind promotion and I lost some games to simply losing the formation mindgames - which feels quite bad!
The good part is Season 83 though. We are already quite far into the season and it is the first time since I relegated that the team is actually in the first place for an extended period of time - even if the advantage is only about 1-2 points at most times. You can see the standings below: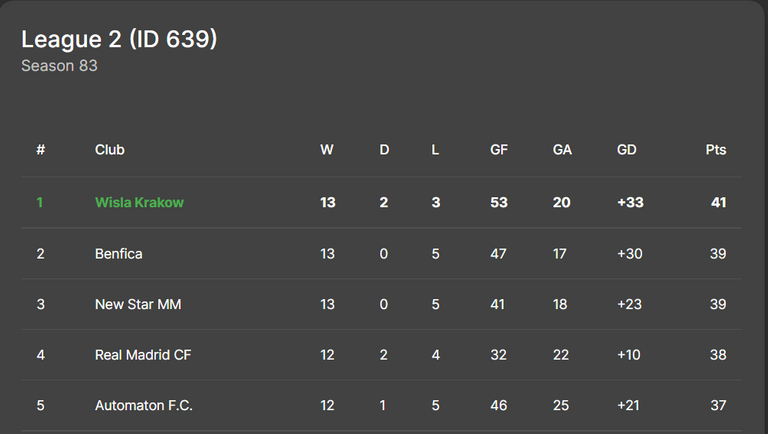 Obviously, in order to succesfully promote to league 1, I will have to break the dreaded 63 points line and honestly - I am on a fairly good track! There are 12 games to go and of that one will be a free win against an inactive team, while three are versus NPCs, so I hope my team will not mess those up. That leaves 8 real games to go, whie most teams under me played 1 or 2 npcs in the 2nd round already.
If I was to say what bothers me, it is the fact that I am playing against the 2nd and 3rd teams at their stadiums, meaning that they will have the extra advantage, which can prove to be crucial in close games like that. I will definitely have to extend the advantage to feel calmer before those games.

Closing Words
I really hope that I can promote this season, as it is getting old to just compete in the low leagues and receive tiny rewards, with tiny fan increases and slowly losing RBN - let's go team!
Since it's a gaming-related post, here is a bunch of referral links of mine - if you're not playing any of the games I've written about, give them a try! I wouldn't write about bad games.. well, not without saying they're bad anyway. So, here they are:
RABONA - Join the football management game through my referral link to receive a large RBN bonus!
RISING STAR - Here's the referral link to Rising Star. Start your way to mega stardom now!
SPLINTERLANDS - Splinterlands is the poster child of the HIVE blockchain. Join now through my referral link to get a few cards from me!
---
---