Brazil advances to the quarterfinals of the world cup! [PT/EN]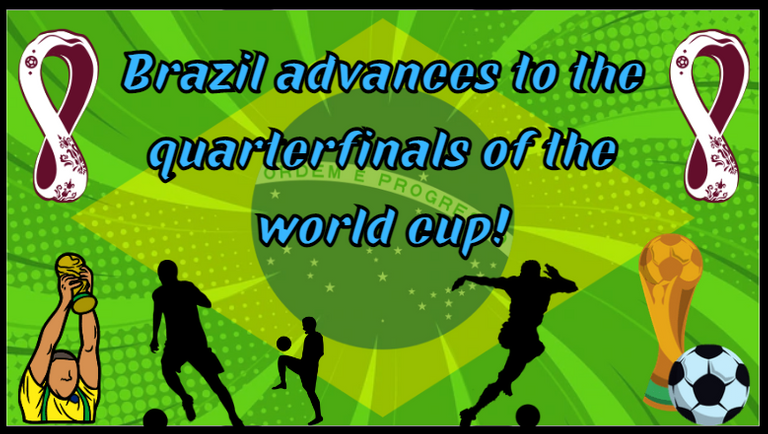 O Brasil é uma das seleções favoritas para ganhar a Copa do |Mundo, minha seleção do coração. Ser brasileiro em ano de Copa do Mundo é uma sensação que apenas nós sabemos. O país inteiro para. Momentos antes de um jogo da nossa nação começar é um caos, um caos do bem! O trânsito fica congestionado, ônibus lotados, ruas movimentadas... Todos indo para suas casas animados e ansiosos, para a casa de amigos ou para os bares. Ahhh... Os bares! Cedo, cedo, já estão cheios de agitação, "Vuvuzela" e boa cerveja gelada!
O Brasil perdeu seu último jogo da fase de grupos contra a seleção de Camarões, mas a festa já estava feita, estávamos classificados para as oitavas de final da copa. Foi um jogo sem grandes emoções, uma boa oportunidade de colocar os jogadores que não são titulares para pegar ritmo de jogo e dar descanso aos titulares.
Contra a seleção da Coreia do Sul, nas quartas de final, o Brasil estava renovado, a garotada estava com sede de gols e dentro de campo a nossa maior estrela brilhava. Neymar, parcialmente recuperado, dá mais brilho para a seleção, melhora a dinâmica de jogo.
Brasil jogou alegre contra a Coreia do Sul. É ótimo ver a nossa seleção brincando em campo e mostrando para o mundo sua verdadeira essência. Foram quatro gols e uma bela apresentação. O adversário nas quartas de final será a Croácia, que eliminou o Japão nos pênaltis, após empate em 1 a 1 no tempo normal. Estamos ansiosos para o próximo jogo, faltam apenas três jogos para a seleção brasileira conquistar o sonhado hexacampeonato da Copa do Mundo. Cada jogo deve ser encarado como uma grande final se quiser ser campeão!
Eu acredito que Brasil pegou um chaveamento teoricamente fácil, sem muitas "seleções de peso" ou muita tradição até aqui.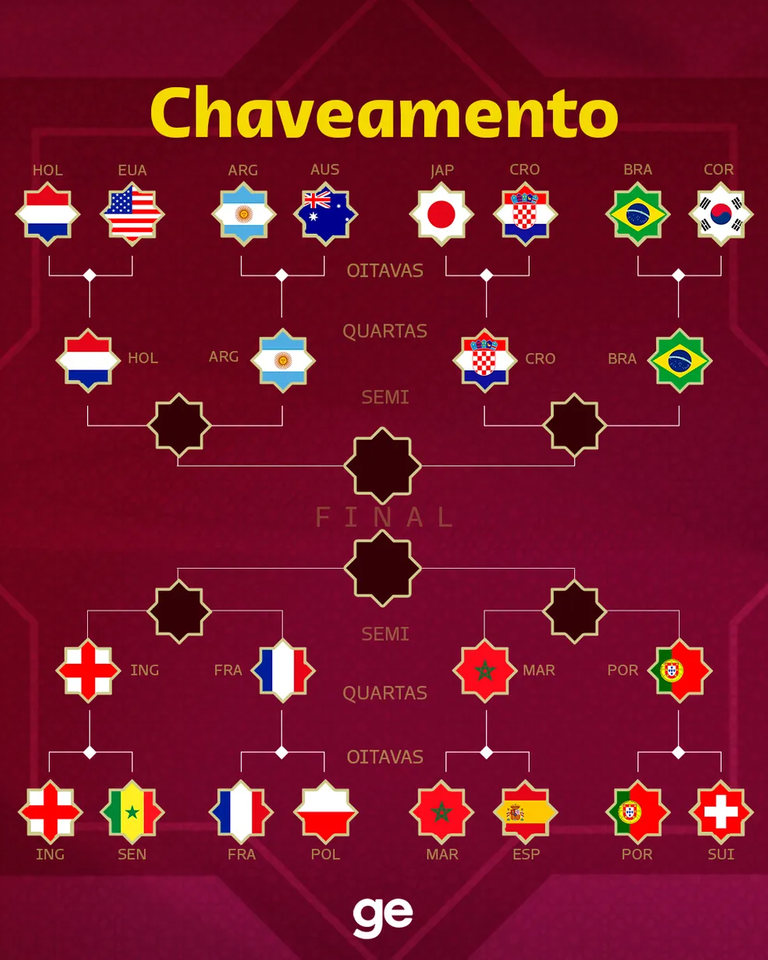 Até aqui a seleção que eu considero mais forte será a Croácia, um aquecimento para o que vamos enfrentar na semifinal: a Argentina.
Bem, para que esse grande clássico aconteça, é preciso que tanto o Brasil quanto a Argentina avancem para a próxima fase. A Argentina enfrentará a seleção da Holanda, uma grande potência do futebol. Me pergunte o que eu quero e eu responderei que é Brasil vs Argentina na semifinal. Jogar contra nossa maior rival é um prato cheio de emoções e seria um dos ingredientes perfeitos para uma grande história da nossa conquista do hexacampeonato. Torcemos para que dê tudo certo para o Brasil!!

[En]
Brazil is one of the favorite teams to win the World Cup, my favorite team. Being Brazilian in a World Cup year is a feeling that only we know. The whole country stops. Moments before our nation's game begins, it's chaos, chaos for good! Traffic is congested, crowded buses, busy streets... Everyone going home excited and anxious, to friends' houses or to bars. Ahhh... The bars! Early morning they are already full of excitement, "Vuvuzela" and good cold beer!
Brazil lost its last game in the group stage against Cameroon, but the party was over, we were qualified for the 8th of the cup. It was a game without great emotions, a good opportunity to put the players who are not in the starting line-up to pick up the pace of the game and give the first-team rest.
Against the South Korean team in the 4th, Brazil was renewed, the kids were thirsty for goals and our biggest star shone on the field. Neymar partially recovered, gives more shine to the selection, improves the dynamics of the game.
Brazil played happily against South Korea, it's great to see our team playing on the field and showing the world its true essence. There were four goals and a beautiful performance. The opponent in the 4th will be Croatia, who eliminated Japan on penalties, after a 1-1 draw in normal time. We are looking forward to the next game, there are only three games left for the Brazilian team to win the dreamed six-time World Cup. Each game must be seen as a grand final if you want to be champion!
I believe that Brazil took a theoretically easy ranking, without many "heavy selections" or much tradition until now.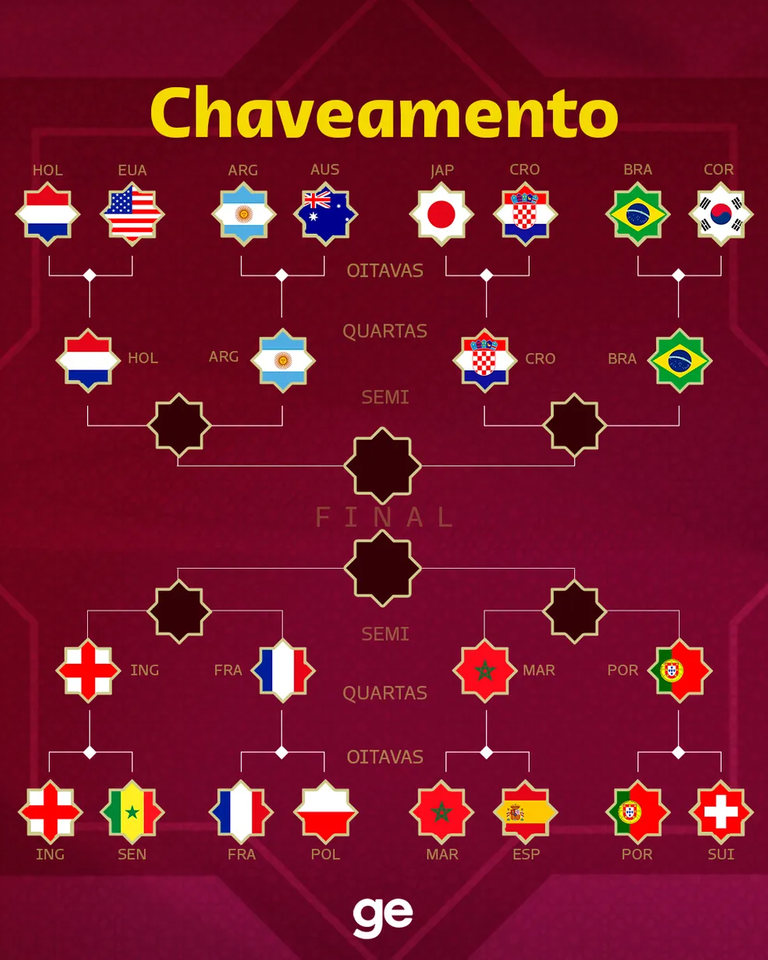 So far, the team that I consider the strongest will be Croatia, a warm-up for what we are going to face in the semifinal: Argentina.
Well, for this great classic to happen, Brazil and Argentina need to advance to the next stage. Argentina will face the selection of the Netherlands, a great soccer power. Ask me what I want and I'll tell you it's Brazil vs Argentina in the semifinal. Playing against our biggest rival is a dish full of emotions and would be one of the perfect ingredients for a great story of our winning the sixth championship. We hope that everything works out for Brazil!!

---
---