Brazil - Expectations for World Cup 2022! [EN/PT-BR]
Finally we can honor World Cup 2022! I hate having to wait 4 long years to have this big soccer event. I'm excited about my national team, Brazil!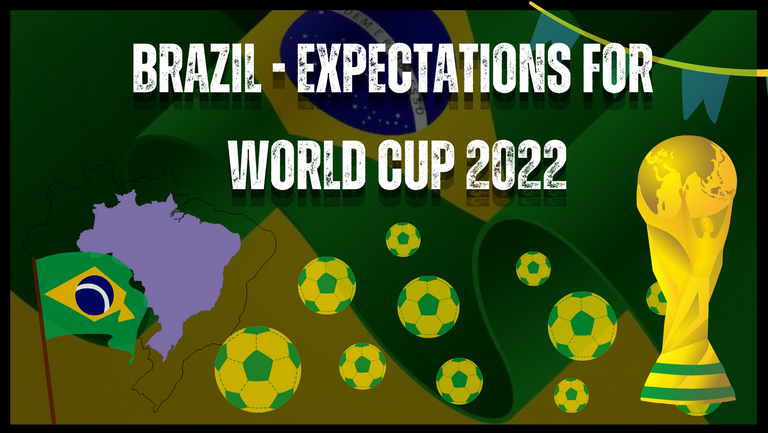 We can't wait for our team to debut against Serbia this Thursday. Brazil is on a group with good teams and it won't be a easier path to reach the round of 16. In addition to Serbia, we will also face Switzerland and Cameroon.
Despite the good teams, we are confident that we will make it through the group fase. Brazil has great players, like Vínicios Jr, Lucas Paquetá and, of course, Neymar.*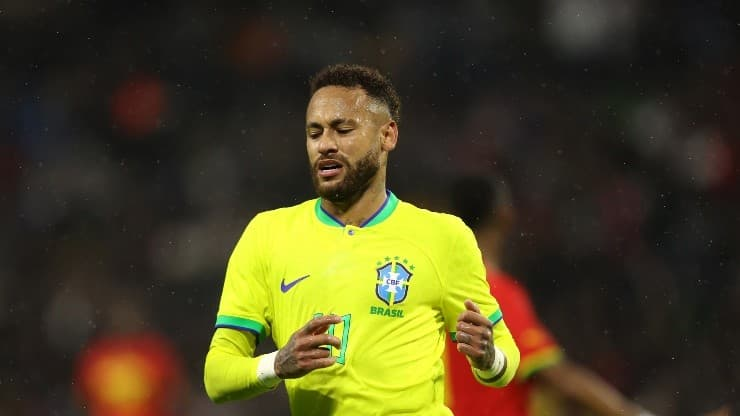 Source
We are the only five-time champion tem in history and we are confident to bring the six-time championship. Of course, once again, it won't be easy, but the possibilities are great, I believe!
Surfing through news about the cup, I came across an indication that Brazil is the favorite for this cup 2022. According to the website jcconcursos, the University of Oxford carried out a study indicating that Brazil is the favorite:
"The projection was made after the Qatar Cup group stage games were simulated a million times. Then, the knockout games were simulated 100,000 times. The conclusion took into account the most common results obtained in the simulations, which was based on data from the Elo ranking and all national team games since 2018."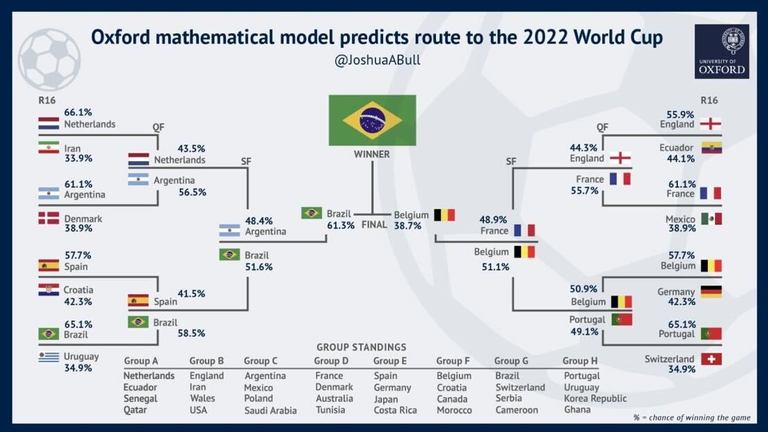 Well, I would really like this became real. It's been 20 years since our last achievement. Remembering that time is nostalgic, I miss Ronaldo, Roberto Carlos, Ronaldinho Gaúcho, Rivaldo...
A curiosity that I would like to mention is that a street was entirely painted with the colors of Argentina here in Brazil. For those who don't know, Argentina is our biggest rival in the football world. This news had a lot of repercussions around here, but it didn't bring our "Brothers" much luck since they lost in today's game!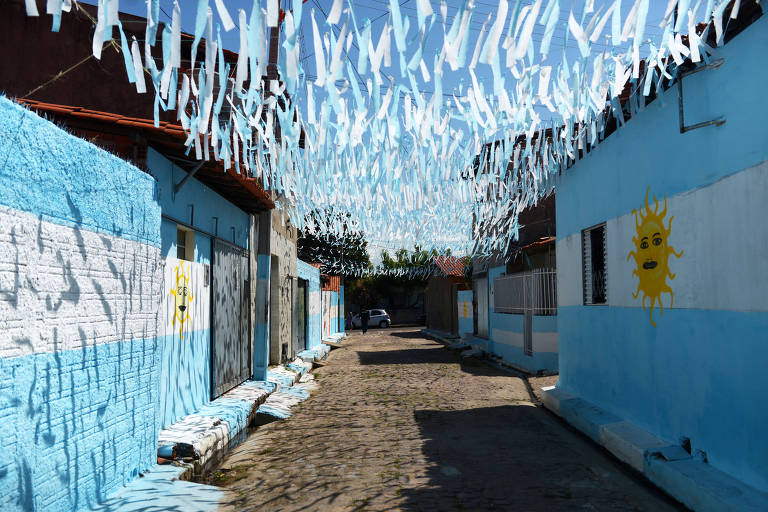 Painting and decorating the streets during the World Cup with the colors of our selection is part of our culture. People gather to get this done, all in a celebratory mood. On days when the games take place, everything stops, all attention is focused on the game of our national team!
I am anxious, confident and excited! I hope you are also in this festive mood. I wish you luck with your team, because Brazil is on the way up!!
Thank you for spending some of your time with my words and see you next time!

[PT-BR]
Finalmente podemos prestigiar a Copa do Mundo 2022! Eu odeio ter que esperar longos 4 anos para ter esse grande evento do futebol. Estou empolgado com a minha seleção, o Brasil!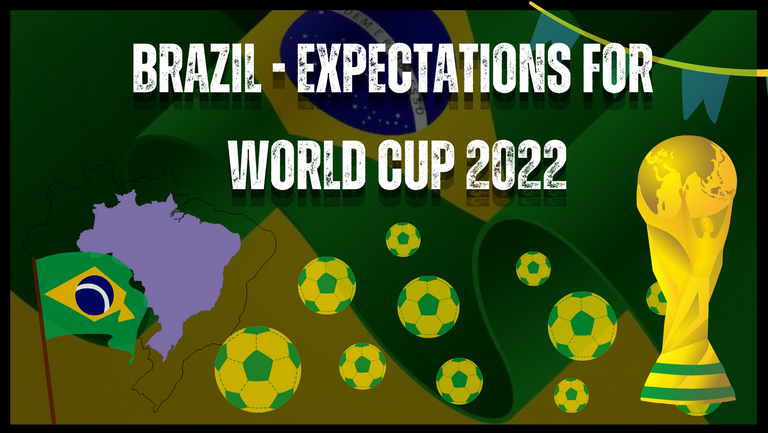 Estamos ansiosos para a nossa seleção estrear contra a Sérvia nesta quinta-feira. O Brasil pegou um grupo com boas seleções e não será um caminho muito fácil para chegar nas oitavas de final. Além da Sérvia, também vamos enfrentar a Suíça e Camarões.
Apesar das boas seleções, estamos confiantes de que vamos passar da fase de grupos. O Brasil conta com ótimos jogadores, dentre eles podemos destacar Vínicios Jr, Lucas Paquetá e claro, Neymar.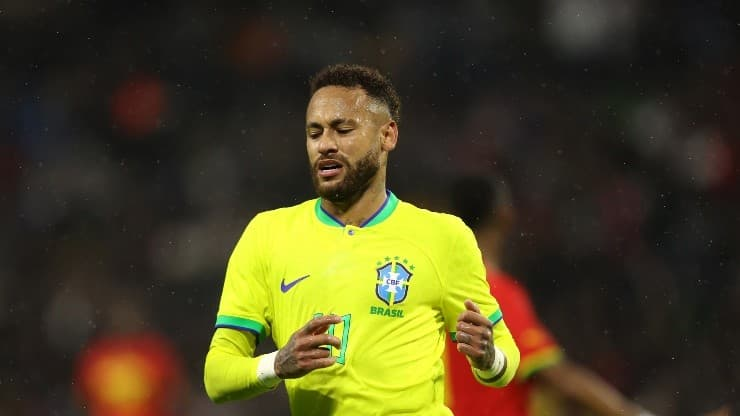 Source
Nós somos a única seleção pentacampeã da história e chegamos confiantes para trazer o hexacampeonato. Claro, mais uma vez, não será fácil, mas as possibilidades são grandes, eu acredito!
Navegando por notícias sobre a a copa, eu me deparei com indicação de que o Brasil seria o favorito para essa Copa de 2022. Segundo o site jcconcursos, a Universidade de Oxford realizou um estudo indicando que o Brasil é o favorito:
"A projeção foi feita após os jogos da fase de grupos da Copa do Catar serem simulados um milhão de vezes. Na sequência, os jogos eliminatórios foram simulados por 100 mil vezes. A conclusão levou em conta os resultados mais comuns obtidos nas simulações, que foi baseada em dados do ranking Elo e de todos os jogos das seleções desde 2018."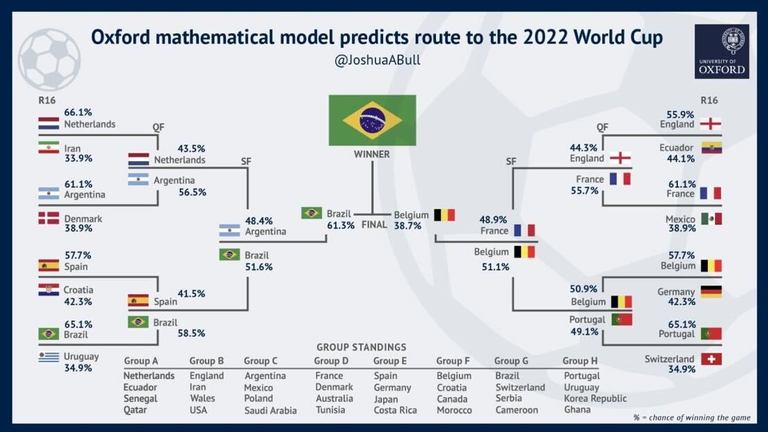 Bom, eu gostaria muito que isso se concretizasse. Já se passaram 20 anos desde nossa última conquista. Lembrar dessa época é nostálgico, saudades de Ronaldo, Roberto Carlos, Ronaldinho Gaúcho, Rivaldo...
Uma curiosidade que gostaria de trazer é que uma rua foi inteiramente pintada com as cores da Argentina aqui no Brasil. Para quem não sabe, a Argentina é a nossa maior rival no mundo futebolístico. Essa notícia repercutiu muito por aqui, mas não trouxe muita sorte a nossos "Hermanos" já que perderam de virada no jogo de hoje!😆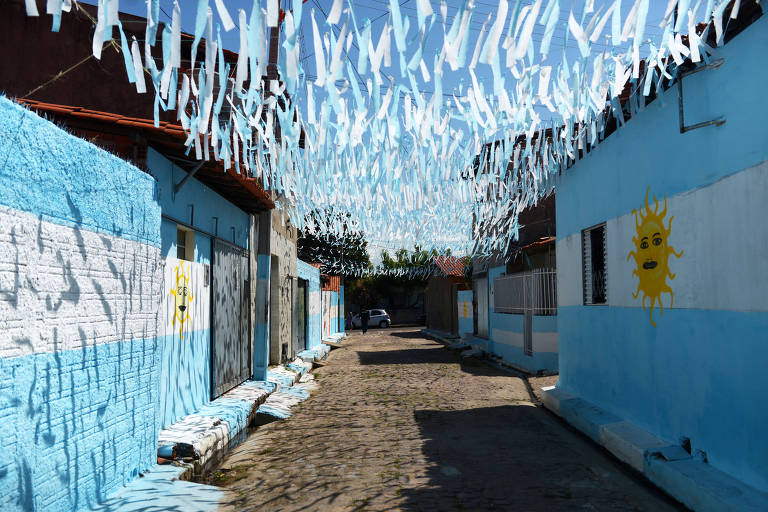 Pintar e decorar as ruas durante a Copa do Mundo com as cores de nossa seleção faz parte de nossa cultura. As pessoas se reúnem para que isso seja feito, tudo isso em um clima de comemoração. Nos dias em que os jogos acontecem, tudo para, todas as atenções são voltadas para o jogo da nossa seleção!
Estou ansioso, confiante e animado! Espero que vocês também estejam nesse clima de festa. Desejo sorte a seleção de vocês, pois o brasil vai pra cima!!
Obrigado por passar um pouco do seu tempo com minhas palavras e até a próxima!

---
---