Al fin se acabó está temporada insufrible / Finally this insufferable season is over
El Barcelona cerró está temporada 2021/2022 con otra derrota en el Camp Nou contra el Villarreal, y aunque ya los culés se habían asegurado esa segunda plaza, que les da la posibilidad de luchar por la Supercopa de España el próximo año, tengo que ser muy crítico con lo hecho por Xavi y los jugadores, ya que además de que no hay casi nada futbolístico que podamos rescatar de este juego, el plan del entrenador me pareció insufrible, siendo para mí ilógico la formación con la que salió de inicio, más aún, viendo la actitud de sus pupilos.
Barcelona closed this 2021/2022 season with another defeat at the Camp Nou against Villarreal, and although the Catalans had already secured that second place, which gives them the chance to fight for the Spanish Super Cup next year, I have to be very critical of what Xavi and the players did, since in addition to the fact that there is almost nothing footballing that we can rescue from this game, the coach's plan seemed insufferable to me, the formation with which he started from the start being illogical to me, more still, seeing the attitude of his pupils.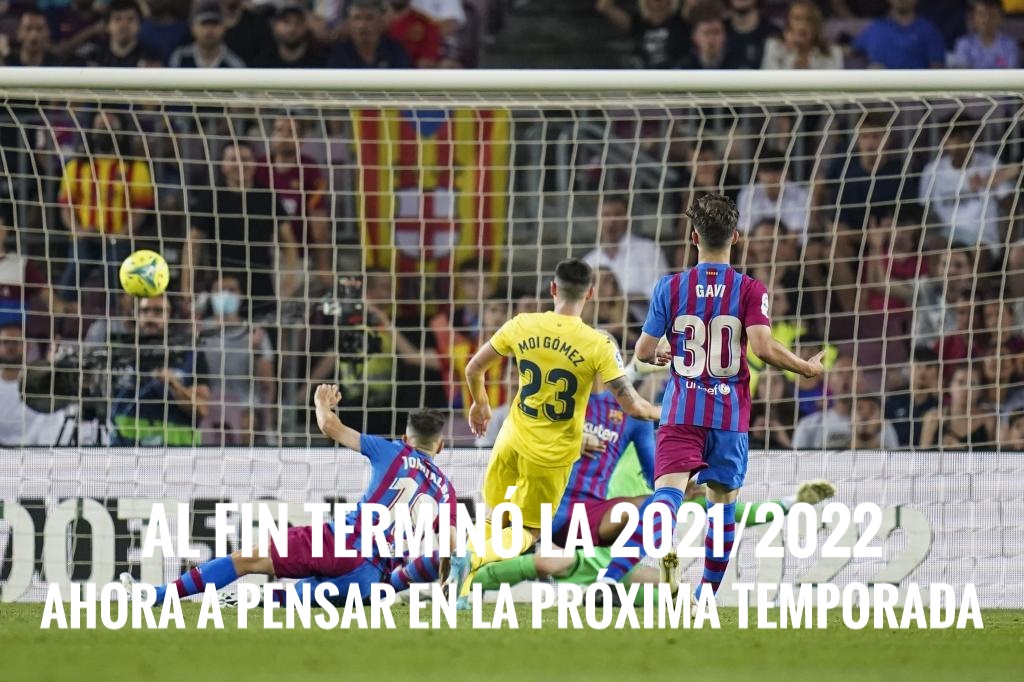 Fuente
La movimientos de los jugadores fueron inentendibles para mí, por ejemplo, Dani Alves era el cobrador de los corners del equipo por ambas esquinas, abandonando su posición en la banda diestra, generando un hueco enorme por allí en caso de un hipotético contragolpe, cosa que el Villarreal supo explotar en más de una ocasión, y aunque se culpe mucho a Adama Traore por los goles del submarino amarillo, que obviamente tiene mucha responsabilidad en esas jugadas, lo cierto es que estás desconcentraciones por la banda de Alves fueron muy recurrentes, manteniendo su posición en el medio del campo, olvidando su responsabilidad defensiva y quedando retratado sobre todo en el primer gol.
The players' movements were incomprehensible to me, for example, Dani Alves was the team's corner taker from both corners, abandoning his position on the right side, creating a huge hole there in the event of a hypothetical counterattack, which Villarreal knew how to explode on more than one occasion, and although Adama Traore is blamed a lot for the goals of the yellow submarine, who obviously has a lot of responsibility in those plays, the truth is that these deconcentrations on the Alves side were very recurrent, keeping his position in the middle of the field, forgetting his defensive responsibility and being portrayed above all in the first goal.
Un error muy parecido a este lo podemos ver en el segundo gol del Villarreal, donde vemos a Dani Alves como una especie de mediocampista, generando una autopista por la banda derecha, pero como Adama Traore terminó regalando el gol a Moi Gómez, ya que luego de ganar en velocidad al jugador del Villarreal, este puso el balón nuevamente dentro del área, cuando claramente la opción de sacarla a la banda o incluso al tiro de esquina era lo correcto por hacer, todos terminaron señalándolo. Otro que tampoco aportó nada de sacrificio por la derecha fue De Jong, que pese a que le anularon un gol, volvió hacer otro partido decepcionante.
We can see a mistake very similar to this in Villarreal's second goal, where we see Dani Alves as a kind of midfielder, generating a highway down the right wing, but as Adama Traore ended up giving the goal to Moi Gómez, since then to beat the Villarreal player in speed, he put the ball back into the area, when clearly the option of taking it to the band or even to the corner kick was the right thing to do, everyone ended up pointing it out. Another who did not make any sacrifices on the right was De Jong, who, despite having a goal disallowed, played another disappointing game.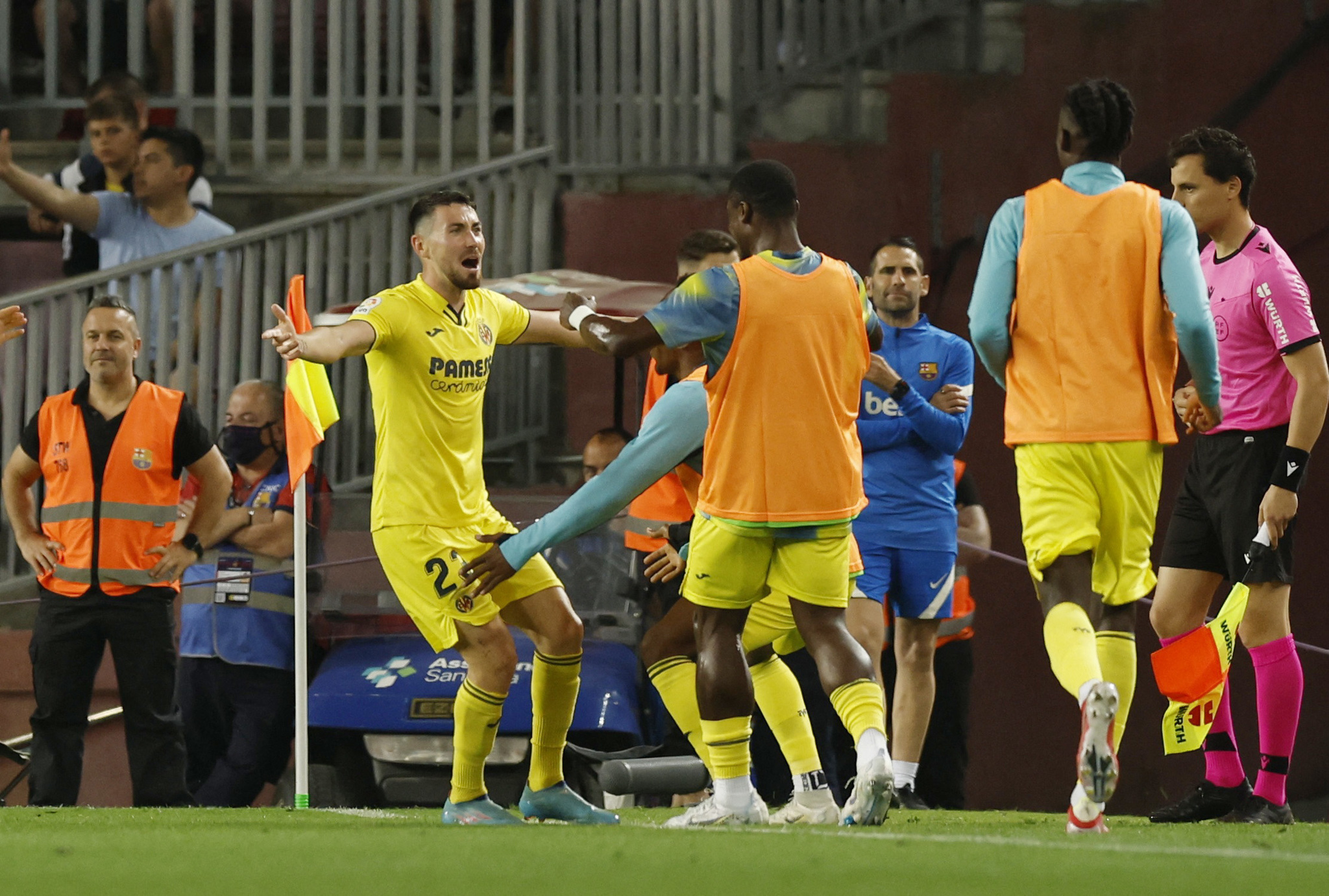 Fuente
Lo otro que realmente me molestó fue el juego del equipo, comenzaron jugando muy bien, controlando el balón, haciéndolo circular por todo el ancho del campo, creando peligro en el arco de Rulli en el proceso, pero todo esto duró entre 15 y 20 minutos, para luego dar paso nuevamente al Barça de Ronald Koeman. Los jugadores volvieron a verse sin ideas en los últimos metros, abusando otra vez de los centros desde la banda, y aunque ha sido un recurso muy utilizado por este Barça de Xavi, en este partido no tuvo resultado, evidenciando las pocas variantes ofensivas que tiene el equipo, hablando a nivel táctico obviamente.
The other thing that really bothered me was the team's play, they started out playing very well, controlling the ball, circulating it across the width of the field, creating danger on Rulli's goal in the process, but all this lasted between 15 and 20 minutes. , to then give way again to Ronald Koeman's Barça. The players once again found themselves without ideas in the final meters, once again abusing the crosses from the flank, and although it has been a resource widely used by Xavi's Barça, it did not have results in this match, evidencing the few offensive variants it has the team, obviously speaking on a tactical level.
Para jugar así lo mejor hubiera sido apostar por Luuk De Jong en la punta de ataque, premiándolo además por su labor y entrega deportiva con el equipo, donde tuvo paciencia y revirtió su situación, pasando de ser un meme a un jugador querido por los aficionados. Pero contrario a esta idea, fueron aún peor los cambios que hizo el entrenador, metiendo a Ansu Fati, Memphis Depay y Dembélé, tratando de cambiar el juego del equipo, pero sobre todo los dos últimos salieron con tan poco ánimo, que hasta el francés volvió a ser ese jugador fallón, y del neerlandés tengo también sentimientos encontrados, ya que pese a que se que tiene mucha calidad, es muy irregular y no lo veo triunfando en el Camp Nou.
To play like this, the best thing would have been to bet on Luuk De Jong at the point of attack, also rewarding him for his work and sporting dedication to the team, where he was patient and reversed his situation, going from being a meme to a player loved by the fans. . But contrary to this idea, the changes made by the coach were even worse, putting in Ansu Fati, Memphis Depay and Dembélé, trying to change the team's game, but above all the last two came out with such little encouragement, that even the Frenchman He was that failed player again, and I also have mixed feelings about the Dutchman, because despite the fact that I know he has a lot of quality, he is very irregular and I don't see him succeeding at the Camp Nou.
De igual forma, no entiendo la manía de Xavi por alinear un partido si y otro también a las vacas sagradas del equipo. Si para este partido ya los jugadores no contaban con casi ningún rastro de motivación, era un excusa más que perfecta para probar a otros jugadores que han jugado poco, e ir viendo en el proceso sin son material para formar parte de la plantilla, algunos ejemplos serían el lateral zurdo juvenil Balde, Riqui Puig, que parece que ya tiene su salida más que garantizada para la próxima temporada, o incluso subir a Abde o a Ilias, aunque esto último es más complicado, ya que el Barça B se está jugando la posibilidad de entrar en el Playoff de ascenso.
In the same way, I don't understand Xavi's mania for lining up one game and another also for the team's sacred cows. If for this game the players already had almost no trace of motivation, it was a more than perfect excuse to test other players who have played little, and see in the process if they are material to be part of the squad, some examples they would be the youthful left-back Balde, Riqui Puig, who seems to have his departure more than guaranteed for next season, or even raise Abde or Ilias, although the latter is more complicated, since Barça B is playing for the possibility to enter the Promotion Playoff.
Fuente
Por fin se acaba esta temporada que comenzó de la peor forma posible, con la salida de Messi y la permanencia de Ronald Koeman en el banquillo, y pese a que Xavi tuvo muy buenos momentos, consiguiendo victorias muy importantes como el 0 a 4 en el Santiago Bernabéu y la segunda posición de La Liga, el equipo se desinfló, la meritocracia se esfumó, el Camp Nou dejó de ser una estadio a donde los rivales venían con miedo, e incluso nos invadieron los alemanes, por lo que la próxima temporada tendrán que cambiar mucho las cosas para volver a ser una referencia en Europa y en el mundo, y confío en que Xavi podrá conseguir eso con una plantilla que pueda confeccionar el mismo, sacando a aquellos jugadores que no se adapten y no sientan los colores de este escudo.
At last this season is coming to an end, which began in the worst possible way, with the departure of Messi and the permanence of Ronald Koeman on the bench, and despite the fact that Xavi had very good moments, achieving very important victories such as 0-4 in the Santiago Bernabéu and the second position in La Liga, the team collapsed, the meritocracy vanished, the Camp Nou stopped being a stadium where rivals came in fear, and the Germans even invaded us, so next season they will have things have to change a lot to once again be a reference in Europe and in the world, and I am confident that Xavi will be able to achieve this with a squad that can put together the same, taking out those players who do not adapt and do not feel the colors of this shield.
---
---