El Ajax se despide de la Eredivisie / Ajax says goodbye to the Eredivisie
En otra edición del partido más apasionante en Países Bajos, también llamado De Klassieker, el Ajax de Ámsterdam recibió en su estadio al Feyenoord, y aunque en los últimos años este partido ha perdido algo de relevancia ya que los de Rotterdam no han estado en una dinámica ganadora, está edición fue todo lo contrario, ya que ambos equipos están luchando por la Eredivisie, llegando a este duelo como el segundo y primer clasificado de la tabla, con un diferencia de solo 3 puntos. El equipo de Heitinga llegaba luego de remontar una gran cantidad de puntos en las últimas jornadas, encadenando 7 victorias seguidas desde que el neerlandes se hicieron con el banquillo, por lo que de lograr una victoria, conseguiría igualar en puntos al Feyenoord, logrando depender de ellos mismos para ser campeones.
In another edition of the most exciting match in the Netherlands, also called De Klassieker, Ajax Amsterdam hosted Feyenoord at their stadium, and although in recent years this match has lost some relevance as the Rotterdams have not been in a winning dynamics, this edition was the opposite, since both teams are fighting for the Eredivisie, coming to this duel as the second and first place in the table, with a difference of only 3 points. Heitinga's team arrived after coming back from a large number of points in recent days, chaining 7 victories in a row since the Dutchman took the bench, so if he achieved a victory, he would be able to equalize Feyenoord in points, managing to depend on themselves to be champions.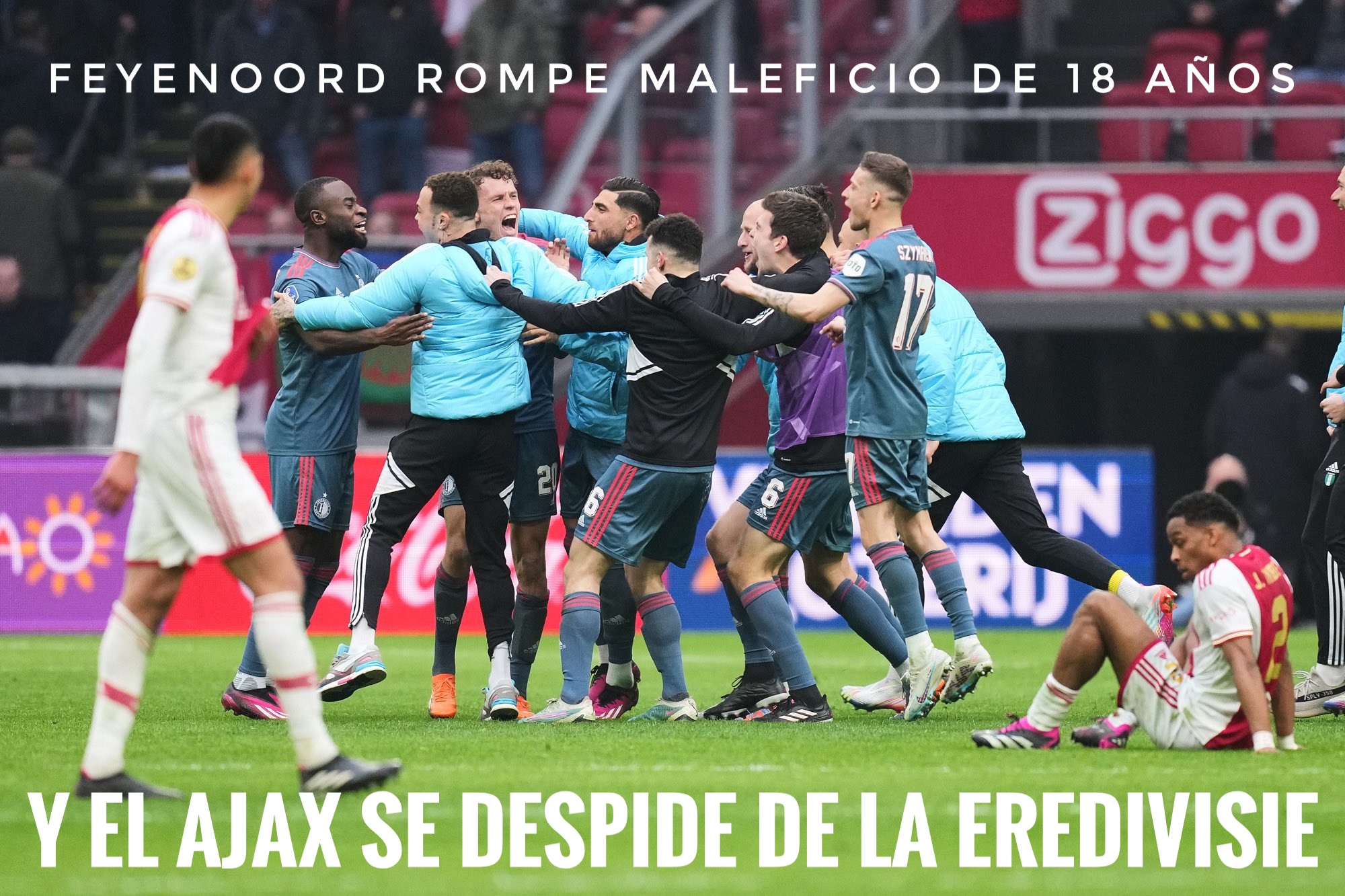 Fuente
Por su parte, el Feyenoord de Arne Slot es el equipo más regular de Países Bajos, siendo además uno de los dos equipos de este país que sigue vivo en competiciones europeas, donde tendrá que verse las caras contra la Roma de José Mourinho por los cuartos de final de la Europa League, sumado a que también están vivos en Copa, por lo que aún están en camino de conseguir un triplete histórico. Más allá de esto, la historia jugaba en contra de los visitantes, pues tenían unos números horribles en el Johan Cruyff Arena en su historia más reciente, pues tenían 18 años sin conseguir una victoria, encajando en ese lapso de tiempo solo 2 empates y 14 derrotas, por lo que más allá de la Eredivisie, también iban con el objetivo de cambiar esa estadística tan negativa.
For its part, Arne Slot's Feyenoord is the most regular team in the Netherlands, being also one of the two teams in this country that is still alive in European competitions, where they will have to face off against José Mourinho's Roma for the quarterfinals. in the Europa League final, added to the fact that they are also alive in the Cup, so they are still on their way to achieving a historic treble. Beyond this, history played against the visitors, as they had horrible numbers at the Johan Cruyff Arena in their most recent history, as they had gone 18 years without a victory, fitting in that period of time only 2 draws and 14 defeats, so beyond the Eredivisie, they also went with the aim of changing that negative statistic.
Con el pitido inicial en el encuentro, ambos equipos dejaron muy claras sus intenciones, pero en los primeros minutos fue el Feyenoord quien impuso su juego, a base de un juego vertical, asociaciones y triangulaciones a primer toque, y sobre todo, mucha agresividad en la presión adelantada. Los visitantes solo necesitaron 5 minutos para abrir el marcador por medio de Santiago Giménez, que aprovechó de excelente forma un pase lateral de Harman luego de una jugada rápida y vertical, y está altísima precisión del mexicano hay que remarcarla, pues luego de responder con goles las oportunidades que le ha dado su técnico, pues era suplente hace solo unos partidos atrás, en este momento esta promediando casi un gol por partido en sus últimas 6 presentaciones.
With the initial whistle in the match, both teams made their intentions very clear, but in the first minutes it was Feyenoord who imposed their game, based on a vertical game, associations and triangulations at first touch, and above all, a lot of aggressiveness in forward pressure. The visitors only needed 5 minutes to open the scoring through Santiago Giménez, who took excellent advantage of a lateral pass from Harman after a quick and vertical play, and the Mexican's extremely high precision must be highlighted, because after responding with goals the opportunities that his coach has given him, since he was a substitute just a few games ago, at this moment he is averaging almost one goal per game in his last 6 appearances.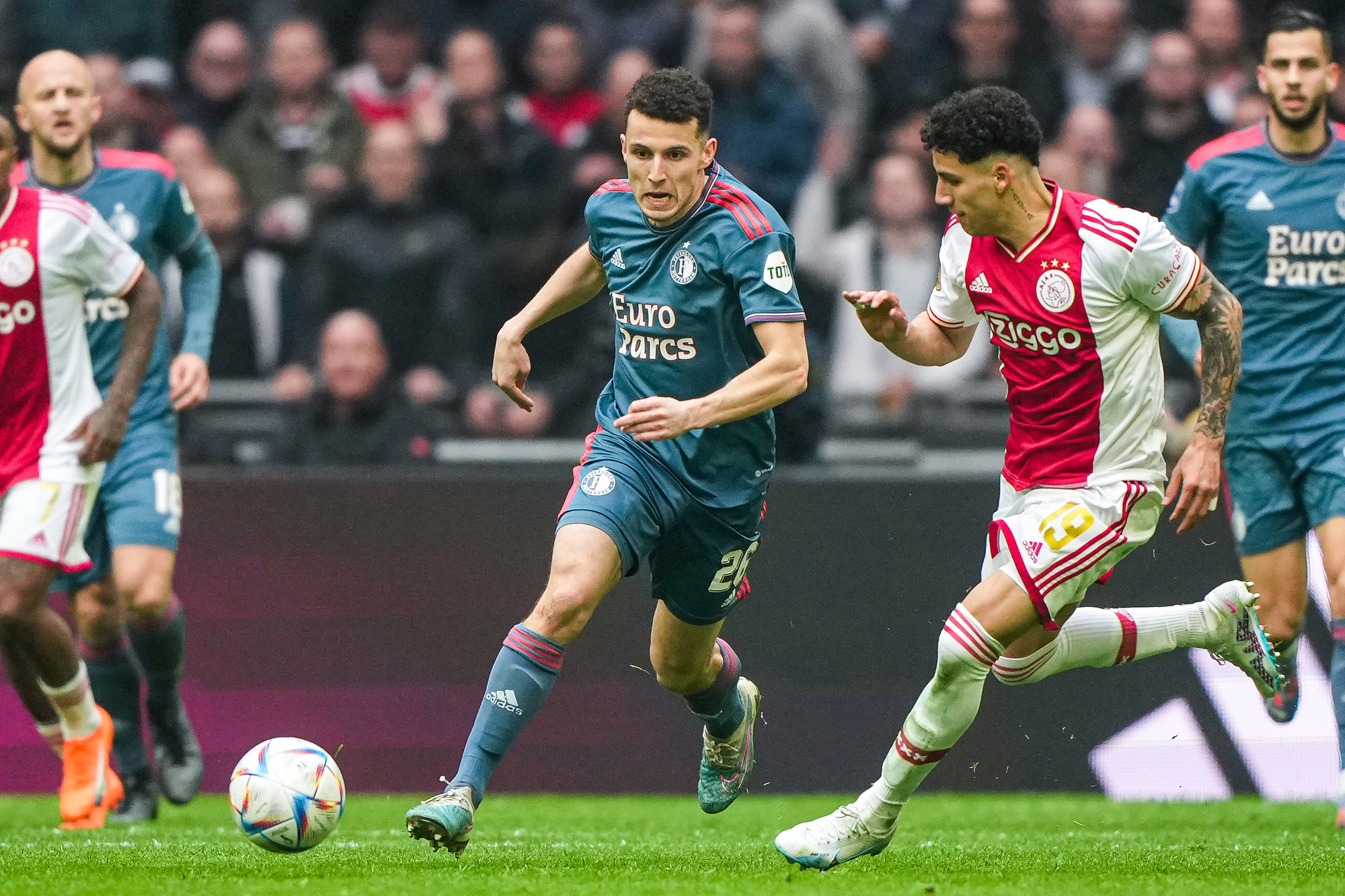 Fuente
Inmediatamente posterior a esto, el partido se volvió en un ida y vuelta constante, pero el Feyenoord daba mejores sensaciones gracias al entendimiento de juego de sus jugadores, en defensa la pareja de centrales neutralizó a Tadic, por lo que el Ajax merodeaba el área rival, pero le costaba entrar al área, mientras que en ataque los extremos daban mucha amplitud en el campo, siendo sustancial la importancia del polaco Szymanski en la salida del balón desde su área. En estos minutos de desconcierto, Kudus y Berghuis se hicieron con el balón e intentaron algunas jugadas personales, y por poco aprovecharon el juego rudo inicial de Feyenoord, pues Hartman se ganó una amarilla por falta al mediocampista, y casi termina siendo expulsado en otra jugada contra el extremo, lo que hizo que si técnico lo sustituyera a los 25 minutos de juego.
Immediately after this, the game turned into a constant back and forth, but Feyenoord gave better sensations thanks to the understanding of the game of its players, in defense the pair of center-backs neutralized Tadic, for which Ajax prowled the rival area , but it was difficult for him to enter the area, while in attack the wingers gave a lot of width in the field, the importance of the Pole Szymanski being substantial in the ball's exit from his area. In these bewildering minutes, Kudus and Berghuis took possession of the ball and tried some personal plays, narrowly taking advantage of Feyenoord's initial rude play, as Hartman earned a yellow for fouling the midfielder, and almost ended up being sent off in another play. against the winger, which made his coach replace him after 25 minutes of play.
Gracias a que el Ajax creció en el terreno de juego, y pocos minutos antes de esta sustitución, los locales lograron empatar el marcador luego de un corner por esa misma banda derecha, Berghuis centro pasado al segundo palo, y Edson Alvarez venció al portero al cabecear con mucha libertad. A partir de aquí, los de Heitinga empezaron a sentirse más cómodos al descifrar el encuentro, ya que empezaron a utilizar más las bandas viendo lo sobrepoblado que estaba el medio del campo, y a poco del final de la primera parte, voltearon el marcador luego de otro pase perfecto de Berghuis a la llegada de Bergwjin por la banda zurda, el extremo se mete al área y mete un pase a la llegada desde atrás de Tadic, que entre dos defensores, sacó un tiro cruzado en el que creo que Wellenreuther pudo hacer algo más.
Thanks to the fact that Ajax grew on the field of play, and a few minutes before this substitution, the locals managed to tie the score after a corner from that same right wing, Berghuis crossed past the far post, and Edson Alvarez beat the goalkeeper at nod freely. From here, Heitinga's men began to feel more comfortable deciphering the match, since they began to use the wings more, seeing how overcrowded the midfield was, and shortly after the end of the first half, they turned the score around after Another perfect pass from Berghuis as Bergwjin arrived on the left wing, the winger entered the area and hit a pass as Tadic arrived from behind, who between two defenders, took a cross shot that I think Wellenreuther could have made anything else.
Ya en la segunda parte, los visitantes volvieron a salir con el hambre de la primera, logrando empatar a los pocos minutos, Szymanski subió al área e hizo de delantero centro, mandando a guardar un pase perfecto en diagonal de Jahanbakhsh. Pero lo más resaltante de esta jugada fue la determinación y el hambre del Feyenoord, que en una jugada seguida de casi un minuto donde no salió el balón, estos bombardearon a Gerónimo Rulli con múltiples disparos, la mayoría repelidos por la defensa, y como nota negativa también hay que hablar de la imposibilidad del Ajax para despejar el balón, Edson Alvarez quedó regado en la acción previa del gol, generando el espacio que aprovecho el polaco, y otros como Taylor o Bassey se vieron desbordados, sobre todo el mediocampista que en líneas generales falló muchos controles y pases sencillos.
Already in the second part, the visitors came back hungry from the first, managing to tie after a few minutes, Szymanski went up to the area and played the center forward, sending to save a perfect diagonal pass from Jahanbakhsh. But the most outstanding thing about this play was the determination and hunger of Feyenoord, who in a play followed by almost a minute where the ball did not go out, they bombarded Gerónimo Rulli with multiple shots, most of them repelled by the defense, and as a note Negative, we must also talk about the impossibility of Ajax to clear the ball, Edson Alvarez was watered in the previous action of the goal, generating the space that the Pole took advantage of, and others like Taylor or Bassey were overwhelmed, especially the midfielder who in general lines he missed many controls and simple passes.
Al igual que en la primera parte, el juego volvió a tornarse en un ida y vuelta, Heitinga fue más arriesgado y sacó a un lateral para darle más amplitud ofensiva a su equipo con Conceiçao, y aunque el portugués realizó algunas individuales peligrosas, los espacios que su equipo dejo atrás fueron lapidarios, viendo como los visitantes buscaron con mayor enfasis los pases en largo a la espalda de la defensa. Slot también movió su banquillo, y aunque también arriesgo al posicionar 4 delanteros en el campo, su línea defensiva lució más sólida, ya que también refrescó la dupla de centrales y los extremos trabajaron como una especie de carrileros cuando ya tenían el marcador a favor.
As in the first part, the game turned back and forth, Heitinga was more risky and brought out a winger to give his team more offensive breadth with Conceiçao, and although the Portuguese made some dangerous solos, the spaces that his team left behind were lapidary, seeing how the visitors sought with greater emphasis the long passes behind the defense. Slot also moved his bench, and although he also took a risk by positioning 4 forwards on the field, his defensive line looked more solid, since he also refreshed the pair of central defenders and the wingers worked as a kind of winger when they already had the score in their favour.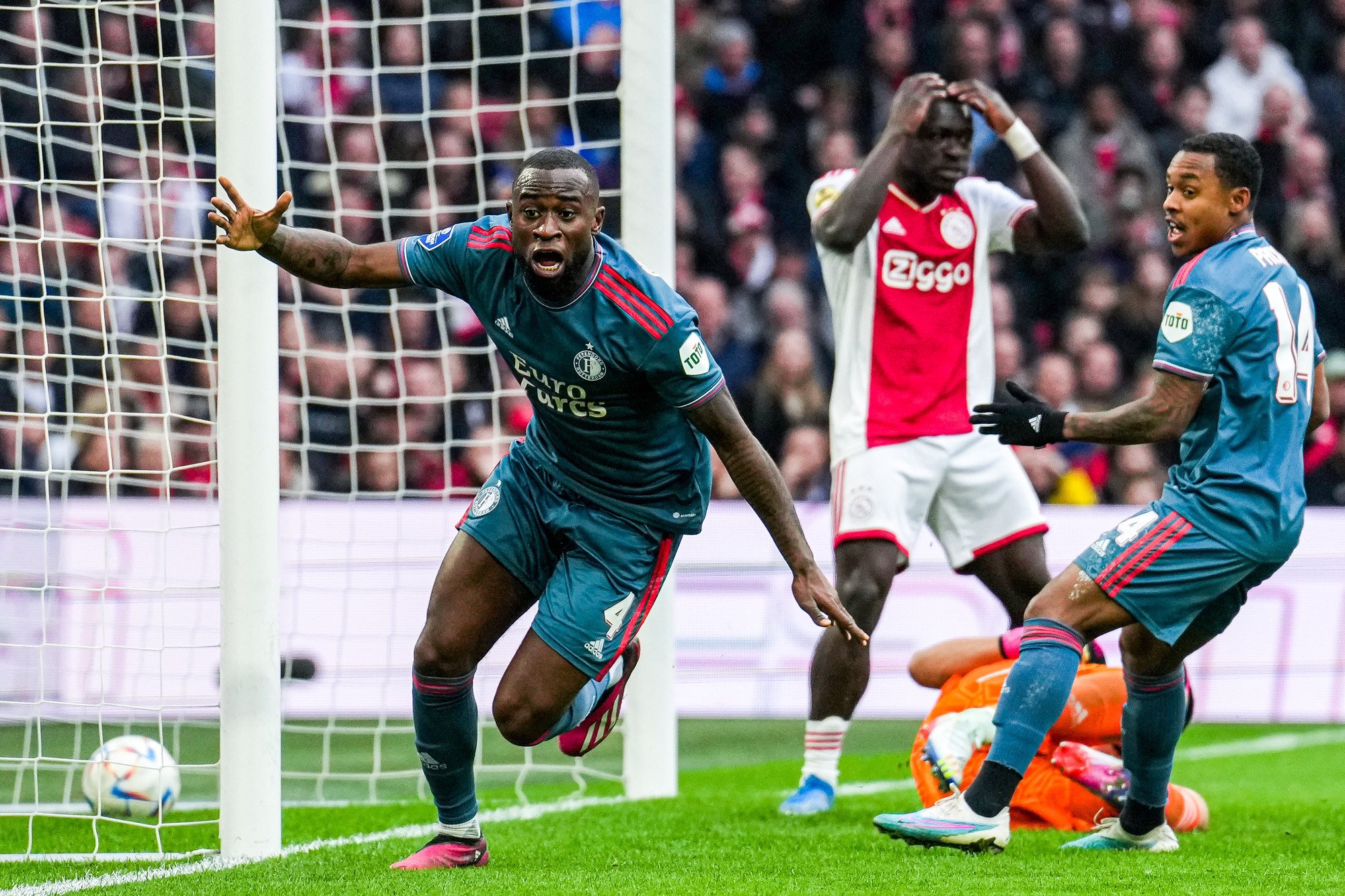 Fuente
Y como dice el dicho, el que no hace le hacen, Kudus tuvo la mejor del Ajax en el segundo tiempo ya en la recta final del partido, pero increíblemente su disparo fue atajado de gran forma por el portero Wellenreuther, y acto seguido, en una salida de corner por la derecha, Hancko adelanto a su marcador en el primer palo y cabeceo al área chica, donde Geertruida llegó sin oposición para vencer al arquero argentino de los locales. El Ajax intentó la heroica en los últimos minutos, pero como ya comenté, el planteamiento defensivo del Feyenoord fue mas efectivo gracias al sacrificio de sus jugadores, y ya con el pitido inicial, no solo se rompió la racha de Heitinga en la Eredivisie, sino que además los Rotterdam ampliaron su ventaja a 6 puntos, cosa que casi sentencia la liga de Países Bajos...
And as the saying goes, the one who doesn't do, they do, Kudus had the best of Ajax in the second half already in the final stretch of the game, but incredibly his shot was saved in a great way by the goalkeeper Wellenreuther, and immediately afterwards, in After a corner out to the right, Hancko overtook his marker at the near post and headed into the six-yard box, where Geertruida arrived unopposed to beat the locals' Argentine goalkeeper. Ajax tried the heroic in the last minutes, but as I already mentioned, Feyenoord's defensive approach was more effective thanks to the sacrifice of its players, and with the initial whistle, not only did Heitinga's streak in the Eredivisie end, but that also the Rotterdam extended their advantage to 6 points, something that almost sentenced the league of the Netherlands...
---
---