El Bayern Munich da un golpe en la mesa / Bayern Munich hits the table
Después de varias semanas de irregularidad, donde llego a perder el primer puesto en la Bundesliga, el Bayern Munich venció a uno de sus perseguidores, lo que le significará volver a dominar en Alemania, aunque está semana acompañado por solo un equipo, el Borussia Dortmund, que tampoco falló y ganó en su visita al Hoffenheim. La otra buena noticia de la noche para los bavaros fue la vuelta de Mané a los terrenos de juego, que luego de superar su lesión que lo alejó incluso del mundial, está nuevamente disponible pensando en que se viene la parte crucial de la temporada.
After several weeks of irregularity, where he came to lose first place in the Bundesliga, Bayern Munich defeated one of his pursuers, which will mean he will dominate again in Germany, although this week he is accompanied by only one team, Borussia Dortmund , which did not fail either and won on his visit to Hoffenheim. The other good news of the night for the Bavarians was Mané's return to the pitch, who after overcoming his injury that even kept him out of the World Cup, is available again thinking that the crucial part of the season is coming.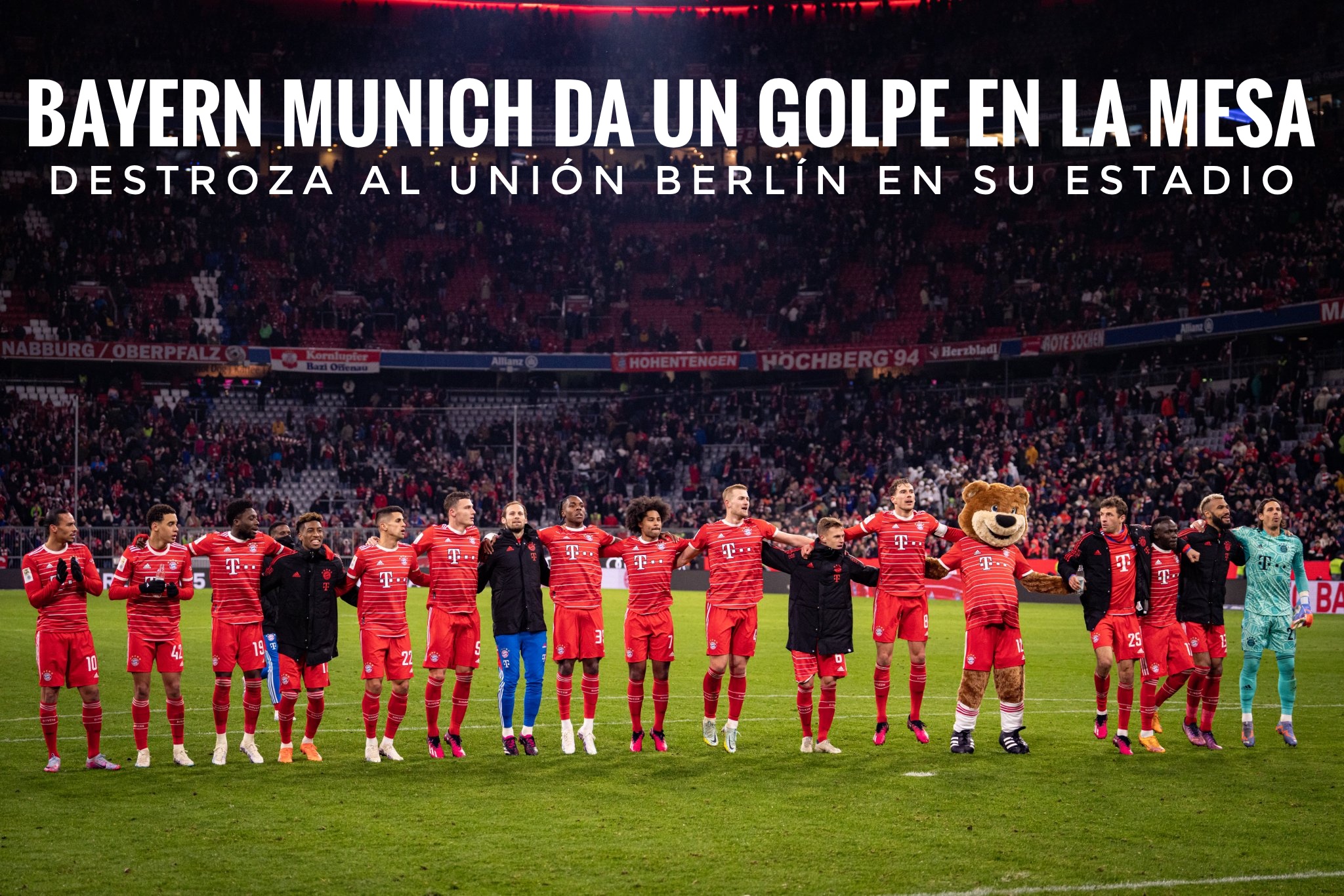 Fuente
La primera parte vivió un monólogo de la posesión del balón por parte del Bayern Munich, el Unión Berlín salió fiel a su estilo y se salvaguardo atrás en su área, esperando un error para salir al contragolpe, y aunque suya fue la primera ocasión del partido, las ocasiones en las cuales pasaron el balón al área de Bayern fueron muy pocas. Pese a tener el balón, el equipo de Nagelsmann no conseguía el primer tanto de la tranquilidad, el portero danés del Berlín estuvo muy solido, y por las bandas Coman y Musiala eran dos auténticos puñales, por lo que su juego en un momento se volvió algo predecible, siendo la más clara un pase diagonal para Choupo-Moting que no pudo definir al amagar al portero y no tener buen ángulo de remate.
The first part saw a monologue about the possession of the ball by Bayern Munich, Unión Berlín came out true to its style and saved itself behind in its area, waiting for an error to go on the counterattack, and although it was theirs the first chance of the game , the occasions in which they passed the ball to the Bayern area were very few. Despite having the ball, Nagelsmann's team could not get the first goal of peace of mind, the Danish Berlin goalkeeper was very solid, and on the wings Coman and Musiala were two real daggers, so their game at one point turned somewhat predictable, the clearest being a diagonal pass for Choupo-Moting that he could not define by feinting the goalkeeper and not having a good shooting angle.
Poco antes de la media hora, un pase filtrado para Musiala fue el primer aviso de una defensa que se estaba desquebrajando, pues más allá de que llegaron a bloquear el tiro del alemán, ya se estaba viendo que no tardaría en caer el primer tanto de los locales. Y justo cuando el reloj pasaba la media hora por pocos segundos, Kimmich tocó un balón perfecto por la banda derecha, solo por centímetros no interceptado por un defensor, llegándole a Coman con suficiente tiempo y espacio para sacar un centro elevado, y en el área Choupo-Moting se alzó por encima de la defensa, conectando un cabezazo al segundo palo, imposible de atajar para Rønnow.
Shortly before half an hour, a filtered pass for Musiala was the first warning of a defense that was breaking down, because beyond the fact that they managed to block the German's shot, it was already being seen that the first goal of the team would fall soon. the locals. And just as the clock passed half an hour by a few seconds, Kimmich touched a perfect ball down the right flank, just inches unintercepted by a defender, reaching Coman with enough time and space to deliver a high cross, and into the box. Choupo-Moting rose above the defense, connecting a header to the far post, impossible for Rønnow to save.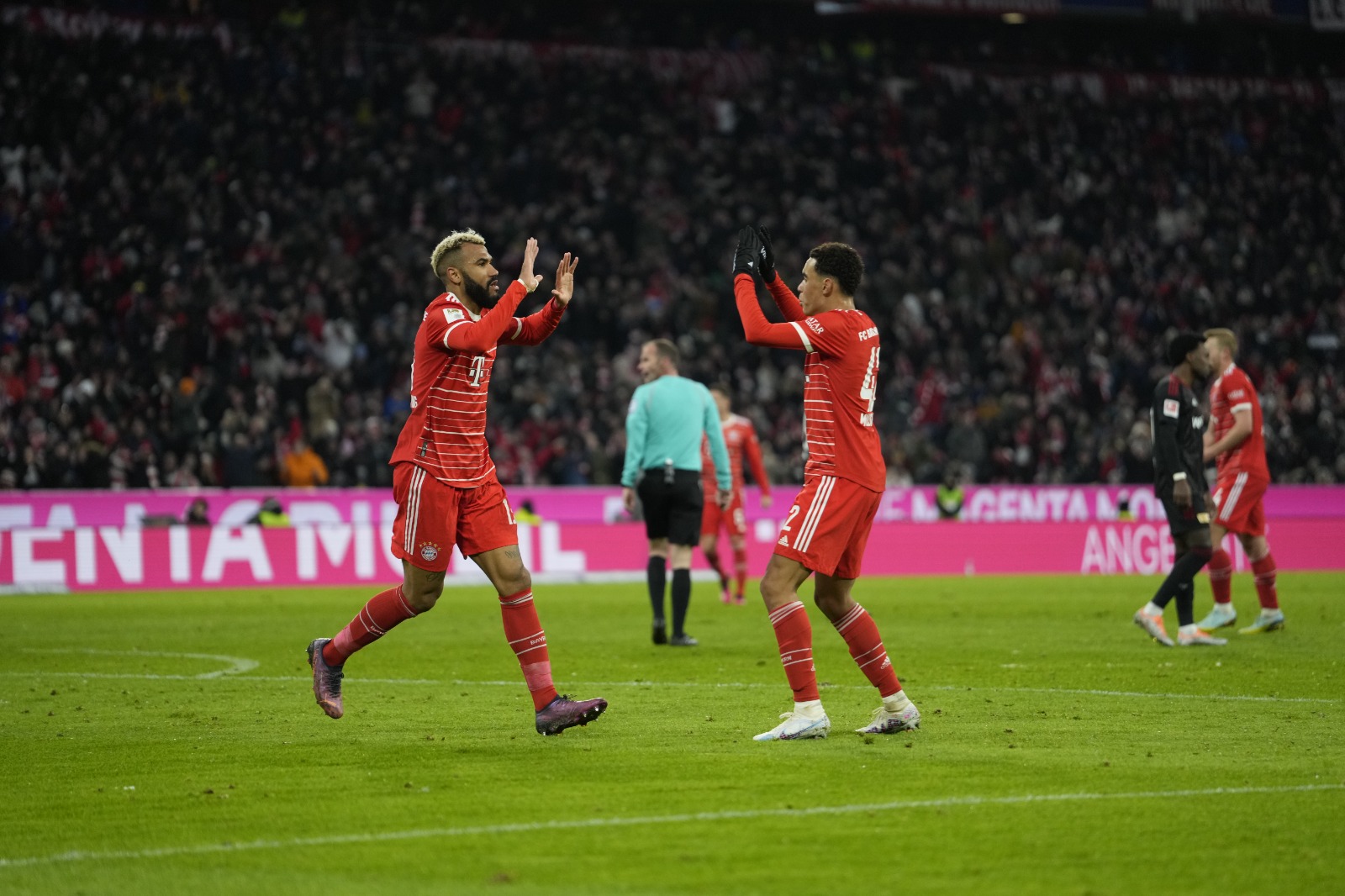 Fuente
Este gol más allá de significar la ventaja y el liderato del Bayern Munich, también esconde un dato muy interesante, pues el camerunés, que fue la segunda opción en verano para cubrir la posición de 9, poco a poco está logrando cifras impensables años atrás, sumado a que también pudo tachar al Unión Berlín de su lista, pues ya le ha marcado al menos un gol a todos los equipos de la actual Bundesliga. Otro que también sumó un hito en el club bavaro fue Thomas Muller, que cumplió 650 partidos vistiendo está elástica, siendo además el alemán con más encuentros en un mismo club en la historia, y el cuarto a nivel general en el siglo XXI.
This goal, beyond meaning the advantage and the leadership of Bayern Munich, also hides a very interesting fact, since the Cameroonian, who was the second option in summer to cover the position of 9, little by little is achieving figures that were unthinkable years ago. added to the fact that he was also able to cross Unión Berlin off his list, since he has already scored at least one goal against all the teams in the current Bundesliga. Another who also achieved a milestone in the Bavarian club was Thomas Muller, who played 650 matches wearing this elastic, also being the German with the most matches in the same club in history, and the fourth overall in the 21st century.
A partir de aquí, la defensa del Unión Berlín se volvió un flan, su rocosidad y firmeza atrás se desvanecieron ante la impotencia de igualar las acciones, por lo que si no hubieran quedado solo 15 minutos de la primera parte, hubiera recibido algún gol más. Esto se vió evidenciado en el segundo gol de los locales, que luego de un saqué del portero, con solo dos pases habilitaron a Coman con un pase profundo, y el francés pese a que tenía opción para tocar con Choupo-Moting, que estaba entrando al área por la otra banda, se jugó la personal, se quitó la marca del portero, y luego definió a placer con el arco vacío.
From here on, the defense of Unión Berlín became a flan, its rockiness and firmness at the back vanished due to the impotence of equalizing the actions, so if there had not been only 15 minutes left in the first half, I would have received one more goal. This was evidenced in the second goal of the locals, who after a kick from the goalkeeper, with only two passes enabled Coman with a deep pass, and the Frenchman despite the fact that he had the option to play with Choupo-Moting, who was entering to the area on the other band, the personal was played, the goalkeeper's mark was removed, and then he defined at will with the empty goal.
El Bayern siguió dominando, explotó constantemente las dos bandas, buscando cerrar el encuentro definitivamente antes de pasar por los camerinos, y el tercero cayó en el agregado, la defensa no pudo despejar de forma adecuada un pase largo para Coman, el francés recoge ese balón suelto y juego con Thomas Muller, este se metió en velocidad hasta la línea de fondo por la derecha, sacando un pase hacia atrás para Musiala, quien de primera vence al guardameta para celebrar de gran forma su cumpleaños número 20, lo que nos hace pensar el gran futuro del delantero teutón, quien sin duda merece un poco más de reflectores.
Bayern continued to dominate, they constantly exploited both flanks, seeking to close the match definitively before going through the dressing rooms, and the third fell into aggregate, the defense could not adequately clear a long pass for Coman, the Frenchman picked up that ball loose and I play with Thomas Muller, he got into speed to the bottom line on the right, drawing a back pass for Musiala, who first beats the goalkeeper to celebrate his 20th birthday in a big way, which makes us think the great future of the Teutonic striker, who undoubtedly deserves a little more spotlight.
La segunda parte, en grandes tramos, fue más de lo mismo, el Bayern se hizo con el balón y siguió buscando la portería rival, pero solo Rønnow le negó en más de un par de oportunidades el gol, en lo que hubiera sido una goleada de escándalo por parte de los líderes de la Bundesliga, sobre todo llamativa una a quemarropa a Davies apenas iniciada la segunda parte, u otra más llamativa a Muller, que terminó sacando con la cabeza. El Unión Berlín intento descontar en varias oportunidades, pero la más clara fue para Becker, que luego de que le bajarán un balón en el área, este remata con mucha potencia, pero un desvío en De Ligt manda el balón al paral del palo derecho, salvando su área in extremis.
The second part, in long stretches, was more of the same, Bayern took possession of the ball and continued looking for the rival goal, but only Rønnow denied them the goal on more than a couple of occasions, in what would have been a win of scandal on the part of the Bundesliga leaders, especially a striking point-blank shot at Davies just at the start of the second half, or another more striking shot at Muller, who ended up pulling out with his head. Unión Berlín tried to discount on several occasions, but the clearest was for Becker, who after being dropped a ball in the area, he finished off with a lot of power, but a deflection by De Ligt sent the ball to the bar on the right post, saving his area in extremis.
Ya con la segunda parte bien entrada, Nagelsmann empezó a mover su banquillo, pensando en el duelo contra el PSG la otra semana, provocando que su equipo bajará la marcha, trayéndole también algunos errores por desconcentración por parte de los bavaros, la defensa falló varios pases en salida, impropios del partido que estábamos viendo, incluso Sané, que entró en la segunda parte, falló un pase absurdo a su portero, que por muy poco terminó siendo el descuento de los visitantes. También pudimos ver minutos del senegalés Mané, y verdaderamente se le vió enchufado, tuvo algunas opciones para marcar, pero el portero se lo negó, e incluso habilitó de gran forma a Muller, pero como ya comenté antes, el portero despejó su tiro con la cabeza, una forma muy poco ortodoxa, pero efectiva, jajaja.
Already with the second half well into the game, Nagelsmann began to move his bench, thinking about the duel against PSG the other week, causing his team to slow down, also bringing him some errors due to lack of concentration on the part of the Bavarians, the defense failed several passes out, inappropriate for the game we were watching, even Sané, who came on in the second half, missed an absurd pass to his goalkeeper, which almost ended up being the visitor's discount. We were also able to see minutes from Senegalese Mané, and he was truly plugged in, he had some options to score, but the goalkeeper denied him, and he even enabled Muller in a great way, but as I mentioned before, the goalkeeper cleared his shot with his head, a very unorthodox way, but effective, jajaja.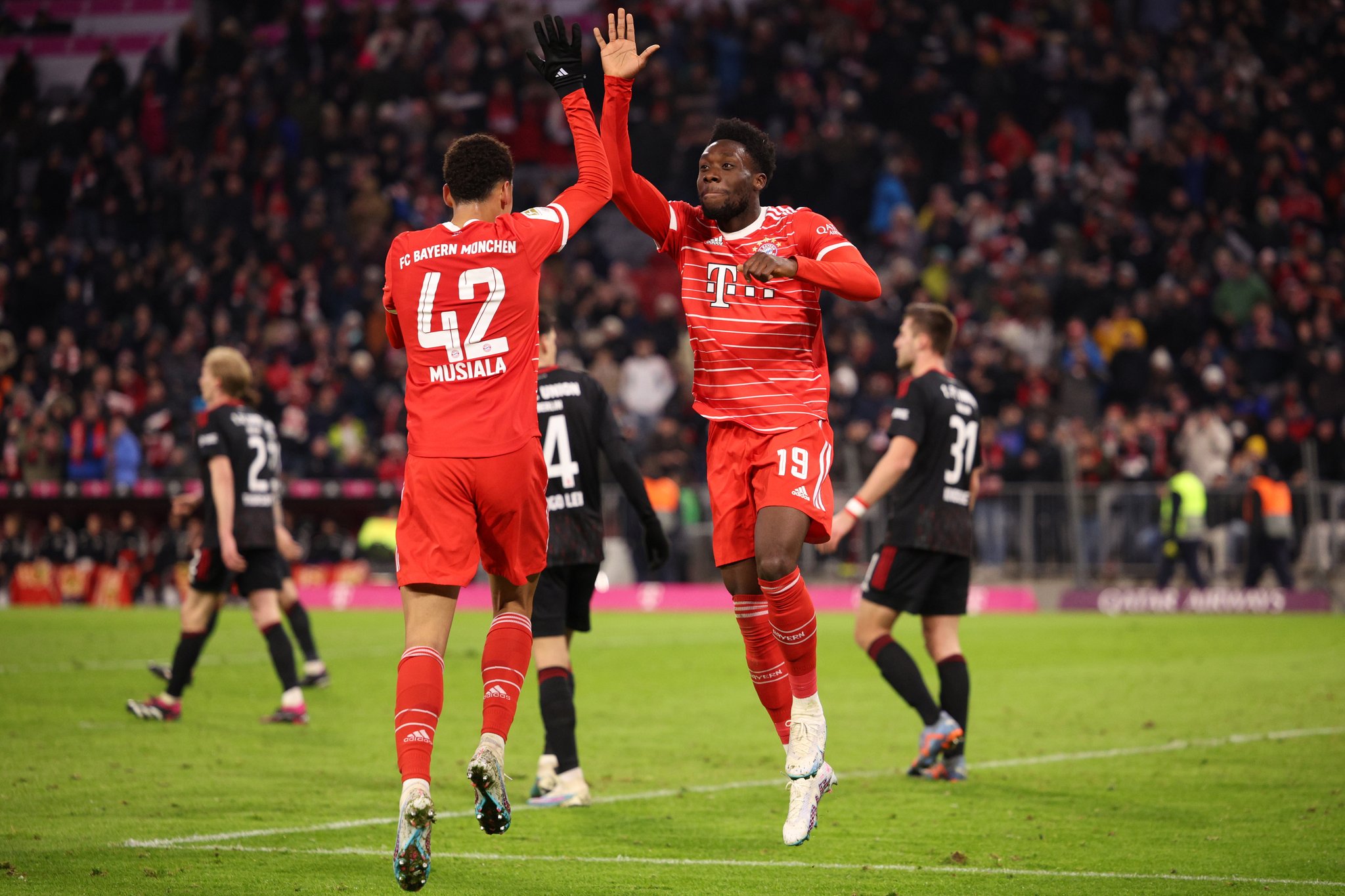 Fuente
Con el pitido final, el Bayern Munich da un golpe a la mesa, siendo esto una clara muestra de intenciones de que no desistirá en su búsqueda de una hipotética decimoprimera Bundesliga seguida, un dominio avasallador que no se encuentra en ninguna de las otras grandes ligas europeas, siendo lo más cercano las 9 Serie A conseguidas por parte de la Juventus en la década pasada. En este momento comparten la cima con el Borussia Dortmund de Terzic, un equipo que sin hacer tanto ruido ha conseguido una racha increíble, ganando todos sus partidos desde la reanudación post mundialista, por lo que si consiguen mantener el ritmo, estamos ante una de las Bundesliga más interesante de la última década.
With the final whistle, Bayern Munich hit the table, this being a clear sign of intentions that they will not give up in their search for a hypothetical eleventh Bundesliga in a row, an overwhelming dominance that is not found in any of the other major leagues. European, the closest being the 9 Serie A achieved by Juventus in the past decade. At this moment they share the top with Terzic's Borussia Dortmund, a team that without making so much noise has achieved an incredible run, winning all their games since the post-World Cup restart, so if they manage to keep up, we are facing one of the Most interesting Bundesliga of the last decade.
---
---