El Chelsea elimina en los penales al Southampton y se mete en la siguiente ronda / Chelsea eliminate Southampton on penalties and get into the next round
Hola a todos, cómo se encuentran? El Chelsea logró clasificarse a los cuartos de final de la Copa de la Liga, después de vencer en los penales a un muy combativo Southampton, que a pesar de su mal momento en la Premier League, le hizo frente a los Blues en su estadio, e incluso los tuvieron contra las cuerdas en los minutos finales del partido.
Hello everyone, how are you? Chelsea managed to qualify for the quarterfinals of the League Cup, after beating a very combative Southampton on penalties, who despite their bad moment in the Premier League, faced the Blues in their stadium, and they even had them on the ropes in the final minutes of the game.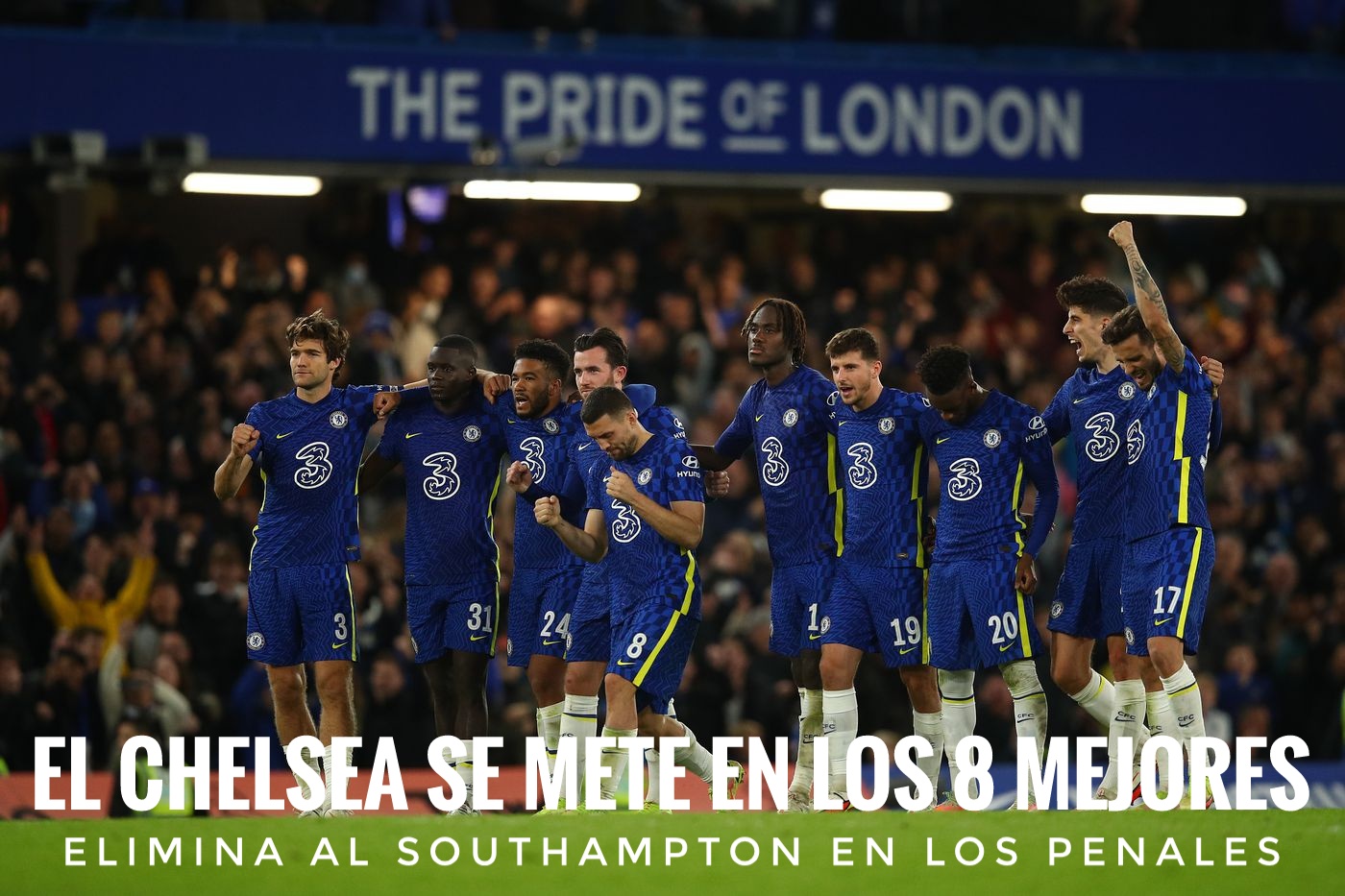 Fuente
Los dirigidos por Thomas Tuchel no querían repetir los errores de la temporada pasada, donde fueron eliminados muy rápidamente de esta copa por el Tottenham. Aunque este año las cosas pintan muy diferente, y a pesar de que el alemán sacó una formación con más suplentes que titulares, el equipo no se dió por vencido, logrando así su segunda clasificación al hilo por medio de los penales.
Those led by Thomas Tuchel did not want to repeat the mistakes of last season, where they were very quickly eliminated from this cup by Tottenham. Although this year things look very different, and despite the fact that the German produced a formation with more substitutes than starters, the team did not give up, thus achieving its second classification in a row through penalties.
El Chelsea no logró estabilidad en el medio campo durante los 90 minutos, la doble pareja de pivotes entre Kovacic y Saúl Ñiguez no funcionó, el croata hizo un partido intrascendente, mientras que el español para mí fue el peor, pues a pesar de que aportó mucho en ataque y puso a trabajar repetidamente al portero rival, estuvo impreciso, no manejo bien los tiempos de partido y suya fue la perdida que ocasionó el gol visitante. Otro que también paso desapercibido fue Ziyech, que nunca pudo meterse en el partido, pero que figurará por haber hecho la asistencia del gol de Havertz, después de cobrar muy bien un corner desde la derecha al área chica.
Chelsea did not achieve stability in the midfield during the 90 minutes, the double pair of pivots between Kovacic and Saúl Ñiguez did not work, the Croatian made an inconsequential game, while the Spanish was the worst for me, because even though he contributed a lot in attack and put the rival goalkeeper to work repeatedly, he was imprecise, he did not manage the game times well and his was the loss caused by the visiting goal. Another who also went unnoticed was Ziyech, who was never able to get into the game, but who will figure for having assisted Havertz's goal, after taking a corner from the right to the small area very well.
Pero no por lo anterior fue frágil defensivamente, la defensa de tres atrás compuesta por Sarr, Reece James y Chalobah estuvo muy bien, con el defensa de Sierra Leona siendo el líder de la defensa y confirmándose como la revelación Blue para este torneo. Por las bandas, Hudson-Odoi aportó más arriba que en defensa, y Marcos Alonso estuvo bien, no pudiendo hacer demasiado en el gol del Southampton. Con la entrada de Chilwell y Mount, el centro del campo se terminó de romper, Hudson-Odoi y el ex Leicester alternaron la posición por la banda, ocasionando varios errores por aquí.
But not because of the above was he fragile defensively, the defense of three back composed of Sarr, Reece James and Chalobah was very good, with the Sierra Leone defender being the leader of the defense and confirming himself as the Blue revelation for this tournament. On the wings, Hudson-Odoi contributed higher than in defense, and Marcos Alonso was good, not being able to do much in the Southampton goal. With the entrance of Chilwell and Mount, the center of the field was finished breaking, Hudson-Odoi and the ex Leicester alternated the position by the band, causing several errors here.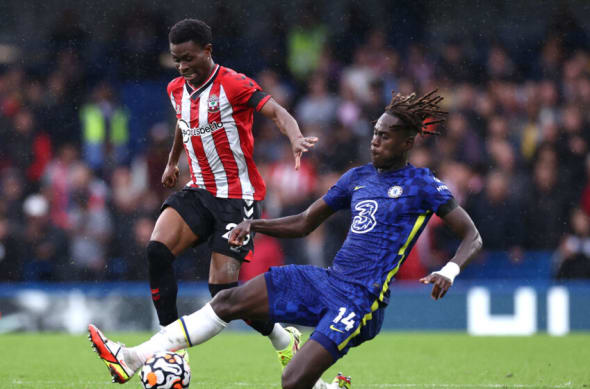 Los más destacados por el Chelsea fueron sin duda Kai Havertz y Kepa, el primero además de el gol que marcó en los minutos finales del primer tiempo, fue el más desequilibrante arriba, buscando y recibieron balones en profundidad, y siendo un dolor de cabeza para la defensa rival, mientras que Kepa fue determinante en los 90 minutos, sobre todo con dos atajadas en en el agregado del segundo tiempo, y luego en los penales estuvo soberbio parando el disparo de Walcott.
The most outstanding for Chelsea were undoubtedly Kai Havertz and Kepa, the first besides the goal he scored in the final minutes of the first half, was the most destabilizing upstairs, looking for and receiving balls in depth, and being a headache for the rival defense, while Kepa was decisive in the 90 minutes, especially with two saves in the aggregate of the second half, and then on penalties he was superb stopping Walcott's shot.
Si hablamos del partido de los visitantes hay que mencionar las ganas que le pusieron al partido, pues después de irse al descanso por debajo en el marcador, en la reanudación salieron muy intensos, provocando un error en la salida de Saúl, que aprovecharon muy bien para igualar el partido. Tella roba el balón, mete un pase profundo para el lateral ex Tottenham Walker-Peters, se mete al área y define casi a quema ropa ante Kepa, que saca el manotazo pero deja un rebote al borde de la línea de gol, y Che Adams solo tiene que empujarla.
If we talk about the visitors' game, we must mention the desire they put into the game, because after going to rest below the scoreboard, at the restart they came out very intense, causing an error in Saúl's exit, which they took advantage of very well to even the match. Tella steals the ball, puts a deep pass for the former Tottenham Walker-Peters, gets into the area and defines almost to burn clothes against Kepa, who takes the slap but leaves a rebound on the edge of the goal line, and Che Adams you just have to push it.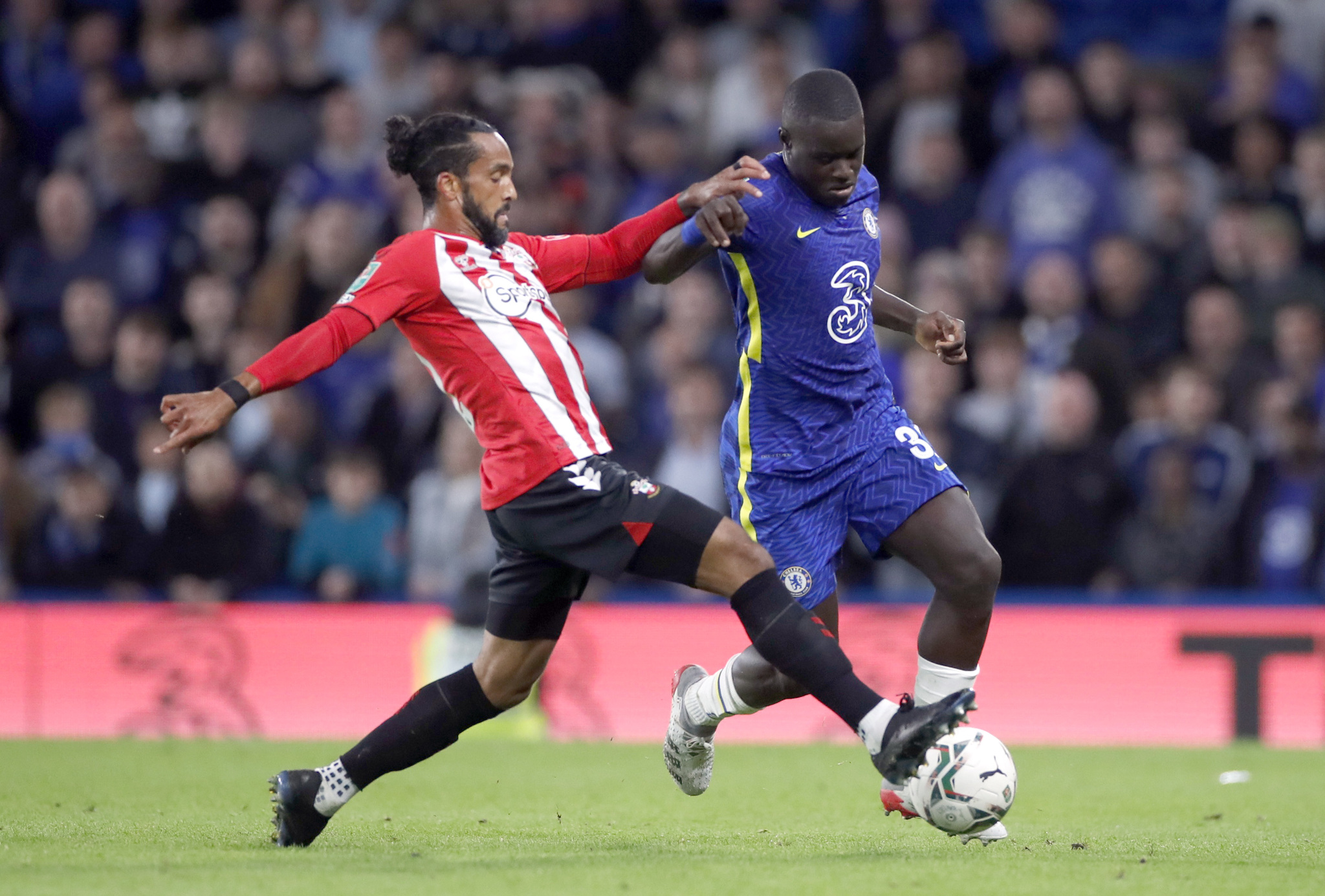 Fuente
Esto les devolvió las esperanzas a los visitantes, que vieron como en el primer tiempo fueron completamente superados por el Chelsea, pero ante los desajustes en el medio campo, podían llevar rápidamente el balón al área contraria casi sin oposición, sobre todo en los minutos finales, cuando se estaba jugando de ida y vuelta. Adams y Armstrong fueron los que más peligro llevaron al área de Kepa.
This restored hope to the visitors, who saw how in the first half they were completely overcome by Chelsea, but given the imbalances in midfield, they could quickly take the ball to the opposite area almost unopposed, especially in the final minutes. , when it was playing back and forth. Adams and Armstrong were the ones who brought the most danger to the Kepa area.
Otro que también resaltó mucho en el partido fue Kyle Walker-Peters por el carril diestro, subiendo y bajando constantemente por la banda, y a pesar de tener un partido algo desordenado, fue un puñal arriba y llegó siempre a las coberturas gracias a su velocidad. Pero sí hablamos del mejor del partido, sin duda fue el portero Forster, que le amargó la tarde a Saúl Ñiguez con varias paradas de mucho mérito, sacando un balón de la escuadra, y por si fuera poco, atajo el penal cobrado por Mount.
Another who also stood out a lot in the game was Kyle Walker-Peters in the right-handed lane, constantly going up and down the band, and despite having a somewhat messy game, he was a dagger up and always reached coverage thanks to his speed. But we do talk about the best of the game, without a doubt it was goalkeeper Forster, who embittered Saúl Ñiguez's afternoon with several worthwhile saves, taking a ball out of the squad, and as if that were not enough, he cut the penalty taken by Mount.
Y la nota negativa del encuentro se la llevó el joven Will Smallbone, que al parecer recibió un corte muy llamativo de sus compañeros, jajaja. Entró al terreno de juego con muchas ganas y fue importante en los minutos finales para cortar balones y asediar el área Blue, pero en el momento de la verdad, al tener su oportunidad en la tanda de penales, mandó el esférico a las nubes de Londres.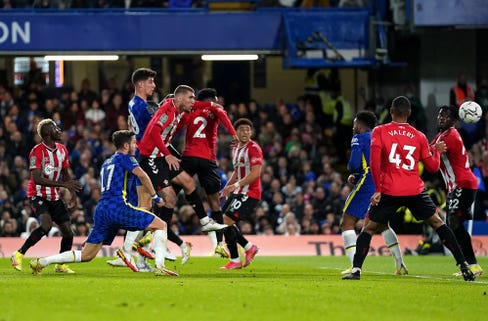 Fuente
And the negative note of the meeting was taken by the young Will Smallbone, who apparently received a very striking cut from his teammates, hahaha. He entered the field with great enthusiasm and was important in the final minutes to cut balls and besiege the Blue area, but at the moment of truth, when he had his chance in the penalty shootout, he sent the ball to the clouds of London.
Este partido le dará una gran lección a Thomas Tuchel, ya que vió que su pareja en la medular no tuvo el rendimiento esperado, Barkley tuvo que retrasar su posición por momentos, lo que le quitó protagonismo en la área rival, y cuando el mediocampista inglés salió del campo, el equipo se quebró, dejando una autopista para la subida de los visitantes. Otra valiosa enseñanza será el partido jugado por Kai Havertz, que fue lo mejor del ataque Blue, que ante la lesión de Lukaku y el bajón de rendimiento de Werner, demuestra que jugando como falso 9 es un jugador muy interesante, tal vez ahora intente con el ex Bayer Leverkusen por el centro, y mueva a la banda a Werner, lugar donde rindió infinitamente mejor en RB Leipzig.
This game will teach Thomas Tuchel a great lesson, since he saw that his partner in the core did not have the expected performance, Barkley had to delay his position at times, which took away prominence in the rival area, and when the English midfielder left the field, the team broke, leaving a highway for the visitors to climb. Another valuable lesson will be the game played by Kai Havertz, which was the best of the Blue attack, which in the face of Lukaku's injury and Werner's drop in performance, shows that playing as a false 9 is a very interesting player, perhaps now he will try with former Bayer Leverkusen down the middle, and move the wing to Werner, where he performed infinitely better at RB Leipzig.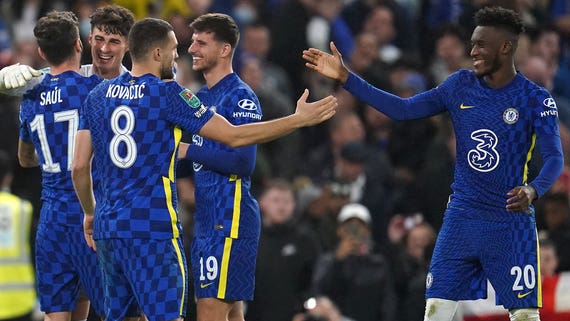 Fuente
En otros partidos de la Copa de la Liga, el Arsenal sigue sumando grandes sensaciones al eliminar el Leeds de Marcelo Bielsa, con goles de Chambers y Nketiah, mientras que el Birmingham City se mete entre los mejores 8 del torneo, después de eliminar al Swansea City, en un partido muy igualado y que se definió en los últimos minutos.
In other League Cup matches, Arsenal continue to add great sensations by eliminating Marcelo Bielsa's Leeds, with goals from Chambers and Nketiah, while Birmingham City are among the best 8 of the tournament, after eliminating Swansea City, in a very close game that was defined in the last minutes.
---
---