El Nottingham Forest vuelve a la Premier League 23 años después / Nottingham Forest returns to the Premier League 23 years later
Hola a todos, cómo se encuentran? Luego de recorrer un camino muy largo y difícil, donde tuvieron que pasar hasta por la tercera división del fútbol británico, el infierno del Nottingham Forest llegó a su fin, pues desde la campaña 1998/99 los Tricky Trees volverán a la Premier League, sumando 23 años desde la última vez que la disputaron, demasiado tiempo para un bicampeón de la Copa de Europa, consiguiendo con esto que la próxima temporada jueguen 5 campeones de Copa de Europa en la primera división, algo antes nunca visto en la historia de este deporte.
Hello everyone, how are you? After traveling a very long and difficult path, where they had to go through the third division of British football, Nottingham Forest's hell came to an end, because from the 1998/99 campaign the Tricky Trees will return to the Premier League, adding 23 years since the last time they played it, too long for a two-time European Cup champion, thus achieving that next season 5 European Cup champions play in the first division, something never seen before in the history of this sport.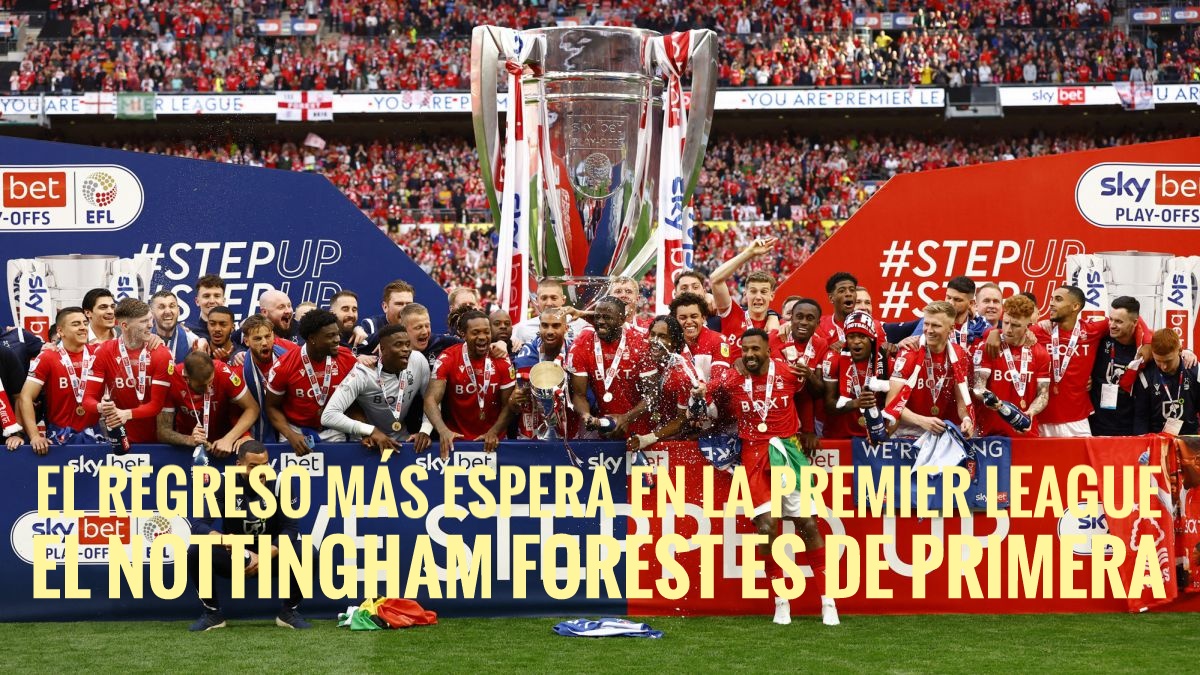 Fuente
El camino no fue nada sencillo, pues fue una de las Championships más competitiva de los últimos años, donde el último clasificado para el Playoff sumó 75 puntos, con un Fulham intratable y un Mitrovic que rompió todos los récords goleadores, sumando 43 tantos en 44 partidos disputados, poniendo el reglón muy alto para conseguir el ascenso. El Forest tuvo una segunda mitad de campeonato excepcional, y pese a que en la jornada 23, justo en el meridiano de la competición, estaban en 9no lugar sumando 34 puntos, y a solo 3 puntos de los puestos de promoción, en la segunda vuelta sumaron 46 puntos, con lo que se aseguraron la cuarta posición, aunque supieron darle más drama a este ascenso, pues tuvieron grandes opciones de luchar por el segundo lugar, y una plaza directa a la Premier, pero perdieron está final contra el Bournemouth a solo dos jornadas del final del torneo.
The path was not easy, as it was one of the most competitive Championships in recent years, where the last classified for the Playoff added 75 points, with an intractable Fulham and a Mitrovic who broke all goalscoring records, adding 43 goals in 44 games played, setting the bar very high to get promotion. Forest had an exceptional second half of the championship, and despite the fact that on matchday 23, right at the meridian of the competition, they were in 9th place, adding 34 points, and only 3 points from the promotion positions, in the second round they added 46 points, with which they secured fourth position, although they knew how to give this promotion more drama, as they had great options to fight for second place, and a direct place in the Premier, but they lost this final against Bournemouth only two final days of the tournament.
Con este pequeño repaso llegamos a lo que fueron los Playoffs, en la última fecha el Nottingham Forest empató por la mínima con el Hull City, con un gol en el último instante de sus rivales, por lo que perdieron la tercera plaza y tuvieron que medirse con el Sheffield United, un equipo recién descendido y que dejó buenas sensaciones en su paso por la Premier League en años anteriores, que además tuvo que batallar en las jornadas finales con el Middlesbrough y el Blackburn Rovers del anglochileno Ben Brereton, un buen conocido de las eliminatorias sudamericanas. En el partido de ida el Forest sacó ventaja en el campo de su rival, con goles de Colback y Johnson, cosa que lleno de emoción a los fanáticos de los Reds por tener la posibilidad de ascenso tan cercana.
With this little review we come to what the Playoffs were, on the last date Nottingham Forest tied for the minimum with Hull City, with a goal in the last moment from their rivals, for which they lost third place and had to measure themselves with Sheffield United, a recently relegated team that left good feelings during its time in the Premier League in previous years, which also had to battle in the final days with Middlesbrough and Blackburn Rovers of Anglo-Chilean Ben Brereton, a good acquaintance of the South American qualifiers. In the first leg, Forest took an advantage in the field of their rival, with goals from Colback and Johnson, which filled Reds fans with emotion for having the possibility of promotion so close.
Pero como no podía faltarle aún más drama a esta historia, el Forest se puso por delante rápidamente con otro gol de Johnson, la figura, máximo goleador y máximo asistente de este equipo, pero en la segunda parte el Sheffield United logró remontar el duelo e igualarlo, por lo que el pase a la tan ansiada final de promoción tendría que jugarse en los penales. La tanda comenzó con una doble atajada de Samba, su portero titular, y el Forest logró anotar sus primeros tres cobros, pero el Sheffield anotaría los dos siguientes y Lolley fallaría su cobró, llenando de nervios todo el estadio, pero el drama y la ansiedad por fin llegarían a su final, pues Sambia se colgaría el cartel de héroe y taparía el quinto penal de sus rivales, desatando la locura en el City Ground.
But as this story could not lack even more drama, Forest quickly took the lead with another goal from Johnson, the figure, top scorer and top assister of this team, but in the second half Sheffield United managed to come back from the duel and match it, so the pass to the long-awaited promotion final would have to be played on penalties. The shootout began with a double save by Samba, their starting goalkeeper, and Forest managed to score their first three charges, but Sheffield would score the next two and Lolley would miss his charge, filling the stadium with nerves, but the drama and anxiety They would finally come to an end, as Sambia would hang up the hero sign and cover the fifth penalty of his rivals, unleashing madness at the City Ground.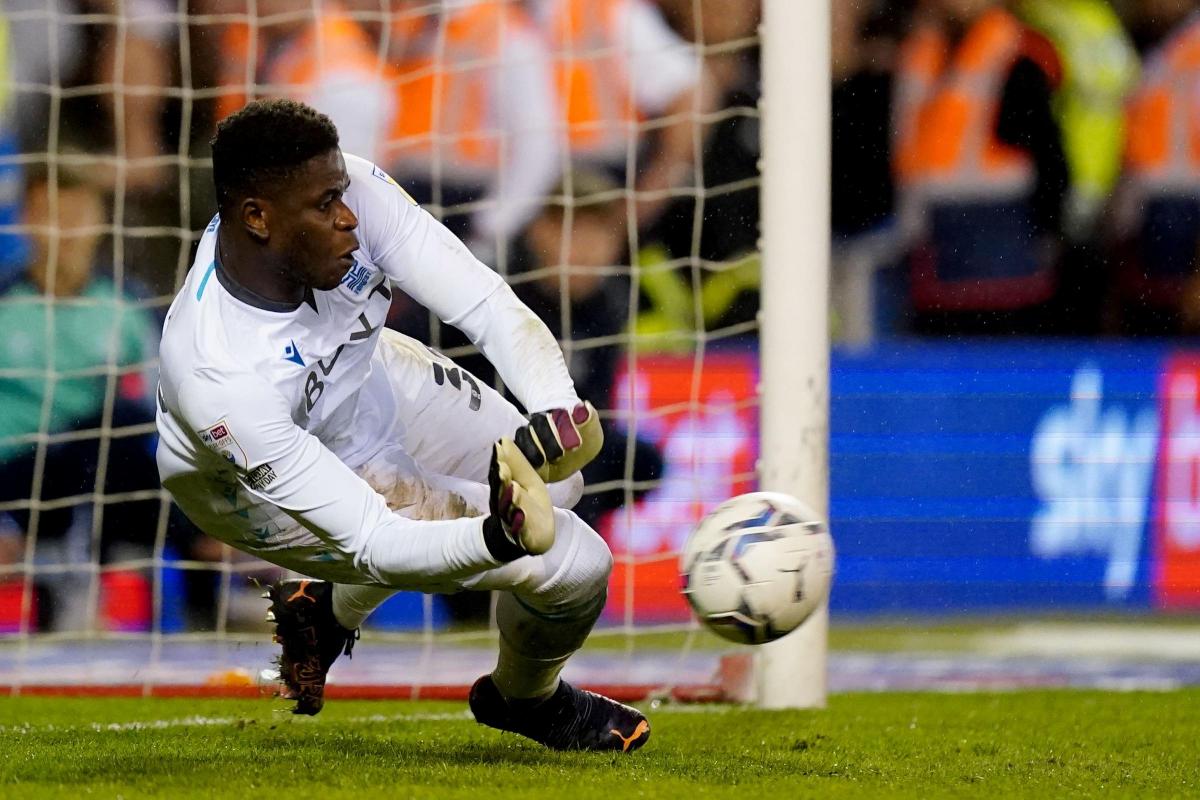 Fuente
En la gran final tendría un último rival para conseguir el tan ansiado ascenso, el Huddersfield Town, otro equipo conocido que tuvo campañas decentes en la década pasada en la Premier League, y quién contra pronóstico, les quitó la segunda posición gracias a que encadenaron un seguidilla de buenas resultados en el tramo final de la Championship. El Huddersfield Town llegaba a esta cita luego de eliminar al Luton Town, la mayor sorpresa de este torneo, eliminándolos por la mínima en el global, pues como visitantes empataron a 1, mientras que en su estadio lograron vencer por la mínima, en una eliminatoria donde hubo muchas menos emociones si lo comparamos con la otra llave.
In the grand final they would have one last rival to achieve the long-awaited promotion, Huddersfield Town, another well-known team that had decent campaigns in the Premier League in the past decade, and who, against all odds, took second place from them thanks to the fact that they chained a string of good results in the final leg of the Championship. Huddersfield Town came to this event after eliminating Luton Town, the biggest surprise of this tournament, eliminating them by the minimum on aggregate, because as visitors they tied at 1, while in their stadium they managed to win by the minimum, in a tie where there were much less emotions if we compare it with the other key.
Viendo los datos previos a esta final, ambos conjuntos se enfrentaron 3 veces en la temporada, con dos victorias del Nottingham, un en la primera vuelta y otra más reciente por la FA Cup, y una victoria para el Huddersfield Town en casa del Forest, por lo que se presagiaba una final muy ajustada, donde no habrían muchos gritos de gol. Ambos también llegaban con casi todos sus jugadores disponibles, por lo que el mítico Wembley Stadium estaba a las puertas de vivir un partido para la historia del fútbol mundial, pues un equipo bicampeón de Europa, que ha pasado años recientes muy duros, estaba a las puertas de volver al primer nivel futbolístico, mientras que del otro lado teníamos un club con menos historia, por lo que quería anotar este partido con letras de oro en sus hitos como club, y así poco a poco irse labrando con trabajo su propia historia en la liga más competitiva del mundo.
Looking at the data prior to this final, both teams met 3 times in the season, with Nottingham victories twice, one in the first round and another more recently for the FA Cup, and a victory for Huddersfield Town at Forest, so a very tight final was predicted, where there would not be many goal shouts. Both also arrived with almost all their available players, so the mythical Wembley Stadium was at the gates of experiencing a match for the history of world football, since a two-time European champion team, which has had very hard recent years, was at doors to return to the first level of football, while on the other side we had a club with less history, so I wanted to write down this game with gold letters in its milestones as a club, and thus little by little work hard to carve out its own history in the most competitive league in the world.
Sabiendo el peso de su camiseta, y de las miles de almas que fueron a acompañarlos en uno de los estadios más míticos de Europa, los dirigidos por Steve Cooper comenzaron con muchas ganas, dominando el balón y llevando más peligro al área de su rival, mientras que el Huddersfield Town salió un poco más nervioso, cometiendo algunos errores atrás, que más allá de regalar faltas al borde del área, terminaron decantando la balanza a favor de sus rivales. El primer tiempo paso con pocas emociones, pero poco minutos antes del final la historia cambiaría, ya que después un centro en largo desde la izquierda llegaría el único tanto del partido, y como no podía ser de otra forma en esta historia llena de drama, Colwill metería el balón en su propio arco, luego de intentar de mala manera un despeje ante la presión del goleador de los Reds.
Knowing the weight of their shirt, and the thousands of souls that went to accompany them in one of the most mythical stadiums in Europe, those led by Steve Cooper started with great enthusiasm, dominating the ball and bringing more danger to their rival's area, while Huddersfield Town came out a little more nervous, making some mistakes at the back, which beyond giving free kicks on the edge of the area, ended up tipping the balance in favor of their rivals. The first half passed with few emotions, but a few minutes before the end the story would change, since after a long cross from the left the only goal of the game would arrive, and how could it be otherwise in this story full of drama, Colwill would put the ball in his own goal, after trying badly to clear it under pressure from the Reds' striker.
El segundo tiempo comenzó con el Nottingham Forest manejando el partido y el balón, pero a medida que los minutos iban subiendo el crono, estos fueron replegándose para cuidar su ventaja, cosa que le vino de maravilla al Huddersfield Town, que adelantó todas su líneas para intentar a la desesperada empatar el duelo. Drama no le faltó a estos 45 minutos, pues a 15 minutos para el final Toffolo caería en el área del Forest, por lo que el juez fue inmediatamente a amonestarlo por simulación, y luego de una rápida revisión en el VAR, la decisión del árbitro principal fue respaldada. Hubieron más caídas en el área del Forest, pero el árbitro no compro ninguna de ellas, teniendo que ver incluso en los minutos finales como Sambia salía por lesión, cosa que lleno de nervios a los aficionados, pues no contarían con su salvador en una hipotética tanda de penales.
The second half began with Nottingham Forest controlling the game and the ball, but as the minutes ticked up, they fell back to take care of their advantage, which was great for Huddersfield Town, who advanced all their lines to desperately try to tie the duel. Drama was not lacking in these 45 minutes, because 15 minutes from the end Toffolo would fall in the Forest area, so the judge immediately went to admonish him for simulation, and after a quick review in the VAR, the referee's decision main was endorsed. There were more falls in the Forest area, but the referee did not buy any of them, having to see even in the final minutes how Sambia came out due to injury, which made the fans nervous, since they would not have their savior in a hypothetical penalty shootout.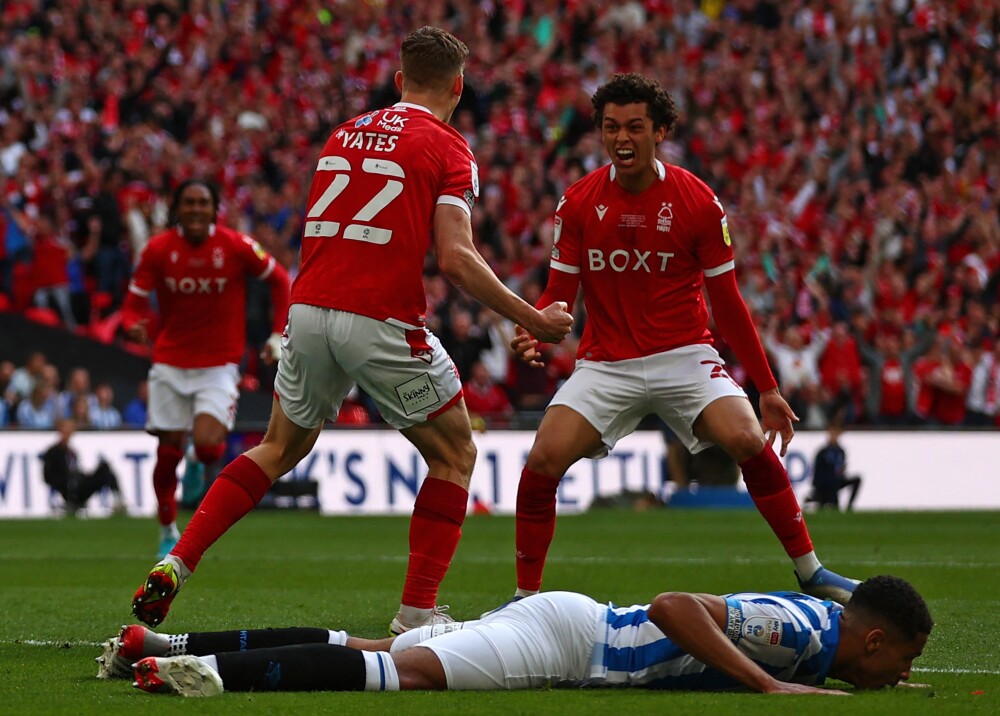 Fuente
Los instantes finales se vivieron con mucha ansiedad, pero un abrazo entre los dos técnicos rivales vendría precedido del silbato final del árbitro, significando también el final de una pesadilla de uno de los equipos más sorprendentes de las historia del fútbol del siglo pasado, pues aunque suene muy raro, estos tienen en su estantería más Copa de Europa que trofeo de la Premier League, siendo una total anomalía. La llegada del técnico Cooper le cambió la cara a este equipo, pues en las primeras jornadas se encontraban en zona de descenso, y hoy ya con la temporada finalizada, jugarán en la Premier League, una historia increíble de superación que nos demuestra nuevamente lo mágico que es el fútbol.
The final moments were experienced with great anxiety, but a hug between the two rival coaches would be preceded by the referee's final whistle, also signifying the end of a nightmare for one of the most surprising teams in the history of football in the last century, because although It sounds very strange, they have more European Cup than Premier League trophy on their shelf, being a total anomaly. The arrival of coach Cooper changed the face of this team, because in the first few days they were in the relegation zone, and today with the season over, they will play in the Premier League, an incredible story of overcoming that once again shows us the magic what is soccer.
---
---