Inglaterra saca un punto in extremis en Allianz Arena / England take a point in extremis at Allianz Arena
Alemania e Inglaterra se veían las caras nuevamente en el Allianz Arena, con la necesidad de sumar los 3 puntos si querían avanzar a la siguiente etapa del torneo luego de un empate de los teutones contra Italia y una sorprendente derrota de ingleses contra Hungría, pero finalmente el partido terminó en empate después de un gol de Harry Kane tras ejecutar una pena máxima a pocos minutos del final. Este resultado deja a los dirigidos por Southgate en la última posición con 1 punto, mientras que los alemanes están con dos puntos en la tercera posición.
Germany and England faced each other again at the Allianz Arena, with the need to add the 3 points if they wanted to advance to the next stage of the tournament after a draw for the Teutons against Italy and a surprising defeat for the English against Hungary, but finally the game ended in a draw after a goal from Harry Kane after taking a penalty just minutes from time. This result leaves those led by Southgate in last position with 1 point, while the Germans are in third position with two points.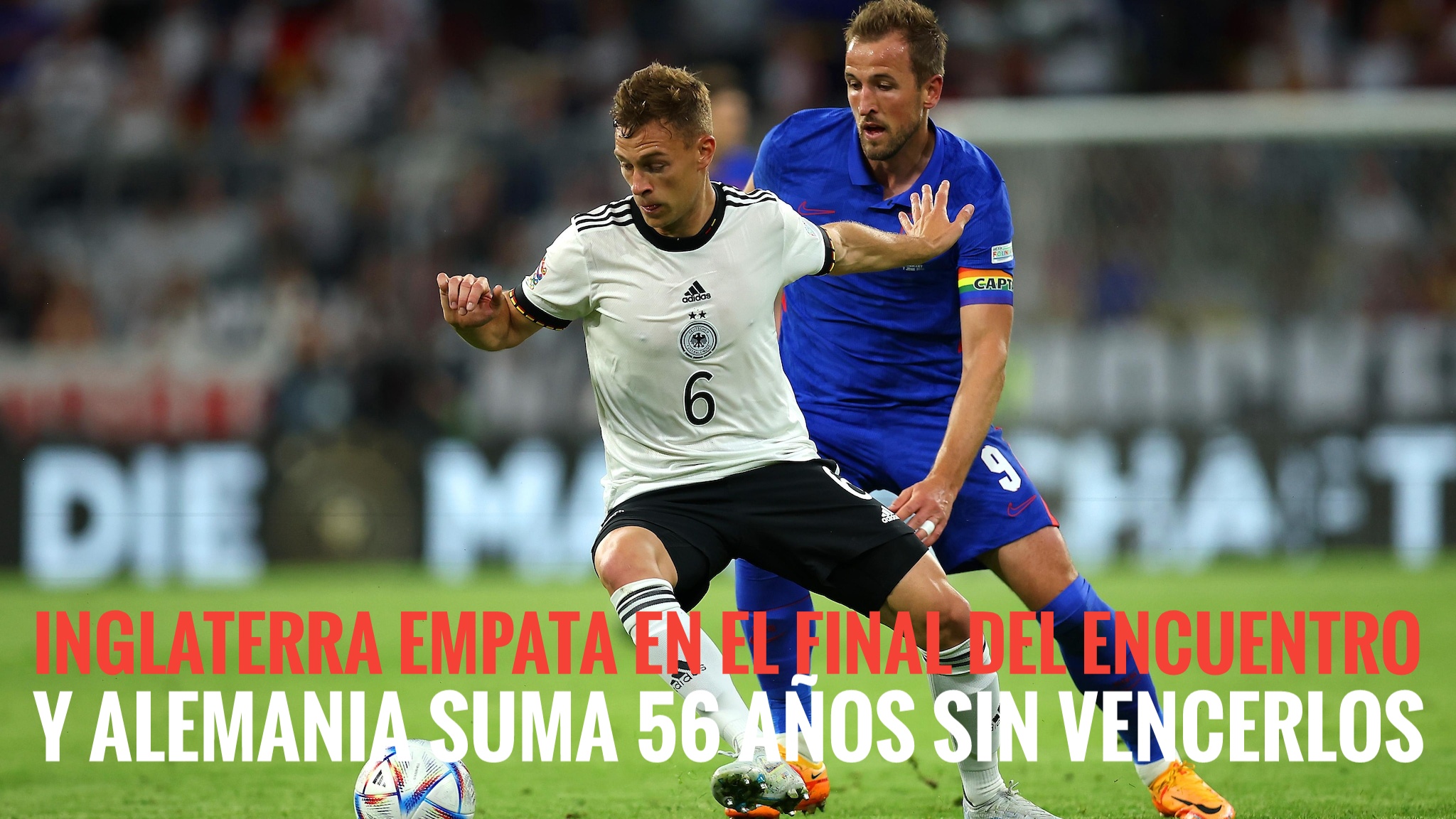 Fuente
Ambos técnicos desde el inicio plantearon estrategías muy ofensivas, buscando aprovechar la velocidad de sus jugadores para plantearse rápidamente en el área rival, esto provocó que hubieran muchas ocasiones de gol y que los porteros se exigieran a tope, teniendo que destacar el partidazo de Manuel Neuer, que realizó un par de atajadas muy complicadas, y solo vió como su arco cayó luego de una pena máxima. Un ida y vuelta así benefició sobre todo a Inglaterra, ya que contó con auténticos velocistas en su formación, con Trippier y Walker por los laterales, Sterling y Zaka más arriba y Mason Mount como media punta.
Both technicians from the beginning proposed very offensive strategies, seeking to take advantage of the speed of their players to quickly approach the rival area, this caused many chances to score and that the goalkeepers demanded themselves to the fullest, having to highlight Manuel Neuer's great match , who made a couple of very difficult saves, and only saw his bow fall after a penalty. Such a back-and-forth benefited England most of all, as they had real speedsters in their lineup, with Trippier and Walker on the wings, Sterling and Zaka further up the pitch, and Mason Mount in midfield.
El conjunto de Flick tuvo dificultades para poder frenar estos ataques, pero su propuesta se baso en pases verticales a la espalda de los defensores rivales, con lo cual Musiala y Müller pudieran ganar metros y desarrollar su fútbol, tanto buscándose ellos mismos el espacio, como buscando asistir a Havertz, que jugó como el falso 9 del equipo. Justo después de una jugada así, llegó la primera ocasión del partido, y es que en el primer minuto Alemania tuvo un contragolpe que inició en un salida desde su área Neuer, pero Havertz no pudo definir de la mejor forma, sacando un remate muy centralizado que Pickford no tuvo problemas en detener.
Flick's team had difficulties to stop these attacks, but their proposal was based on vertical passes behind the rival defenders, with which Musiala and Müller could gain meters and develop their football, both looking for space themselves, as well as looking to assist Havertz, who played as the team's false 9. Right after such a move, the first chance of the game came, and in the first minute Germany had a counterattack that started with a Neuer exit from their area, but Havertz could not define in the best way, taking a very centralized shot which Pickford had no trouble stopping.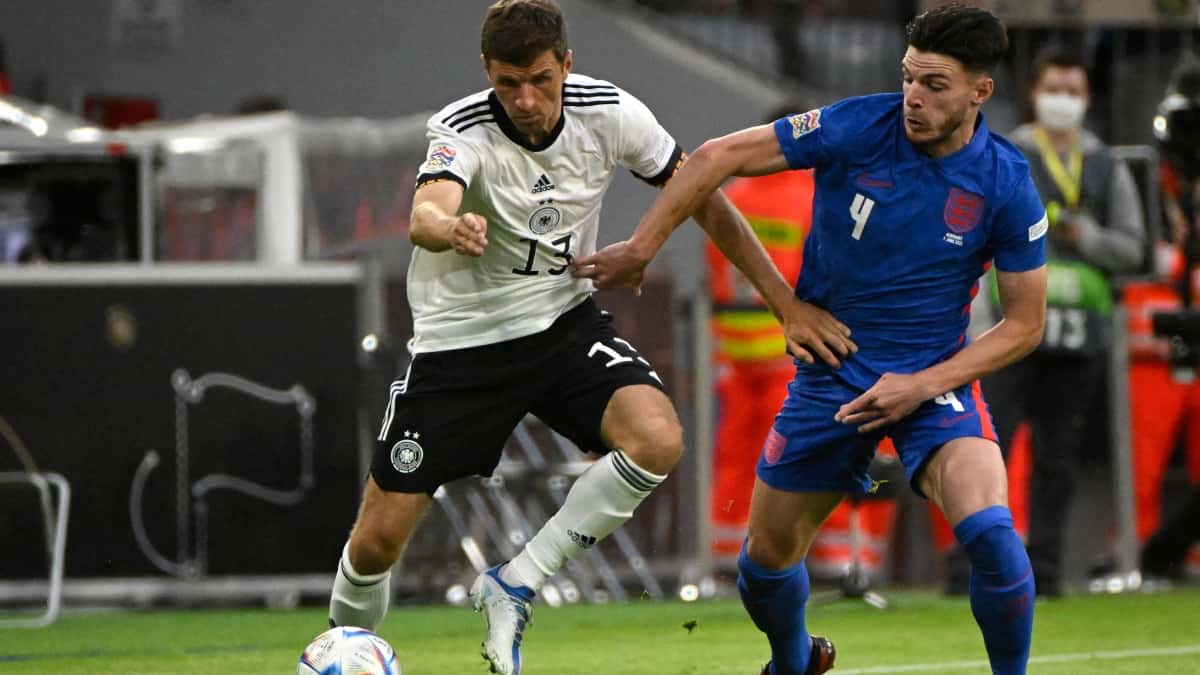 Fuente
Con el paso de los minutos Inglaterra siguió atacando, con lo que los defensores de Alemania tuvieron que exigirse a fondo para bloquear los remates de sus rivales, viendo en Rüdiger el líder de esa defensa de 3, interceptando un disparo de Sterling y siendo muy importante en la salida del balón. Esto último fue muy importante, ya que pese a que los teutones no dominaban la posesión del balón en esos minutos iniciales, se plantaban con más peligro en el arco de su rival, aunque la suerte no les jugó a su favor, ya que les anularon dos goles, el primero posterior a la lesión de Phillips, y el segundo luego de un claro fuera de juego de Jonas Hofmann en la jugada previa a su tanto.
As the minutes went by, England continued to attack, so the German defenders had to push themselves hard to block their rivals' shots, seeing in Rüdiger the leader of that defense of 3, intercepting a shot by Sterling and being very important at the exit of the ball. The latter was very important, since despite the fact that the Teutons did not dominate the possession of the ball in those initial minutes, they were planted with more danger in the goal of their rival, although luck did not play in their favor, since they annulled two goals, the first after Phillips was injured, and the second after a clear offside by Jonas Hofmann in the play prior to his goal.
Por esta lesión de Phillips antes del cuarto de hora, entró Jude Bellingham, lo que ocasionó en un inicio que el medio del campo alemán dominará el balón, pero a poco de finalizarse la primera parte, tanto Sterling como Zaka retrasaron un poco más su posición, lo que les permitió mejor circulación del balón y explotar mejor las bandas, ya que al ambos recibir con más terreno por recorrer, tenían más oportunidades de sacarse la marca del carrilero con su velocidad. En el agregado Inglaterra tuvo la más clara, pues luego de un roba de Mount en la medular, este habilitó por la derecha a Zaka, y pese a que el jugador del Arsenal sacó un disparo muy potente al primer palo, Neuer sacó ese balón a punta de puros reflejos.
Due to this injury to Phillips before the quarter of an hour, Jude Bellingham entered, which initially caused the German midfield to dominate the ball, but shortly after the end of the first half, both Sterling and Zaka delayed their position a little more , which allowed them to better circulate the ball and exploit the bands better, since both received with more ground to cover, they had more opportunities to get the mark of the lane with their speed. On aggregate England had the clearest, because after a steal by Mount in the spinal cord, he enabled Zaka from the right, and despite the fact that the Arsenal player took a very powerful shot at the near post, Neuer took that ball to point of pure reflections.
Luego de pasar por los camerinos, el equipo de Flick salió a buscar el balón nuevamente, y a los pocos minutos lograron irse arriba en el marcador, ya que posterior a una posición larga de balón, donde rompieron la presión rival con triangulaciones entre los jugadores del medio campo, Joshua Kimmich recibió a pocos metros de la frontal del área, se tomó un segundo de más y habilitó en su diagonal a Hofmann, quien luego de una media vuelta definió fuerte a la zona izquierda del arco, venciendo a un Pickford que pese a que metió un manotazo, no pudo despegar ese balón.
After going through the dressing rooms, Flick's team went out to look for the ball again, and after a few minutes they managed to go up on the scoreboard, since after a long ball position, where they broke the rival pressure with triangulations between the players of the midfield, Joshua Kimmich received a few meters from the front of the area, took a second too many and enabled Hofmann on his diagonal, who after a half turn strongly defined the left zone of the goal, defeating a Pickford that despite because he hit, he couldn't take off that ball.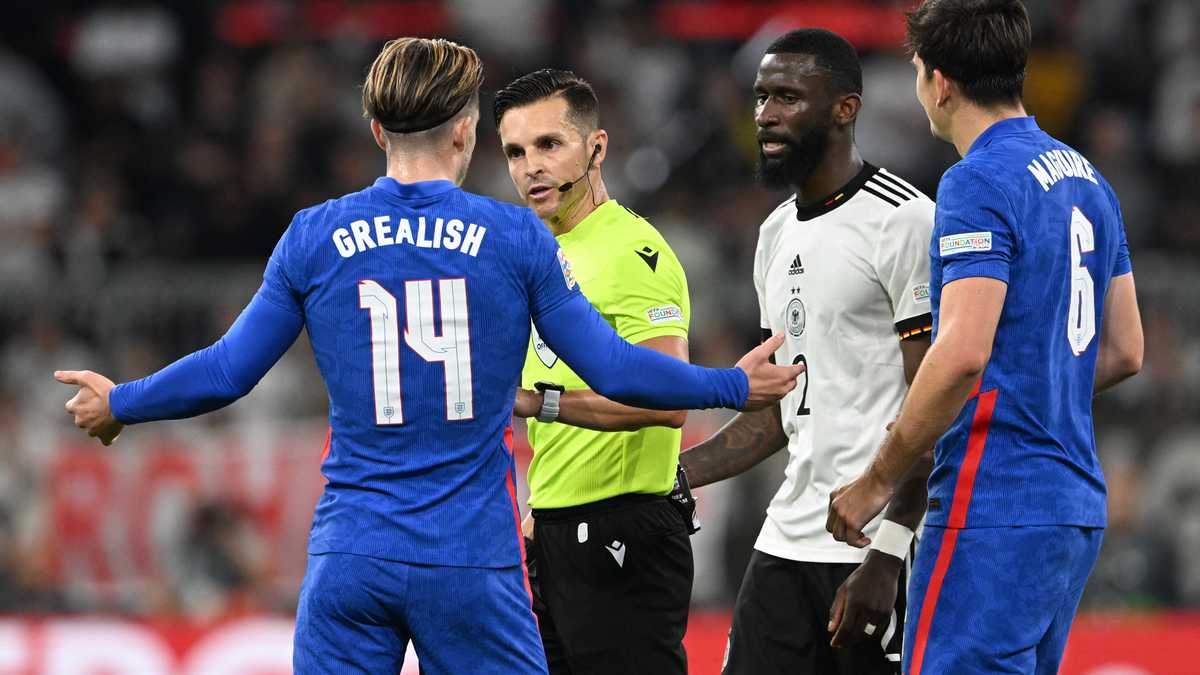 Fuente
El primero en mover su banquillo fue Flick, quien buscó refrescar la zona ofensiva con el ingreso de Werner por Musiala, que hizo un partido muy pobre en mi opinión, y a Gnabry por Hofmann, sumando a otro jugador en la delantera y retrasando a Kimmich al carril derecho cuando el extremo del Bayern Munich se sumaba al ataque, generando así espacios en la medular, los mismos que permitieron meterse de vuelta a los leones al encuentro. Esta nueva disposición ofensiva desconcertó en un inicio a los ingleses, ya que Gnabry llegaba a línea de fondo y centraba con mucha facilidad, lo que generó errores de la defensa rival, y luego de un despeje cortó a uno de estos centros, Raum metió otro balón al palo largo del portero, allí llegó Müller, pero Pickford respondió con otro atajadón.
The first to move his bench was Flick, who sought to refresh the offensive zone with the entry of Werner for Musiala, who played a very poor game in my opinion, and Gnabry for Hofmann, adding another player up front and delaying Kimmich at right lane when the Bayern Munich winger joined the attack, thus creating spaces in the midfield, the same ones that allowed the lions to get back into the match. This new offensive disposition puzzled the English at first, since Gnabry reached the bottom line and crossed very easily, which generated errors from the rival defense, and after a clearance he cut one of these centers, Raum put another The ball hit the goalkeeper's long post, Müller arrived there, but Pickford responded with another save.
A los pocos minutos ambos cancerberos se colgarían el cartel del MVP de su equipo en el cuello, pues vimos una atajada increíble de cada portero, empezando por Pickford, que salió a achicarle el ángulo a Werner luego de que este recibió un pase al vació, quedándose con el balón entre los pies luego del remate, y luego Neuer atajaría otra incluso más impresionante, pues en otra acción rápida de los inglés, Grealish saca un centro al segundo palo desde izquierda, Kane llega a rematar barriéndose, pero el portero del Bayern, pese a ir a contrapie, logra sacar el disparo estirando toda su humanidad.
A few minutes later, both goalkeepers would hang the MVP sign of their team around their necks, as we saw an incredible save from each goalkeeper, starting with Pickford, who came out to reduce Werner's angle after he received a pass into the void, keeping the ball between his feet after the shot, and then Neuer would save another even more impressive one, because in another quick action by the English, Grealish takes a cross to the far post from the left, Kane manages to finish off by sliding, but the Bayern goalkeeper , despite going against the foot, manages to take the shot by stretching all his humanity.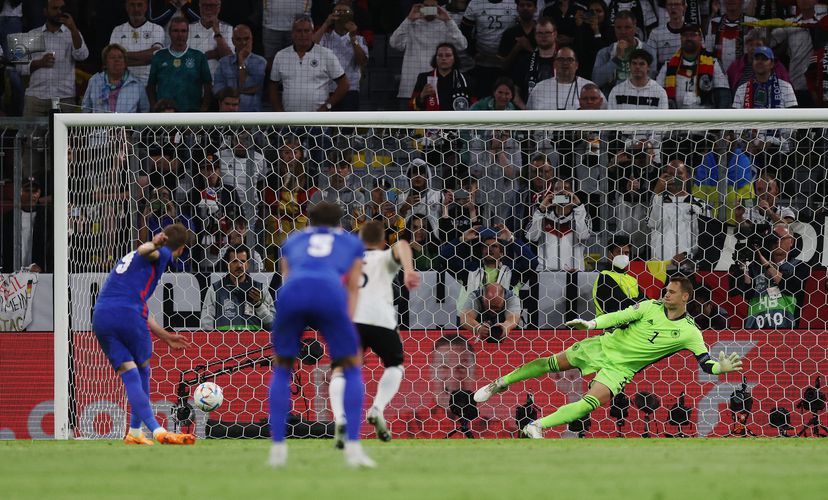 Fuente
A 5 minutos del final, Schlotterbeck derriba a Harry Kane dentro del área en una jugada que dejó mucho dudas, pero luego de que el árbitro pasará por el VAR, el mismo Kane cobraría esa pena máxima, venciendo a Neuer al disparar al lado contrario a dónde el guardameta se lanzó. En los instantes finales Alemania intentó remontar el partido, pero ya no hubo tiempo para mucho más, y aunque este empate no le viene nada mal a los teutones, que tendrán que enfrentarse con Hungría en la próxima fecha, a Inglaterra le da vida este resultado, ya que más allá de enfrentarse contra Italia en la próxima jornada, tiene que remontar aquella derrota inesperada en la primera jornada, y que mejor forma de hacerlo que venciendo a la actual campeona de la Eurocopa, que no precisamente está pasando por su mejor momento futbolístico.
5 minutes from the end, Schlotterbeck brought down Harry Kane inside the area in a play that left many doubts, but after the referee went through the VAR, Kane himself would collect that maximum penalty, beating Neuer by shooting the opposite side at where the goalkeeper threw himself. In the final moments, Germany tried to come back from the game, but there was no time for much more, and although this tie is not bad for the Teutons, who will have to face Hungary on the next date, this result gives life to England , since beyond facing Italy on the next day, they have to overcome that unexpected defeat on the first day, and what better way to do it than by beating the current European Championship champion, who is not exactly going through her best moment football.
---
---