Otro pésimo partido en el Camp Nou: El Madrid gana el Clásico / Another terrible game at the Camp Nou: Madrid wins the Clásico.
Hola a todos, cómo se encuentran? Hace pocas horas terminó el Clásico, dejando como ganador al Real Madrid en el Camp Nou después de uno de los peores partidos entre ambos que recuerdo. El Barcelona estuvo correcto y he hizo 90 minutos dignos, aguantando mucho más de lo que yo creía que iba a poder, pero sigue sin generar nada arriba, completando otra actuación nefasta, sin contar lo hecho por "Kun" Agüero en los últimos instantes del cotejo.
Hello everyone, how are you? A few hours ago the El Clásico ended, leaving Real Madrid as the winner at the Camp Nou after one of the worst matches between the two that I remember. Barcelona was correct and I did 90 worthy minutes, enduring much more than I thought I was going to be able to, but still without generating anything above, completing another disastrous performance, not counting what was done by "Kun" Agüero in the last moments of the comparison.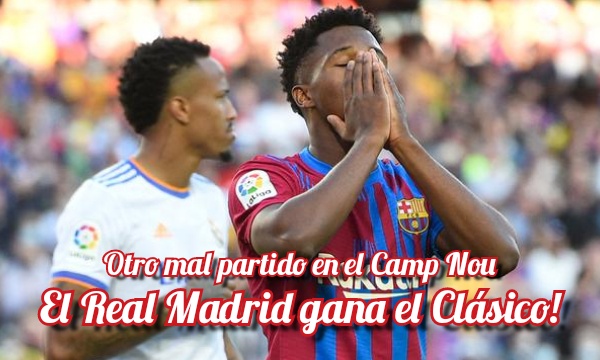 Fuente
El Real Madrid tampoco jugó el mejor partido de la temporada, y aún así no sufrieron mucho en su arco y fueron capaces de ocasionar varias situaciones de gol, con un Vinicius Jr que fue un vendaval en la banda izquierda, haciendo casi lo que se le antojo en el primer tiempo. Otra buena noticia para la casa blanca, fue la vuelta a la titularidad de su centro del campo titular, Toni Kroos, Luka Modric y Casemiro.
Real Madrid did not play the best game of the season either, and even so they did not suffer much in their goal and were able to cause several goal situations, with a Vinicius Jr that was a gale on the left wing, doing almost what he was craving in the first time. Another good news for the white house was the return to ownership of their starting midfield, Toni Kroos, Luka Modric and Casemiro.
Koeman salió con un equipo muy parecido al que consiguió la victoria contra el Valencia, con Dest por el extremo derecho y en el lateral dejo a Mingüeza, mientras que en la delantera sentó a De Jong y puso a Ansu Fati. Por su parte, Ancelotti salió con lo mejor que tiene disponible, teniendo mayores problemas en el lateral derecho con Lucas Vázquez, pero aún así el jugador respondió a la confianza de su técnico y respondió con un gol en los minutos finales.
Koeman came out with a team very similar to the one that won the victory against Valencia, with Dest on the far right and left Mingüeza on the side, while up front he sat De Jong and put Ansu Fati. For his part, Ancelotti came out with the best he has available, having major problems on the right side with Lucas Vázquez, but still the player responded to the confidence of his coach and responded with a goal in the final minutes.
Repasemos los acontecimientos del partido / Let's review the events of the match.
En los primeros minutos el Real Madrid le entrego el balón a los azulgranas, cediendo la iniciativa del ataque, pero esperando el momento para lanzar una contra y aprovechar la velocidad de Rodrygo o Vinicius por las bandas. Memphis Depay y Ansu Fati no lograron incomodar demasiado a la defensa del Madrid, y eso que por momentos ambos cambiaban de posición para descolocar a Vázquez, pero cuando tenían que lanzar el pase final, no encontraban muchas soluciones arriba.
In the first minutes, Real Madrid gave the ball to the Catalans, giving up the initiative of the attack, but waiting for the moment to launch a counter and take advantage of the speed of Rodrygo or Vinicius on the wings. Memphis Depay and Ansu Fati did not manage to make the Madrid defense too uncomfortable, and that at times both changed positions to dislodge Vázquez, but when they had to launch the final pass, they did not find many solutions up there.
En esos primeros minutos el sistema defensivo del Barcelona fue interesante, Mingüeza y Dest se sacrificaban mucho por su banda para frenar las subidas de Vinicius Jr y también rotaban de posición ante la salida de Eric García para marcar adelantado a Benzema, cubriendo el canterano la posición de central y el estadounidense el lateral, pero a medida que fueron pasando los minutos, se fueron perdiendo estos automatismos.
In those first minutes, the defensive system of Barcelona was interesting, Mingüeza and Dest sacrificed a lot for their band to stop Vinicius Jr's rises and also rotated their position before the departure of Eric García to score ahead of Benzema, covering the position of the youth squad. central and the American side, but as the minutes went by, these automatisms were lost.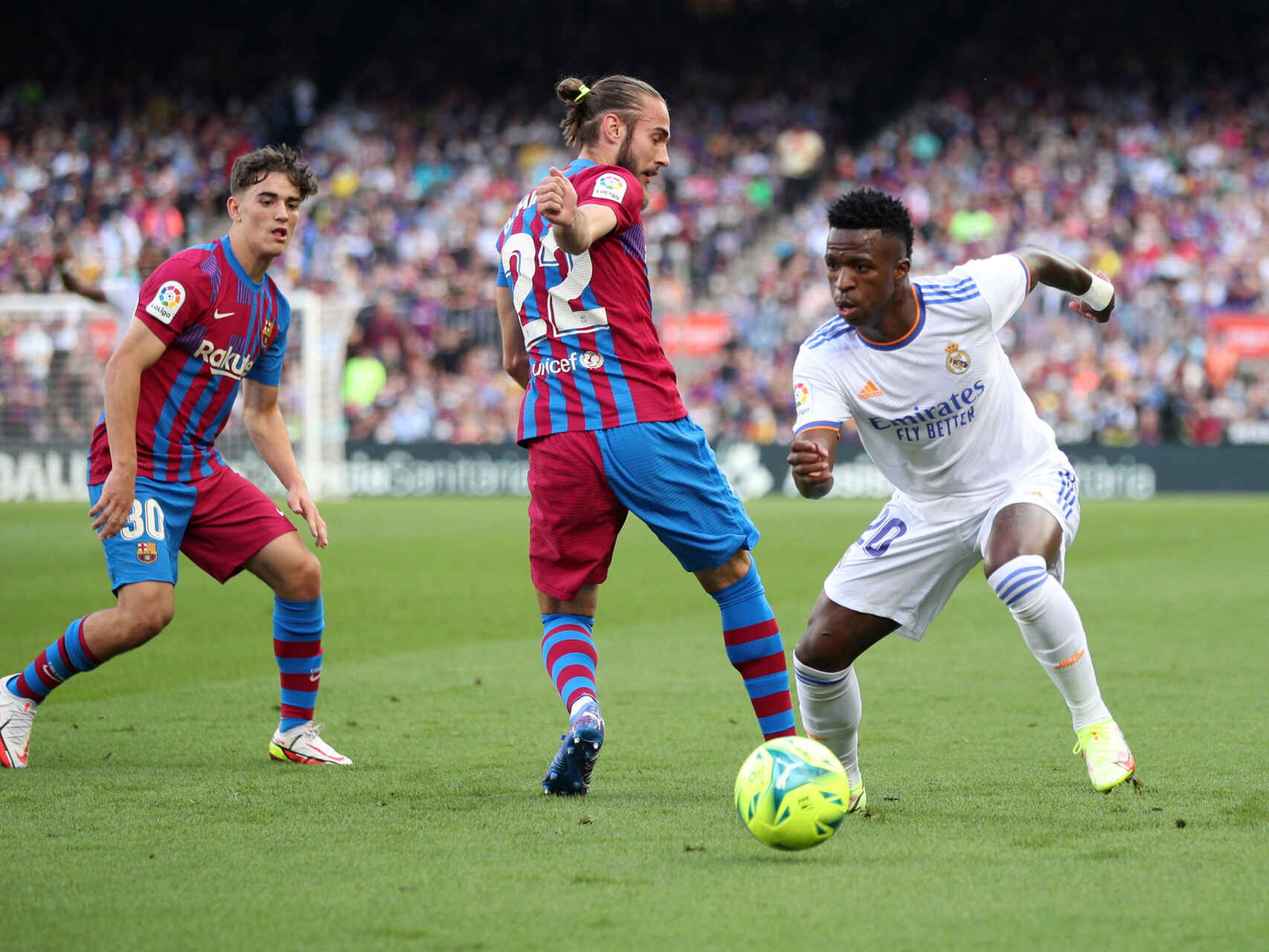 A medida que el Madrid empezaba a sentirse cómodo con el balón, vimos a un Barça más pragmático, recuperando balones y lanzando contra ataques rápidos. En una de esas jugadas Depay recibe un balón y se va por la izquierda, sacando un pase raso al punto penal, Ansu Fati no pudo llegar, pero desde atrás llegó Dest, que remató y la mandó a las nubes.
As Madrid began to feel comfortable with the ball, we saw a more pragmatic Barça, recovering balls and launching against quick attacks. In one of those plays Depay receives a ball and goes to the left, taking a low pass to the penalty spot, Ansu Fati could not reach, but Dest arrived from behind, who finished off and sent it to the clouds.
Pero cuando el reloj marcaba los 30 minutos, Alaba recupera un balón en su área, la toca con Vinicius que se saca la marca de Mingüeza, que llegó un poco tarde a la marca, avanza unos pasos y mete un balón largo a Rodygo, que la para, observa bien el campo y mete un balón largo para Alaba que se sumaba al ataque, el austríaco conduce en velocidad y sin marca hasta la frontal del área y luego saca un disparo violento y cruzado, imposible de atajar para ter Stegen.
But when the clock ticked 30 minutes, Alaba recovers a ball in his area, touches it with Vinicius who removes the mark from Mingüeza, who arrived a little late to the mark, advances a few steps and hits a long ball at Rodygo, who He stops it, observes the field well and hits a long ball for Alaba who joined the attack, the Austrian drives at speed and without a mark to the front of the area and then takes a violent and crossed shot, impossible to stop for ter Stegen.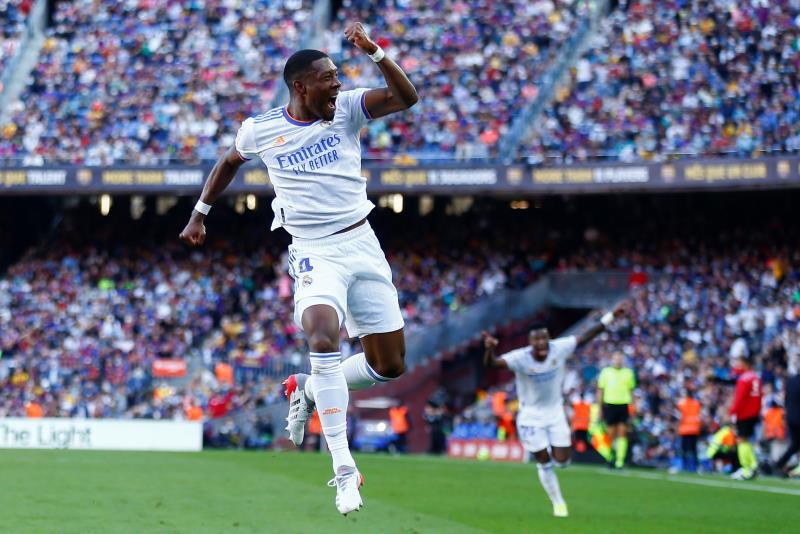 Fuente
Con este gol, los dirigidos por Koeman aumentaron momentáneamente la intensidad y se fueron arriba a intentar conseguir el empate lo más rápido posible, lanzando varios centros al área. Justo después de un corner que tuvieron en uno de esos balones, Gerard Piqué cabecea solo y por poco mete el balón en el palo derecho del portero blanco.
With this goal, those led by Koeman momentarily increased the intensity and went up to try to get the tie as quickly as possible, throwing several centers into the area. Just after a corner they had on one of those balls, Gerard Piqué headed in by himself and almost got the ball into the white goalkeeper's right post.
En los minutos restantes del primer tiempo Vinicius hizo lo que quiso por su banda, haciéndole un caño incluído a Mingüeza. Estos fueron los mejores minutos del Madrid en el partido, creando mucho peligro, aunque también les faltó un poco más de creatividad para finalizar alguna de esas jugadas.
In the remaining minutes of the first half Vinicius did what he wanted for his band, making a pipe included to Mingüeza. These were Madrid's best minutes in the game, creating a lot of danger, although they also lacked a little more creativity to finish some of those plays.
Ya en el segundo tiempo, Koeman decide sacar a Mingüeza para dar entrada a Coutinho, retrasando a Dest al lateral y cambiando el sistema a un 4-4-2. En estos primeros minutos del segundo tiempo, lo locales salieron con muchas ganas y metiendo en su área al Real Madrid, aunque hay que dejar claro que esto tampoco molesto demasiado a los dirigidos por Ancelotti.
Already in the second half, Koeman decides to take Mingüeza out to give Coutinho entry, delaying Dest to the side and changing the system to a 4-4-2. In these first minutes of the second half, the locals came out with great enthusiasm and putting Real Madrid in their area, although it must be made clear that this did not bother those led by Ancelotti too much.
Coutinho jugó en este primer tramo muy buenos minutos y Dest pudo frenar a Vinicius, que no se vio tan potente físicamente, como en la primera parte. Aquí el Madrid recurrió mucho a las faltas para frenar los ataques culés, y el Barça volvió a demostrar que no es un equipo para jugar por arriba.
Coutinho played very good minutes in this first section and Dest was able to stop Vinicius, who was not as physically powerful as in the first half. Here Madrid resorted to fouls a lot to stop the Catalans attacks, and Barça once again showed that it is not a team to play from above.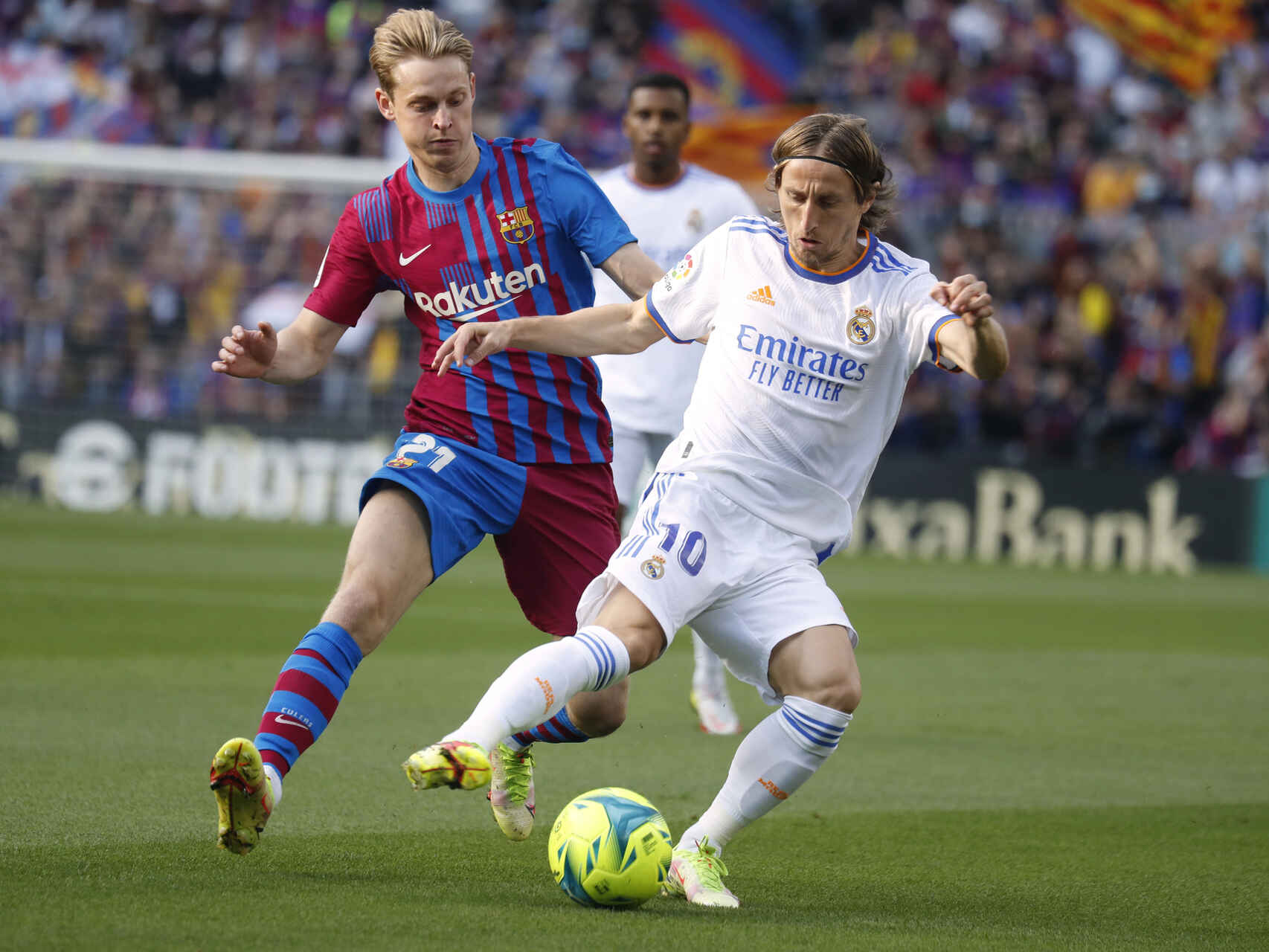 Fuente
Los locales se fueron diluyendo y el partido cayó mucho en intensidad y ocasiones creadas, por lo que ambos técnicos empezaron a mover sus banquillos. El Madrid dió ingreso a un desafortunado Valverde, que no fue capaz de terminar el partido, mientras que Ansu salió para darle minutos al Kun Agüero, y en una clara reprimenda por su nefasto partido, Koeman sustituyó a Frenkie De Jong por Sergi Roberto, dejando en el campo a Gavi, que minutos más tarde también saldría para que entrará Luuk De Jong.
The premises were diluted and the game fell a lot in intensity and created chances, so both technicians began to move their benches. Madrid gave entry to an unfortunate Valverde, who was not able to finish the game, while Ansu left to give Kun Agüero minutes, and in a clear reprimand for his disastrous game, Koeman replaced Frenkie De Jong with Sergi Roberto, leaving in the field to Gavi, who minutes later would also leave for Luuk De Jong to enter.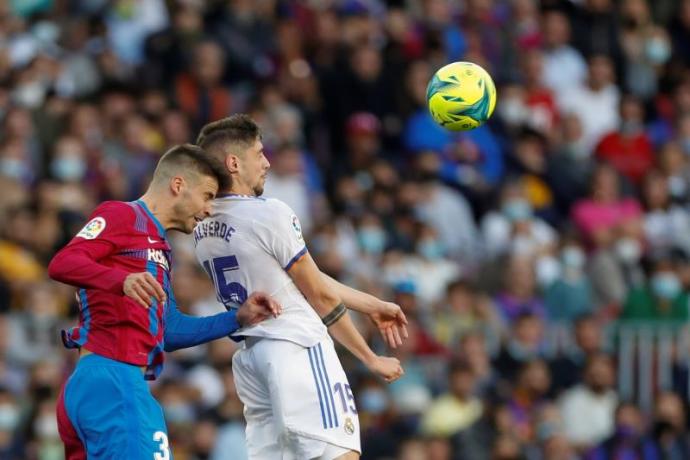 Fuente
El Barcelona se fue arriba en estos minutos finales, y con las lesiones de Valverde y de Vinicius, Koeman daría la orden a Piqué que se fuera arriba a intentar conectar uno de los cientos de centros que el equipo lanzó al área. Justamente en una jugada rara en el área culé, donde Piqué no llego a rematar y se quedó quejándose y golpeando el césped, el Madrid los cogería en una contra y cerraría el partido. Carvajal despeja el balón, Asensio conduce la contra y remata, ter Stegen logra atajar, pero Lucas Vázquez le gana a Eric García, que se durmió para despejar el rechace, y marca el 0 a 2.
Barcelona went up in these final minutes, and with the injuries of Valverde and Vinicius, Koeman would give the order to Piqué to go up to try to connect one of the hundreds of centers that the team threw into the area. Precisely in a rare play in the culé area, where Piqué did not get to finish off and stayed complaining and hitting the grass, Madrid would catch them in a counter and close the game. Carvajal clears the ball, Asensio leads the counter and finishes off, ter Stegen manages to save, but Lucas Vázquez beats Eric García, who fell asleep to clear the rebound, and scores the 0-2.
Ya al final del tiempo agregado, Dest mete un centro raso por la derecha para Agüero, que posiciona bien el cuerpo y remata bien el balón para descontar, pero ya no quedaría tiempo para más, pitido final y victoria blanca en el Camp Nou.
At the end of added time, Dest hits a low center on the right for Agüero, who positions the body well and finishes the ball well to discount, but there would be no time for more, final whistle and white victory at the Camp Nou.
Algunas conclusiones de este partido / Some conclusions of this match.
Y aquí volvemos a lo de siempre con el Barcelona, lo peor no es la derrota, son las sensaciones que genera el equipo, que puede que haya mejorado en la faceta defensiva en este partido, pero es que aún no genera mucho arriba, y poniendo en contexto el Clásico, solo lograron rematar 2 veces entre los tres palos.
And here we return to the usual with Barcelona, the worst thing is not the defeat, it is the feelings that the team generates, which may have improved on the defensive side in this game, but it still does not generate much up, and putting In the El Clásico context, they only managed to finish 2 times between the three suits.
Este Barça tampoco es capaz de dominar sus partidos, teniendo que recurrir al centro al área para poder finalizar las jugadas, gracias a la poca preparación de cara a portería y a la evidente menor calidad de la plantilla, comparando estos futbolistas con los de temporadas pasadas.
This Barça is not capable of dominating their matches either, having to resort to the center to the area to be able to finish the plays, thanks to the little preparation in front of goal and the evident lower quality of the squad, comparing these players with those of past seasons.
La mayoría de los jugadores no son aprovechados, vimos en este partido como Vinicius hizo pedazos a Mingüeza, pero recordemos que el es un central no un lateral, viendo algo similar con Sergiño Dest, que lo utilizo en este partido como extremo siendo un lateral, por lo que es fácil ver sus carencias a la hora de definir. También podemos hablar del pésimo rendimiento que ha tenido Frenkie De Jong, jugando incómodo en una posición más adelantada, Eric García o Sergio Busquets que lucen mucho con Luis Enrique y aquí parecen unos paquetes, o Riqui Puig que ni siquiera sale al terreno de juego.
Most of the players are not taken advantage of, we saw in this match how Vinicius tore Mingüeza to pieces, but let's remember that he is a center-back, not a full-back, seeing something similar with Sergiño Dest, who used him in this game as a winger being a full-back, so it is easy to see its shortcomings when defining. We can also talk about the terrible performance that Frenkie De Jong has had, playing uncomfortable in a more advanced position, Eric García or Sergio Busquets who look a lot with Luis Enrique and here they seem like packages, or Riqui Puig who does not even go out onto the pitch.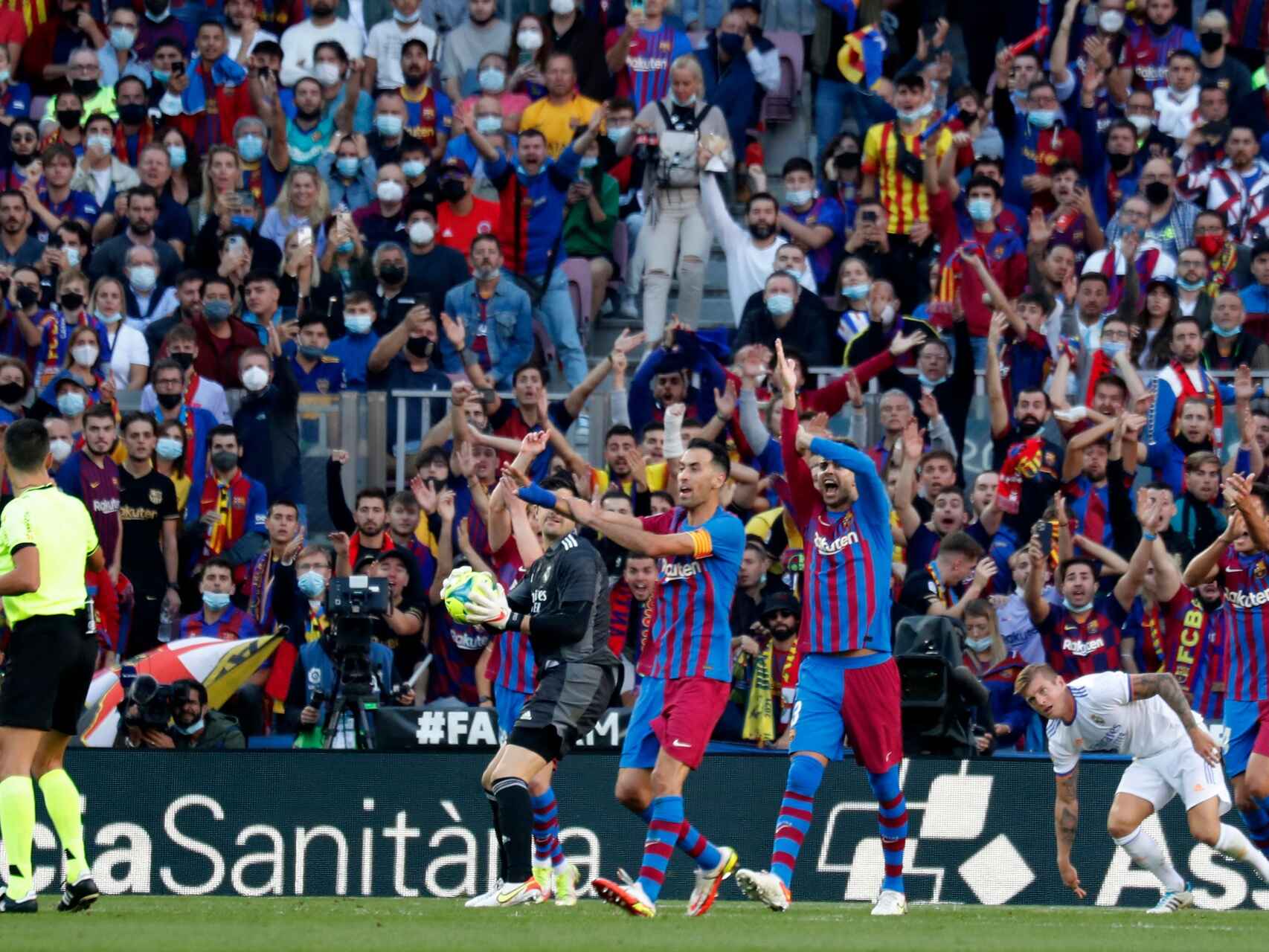 Fuente
Durante la estancia de Ronald Koeman en el banquillo culé, no se ha ganado un solo partido contra equipos importantes, habiendo recibido más de una humillación en el proceso, estando actualmente en la novena posición del torneo español, y mejor no hablemos de las actuaciones en la Champions League. El holandés también es el segundo técnico en la historia que pierde tres partidos seguido contra el Real Madrid, y como van las cosas, en marzo del año siguiente, será el único en la historia que pierda cuatro seguidos.
During Ronald Koeman's stay on the culé bench, he has not won a single match against important teams, having received more than one humiliation in the process, currently being in ninth position in the Spanish tournament, and let's not talk about the performances in the Champions League. The Dutchman is also the second coach in history to lose three games in a row against Real Madrid, and as things are going, in March of the following year, he will be the only one in history to lose four in a row.
---
---