Full Body en mi 3er trimestre de embarazo💪🤰|| Full Body in my 3rd trimester of pregnancy💪🤰 [Esp-Eng]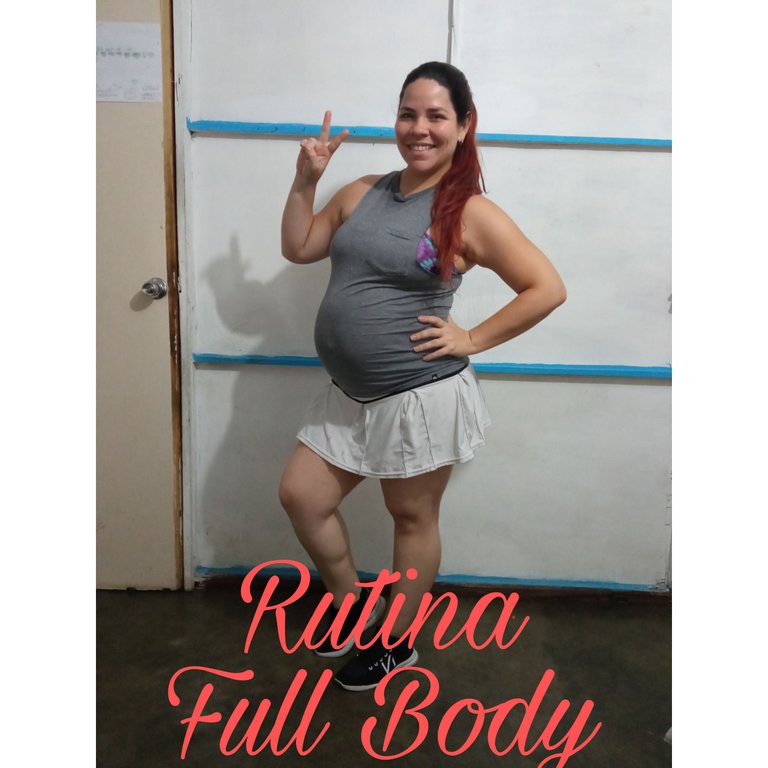 HOLA HOLA COMUNIDAD 💪 || HELLO HELLO COMMUNITY 💪

Espero se encuentren muy bien, sumando material de provecho en la plataforma #hive, específicamente en esta comunidad mega activa de @fulldeporte para mi es un placer compartir con ustedes cada vez que puedo por aca 💪💪
Quote I hope you are very well, adding material of benefit in the #hive platform, specifically in this mega active community of @fulldeporte for me is a pleasure to share with you whenever I can around here 💪💪.

Hoy quiero mostrarles esta Rutina full body que realicé, ya estando en mi séptimo mes de embarazo🤰 recordandoles que NO SOY profesional en la materia, solo aplico lo que he aprendido en este tiempo💪 y a las mamitas que puedan ver este post recordarles que primero deben consultar con su medico antes de realizar este o cualquier otra rutina de ejercicios!!
Quote Today I want to show you this Full Body Routine I did, already being in my seventh month of pregnancy🤰 reminding you that I am NOT a professional in the field, I just apply what I have learned in this time💪 and to the mommies who may see this post remind them that they should first consult with their doctor before doing this or any other exercise routine!!!

Para esta Rutina realicé cada movimiento en durante 30 segundos, con un descanso de 20! Realicé 3 rondas en total. Antes de iniciar por supuesto hice un calentamiento que es sumamente importante para activar los musculos y evitar lesiones, asi que aca les muestro los movimientos👇👇
Quote For this Routine I performed each movement in for 30 seconds, with a rest of 20! I did 3 rounds in total. Before starting of course I did a warm up which is extremely important to activate the muscles and avoid injury, so here I show you the movements👇👇
Tijeras || scissors
Aca hice las tradicionales tijeras, pero con la variación de que no hice el salto, por razones obvias jeje la respiracion es muy importante, al levantar los brazos inhalas por la nariz y al bajarlos exhalas por la boca.
Quote Here I did the traditional scissors, but with the variation that I didn't do the jump, for obvious reasons hehe breathing is very important, when you raise your arms up you inhale through your nose and when you lower them down you exhale through your mouth.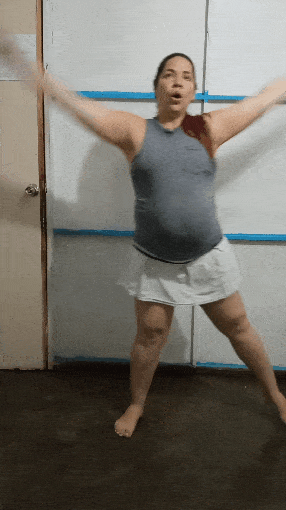 Sentadillas con Elevacion de brazos || Squats with Arm Raises
Acá, realicé la sentadilla, tal cual como si vas a sentarte en una silla y a la vez levanté mis brazos hacia el techo, en mi caso bajé hasta donde la barrigota me dejó😂 lo mas importante es evitar que las rodillas pasen la punta del pie, y como siempre la respiracion siempre controlada.
Quote Here, I performed the squat, just as if you're going to sit in a chair and at the same time I raised my arms to the ceiling, in my case I went down as far as the belly left me😂 the most important thing is to avoid that the knees pass the tip of the foot, and as always the breathing always controlled.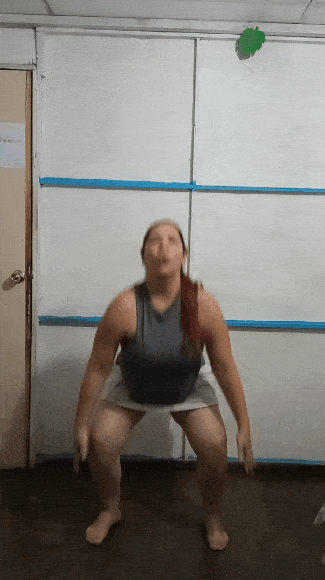 Rotaciones de Brazos || Arms Rotations
Aca coloqué los brazos a la altura de los hombros y comence a hacer circulos corticos, se ve facil pero pega 😂 debes mantener los brazos estirados completamente para que puedan sentir la presion
Quote Here I placed my arms at shoulder height and started doing short circles, it looks easy but it's hard 😂 you must keep your arms fully stretched so they can feel the pressure.
Elevaciones Laterales de piernas || Lateral leg lifts
Aca pueden usar una silla si su estabilidad no es la mejor!! Lo ideal seria asi, sin silla 💺 para que logres trabajar todo el cuerpo yo para hacer aun mas equilibrio me agarré la barrigota😂 la pierna se debe elevar hacia los lados, bien estirada! De igual forma inhalamos al subir y exhalamos al bajar.
Quote Here you can use a chair if your stability isn't the best!!! The ideal would be like this, without a chair 💺 so you get to work the whole body I to make even more balance I grabbed my belly😂 the leg should be raised sideways, well stretched! In the same way we inhale on the way up and exhale on the way down.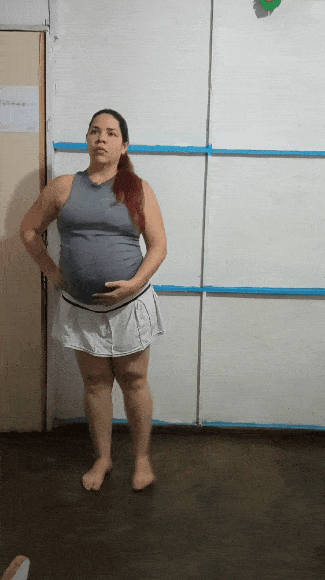 Zancadas con Bíceps || Biceps Lunges
Aca me puse de lado para que vean bien el movimiento! La zancada tradicional y le adicioné subir los brazos para trabajar los bíceps, evitando tambien que la rodilla pase la punta del pie.
Quote Here I put myself sideways so you can see the movement well! The traditional stride and I added raising the arms to work the biceps, also avoiding the knee going over the toe.
Elevaciones de Rodilla con bíceps || Knee raises with biceps
Para finalizar realicé estas elevaciones de rodilla, para llevarlas lo mas alto que podia, por mi barriga subo las rodillas un poco hacia afuera, pero si no tienes esta barriga lo ideal es subir la rodilla de frente. Al igual que en el ejercicio anterior incluí el movimiento de brazos para trabajar los Bíceps tambien.
Quote To finish I performed these knee lifts, to take them as high as I could, because of my belly I bring my knees up a little bit outward, but if you don't have this belly the ideal is to bring the knee up straight ahead. As in the previous exercise I included the arm movement to work the Biceps as well.
Luego de la Rutina, estiré un poco y me tomé mi batido de proteina💪 si no tienes ningun batido proteico, tu comida solida tambien cuenta!! En mi caso estas rutinas no son para buscar perder peso ni nada, no estoy en esa etapa, pero el ejercicio me ayuda muchisimo a relajarme en esta etapa de mi embarazo💪🤰 asi que por aca les seguiré compartiendo las rutina que pueda realizar.
Quote After the Routine, I stretched a bit and had my protein shake💪 if you don't have any protein shake, your solid food counts too!!!! In my case these routines are not to lose weight or anything, I'm not at that stage, but exercise helps me a lot to relax at this stage of my pregnancy💪🤰 so here I will continue to share the routine that I can do.

Les envio un abrazo, y nos leemos en la proxima publicacion! 💪
Quote I send you a hug, and I'll see you in the next post! 💪

Las imagenes son de mi propiedad, tomadas con mi Redmi 9 con ayuda de mi Esposo @albertocoachbl
La traduccion es de Deepl.com
Los gifs fueron creados en Gifshop
Quote The images are my property, taken with my Redmi 9 with the help of my Husband @albertocoachbl
The translation is from Deepl.com
The gifs were created in Gifshop
---
---