Making Progress with Bouldering
Wow! It's been over a year since I first wrote about returning to bouldering, after about a 20 year break. We've made some friends along the way and love our climbing sessions with them. They've improved faster than us, but then they go twice as often, so that's probably no surprise. I just need to not get distracted with that and observe my own steady improvement. We've all learnt so much from one another, anyway.
I've reached a point in climbing where I need to be strengthening myself in a variety of ways in order to keep progressing, especially at my age if I want to keep up with my spring chicken daughter. As you move onto the harder climbs, more things come into play so that you end up having to combine strengths with weaknesses. I'm known for enjoying crimp (small, fingertip) holds, so I do fairly well on them, unless they've added in a move where I need to lunge for a hold, then I struggle. I'm not very good with dynamic moves (jumping moves) or lunging for holds in general.
It's in interesting that I've learnt much more about climbing and technique than I did when climbing two decades ago. Perhaps it's because it's become a much more popular sport and there are more people to discuss things with or perhaps it's come with the internet, meaning you can learn and watch so much more in an easily accessible way. I've also taken a bit more charge of my climbing experience and at the end of each session, when I'm too worn out for the harder climbs, I will do a round of climbs I know I can already climb, usually a step below my limit, to give myself that extra push to build myself. When I started it was the easy, blue tag climbs, but I quickly moved on to doing a round of all the green tags in the gym.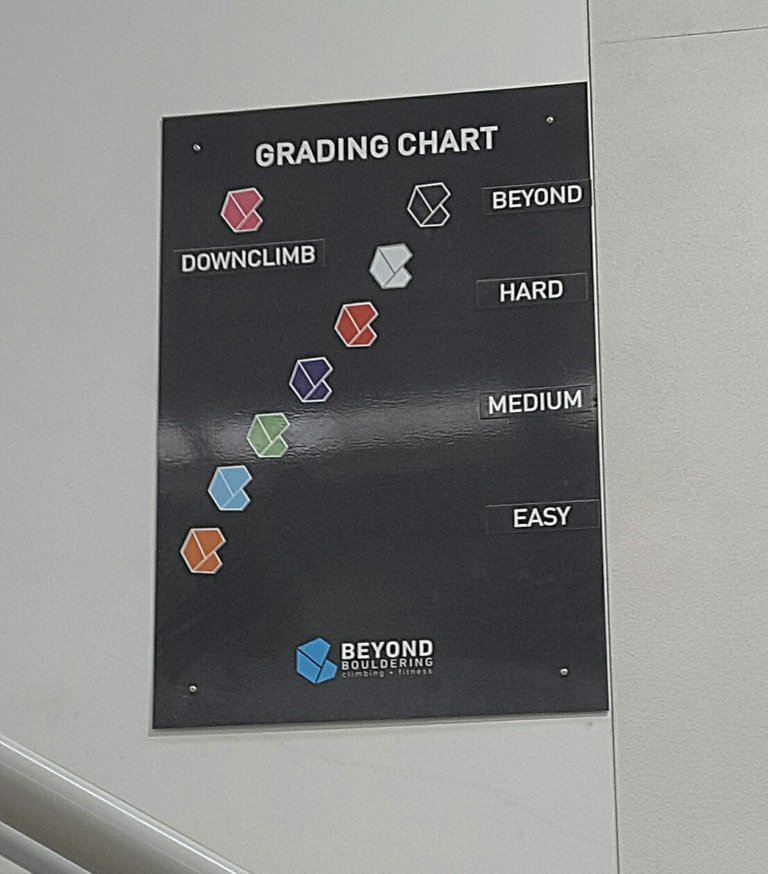 When I could easily do a round of all the green tag climbs, without too much rest in between, I made a new challenge to also climb back down them, rather than coming down via the easiest route. Now that this has become fairly easy for me and I'm able to do more red tag climbs, I've started doing a round of purple tags at the end of the session, unless I'm too exhausted, then I might do the green round instead. I can't always climb back down the purples, but hopefully I'll build up, like I did with the greens.

My daughter recently took some photos of me towards the end of one of our climbing sessions. They were medium, purple tag climbs, but each with slightly different styles. The easiest one had a mixture of holds where you can get your fingers hooked in to varying degrees. The further in you can get your fingers, the easier it is to hang on. Some I could only get my first knuckles into, while others, you might be able to see from the photos, that I was getting a full grip up to my palms. The harder holds you usually want to move past quickly, while you can pause and rest a moment on the easier to grip ones.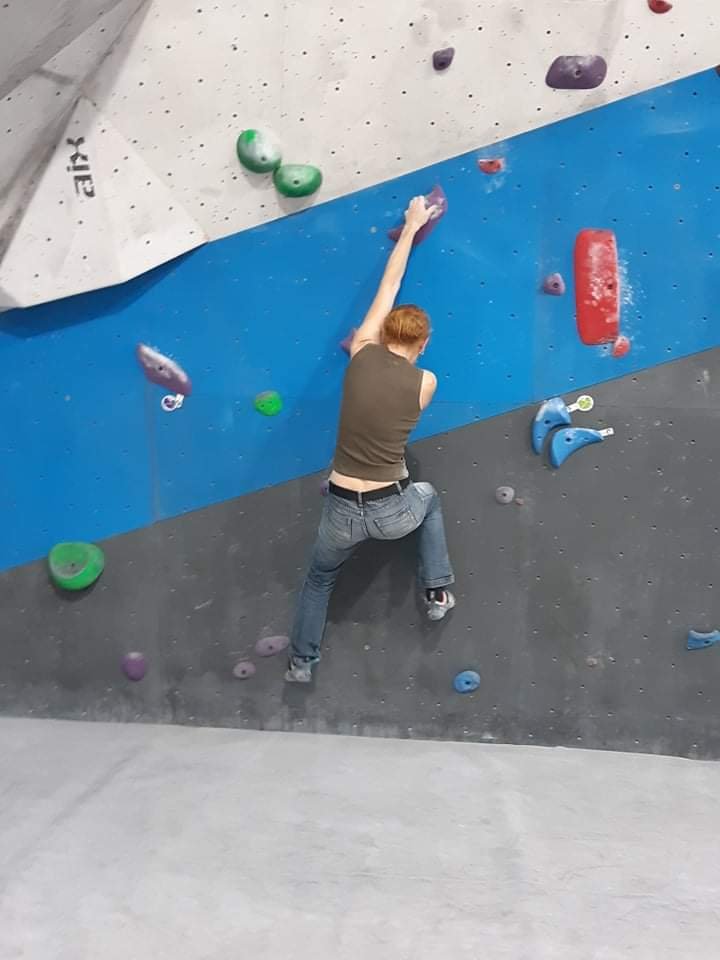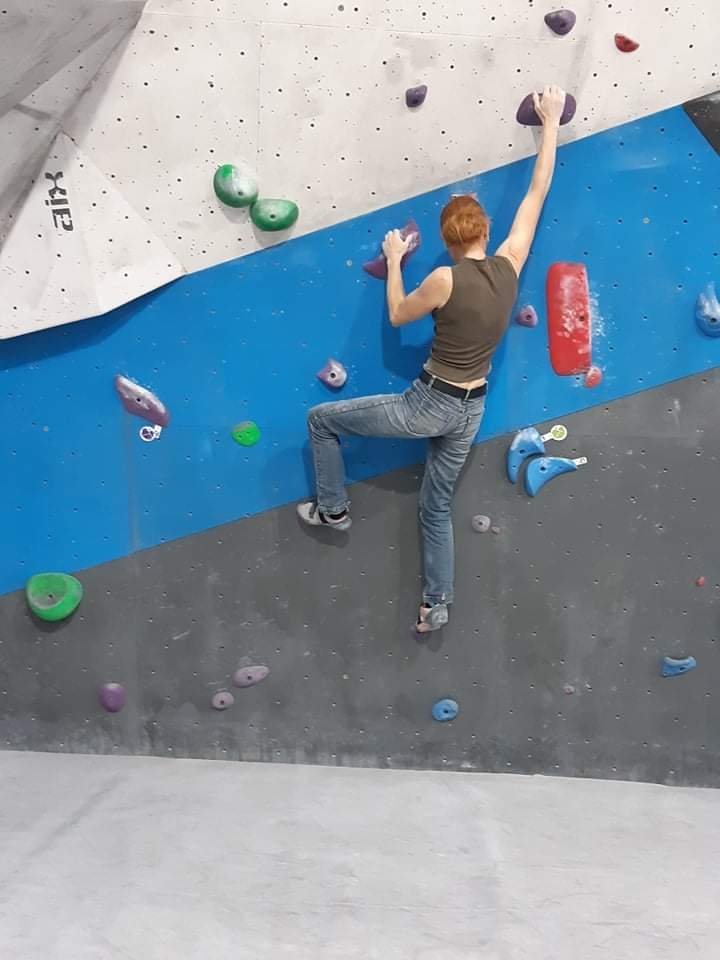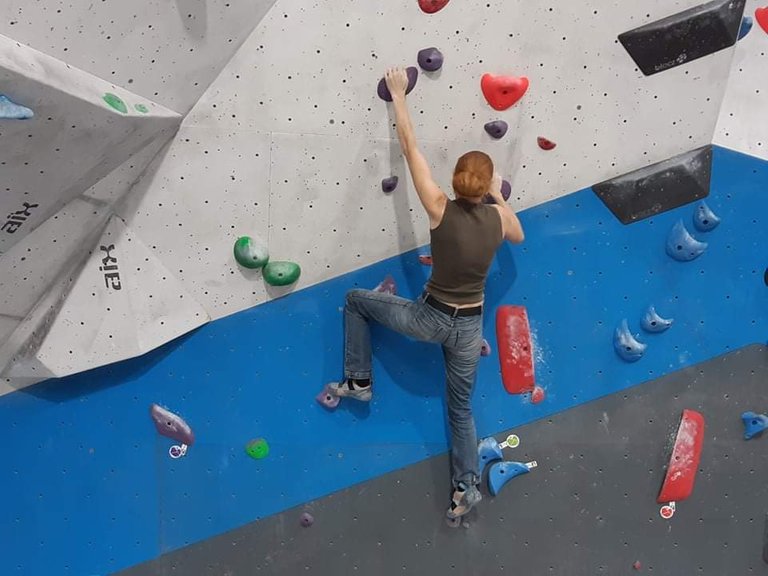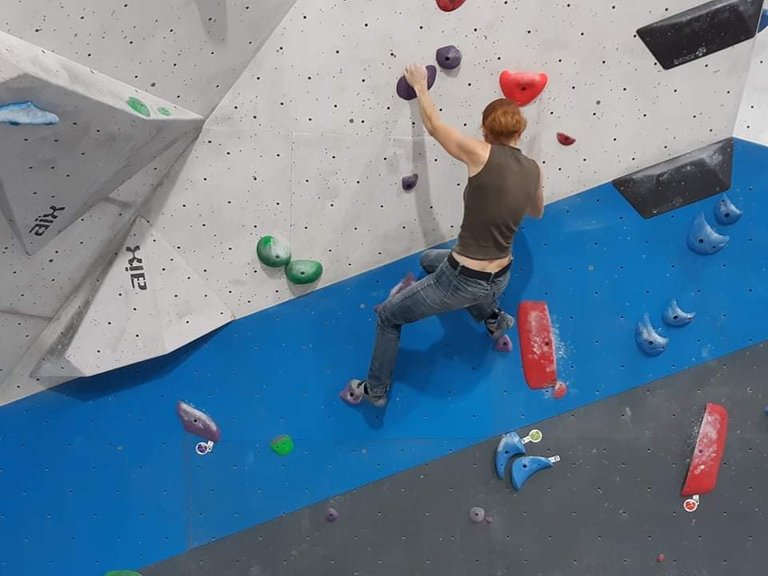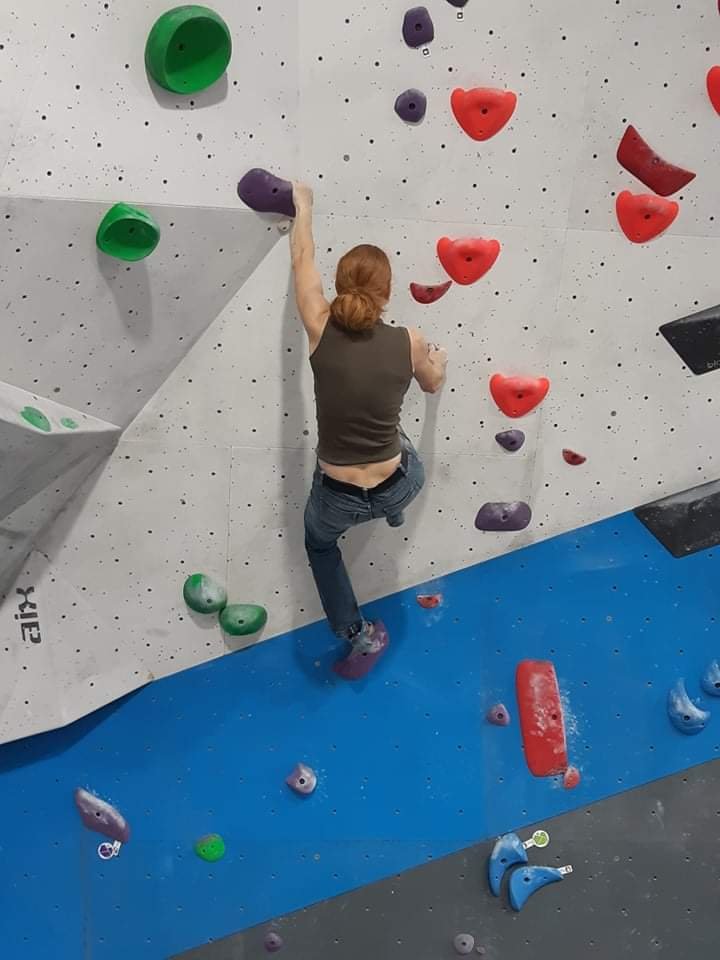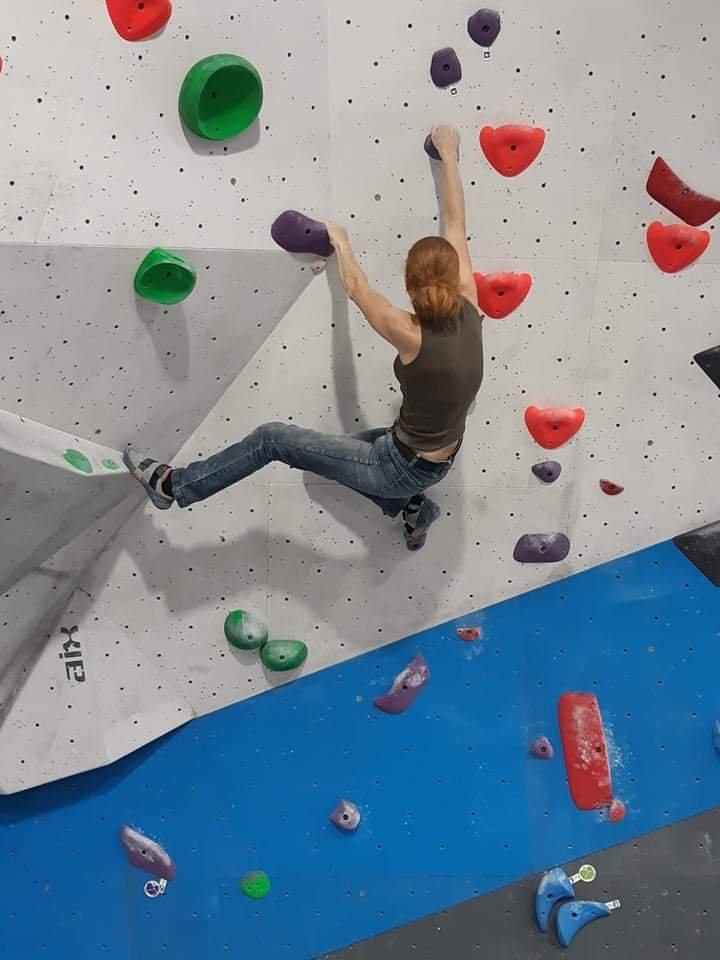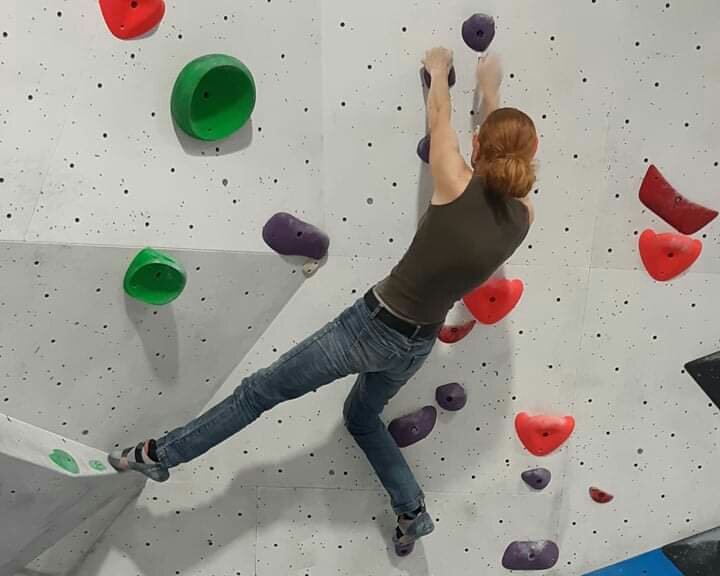 A nice deep hold where you can get a comfortable grip is called a jug and mini jugs are slightly smaller ones where you can get a reasonably good grip still, but perhaps only up to the second knuckle. This climb was a mixture of jugs and mini jugs. A good introduction to purple level climbs.

This next climb had some good jugs, but it was on an overhang, so all your weight is falling away from the wall. This means that while having your feet on the wall helps to take a little weight off your arms, there is no time in the climb to fully rest your arms and let your feet take your weight. Part way through the climb there is also a lunge move to get the next hold and this is a move I sometimes come off on if I'm tired. For people taller than me it's, not a big move, but every time I, and others on the shorter side, do it my feet cut loose (come off the wall) and I swing out. It needs a bit of power to control that swing and bring my feet back to the wall. Luckily the holds are good, otherwise I probaby wouldn't have the strength to bring myself back in.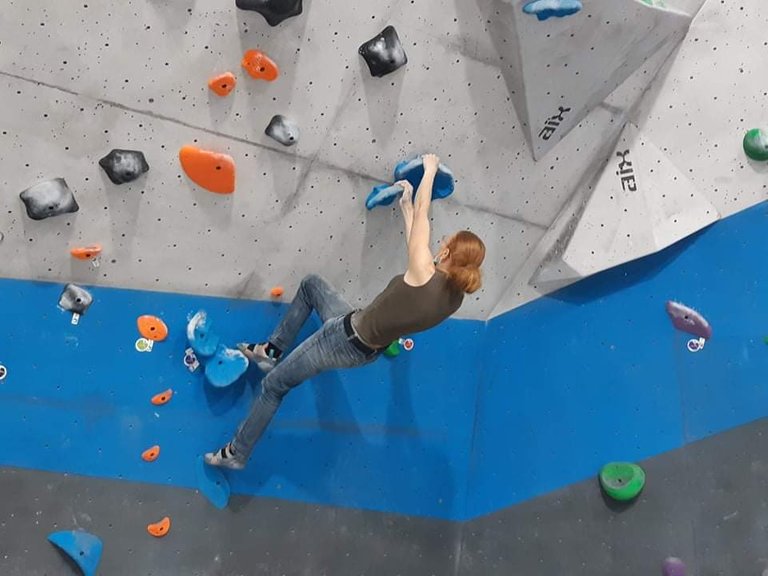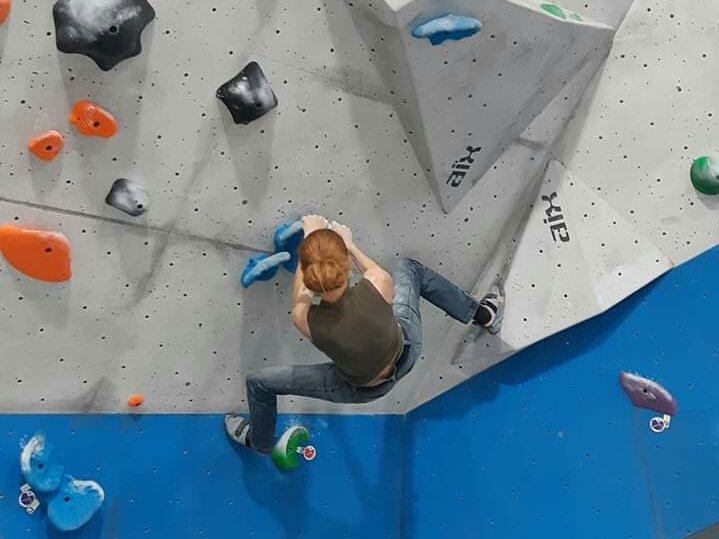 ---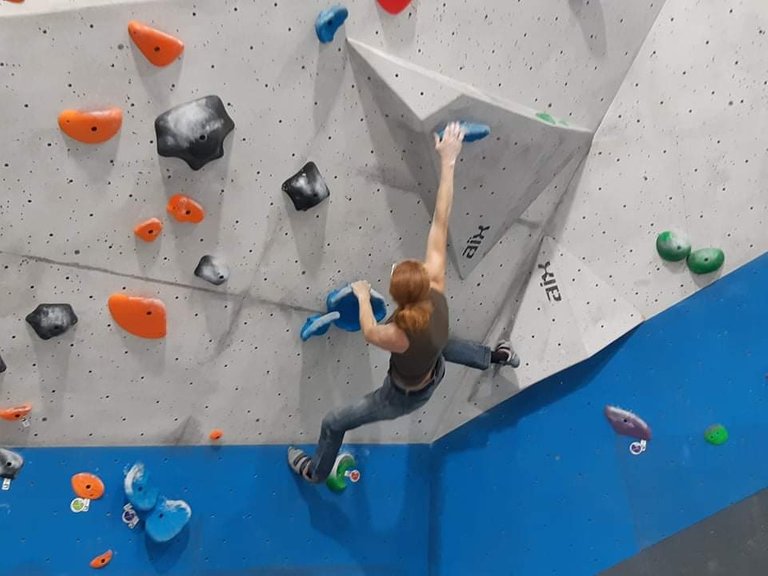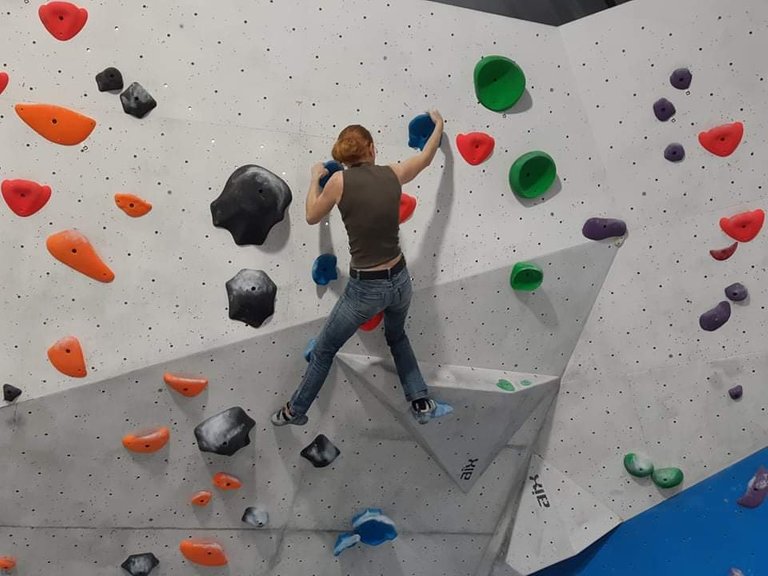 The third photo shows me lunging for that hold and I actually missed that time. I got it on the second attempt and completed the climb, then got told off when I came down because my daughter didn't realise I was going to attempt it again.

The following climb required a bit less strength, but added in a bit more balance and interesting movements. I've seen people navigating over the square volumes in a few different ways, but this was the way that worked best for me. The start was a nice jug, to help you get your balance on the wall, then the volumes acted like slopers or ledges, depending on the angle you needed to hold onto them.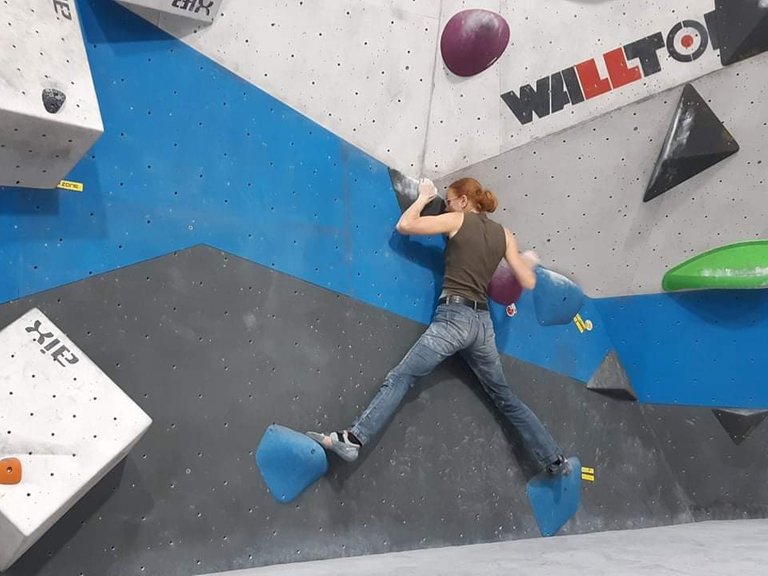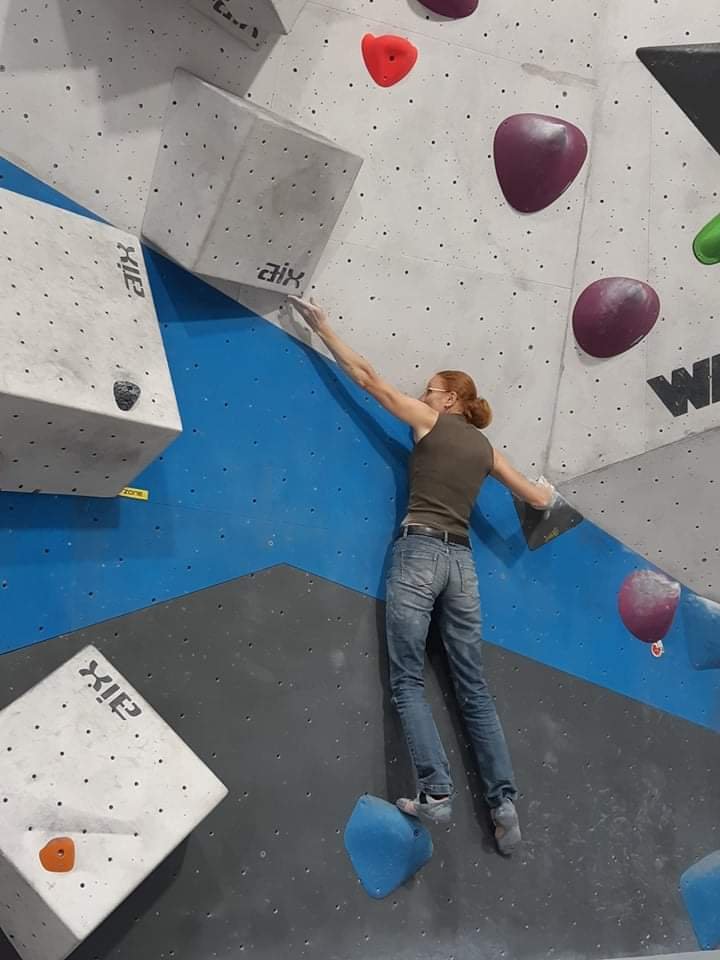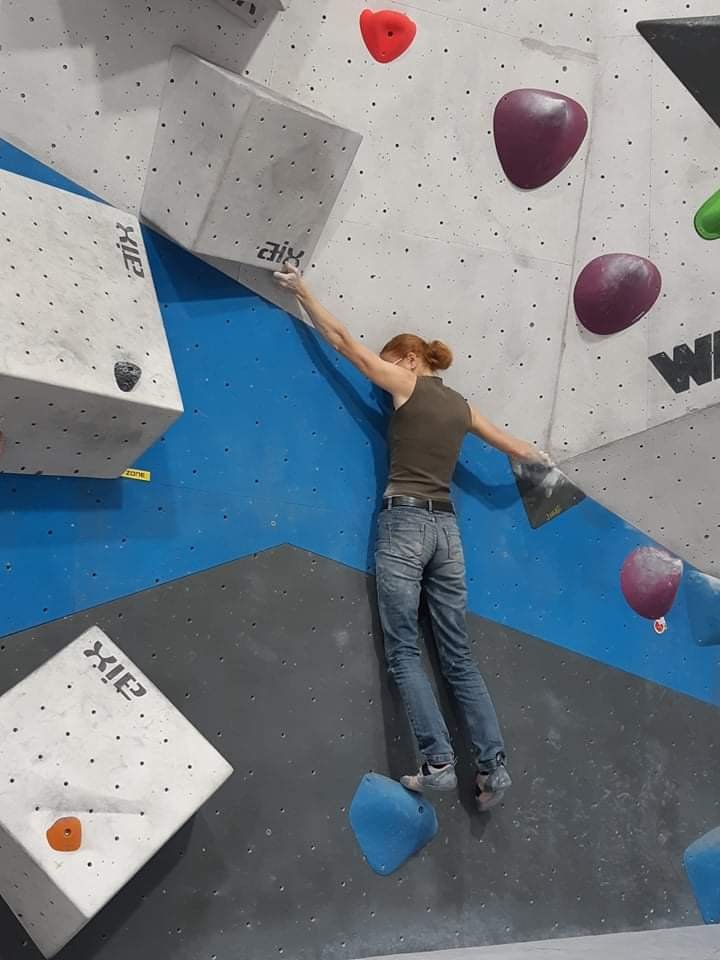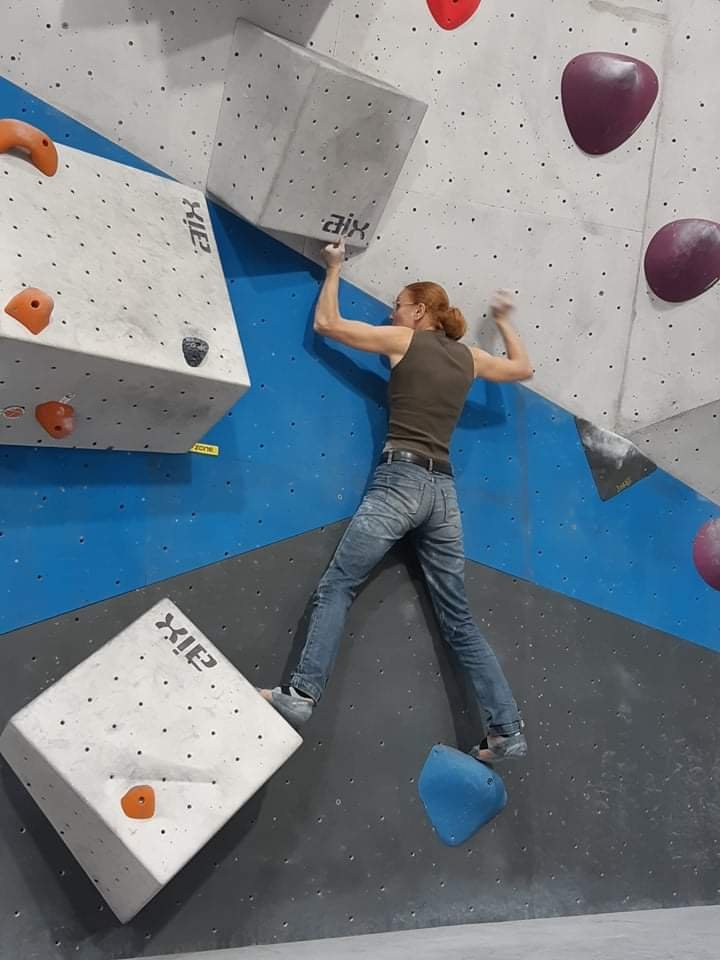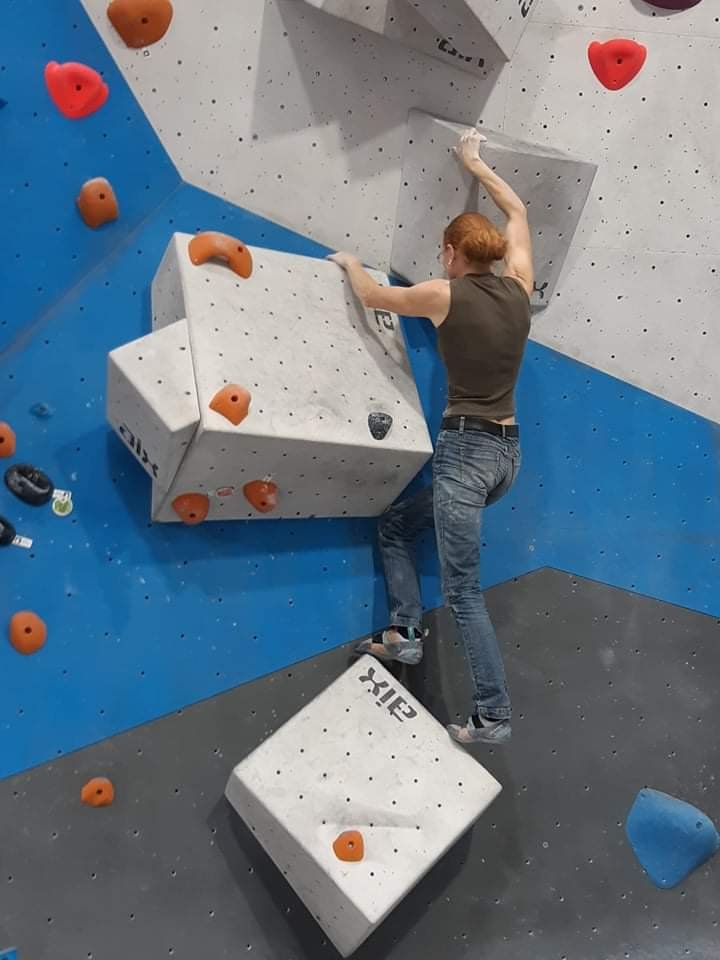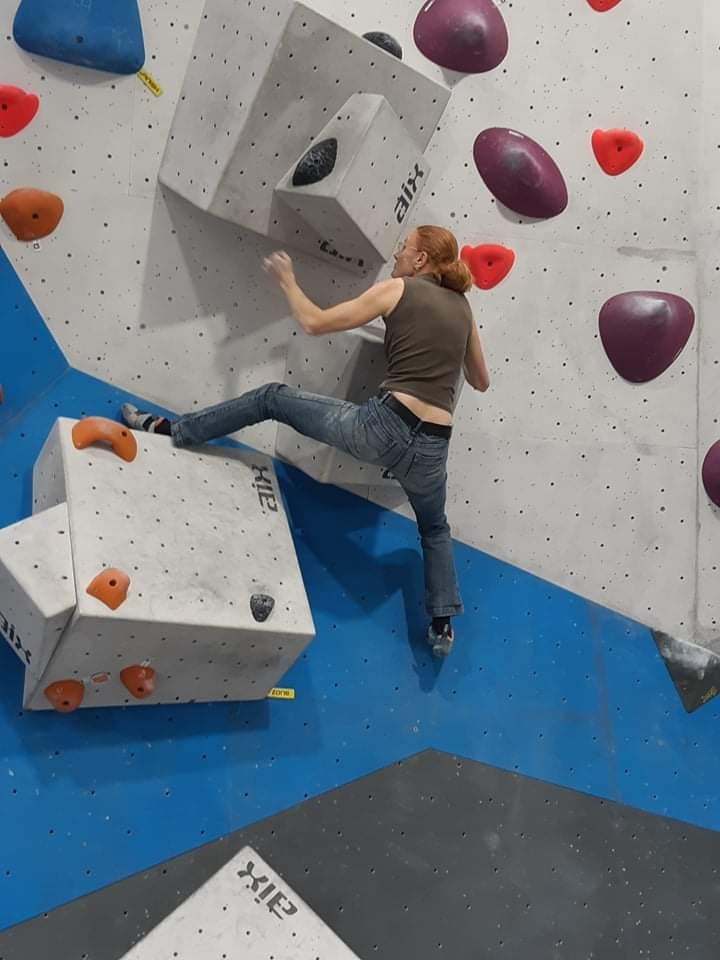 Getting my leg up onto the volume helped give me leverage to reach up for a better grip than I could reach with my legs lower down. I'm not sure if you'd call it a heel hook or a leg hook (the latter probably not an actual climbing term), though.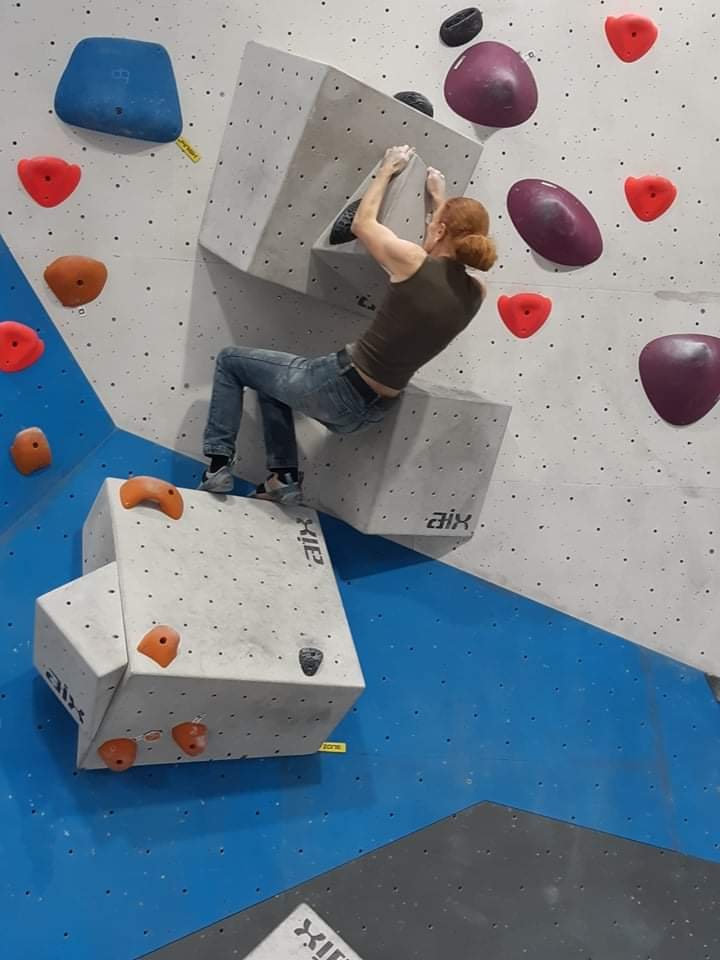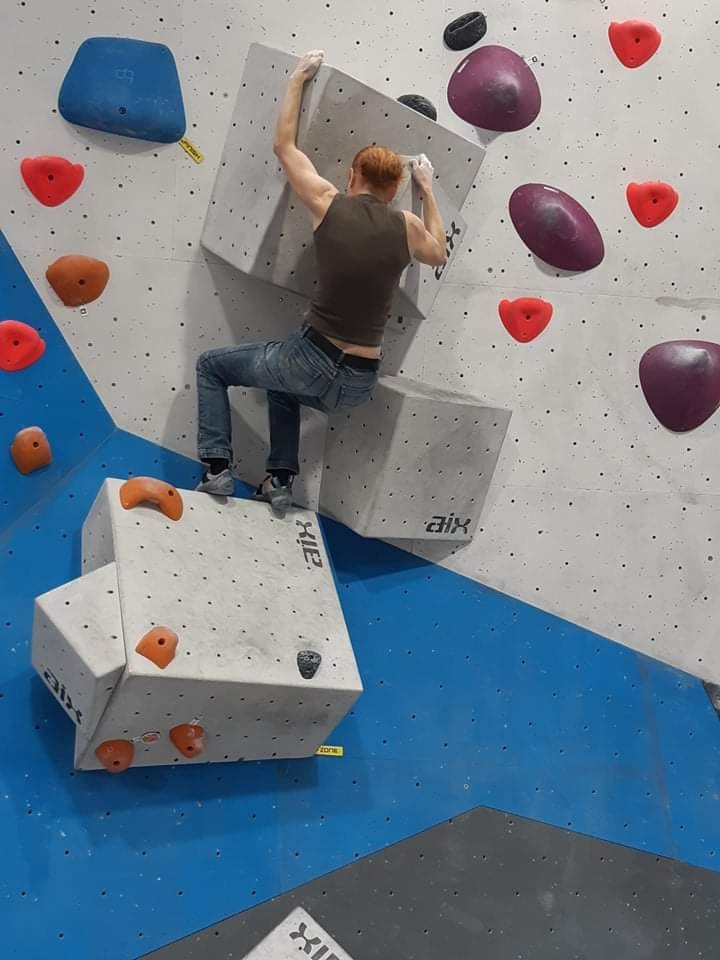 You can end up in some pretty odd looking positions while climbing. Any part of your body is also free game to use, if needed, in my opinion. I've sat on holds before, much to the amusement of my stronger peers who could get their leg up when I couldn't. I've even used my head to help balance me on the wall before.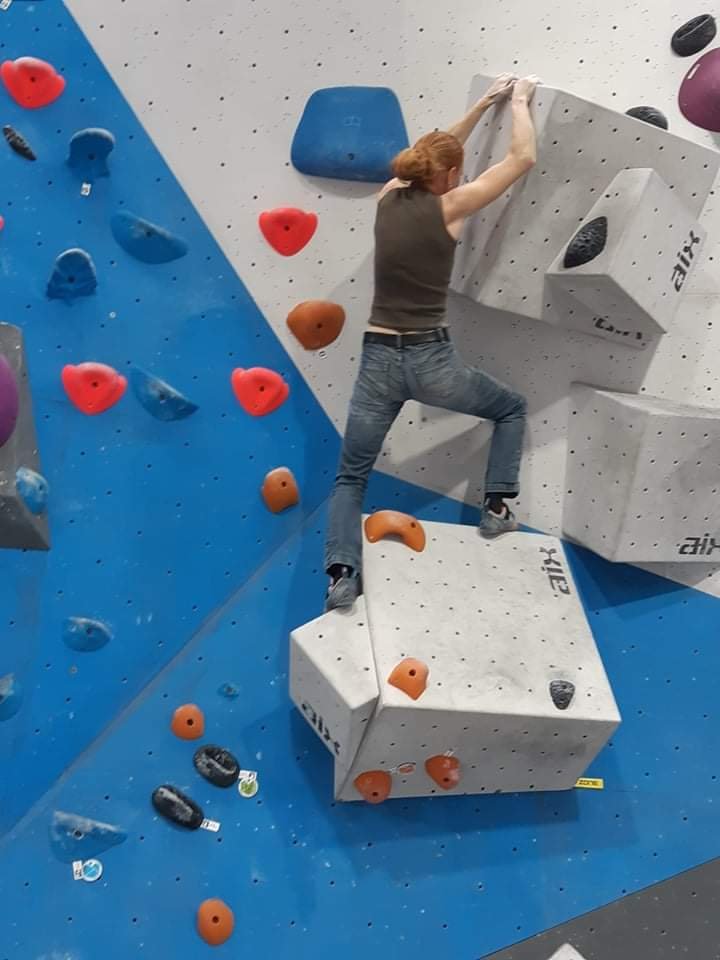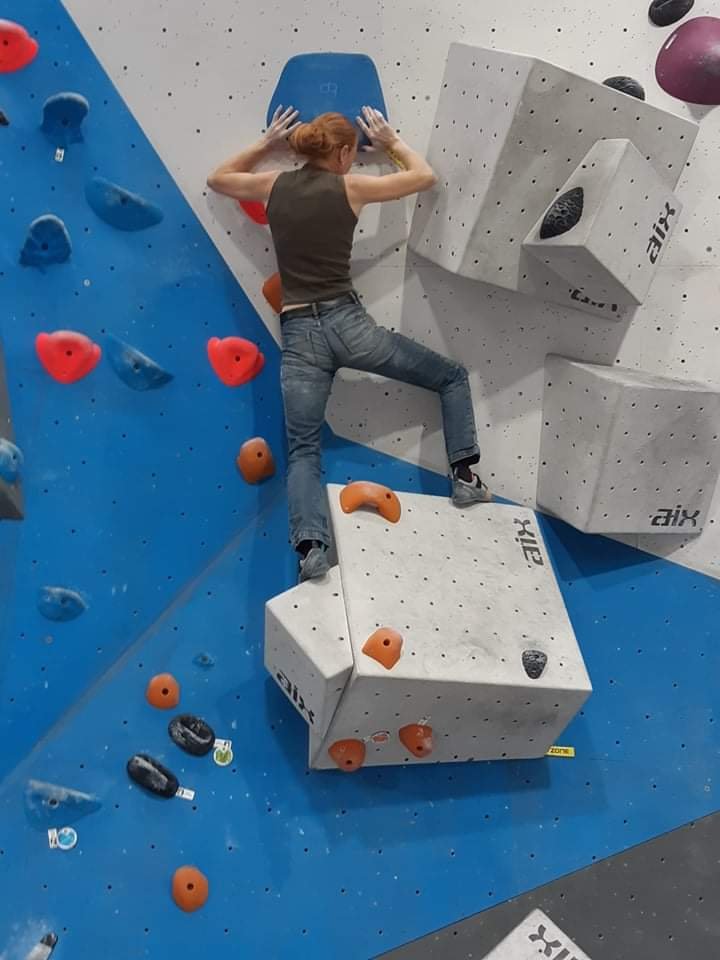 The finish required balance as there was only the friction of your fingers to keep you against the wall.

Further information on hold types if you're interested.
Dividers created by @kaliphae and available for use from Stock Images
---
---