Rabona Tales: Weekly update n°2 [ESP-ENG]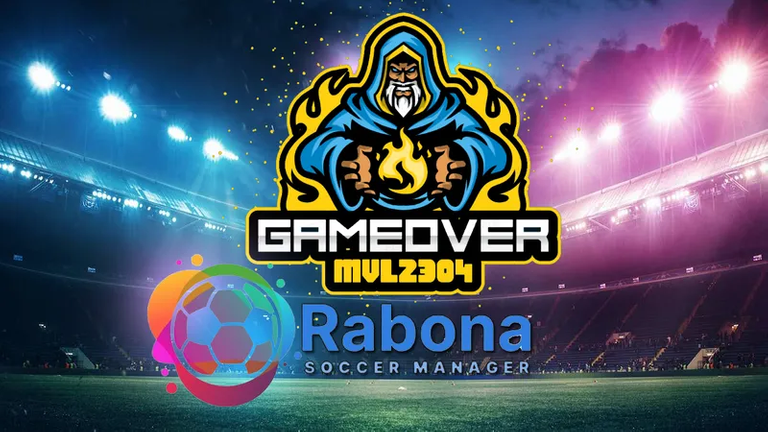 ¡Bienvenidos!
Como ya dije en mi post anterior, estoy de vuelta en el juego. Mi equipo, GameOver FC regreso a la competencia despues de una inyeccion de presupuesto y hoy traigo avances muy buenos sobre la evolucion de mi equipo.
Welcome!
As I said in my previous post, I am back in the game. My team, GameOver FC is back in the competition after a budget injection and today I bring very good progress on the evolution of my team. Come to see it!

Mi contrato de patrocinio sigue activo. Además mi post anterior sobre Rabona me dio una ganancia de 30 centavos (0.55 hives) que serán inyectados a mi equipo. Un total de 53 Millones de RBN que entran al equipo, presentando un crecimiento del 52,65% respectivo al presupuesto inicial de este post.
My sponsorship contract with Hive is still active. And in addition to that income my previous post about Rabona gave me a profit of 30 cents (0.55 hives) that will be injected to my team. A total of 53 Million RBN coming into the team, presenting a growth of 52.65% respective to the initial budget of this post.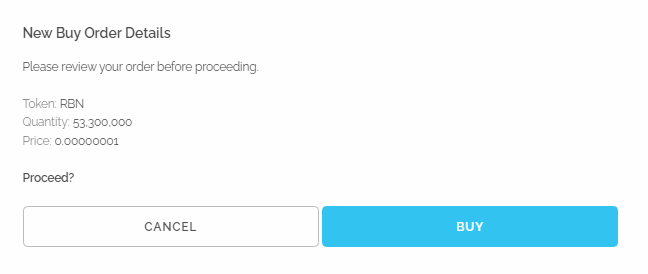 Actualizaciones al equipo:
Lo primero es hecharle un ojo a mis edificios para revisar donde los deje y que tanta utilidad me pueden dar.
Stadium Capacity
Current level: 10

Catering Capacity
Current level: 10

Shop Capacity
Current level: 8 (+1)

Hotel
Current level: 10

Parking Lot
Current level: 8

Office Building
Current level: 8

Building Yard
Current level: 9

Youth Academy
Current level: 10

Training Center
Current level: 8
Todos mis edificios excepto la tienda siguen mejorándose y restan todavía 4 dias para terminar esas mejoras. Lo bueno de esto es que para la siguiente temporada todos estarán mejorados.
Team Actualizations:
The first thing to do is to take a look at my buildings to check where I left them and how useful they can be.
Stadium Capacity
Current level: 10

Catering Capacity
Current level: 10

Shop Capacity
Current level: 8 (+1)

Hotel
Current level: 10

Parking Lot
Current level: 8

Office Building
Current level: 8

Building Yard
Current level: 9

Youth Academy
Current level: 10

Training Center
Current level: 8
All my buildings except the Shop that are already build are still being upgraded and there are still 4 days left to finish those upgrades. The good thing about this is that by next season they will all be upgraded.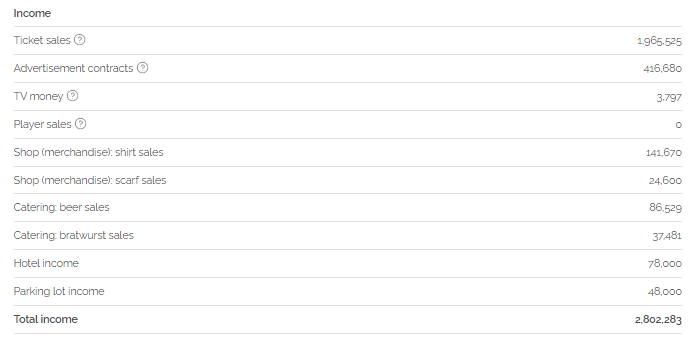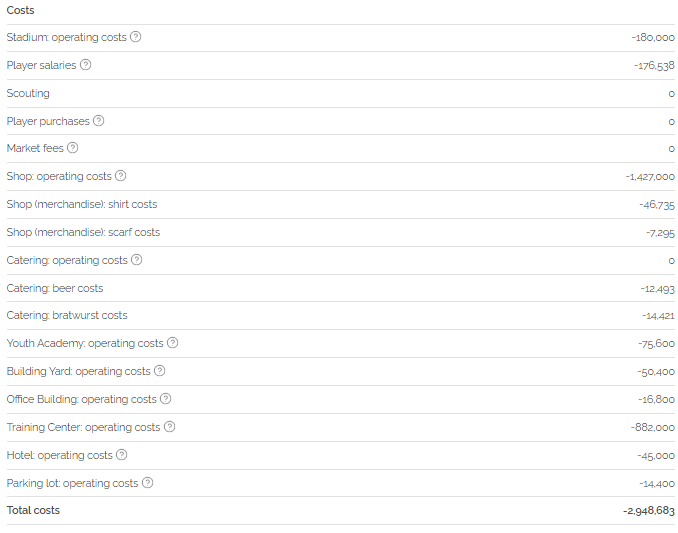 Por ahora tengo un balance negativo de -146,400 RBN y esto se debe a que el precio de mis entradas era muy alto y estaba teniendo un ingreso de espectadores de solo 54%. Ademas de eso mi Tienda me genera mucho mas gasto de lo que ingreso pero esto lo hago para tenerla en un nivel alto y cuando este en niveles de juego superiores no tenga que gastar tiempo esperando. Ademas una perdida de 150K RBN comparado con el ingreso de mas de 50 M de mi post coloca los numeros de mi equipo muy en verde.
At the moment I have a negative balance of -146,400 RBN and this is because my ticket prices to the Stadium were too high for this league and I was having a viewer income of only 54% on the average. On top of that my Store is generating me much more expense than I am earning but I am doing this to keep it at a high level so that when I am at higher levels of play I don't have to spend time waiting. Also a loss of 150K RBN compared to the 50M+ income from my post puts my team numbers very much in the green.

Mis jugadores:
En solo una semana el entrenamiento ha dado frutos muy positivos con cambios de 4 puntos de media o mas en cada uno de mis jugadores. Por eso es importante mantener a tu equipo entrenando cada vez que sea posible.
My players:
In just seven days of the past week the training has paid off very positively with changes of 4 points on average or more in each of my players. That's why it's important to keep your team training whenever possible.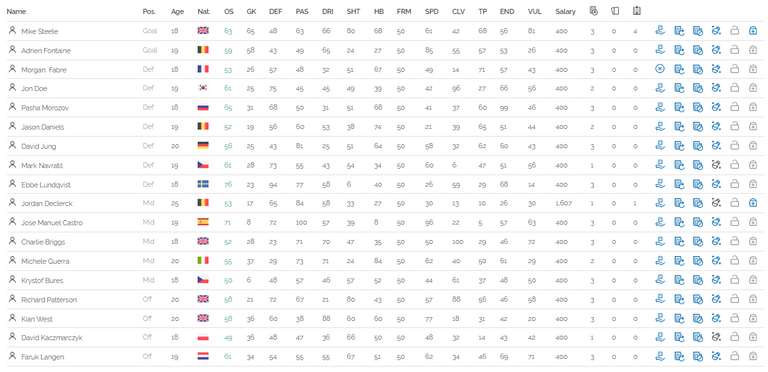 Ademas de eso aproveche el ingreso de presupuesto para hacer Scouting a nuevos jugadores. Para esta liga aumente mi minimo de media por jugador a 55 buscando que mi equipo mejore su media promedio y se adapte mas a la liga actual. Ademas aquellos jugadores cuyo contrato esta cerca de vencer los vendo y empiezo a adquirir nuevos jugadores. Hago esto porque renovarlos tiene un costo de salario demasiado alto, pasando de 400 RBN a un promedio de 7000.
In addition to all that I took advantage of the budget inyection income to do a deep scouting for new players to sign to my team. For this league I increased my minimum average per player to 55 looking for my team to improve its average and adapt more to the current league. Also those players whose contract is about to expire I sell them and start acquiring new players. I do this because renewing them has a too high salary cost, going from 400 RBN to an average of 7000.

Entrenamientos.
Mi esquema de entrenamientos continua igual, siguiendo el de la vez anterior:
Dia 1: Formacion.
Dia 2: Velocidad.
Dia 3: Pase.
Dia 4: Resistencia.
Dia 5: Drible.
Dia 6: Disparo.
Dia 7: Cabezazo.
Y luego reiniciar el sistema de entrenamientos.
Trainings.
My training schedule remains the same, following the same as last time:
Day 1: Formation.
Day 2: Speed.
Day 3: Passing.
Day 4: Endurance.
Day 5: Dribbling.
Day 6: Shooting.
Day 7: Header.
And then restart the training system.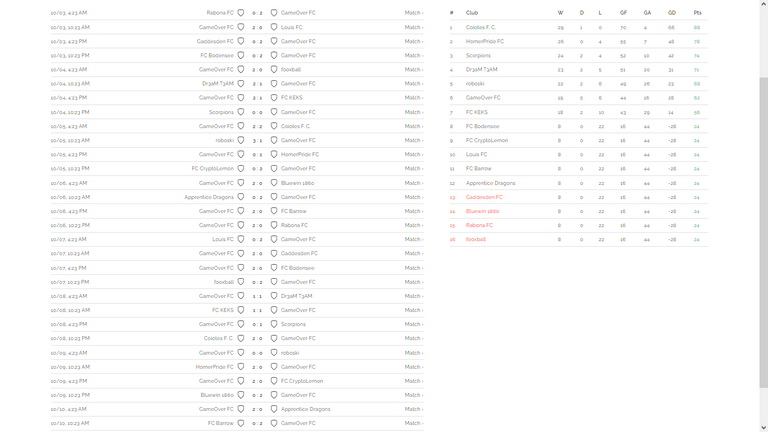 19 Victorias.
5 Empates.
6 Derrotas.
Solo seis derrotas en treinta partidos me parece un balance mas que positivo para mi equipo, un porcentaje de victorias del 58% mientras que mi porcentaje de derrotas era solo del 20%, numeros mejorables, claro que si, pero que estan muy lejos de ser malos.
19 wins.
5 Draws.
6 defeats.
Only six defeats in thirty games for this season, that seems to me a more than positive balance for my team, a winning percentage of 58% while my percentage of defeats was only 20%, numbers that can be improved, of course, but they are far from being bad.

Conclusiones.
Una primera semana que ha tenido muchos avances positivos para mi equipo y eso me tiene muy contento, con una temporada avanzando y que acaba en 5 dias, la proxima semana estoy seguro que sera mucho mas productiva para mi equipo. La proxima semana traere una actualizacion de mi avance y de como va funcionando mi equipo, asi que no te lo vayas a perder. Aqui debajo te dejo una lista de posts muy informativos sobre Rabona, que te pueden ayudar si quieres empezar a jugar, que por cierto, puedes hacerlo haciendo click aqui. Si te unes como mi referido te hare un regalo de 2 millones de RBN para que inicies con tu equipo.
Conclusions.
A first week that has had many positive developments for my team and that makes me very happy, with a season moving forward and ending in five days, the next week I am sure it will be much more productive for my team with my buildings already upgraded and ready for the next stage. The next week I will bring you another update on my progress and how my team is doing, so don't miss it. Below is a list of very informative posts about Rabona, which can help you if you want to start playing, which by the way, you can do by clicking here. If you join as my referral I will give you a gift of 2 million RBN to start your team.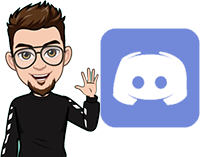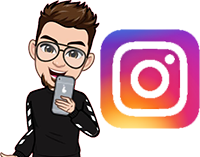 ---
---