Summary of date 3 Qatar 2022: Group E - F [ESP-ENG]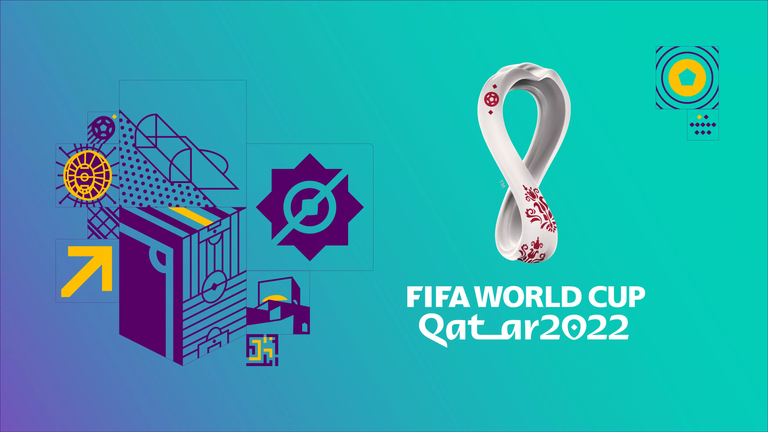 Fuente | Source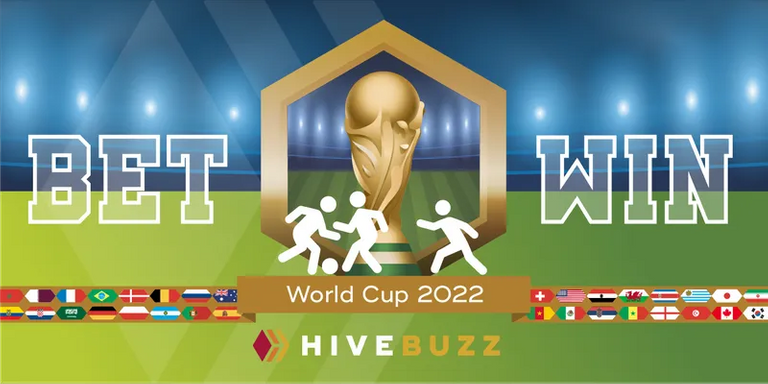 Hay una iniciativa increible de parte @hivebuzz para el mundial de Qatar 2022 a la que quise sumarme activamente a participar. Aqui tejo los detalles del concurso por si quieres unirte y ademas, voy a realizar estos resumenes diariamente con cada fecha del mundial para así apoyar al crecimiento del concurso.
There is an incredible initiative from @hivebuzz for the Qatar 2022 World Cup that I wanted to join actively to participate. Here are the details of the contest in case you want to join and also, I will make these summaries daily with each date of the world cup to support the growth of the pool contest.


Continua la emoción por la copa del mundo, hoy vivimos una nueva e intensa jornada que trajo sorpresas y goleadas y si no pudiste verlo por alguna razón, en este post como todos los días yo te lo voy a resumir, ¡así que bienvenido!
The excitement for the World Cup continues, today we lived a new and intense day that brought surprises and goals and if you could not see it for some reason, in this post as every day I will summarize it for you, so welcome!

Grupo E / Group E
Germany 1 - 2 Japan
Ritsu Doan 75'
Takuma Asano 83'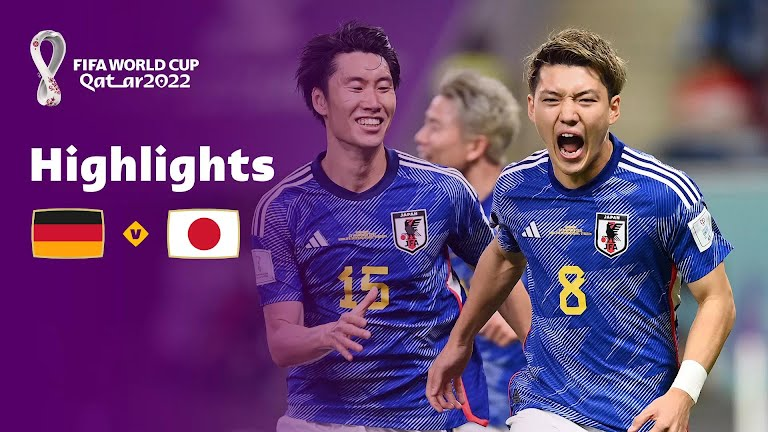 Resumen del partido.
Hoy los japoneses sorprendieron al mundo entero tras voltearle el partido a Alemania, que se puso adelante en el marcador en el primer tiempo con gol de Gundogan y que perdono demasiadas ocasiones al conjunto asiatico, que con dos jugadas muy bien elaboradas en el segundo tiempo pusieron el 2-1 definitivo que pone muy emocionante la competencia en este grupo.
Mi opinión.
Esta victoria fue tanto merito de Japon como falta de ideas de Alemania, el tecnico hizo cambios muy errados en la segunda parte, sobre todo al sacar a Gundogan por Goretzka, a mi parecer debieron jugar ambos de titular, uno junto al otro, un partido muy mal planteado por los europeos que se complican la clasificacion y tendran que ir con todo en los partidos restantes, mientras que los japoneses con esta victoria pueden empezar a pensar en la clasificacion como un hecho, pues jugaron muy bien.
Match summary.
Today the Japanese football team surprised the whole world of the sports after turning this very difficult game around against Germany, who took the lead in the first half of the match with a goal by Gundogan and missed too many chances to the Asian team, who with two very well crafted plays in the second half put the final 2-1 that makes the competition very exciting in this group.
My opinion.
This victory was as much Japan's merit as Germany's lack of ideas, the coach made very wrong changes in the second half, especially by taking out Gundogan for Goretzka, in my opinion they should have played both in the starting lineup, one next to the other, a very poorly planned match for the Europeans who are complicating the qualification and will have to go all out in the remaining matches, while the Japanese with this victory can begin to think about the qualification as a fact, because they played very well.

Spain 7 - 0 Costa Rica
Dani Olmo 11'
Marco Asensio 21'
Ferran Torres 31' (p), 54'
Gavi 74'
Carlos Soler 90'
Álvaro Morata 90+2'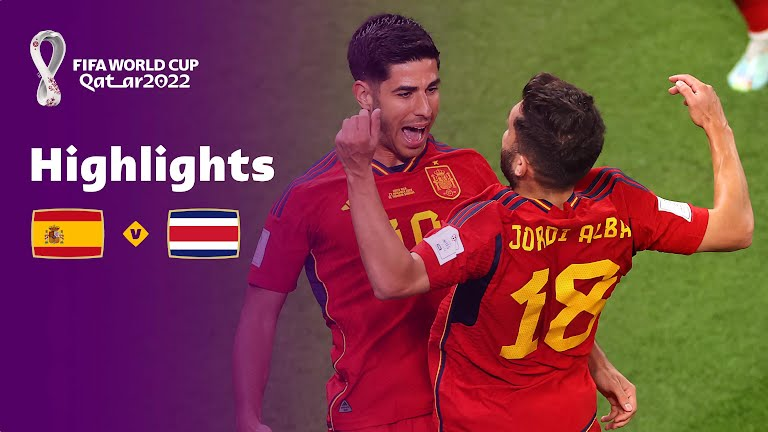 Resumen del partido.
Creo que no hay nada que decir sobre esto, una masacre total lo que se vivio hoy en este partido por parte de los españoles, que se llevaron por el medio a los ticos desde el minuto 1. Dominio absoluto de la roja que se confirma como un candidato al titulo.
Mi opinion.
Costa Rica salió a jugar este partido con los hombres atras, todo lo contrario a España que salio a comerse a su rival, un avance muy bueno de la roja que acusaba mucho la falta de efectividad en sus partidos y hoy metio 7 goles en 8 tiros al arco. Se le notó mucho a Keylor Navas la falta de continuidad en el PSG, en al menos tres de los goles españoles el arquero pudo hacer mucho mas, en general Costa Rica tuvo un desempeño pesimo y España tuvo uno de sus mejores partidos de este año.
Summary of the match.
I think there is nothing to say about this, a total massacre what was experienced today in this match by the Spaniards, who took the Ticos by the middle from minute 1. Absolute dominance of the red team that is confirmed as a candidate for the champion title.
My opinion.
Costa Rica came out to play this game with the men behind, the opposite of Spain who came out to eat their rival, a very good advance of the red that accused a lot the lack of effectiveness in their games and today scored 7 goals in 8 shots on goal. Keylor Navas' lack of continuity at PSG was very noticeable, in at least three of the Spanish goals the goalkeeper could have done much more, in general Costa Rica had a very bad performance and Spain had one of their best games of this year.


Así marcha el grupo.
España pone un pie y medio hoy en la segunda fase con esta tremenda goleada, Japon mete presion a un grupo que parecia cantado para los europeos y se mete en la pelea, Alemania tendrá que jugar con España en la proxima ronda y con la obligacion de ganar para poder seguir en la pelea por el grupo.
This is the group now.
Spain puts a foot and a half today in the second round with this tremendous victory, Japan puts pressure on a group that seemed to be a foregone conclusion for the Europeans and gets into the fight, Germany will have to play with Spain in the next round and with the obligation to win to be able to continue in the fight.

Grupo F / Group F
Morocco 0 - 0 Croatia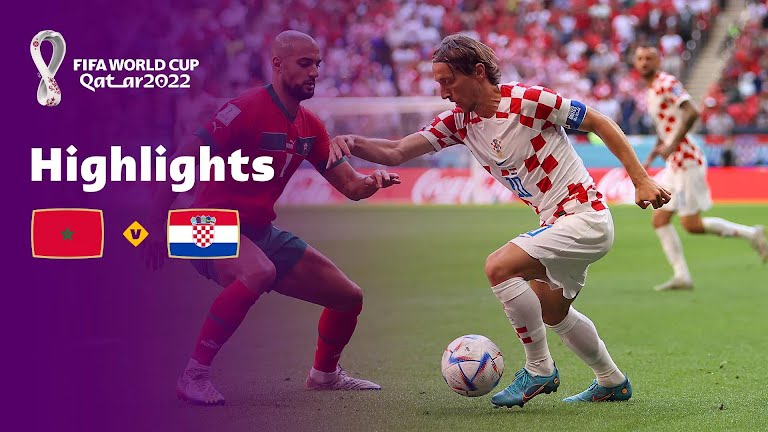 Resumen del partido.
Un choque muy igualado en las estadisticas y otro partido que fue visualmente bastante aburrido, con apenas dos tiros al arco para europeos y africanos, que no pudieron sacarse diferencias en este partido.
Mi opinion.
Creo que Croacia esta siendo demasiado dependiente del juego de Luka Modric y aunque es un jugador fantastico, no es inmune al tiempo y eso se nota en el campo, Modric ya no es un jugador que pueda hacer avanzar a un equipo y creo que esa responsabilidad debe caer en Kovacic, primero para darle mejor funcionamiento al equipo y tambien para ir pensando en el recambio generacional natural que debe ocurrir en una plantilla que esta muy envejecida. Marruecos tiene un equipo interesante pero hoy mostraron un futbol muy irregular, ambos deberan subir mucho el nivel si quieren competir de verdad en este torneo.
Summary of the match.
A very even match in the statistics and another match that was visually quite boring, with only two shots on goal for Europeans and Africans teams, who could not make a difference on the scoreboard in this match.
My opinion.
I think Croatia is being too many dependent on Luka Modric's game and that's works on Rusia 2018 but not now. Although he is a fantastic player, he is not immune to time and that shows on the field, Modric is no longer a player who can move a team forward and I think that responsibility should fall on Kovacic, first to give better performance to the team and also to think about the natural generational replacement that should occur in a squad that is very old. Morocco has an interesting team but today they showed a very irregular soccer, both will have to raise their level if they want to really compete in this tournament.

Belgium 1 - 0 Canada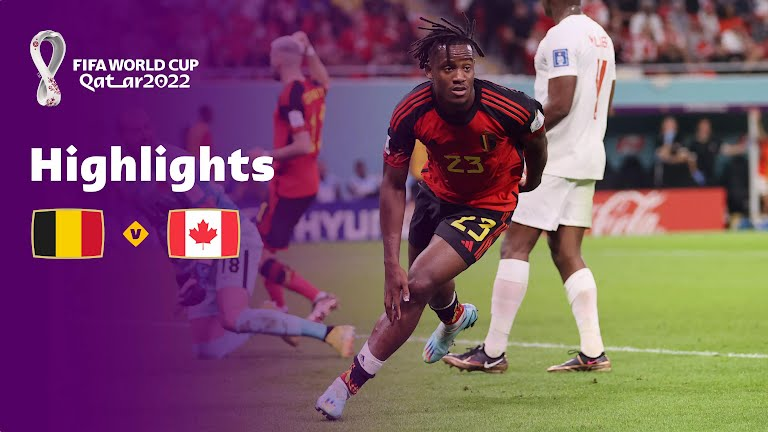 Resumen del partido.
Hoy vimos un partido donde el arbitro sin dudas se equivoco en varias ocasiones y eso termino favoreciendo a una Bélgica sin ideas de juego que se encontró de pronto un balón en el área que Batshuayi cambio por gol. Los norteamericanos dominaron el juego y atacaron constantemente la arqueria de Courtois, que le detuvo un penal a Alphonse Davies.
Mi opinion.
Canada tuvo dominio de juego, neutralizo a la pieza mas importante de Belgica que es De Bruyne y los dejó asi sin posibilidad de juego, pero fallaron demasiadas ocasiones, incluida un penal, y como en todos los torneos grandes, los goles que no haces te los van a hacer a ti. De parte de Belgica no entiendo como siguen alineando a Hazard, que ni de lejos es el Hazard del Chelsea y que era la estrella de este equipo. El 90% del equipo es De Bruyne y hoy Canada los expuso, pues supo bloquear al talentoso volante del Manchester City y solo con eso Belgica quedó neutralizada por momentos.
Summary of the match.
Today we saw a match where the referee undoubtedly made mistakes on several occasions and that ended up favoring a Belgium with no game ideas that suddenly found a ball in the box that Batshuayi changed for a goal. The Americans dominated the game and constantly attacked Courtois' goal, who saved a penalty from Alphonse Davies.
My opinion.
Canada dominated the game, neutralized Belgium's most important player, De Bruyne, and left them with no chance to play, but they missed too many chances, including a penalty, and as in all big tournaments, the goals you don't score will be scored against you. On the Belgian side I don't understand how they keep fielding Hazard, who is nowhere near the Hazard of Chelsea and who was the star of this team. De Bruyne is 90% of the team and today Canada exposed them, as they were able to block the talented Manchester City midfielder and with that alone Belgium was neutralized at times.


Así marcha el grupo.
Belgica toma la delantera en un grupo que va a estar disputado hasta el final, Canada perdío pero desde mi punta de vista fue el equipo que mejor jugó de los cuatro que conforman el grupo, asi que creo que se vienen dos fechas muy interesantes en este muy igualado grupo F.
This is the group now.
Belgium takes the lead in a group that will be disputed until the end, Canada lost but from my point of view was the team that played the best of the four that make up the group, so I think there are two very interesting dates coming up in this very close group F.
Lo que viene.
Mañana veremos jugar a los integrantes de los dos ultimos grupos para cerrar la fecha 1 del mundial, Brasil, Camerun, Serbia, Suiza, Ghana, Corea del Sur, Portugal y Uruguay van a deleitarnos con su futbol en lo que esperamos sea otro dia de partidos espectaculares. Se viene una jornada muy interesante mañana que espero que puedas disfrutar y si por alguna razon no puedes, recuerda que aqui voy a estar yo para resumiterlo.
¡Nos leemos mañana!
What's coming.
Tomorrow we will see the members of the last two groups of the tournament play to close date 1 of the World Cup, Brazil, Cameroon, Serbia, Switzerland, Ghana, South Korea, Portugal and Uruguay will delight us with their soccer in what we hope will be another day of spectacular matches. A very interesting day is coming tomorrow that I hope you can enjoy and if for some reason you can't, remember that I will be here to summarize it.
Read you tomorrow!

All game images are taken from the official FIFA website And I created the text divider from their graphics, credits to whom it may concern.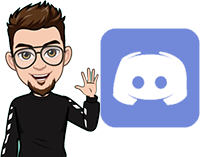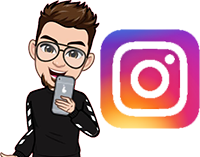 ---
---