¡LOCALES! [ESP/ENG]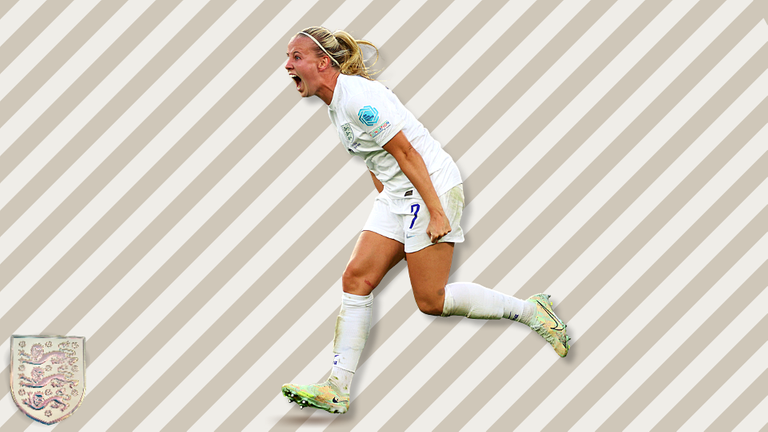 La selección de Inglaterra disputará la final de la Eurocopa al golear a la selección de Suecia


"Las Leonas" obtienen su pase a la gran final a disputarse en el mítico estadio de Wembley al derrotar a la selección de Suecia, clasificada en el segundo lugar en el ranking FIFA por un marcador de 4 a 0; las locales jugaron un mejor partido del que hicieron contra la selección de España y de forma contundente obtienen la gran oportunidad de ganar por primera vez la Eurocopa.


The England national team will play the final of the European Championship after defeating the Swedish national team.
"The Lionesses" get their pass to the final to be played at the legendary Wembley Stadium by defeating the Swedish team, ranked second in the FIFA ranking by a score of 4 to 0; the locals played a better game than they did against the selection of Spain and convincingly get the great opportunity to win the European Championship for the first time.

En la primera semifinal la disputaron dos selecciones consideradas como favoritas, una eran las anfitrionas del torneo, la otra es la selección europea mejor rankeada en FIFA; muchas expectativas se crearon al confirmarse este partido porque ambas selecciones estaban llenas de estrellas aunque las inglesas son consideradas más sólidas cómo equipo en dónde hasta antes de este encuentro tenían una estadística positiva de 15 goles a favor y tan solo uno en contra y a eso sumar la racha positiva de victorias antes y en el torneo; ahora por parte de Suecia, las cuales comenzaron dubitativas en el torneo, sufrieron mucho en su partido contra Bélgica aunque claramente dominaron a su rival en dónde la portera se estaba convirtiendo en gran héroe hasta que recibió el gol que dio el pase a las suecas a la semifinal y así poder demostrar del porqué son las actuales mejor selección del viejo continente; por lo antes descrito era esperado que este juego estaría lleno de emociones porque ambos equipos son ofensivos y con buenas jugadoras llenas de calidad. Tenía muchas ganas de ver la reacción de la selección anfitriona que no la pasó para nada bien en los cuartos de final contra la selección de España en donde tan solo por su condición física, recambio y la excelente entrenadora pudo superar a una gran rival y la respuesta a mis expectativas fueron respondidas de forma contundente; para este encuentro, Glotzbach-Wiegman, entrenadora neerlandesa de la selección de Inglaterra uso el mismo equipo que ha disputado los cinco encuentros anteriores, recordemos que Inglaterra tuvo hasta 7 días de descanso por disputar el primer encuentro de cuartos de final, en cambio, Suecia jugó un exigente partido contra Bélgica el pasado viernes aunque la diferencia contra su rival fue que no disputó tiempo extra como si lo hizo Inglaterra, pero volviendo al esquema y equipo usado por Glotzbach-Wiegman, pienso que en esta oportunidad no había necesidad de cambiar, ya que el equipo estaba funcionando a pesar de no hacer un buen juego en el gran tiempo que disputaron los cuartos de final; manteniendo el esquema 4-1-4-1, mantenía un equilibrio contando con importantes jugadoras en el medio campo cómo son Walsh, Kirby y Stanway, entre ellas tres le da posibilidad a las laterales Bronze por derecha y Daly por izquierda de seguir haciendo conexión con Mead y Hemp en dónde siempre tendrán como referente de ataque a White; un fútbol con un gran plan muy bien practicado por estas mujeres que en un principio se vieron superadas por sus rivales, pero poco a poco dominaron el encuentro.


The first semifinal was played by two teams considered as favorites, one was the hosts of the tournament, the other is the best ranked European team in FIFA; many expectations were created when this match was confirmed because both teams were full of stars although the English are considered more solid as a team where until before this match they had a positive statistic of 15 goals for and only one against and to that add the positive streak of victories before and in the tournament; Now on the part of Sweden, who started the tournament with doubts, suffered a lot in their game against Belgium although they clearly dominated their rival where the goalkeeper was becoming a great hero until she conceded the goal that gave the Swedes the pass to the semifinal and thus be able to demonstrate why they are the current best team of the old continent; for the above described it was expected that this game would be full of emotions because both teams are offensive and with good players full of quality. I was looking forward to see the reaction of the host team that did not have a good time in the quarterfinals against the Spanish national team where only because of their physical condition, spare parts and the excellent coach could overcome a great rival and the answer to my expectations were answered in a resounding manner; For this match, Glotzbach-Wiegman, Dutch coach of the England team used the same team that has played the five previous matches, remember that England had up to 7 days of rest for playing the first quarterfinal match, instead, Sweden played a demanding match against Belgium last Friday although the difference against their rival was that they did not play extra time as England did, but going back to the scheme and team used by Glotzbach-Wiegman, I think that in this opportunity there was no need to change, since the team was working despite not playing a good game in the great time they played in the quarterfinals; keeping the 4-1-4-1 scheme, maintaining a balance with important players in the midfield such as Walsh, Kirby and Stanway, between them three gives the possibility to the wingbacks Bronze on the right and Daly on the left to continue making connection with Mead and Hemp where they will always have White as a reference in attack; a soccer with a great plan very well practiced by these women who at first were overcome by their rivals, but gradually dominated the game.

El primer tiempo de las semifinales fue sorpresivo para Inglaterra, ya que Suecia salió presionando arriba, creando espacios, haciendo que su rival se equivocara y así encarar hacía la portería rival en búsqueda de hacer la primera anotación, todo un plan bien orquestado, pero con el gran inconveniente de que Mary Earps, portera inglesa, estaba en plena concentración y rechazo dos chutes a gol del equipo sueco y así mantener en cero su arco dando confianza y tranquilidad a su equipo para qué comenzará a jugar y dominar el encuentro, justamente eso hizo el equipo inglés usando el fútbol que han practicado en la mayoría de los encuentros empezará a cada vez hacerse más fuerte usando a las laterales y a las dos importantes extremos aunque el trabajo hecho por la número 4, Walsh, fue fundamental porque tuvo también la calma y confianza para recuperar balones y hacer jugar a sus compañeras y por eso cada vez más Inglaterra pudo ir empujando a su rival en dónde no podían defender bien a pesar de tener una línea defensiva de 4 jugadoras y otra de 3; Inglaterra aprovecho la desconcentración y así pudo anotar un importante primer gol vía de la considerada mejor jugadora de torneo, porque Mead es la mejor y no solo por sus goles (6 en el torneo) sino por sus asistencias y en este juego fue evidente al asistir a Bronze para conseguir el segundo gol y que para mí fue el gol definitivo, el que sentenció el encuentro porque desde ese momento la selección de Suecia no podía mantener una defensa compacta y debía salir a buscar primero el gol del descuento y eso creó una disyuntiva en las jugadoras suecas que aprovechó Inglaterra y lo que hizo fue presionar y buscar más que nada tener un paso más en confianza anotando más goles en contra de su rival, hacerse ver más fuerte para lo que será la final en Wembley.


The first half of the semifinals was a surprise for England, as Sweden came out pressing high, creating spaces, making their rival make mistakes and thus face the rival goal in search of the first goal, a well orchestrated plan, but with the great drawback that Mary Earps, English goalkeeper, was in full concentration and rejected two shots on goal from the Swedish team and thus keep her goal at zero giving confidence and tranquility to her team to start playing and dominating the game, That is exactly what the English team did, using the soccer they have played in most of the matches, they started to get stronger and stronger using the wingers and the two important wingers, although the work done by the number 4, Walsh, was fundamental because she also had the calm and confidence to recover balls and make her teammates play and that is why England could push their rival more and more where they could not defend well despite having a defensive line of 4 players and another of 3; England took advantage of the lack of concentration and thus was able to score an important first goal through the considered best player of the tournament, because Mead is the best and not only for her goals (6 in the tournament) but for her assists and in this game it was evident when she assisted Bronze to get the second goal and for me it was the definitive goal, the one that sentenced the game because from that moment on the Swedish team could not keep a compact defense and had to go out to look for the first goal and that created a dilemma in the Swedish players that England took advantage of and what they did was to press and seek more than anything to have a step more in confidence by scoring more goals against their rival, to make them look stronger for what will be the final at Wembley.

Inglaterra hoy se vio intratable; no puedo hablar de que tuvieron suerte por los fallos en definición que tuvo Suecia porque las porteras juegan y hoy Earps fue determinante al momento de estar el encuentro en 0 a 0 como cuando estaba 2 a 0 a favor de si selección y es por eso que el equipo pudo ir de menos a más y eso fue gracias al trabajo de su portera, ella dio gran confianza a sus compañeras y las empujó a conseguir otra parte importante de lo que es un gran sueño y lo que posiblemente las convierta en inmortales en los ojos de cada aficionado del fútbol. El día de mañana se juega la segunda semifinal entre las selecciones de Alemania y Francia y quién pase de estas dos selecciones, deberá jugar su mejor fútbol porque Inglaterra es un gran favorita para ser poseedora del título.


England was unbeatable today; I can't say that they were lucky because of Sweden's mistakes in the definition because goalkeepers play and today Earps was decisive when the match was 0-0 as when it was 2-0 in favor of her team and that is why the team could go from less to more and that was thanks to the work of her goalkeeper, she gave great confidence to her teammates and pushed them to achieve another important part of what is a great dream and what will possibly make them immortal in the eyes of every soccer fan. Tomorrow the second semifinal between Germany and France will be played and whoever goes through will have to play their best soccer because England is a great favorite to win the title.

La portada fue editada en canva; la fuente de las imágenes son las siguientes: Mead


---
---