Otra Final [ESP|ENG]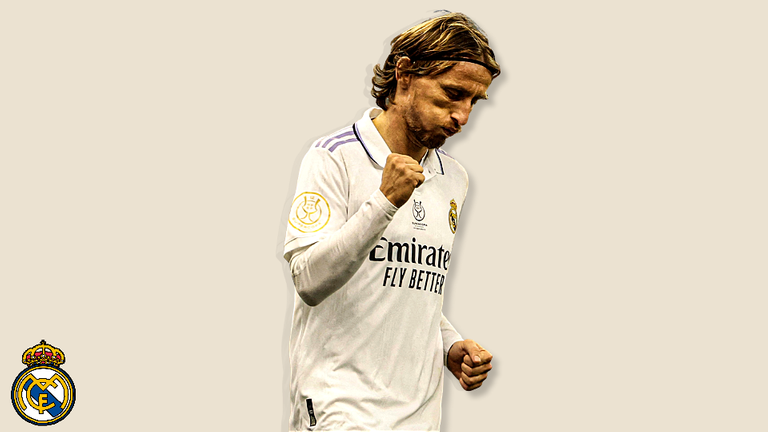 El Real Madrid después de disputar 120 minutos de juego, ha ganado la primera semifinal de la Supercopa de España contra el Valencia C.F. en la tanda de penaltis.
Real Madrid, after 120 minutes of play, won the first Spain Supercup semifinal against Valencia C.F. in a penalty shootout.

Ha comenzado el final four de la Supercopa de España; en esta oportunidad los clubes Real Madrid y Real Betis, que ganaron La Liga y Copa del Rey, enfrentan a Valencia CF y al FC Barcelona, el primero semifinalista de la Copa del Rey y el otro segundo en La Liga en la pasada temporada. En el día de hoy, los clubes del Real Madrid y Valencia se enfrentaron para saber quién será el primer finalista; claramente que el Real Madrid dirigido por Ancelotti era el claro favorito aunque en el comienzo o regreso en esta temporada no ha demostrado un bajo de nivel futbolístico, como ejemplo tomo la derrota por La Liga en la anterior jornada; ahora por parte del equipo de Gattuso que está en la onceava posición de la tabla en La Liga, viene de sufrir dos derrotas contra dos equipos diferentes, uno que está en posiciones de clasificar para la UEL y otro que lucha por no descender; esto genera de presión a su entrenador el cual posiblemente si padece otra derrota más vea cómo peligra su posición en el club.


The final four of the Supercopa de España has started; in this opportunity the clubs Real Madrid and Real Betis, who won La Liga and Copa del Rey, face Valencia CF and FC Barcelona, the first one semifinalist in the Copa del Rey and the other second in La Liga last season. Today, the clubs of Real Madrid and Valencia faced each other to find out who will be the first finalist; clearly Real Madrid led by Ancelotti was the clear favorite although at the beginning or return this season has not shown a low level of soccer, as an example I take the defeat in La Liga in the previous day; now on the part of Gattuso's team, which is in the eleventh position of the table in La Liga, comes from suffering two defeats against two different teams, one that is in a position to qualify for the UEL and another that is fighting not to be relegated; this generates pressure on his coach who possibly if he suffers another defeat will see how his position at the club is in danger.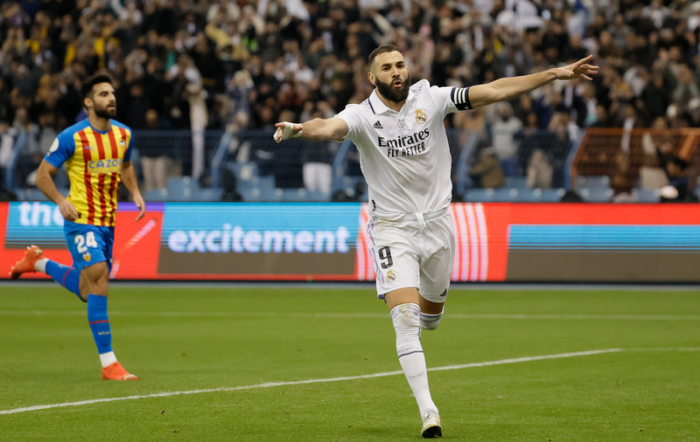 Fuente / Source

Personalmente, pienso que tanto lo regular y malo que han comenzado ambos equipos esta mitad de la temporada, la Supercopa debería ser un factor para que puedan jugar bien y ganar un título; creo que esto es un factor anímico importante, demostrar que son buenos equipos y que a pesar de que hay muchas cosas que mejorar seguramente que la obtención de esta copa sea algo que inyecte el ánimo necesario para enfrentar los próximos meses que están llenos de muchos juegos de fútbol. El Real Madrid en mi opinión, presentó lo mejor que tiene, claramente pensando en dar descanso a varios de sus jugadores titulares, y es que la titularidad de Camavinga, Lucas Vasquez y Nacho era algo necesario, ya que Modric y Tchouaméni tuvieron un exigente Mundial y otros jugadores como Mendy, Alaba y el mismo Carvajal parece que no están a lo más alto de su nivel físico y por eso el DT Italiano decidió hacer algo que en mi opinión no le convence mucho y eso es de hacer rotaciones. El Valencia también presentaba bajas, tres para ser específico y eso con lo anteriormente dicho sobre dos derrotas en tres partidos disputados post-mundial no es muy esperanzador para el club Che.


Personally, I think that both the regular and bad start that both teams have had this half of the season, the Super Cup should be a factor for them to play well and win a title; I think this is an important mood factor, to show that they are good teams and that although there are many things to improve surely winning this cup is something that injects the necessary spirit to face the coming months that are full of many soccer games. Real Madrid, in my opinion, presented the best they have, clearly thinking of resting several of their first team players, and the fact that Camavinga, Lucas Vasquez and Nacho had to start, since Modric and Tchouaméni had a demanding World Cup and other players like Mendy, Alaba and Carvajal himself seem not to be at the top of their physical level and that is why the Italian DT decided to do something that in my opinion does not convince him very much and that is to make rotations. Valencia also had some absentees, three to be specific and that with the aforementioned two defeats in three post-World Cup matches is not very encouraging for the club Che.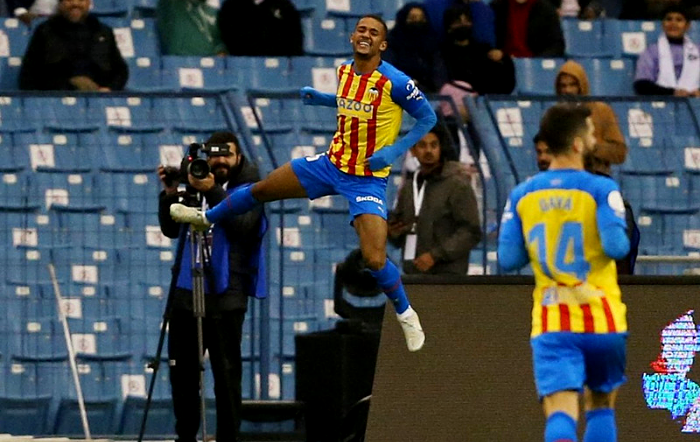 Fuente / Source

Siendo completamente sincero, esperaba un dominio claro del club merengue en los 90 minutos reglamentarios, pero me sorprende de que el Real Madrid demuestre un nivel tan bajo aunque hubo algo me agrado y fue el ver a Fede Valverde estar en varios pasajes del juego como enganche, estaba en una zona entre derecha y el centro, pero creo que aquí hubo un problema, ya que tanto Lucas como Rodrygo no aprovecharon la posición del jugador uruguayo; hubo un solo ataque en dónde por velocidad el delantero brasileño pudo conseguir el primer gol, pero no fue suficiente para en esa oportunidad abrir el marcador; lo otro es el bajo nivel de Vinicius y Camavinga (quien solo disputó 45 minutos de juego), sin la explosividad del extremo brasileño y sin el control de Tchouaméni, el Madrid se vio roto en el medio campo y eso hizo que el Valencia jugará muy bien por más de 80 minutos, a esto sumo el nulo trabajo de Nacho como lateral izquierdo que junto a Lucas solo dieron oportunidades para el equipo rival; para ser sincero los mejores fueron Militão, Rüdiger, Courtois y Benzema que cuando estuvo dentro del área es que creo más oportunidades, justamente este último después de un pase largo de Militão consiguió el penal que haría que su equipo se adelantará en el primer tiempo.


Being completely honest, I expected a clear dominance of the Merengue club in the 90 minutes, but I am surprised that Real Madrid showed such a low level, although there was something I liked and that was to see Fede Valverde being in several passages of the game as a hook, he was in an area between right and center, but I think there was a problem here, as both Lucas and Rodrygo did not take advantage of the position of the Uruguayan player; there was only one attack in which the Brazilian striker could have scored the first goal, but it was not enough to open the scoreboard; the other thing is the low level of Vinicius and Camavinga (who only played 45 minutes), without the explosiveness of the Brazilian winger and without the control of Tchouaméni, Madrid was broken in the midfield and that made Valencia play very well for more than 80 minutes, to this I add the null work of Nacho as left back who together with Lucas only gave opportunities for the rival team; to be honest the best were Militão, Rüdiger, Courtois and Benzema who when he was inside the box created more chances, just the latter after a long pass from Militão got the penalty that would make his team take the lead in the first half.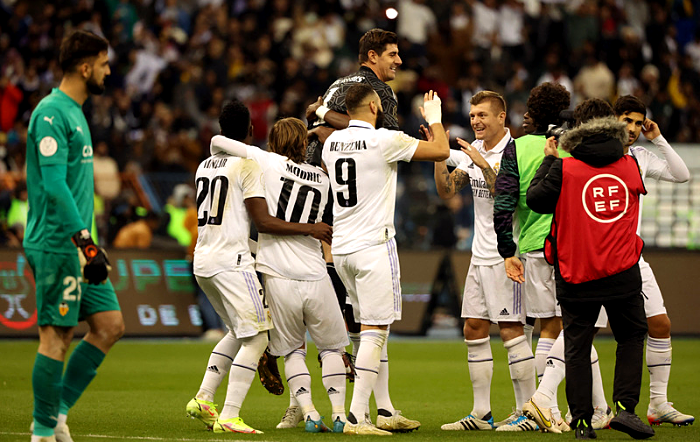 Fuente / Source

En el segundo tiempo era claro que Ancelotti se dio cuenta de que su equipo estaba perdido y por eso hizo entrar a Modrić que posiblemente tomaría el control del balón y así esperar al momento preciso para sumar otro gol, el problema es que en la banca no hay para suplantar a Nacho y Vasquez, en realidad no quiso señalar a ambos jugadores por su mal desempeño y eso fue un gran error, ya que ambos defensores del Madrid fueron quienes fallaron en la jugada del empate del Valencia en tan solo pocos minutos de haber comenzado el segundo tiempo. El juego se disputó sin mucho peligro y en dónde lo más notorio fue la lamentable lesión de Vasquez y el pobre estado físico y de juego del Valencia que se hizo muy pequeño en el campo y eso lo aprovecho el Madrid para adelantar líneas y atacar, pero sin conseguir romper la paridad; de esa manera se disputó 120 minutos hasta alcanzar los tiros penales en dónde por dos ocasiones el equipo de Gattuso fallaría y por eso nuevamente el Real Madrid tiene otra final más que disputar el próximo domingo y deberá esperar a su rival del enfrentamiento de mañana cuando el Real Betis y el FC Barcelona disputen la segunda semifinal.
In the second half it was clear that Ancelotti realized that his team was lost and so he brought on Modrić who would possibly take control of the ball and thus wait for the right moment to score another goal, the problem is that there is no substitute on the bench to replace Nacho and Vasquez, in fact he did not want to point to both players for their poor performance and that was a big mistake, as both Madrid defenders were the ones who failed in the play of Valencia's equalizer just a few minutes into the second half. The game was played without much danger and where the most notorious thing was the unfortunate injury of Vasquez and the poor physical and playing condition of Valencia, which became very small on the field and Madrid took advantage of that to advance lines and attack, but without managing to break the parity; In this way, 120 minutes were played until penalty kicks were taken, where Gattuso's team failed on two occasions and therefore Real Madrid has yet another final to play next Sunday and will have to wait for its opponent in tomorrow's match when Real Betis and FC Barcelona will play the second semifinal.

La portada fue editada en canva; la fuente de las imágen noes son las siguientes: Aliviado


---
---