Primera Final [ESP|ENG]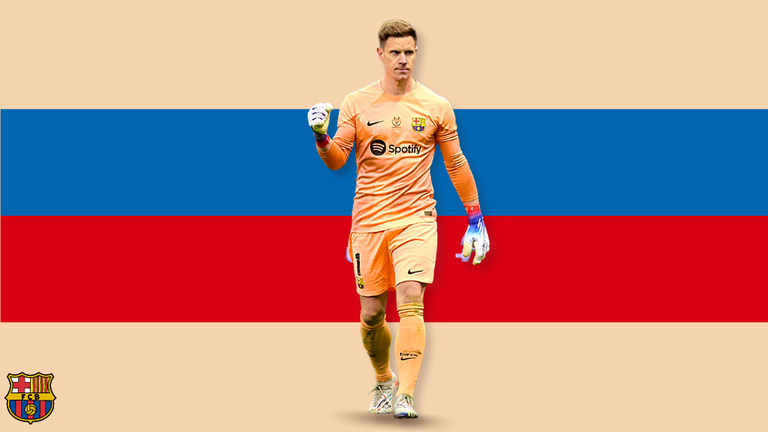 El FC Barcelona entrenado por Xavi Hernández, alcanza su primera final al derrotar al Real Betis de Pellegrini en la segunda semifinal de la Supercopa de España.
FC Barcelona, coached by Xavi Hernández, reached its first final by defeating Pellegrini's Real Betis in the second semifinal of the Spanish Super Cup.

Así como el día de ayer sucedió en la primera semifinal entre Real Madrid y Valencia C.F.; en esta segunda semifinal los clubes FC Barcelona y Real Betis deberían llegar hasta las últimas instancias para saber quién es el rival del club merengue en la final del próximo domingo por la Supercopa de España; este juego creó muchas expectativas entre los aficionados de ambos clubes y de los fanáticos del fútbol en sí, ya que ambos equipos son sumamente ofensivos y juegan un buen fútbol en el torneo local y como evidencia está de que uno es el actual líder de La Liga y el otro se mantiene en la cuarta posición de dicha competición.


Just as it happened yesterday in the first semifinal between Real Madrid and Valencia CF. in this second semifinal, FC Barcelona and Real Betis should go all the way to the final to find out who is the rival of the Merengue club in next Sunday's final for the Spanish Super Cup; this game created many expectations among the fans of both clubs and the soccer fans themselves, since both teams are highly offensive and play good soccer in the local tournament and as evidence is that one is the current leader of La Liga and the other remains in fourth position in that competition.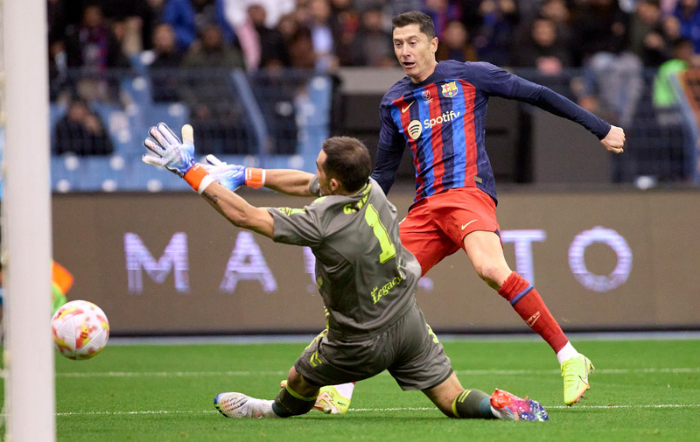 Fuente / Source

Está oportunidad obtenida por el Barça para disputar este título español llega por el segundo puesto en la pasada temporada de La Liga, creo que es perfecto porque este equipo necesita tener otro reto más que los haga fortalecer como equipo, ahora para acceder a dicha final debería enfrentarse contra el actual campeón de la Copa del Rey, el Betis, club verdiblanco de Sevilla el cual tiene muchos jugadores de calidad aunque en la actualidad pueda sufrir del bajo nivel de sus delanteros y es que como muchos clubes españoles, el regreso a la competencia se ha visto a muchos jugadores no estar en un óptimo nivel físico y el día de hoy (como ayer) eso fue muy evidente. Primeramente, debo decir que el DT del Betis, Manuel Pellegrini es un gran entrenador que sabe cómo trabajar bien con su equipo y hoy lo vivió a demostrar, ya que su equipo en ningún momento se rindió y siguió compitiendo; por ejemplo en el primer tiempo cuando era por momentos superado por su rival, el Betis pudo hacer sufrir al Barça el cual primeramente tuvo como estrella a Dembélé, pero quién fue el jugador más importante fue Marc-André ter Stegen el cual realizó hasta tres importantes atajadas para que su equipo terminará el primer tiempo ganando por un gol anotado por Robert Lewandoski.


This opportunity obtained by Barça to dispute this Spanish title comes from the second place in the last season of La Liga, I think it is perfect because this team needs to have another challenge that makes them stronger as a team, now to access the final should face the current champion of the Copa del Rey, Betis, the green and white club from Seville which has many quality players although at present they may suffer from the low level of their strikers and like many Spanish clubs, the return to competition has seen many players not being at an optimal physical level and today (like yesterday) that was very evident. First of all, I must say that the DT of Betis, Manuel Pellegrini is a great coach who knows how to work well with his team and today he showed it, as his team never gave up and continued to compete; for example in the first half when they were at times outplayed by their rival, Betis was able to make Barça suffer which first had Dembélé as star, but who was the most important player was Marc-André ter Stegen who made up to three important saves for his team to end the first half winning by a goal scored by Robert Lewandoski.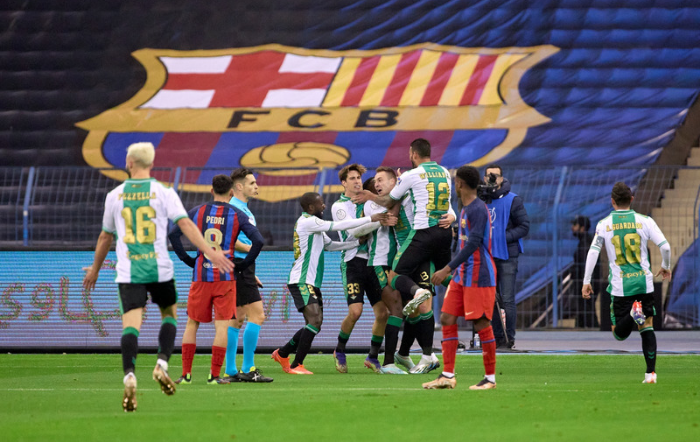 Fuente / Source

El segundo tiempo fue una demostración de cómo el FC Barcelona puede ser su peor enemigo; en partidos anteriores, los tres partidos disputados post-mundial de Qatar; ha existido una extraña lógica en los cambios realizados por Xavi y su cuerpo técnico, eso es las salidas de Frenkie de Jong; en esta segunda semifinal ese mismo cambio ocurrió y fue muy sorpresivo, ya que el mediocampista neerlandés era junto a Dembélé y ter Stegen, los mejores por el equipo culé, a esto sumo de que el extremo francés también salió del juego en tan solo 60 minutos disputados y eso en mi opinión cambio absolutamente todo a favor del Betis porque varios de sus jugadores que estaban enfocados en defender se liberaron de esa responsabilidad y empezaron a jugar a la ofensiva, eso hizo que el club verdiblanco consiguiera el tan ansiado empate que llevó a este encuentro a disputar 30 minutos de tiempo extra.


The second half was a demonstration of how FC Barcelona can be their own worst enemy; in previous matches, the three matches played post-World Cup in Qatar; there has been a strange logic in the changes made by Xavi and his coaching staff, that is the departures of Frenkie de Jong; in this second semifinal that same change occurred and it was very surprising, since the Dutch midfielder was, together with Dembélé and ter Stegen, the best for the culé team, to this I add that the French winger also left the game in just 60 minutes played and that in my opinion changed absolutely everything in favor of Betis because several of their players who were focused on defending were released from that responsibility and began to play offense, that made the green and white club got the long-awaited tie that led to this match to play 30 minutes of extra time.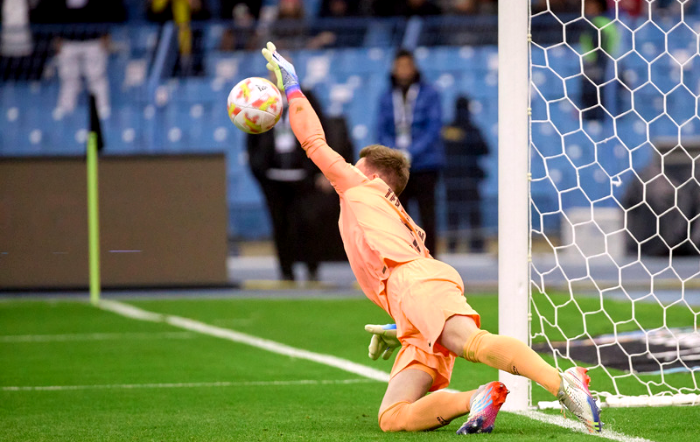 Fuente / Source

En los treinta minutos extra, ambos clubes salieron a dar todo en esos primeros 15 minutos; primero fue el Barça que de las piernas de Ansu Fati llegaría el segundo gol del club catalán, un gol que debió hacer que este club jugará con inteligencia y calma porque su rival estaba completamente agotado, pero la verdad es que el Barcelona no supo controlar los minutos después del gol y demostrando mucho nerviosismo permitió una última gran jugada al Betis que así en 10 minutos del primer tiempo extra conseguiría nuevamente empatar el encuentro; después de ambas jugadas estos equipos sucumbieron y pareciera que solo esperaban al pitido final y dejar todo para los tiros desde el punto penal. Al final ter Stegen se convirtió en el héroe para su equipo al atajar dos tiros penales; el Barcelona anotó los cuatro penales que cobraron, en cambio, el Betis solamente pudo anotar dos y eso significó de que el club dirigido por Xavi Hernández consiga disputar su primera final la cual será nada más y nada menos que el Superclasico contra su máximo rival, el Real Madrid; les recuerdo que este encuentro será el próximo domingo en dónde los dos clubes más importantes de España se verán las caras para disputar la obtención de la Supercopa de ese país.


In the extra thirty minutes, both clubs went out to give everything in those first 15 minutes; first it was Barça that from the legs of Ansu Fati would get the second goal of the Catalan club, a goal that should have made this club play with intelligence and calm because his rival was completely exhausted, but the truth is that Barcelona did not know how to control the minutes after the goal and showing much nervousness allowed a last great play to Betis that in 10 minutes of the first extra time would get again tie the match; After both plays these teams succumbed and it seemed that they were just waiting for the final whistle and leave everything for the penalty kicks. In the end, Ter Stegen became the hero for his team by saving two penalty kicks; Barcelona scored the four penalties they took, while Betis could only score two and that meant that the club led by Xavi Hernandez got to play their first final which will be nothing more and nothing less than the Superclasico against their biggest rival, Real Madrid; I remind you that this match will be next Sunday where the two most important clubs in Spain will meet to dispute the Supercopa of that country.

La portada fue editada en canva; la fuente de las imágen noes son las siguientes: Portero


---
---