HOWZAT?! The National Sport of the United States!

OK, perhaps not anymore but if I'd have been writing this post in the mid 19th century, it would have been, and this post is going to show you how that most English of summer sports was once the most popular sporting pastime in the good 'ol U S of A.
It's not all over for American cricket, however, and thanks to a huge investment by some of the biggest names in American business, we'll see why cricket will rise again one day to be the greatest sport in the USA... Maybe!
The Boring History Part...
Thanks to that most wonderful English characteristic of sharing our culture and knowledge with our friends around the world or 'colonialism' as it is sometimes called, cricket was first officially recorded as being played in the diaries of a plantation owner in Virginia way back in 1709. Both owners and slaves were playing the game but obviously not together. By 1739, its popularity and the number of teams were growing and adverts were appearing in New York newspapers looking for players. Then in 1751, match reports appeared in the New York Gazette, chronicling a game between a London eleven and a local team of New Yorkers.
Cricket's stock and popularity were rising as it began ingraining itself into American sporting culture.
Cricket's credentials were ratified when, upon returning from a trip to England in 1754, Benjamin Franklin himself brought back a copy of the '1744 Laws', the bona fide official rule book of cricket. The rules were copied and cricket was now a 'proper' sport and the national game of the United States!
There was a slight glitch in 1776 when England generously decided to hand over control of this great land to their American cousins and the momentum of cricket's rise began to wane slightly, but only for a short while as in the early 19th century, and with a lack of English people left in the country to play with, the American population once again began to linseed the willow and balance the bails.
Philadelphia was at this point the epicentre of American cricket and as we will see later, remains so until this day and so it was fitting that the first, all American Cricket club was founded there in 1833 at Haverford College. To be honest, it only lasted a few years but it led to the formation of the Philadelphia Cricket Club which is still going to this day and acknowledged as the oldest cricket club in the country.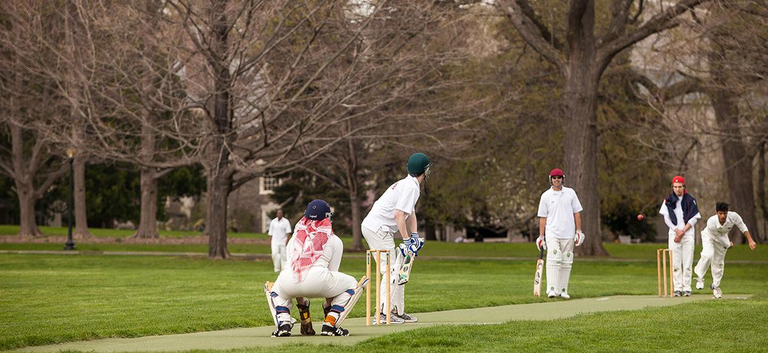 Still playing cricket at Haverford College in 2013 source
Pop Quiz: Which teams played in the first International Cricket Match?
That would be a match played in 1844 between the USA and Canada at the St. George's Cricket Club in Manhatten, New York. Between ten and twenty thousand people attended the match which was won by Canada by 23 runs. It is also the first recorded, official International game in the world. You can check out the full scorecard for the game here.
St. George's Cricket club had been formed around the same time as the Haverford College club but was only for British born players and was thus, not too popular locally but importantly, was the club of a young fella and talented bowler and batsman named Harry Wright. I will come back to why Harry became such an important figure in USA professional sports in a future post.
Cricket continued to flourish and in 1859, England sent its first-ever International touring team to play there. This was in fact, the first time a team of professional players in any sport had played in the United States!
It was an English game and so in the spirit of fair play, the sides we faced on that tour were given a chance as we allowed them to field up to 22 players against our standard team of eleven professionals!
With so much growth and popularity, you'd have thought that nothing could stop the rise and rise of cricket, but you'd be wrong!
The Rise of Baseball...
Rounders is a game played by English schoolchildren, mainly girls and has been around in some form or other since Tudor times. It had a mention in a book published in 1744, 'A Little Pretty Pocket-Book' by John Newbury, the 'father of children's literature, where the name 'baseball' was used in print for the very first time. Like many sports we've looked at, it ended up in the USA being played by immigrants where despite it being a slow-burner, was slowly gaining popularity due to cricket being perceived as an upper-class English game, not helped by the elitist, British only clubs like St, Georges whom we mentioned earlier.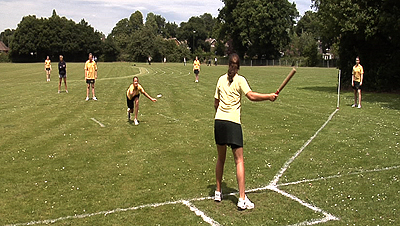 Baseball. The sport of English schoolgirls... source
Cricket was more and more being seen as slow and boring, too disciplined in its rule book and set in its ways. Breaking for tea still happens in the modern long-form of the game. Added to that, games lasted anywhere from two to five days, all very well, but if you actually had an honest job, no one had the time to play! Everybody had to wear white and the whole thing was described at the time as being a bit 'girlie'. Rounders, sorry baseball, was much quicker, involving two teams and two innings and a game could be got through in an afternoon.
Strangely though, in the commonwealth nations, cricket was the game of the masses, gentlemanly and played by people from every walk of life.
And then there was equipment. The baseball bat is a much simpler affair being a simple piece of turned wood. Wickets, bails and pads were not required, just a ball and four markers to show the 'bases' and then, in 1860, the book 'Beadle's Dime Base-Ball Player', was published and it sold 50,000 copies, people all over the country had a copy, both from the North and South of the country, an important to note because...
Then Came a War...
Abraham Lincoln, a cricket fan himself who had been recorded in attendance at cricket matches in the past, became the sixteenth president of the United States on the 4th of March 1861 and was elected due to his strong views and intentions to abolish slavery.
Without getting into politics at this point, the population of the USA at that time was 32million of which a staggering 4million were enslaved, mainly in the Southern states.
War broke out between the South, who were anti-Lincoln and pro-slavery, and the North, who were pro-Lincoln and anti-slavery, little more than a month later and lasted four years. Over 1.6 million people died in the conflict.
The point is, that during this period of tragedy and unrest, there was no time for formal and lengthy games of cricket and with so many armed with 'Beadle's Dime Base-Ball Player', it was easy to find a straight branch, fashion a ball and throw some garments on the floor to mark the bases. It mattered not whether you were from the North or South, a few hours of respite between fighting were perfect for a game of baseball.
It has been commented upon though that perhaps, in some small way these humble beginnings of baseball's rise to glory were one of the things that helped begin racial integration into American sport. It would be nice to think that some positives had been born from such a tragic period of history.
The Demise of Cricket
Baseball had become huge during the war years and was by now, the United States' favourite pastime. Cricket was still there, batting out its innings stubbornly in the heartlands of Philadelphia and New York but the love affair with cricket was waning.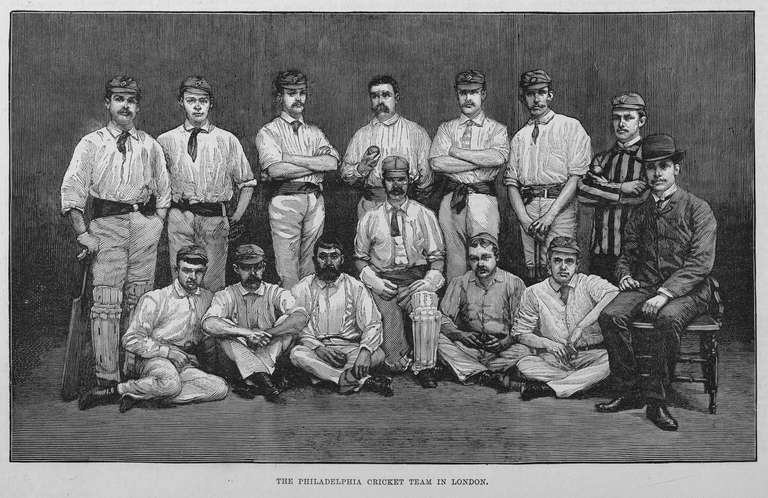 The Philadelphians were still fighting for the cricketing cause, touring England a number of times in the late 19th century with some success, they even got the chance to play a great Australian team in a three-day test in October 1878 on home soil as the Aussies took the 'wrong' way home from a tour of England. Incredibly, the Philadelphians won by an innings and 68 runs!
After the Marylebone Cricket Club was formed, their first official team came to tour the USA and Canada in 1905.
In 1913, it was apt that it was the Philadelphians that played in what turned out to be the last ever first-class game on the USA mainland for over 90 years...
During this period, one young man bucked the trend and switched allegiances from baseball to cricket and became the greatest American cricketer in history. His name...
Bart King
I'll let you read up on Bart King yourself, but as a taster, he actually led the English bowling averages for 1908 after the Philadelphians tour that year and get this; his record stood for 40 years.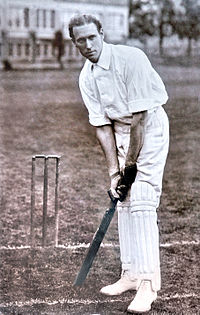 If you have any interest at all in cricket, it's really worth taking a closer look at an extraordinary player.
The Rise and Rise of USA Cricket
Almost mirroring the rise of the fast and infinitely more exciting form of cricket, T20 (where each team get 20 overs to whack as many runs as possible), so out of the ashes and false dawns has risen USA Cricket.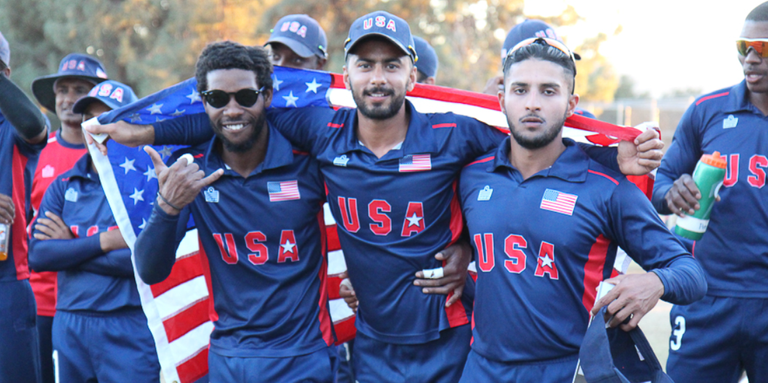 WTF? BASEBALL caps and blue shirts? It's supposed to be white! What next? Replacing tea with 'brunch' and vegan coca fucking cola? This just isn't cricket chaps, and whats the guy at the end doing with his fingers? Oh deary, deary me! source
USA Cricket was formed in 2019 to replace the United States of America Cricket Association (USACA) after the international community decided to ban them for failing to form a constitution and because of their mounting debts and general ineptitude at running an international sporting organisation.
Now, there is a domestic T20 minor league with a major league due to commence in 2023 and later next month, the USA will host their first official test and series of One-Day Internationals as they host Ireland.
All of these exciting plans and recent developments are down to USA Cricket having an investment arm led by Sameer Mehta, Vijay Srinivasan, Satyan Gajwani and Vineet Jain, as well as 23 other major investors, many of South Asian descent, to create funding and solid business foundations for their very ambitious plans.
In Conclusion
Cricket is a superb participation sport, especially in the T20 format. You don't need to be 8 feet tall or built like a brick shit-house. You don't need to run around like a deranged greyhound and you don't need to be able to throw a ball faster than a Chinese hypersonic missile.
Anyone, any age, can play and enjoy whilst the game still remains competitive and along with a fabulous and diverse population, many of whom are ethnically from some great cricketing nations, will ensure that the game grows and grows. Current figures indicate that there are over 200,000 players already in college leagues. A great start indeed.
It helps even more if you like tea!
Finally, after hundreds of years of proud cricketing history, it would be fitting that the new home of USA cricket would be in Philadelphia.
Except it's not!
It's in California! And I do find that a little sad. Old Bart must be turning in his grave!
Sources
---
---