[ENG/ESP] Sacrificio de Dama por el Campeonato Mundial.//Queen's Sacrifice , World Championship
---
En el año 2016 se llevó a cabo el Campeonato del mundo el cual defendía magnus carlsen frente a su retador serguéy kariakin. Al igual que el Campeonato del mundo de ajedrez del presente año el retador no quiso a arriesgar en ningún momento de la partida de hecho en ninguna de las que se llevaron a cabo se vieron grandes riesgos de su parte como a los que están acostumbrados mostrarle al mundo. Especialmente en esta partida que le muestro el día de hoy debemos tomar en cuenta dos cosas Una el cálculo profundo que usó kariakin contra calce en esta partida consistió en intercambiar una torre por un caballo y un peón creyendo que recibiría compensación a la larga atacando las casillas negras del flanco del enroque de las blancas sin embargo se encontraría con la sorpresa de que carlsen ya había previsto todo eso y su plan se vería totalmente desmoronado.
In 2016 the World Championship was held, which was defended by Magnus Carlsen against his challenger Sergey Kariakin. Like the World Chess Championship this year the challenger did not want to risk at any time of the game in fact in none of the games that took place were seen great risks on his part as they are accustomed to show the world. Especially in this game that I show you today we must take into account two things One the deep calculation that Kariakin used against Calce in this game consisted of exchanging a rook for a knight and a pawn believing that he would receive compensation in the long run by attacking the black squares of White's castling flank, however he would find to his surprise that Carlsen had already foreseen all that and his plan would be totally crumbled.
La vida de un ajedrecista de alto nivel o Sencillamente un aficionado es relativamente caso obligatorio tener que arriesgar en ciertas posiciones la idea de esto no esto más riesgo a la ligera sino profundizar en las ideas que tengamos mejorar los planes y tratar de que los finales sean lo más parecido a lo que nosotros planteamos, veamos la siguiente posición
The life of a high level chess player or simply an amateur is relatively obligatory case have to risk in certain positions the idea of this is not more risk lightly but to deepen the ideas we have to improve the plans and try to make the endgame as close to what we raise, let's see the following position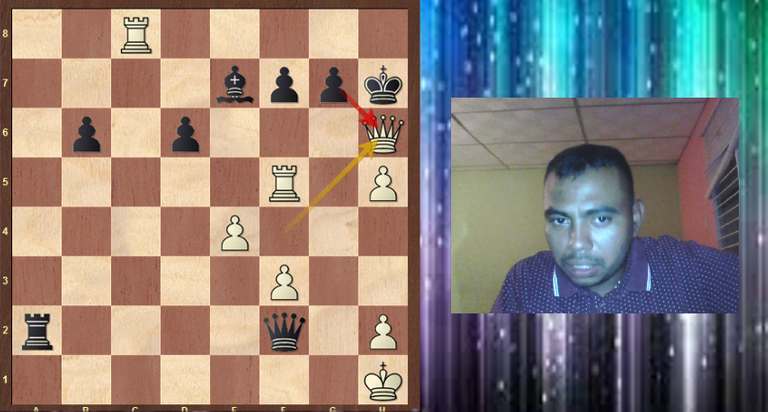 Carlsen en esta partida lleva las piezas blancas mientras que kariakin llevar las piezas negras cerca de la jugada 47 luego interponer varias veces el intercambio de dama por parte de las blancas obviamente las negras lo rechazan porque tienen torre de menos, se abre la columna c con el rey en la octava fila totalmente desprotegido a lo que Carlsen aprovecha y juega Tc8+ y obviamente jugar alfil f8 no es una opción porque conduce al mate en varias jugadas y es obvio a simple vista Así que la mejor jugada que consiguen las negras de jugar Rey h7 huyendo del jaque, el momento que las blancas juegan dama h6 jaque, recuerdo que los comentaristas decían que ella El Triunfo era de Carlsen y por obvias razones, ya que su Dama no se puede tomar ni con el rey ni con el Peón de g7 ya que de cualquiera de las dos formas se conduce al mate en poca jugada pasó a la historia como uno de los sacrificios de dama más brillantes que han existido hasta el momento y la emoción más grande se sintió porque fue un Campeonato del mundo fue por la defensa de quién iba a ser el mejor del mundo Durante los próximos tres años kariakin en los comentarios luego de la partida realmente Acepto que fue como una bofetada a la que sintió cuando Carlsen sacrifica la dama prácticamente en bandeja de plata pero no había forma de tomarla sin perder la partida, la invito a ver el video donde el desarrollo de la partida y todas las prácticas que se usaron para llegar este final.
Carlsen in this game takes the white pieces while Kariakin takes the black pieces close to move 47 then interpose several times the queen exchange by white obviously black rejects it because he has rook less, the c-file is opened with the king on the eighth rank totally unprotected to which Carlsen takes advantage and plays Tc8+ and obviously playing bishop f8 is not an option because it leads to mate in several moves and it is obvious to the naked eye So the best move Black gets to play King h7 running away from check, the moment White plays queen h6 check, I remember that the commentators were saying that she The Triumph was Carlsen's and for obvious reasons, since his Queen can not be taken either with the king or with the Pawn on g7 since either way leads to mate in a short move went down in history as one of the most brilliant queen sacrifices that have existed so far and the greatest emotion was felt because it was a World Championship. it was for the defense of who was going to be the best in the world for the next three years kariakin in the comments after the game I really accept that it was like a slap in the face to the one he felt when Carlsen sacrifices the queen practically on a silver platter but there was no way to take it without losing the game, I invite you to watch the video where the development of the game and all the practices that were used to reach this endgame.
---
Gracias por ver y leer!!!/Thanks for watching and reading!!!
---
El tablero utilizado para la demostración es del software Chessbase15 y todos los derechos de autor pertenecen a la compañía Chessbase. Solo anoté las jugadas y las explico en este tablero.
The board used for the demonstration is from the software Chessbase15 and all copyrights belong to the company Chessbase. I only annotated the moves and explain them on this board.
Las imágenes son capturas de pantalla en el desarrollo de la partida.
The images are screenshots during the development of the game.
---

¡¡¡APOYA MI CANAL EN YOUTUBE!!!/ ¡¡¡SUPPORT MY CHANNEL ON YOUTUBE!!!
---

---
▶️ 3Speak
---
---