[ESP/ENG]Paciencia, habilidad que de usarse en el tablero. Patience, a skill to be used on the board
---
Hola amigos, espero que tenga un excelente día. Hoy les quiero mostrar una partida que jugué en la página Dchess, esta es una página dedicada al ajedrez globalizando el mundo del en NFT´s, lo realmente quiero que aprendamos de esta situación es que para todo ese ajedrecista es fundamental saber las tácticas tanto en la apertura como en el medio juego y mucho más en los finales, ya que de esto depende rematar una partida o perderla por no saber cómo resolverla. Se las muestro en el tablero real ya que me parece bastante instructiva la forma en la que termino ganando este juego. Veamos la siguiente posición.
Hello friends, I hope you have an excellent day. Today I want to show you a game that I played in the page Dchess, this is a page dedicated to chess globalizing the world of NFT's, I really want us to learn from this situation is that for all that chess player is essential to know the tactics both in the opening and in the middle game and much more in the endgame, since it depends on this to finish off a game or lose it for not knowing how to solve it. I show them on the real board as I find it quite instructive the way in which I end up winning this game. Let's see the following position.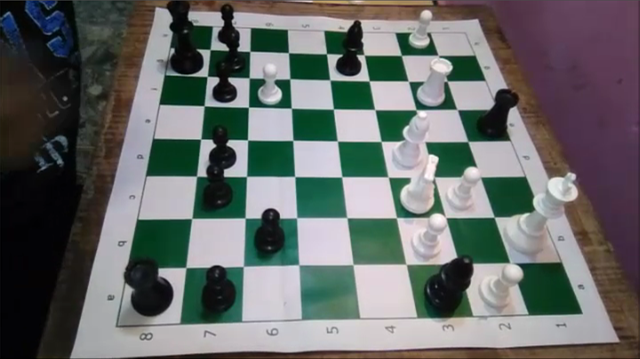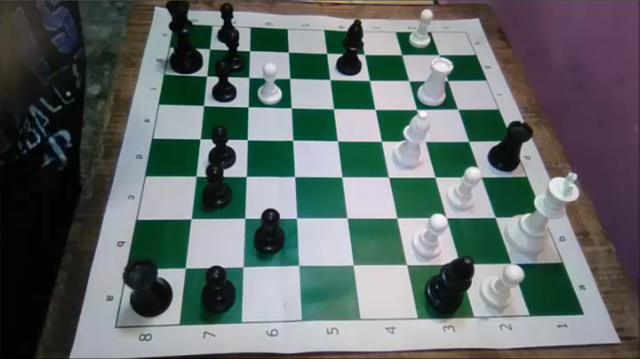 En esta ocasión juego con piezas negras y la verdad que el remate es bastante hermoso, ya que, me dediqué a desarrollar las piezas menores y la torre mucho antes que los peones de hecho pueden ver como la cadena de peones está casi entera, a pesar de que temprano en el juego se intercambiaron las damas. La cuestión es la siguiente, ya esto está acabado para el blanco la única jugada que tiene disponible sería caballo de uno para tapar el jaque y luego de que la torre captura ese caballo sería Jaque mate. Pero lo que en realidad quiero que entiendan es que no debemos caer en apuros cuando vemos que ya tenemos una partida ganada ya que el simple hecho de sentirnos ganadores puede hacer incluso que perdamos la posición ganadora, sin embargo, he visto partida de el excampeón del mundo Tigran Petrosian y aunque fue tildado de flojo tenía mucha razón en su modo de jugar ya que muchas veces no se preocupaba la forma en la que iba a rematar el rey contrario sino más bien en cerrarle todas las salidas de escape ha dicho monarca y básicamente es lo que hago en esta partida les invito a ver el video como el tablero utilizado junto con el teléfono con el que grabé la partida me pertenece en su totalidad debo también acotar que todo esto lo obtuve gracias al apoyo recibido dentro de esta plataforma.
On this occasion I play with black pieces and the truth is that the ending is quite beautiful, since, I dedicated myself to develop the minor pieces and the rook long before the pawns in fact you can see how the chain of pawns is almost complete, despite the fact that early in the game the queens were exchanged. The question is this, already this is finished for white the only move he has available would be knight of one to cover the check and after the rook captures that knight it would be Checkmate. But what I really want you to understand is that we should not fall in trouble when we see that we already have a won game because the simple fact of feeling like winners can even make us lose the winning position, however, I have seen the game of the ex-champion of the former champion, I have seen the game of the former world champion Tigran Petrosian and although he was branded as lazy he was right in the way he played because many times he did not worry about the way he was going to finish off the opponent's king but rather to close all the escape routes to the monarch and basically that is what I do in this game I invite you to watch the video as the board used along with the phone with which I recorded the game belongs to me in its entirety I must also note that all this I got thanks to the support received within this platform.

---
▶️ 3Speak
---
---