[ESP/ENG] Una combinación heterodoxa // A heterodox combination
---
Todo aquel que conoce los movimientos llevados a cabo por cada pieza en el ajedrez, está consciente de qué la dama hace el trabajo de una torre y los dos alfiles al mismo tiempo, el día de hoy quiero que aprendan la importancia de aprender a combinar piezas comenzando con lo que es la torre y el alfil, estas dos piezas son de gran importancia y la mayoría de las veces debemos apartar a un lado la teoría monótona que lleva a cabo cada una de estas piezas como por ejemplo, el al fin está obligado a cubrir desde el centro las grandes diagonales mientras que las torres Llevan como principio básico dominar las columnas abiertas y pocas veces se les ve jugando en líneas horizontales, sin embargo esto no quiere decir que la torre no era ese trabajo incluso, junto con el alfil de cualquier casilla ya sea blanca o negra puede llegar a crear combinaciones sencillamente maravillosa a la vista del espectador ajedrecista.
Everyone who knows the movements carried out by each piece in chess, is aware that the queen does the work of a rook and the two bishops at the same time, today I want you to learn the importance of learning to combine pieces starting with what is the rook and the bishop, these two pieces are of great importance and most of the time we must set aside the monotonous theory that carries out each of these pieces as for example, the at last is obliged to cover from the center the large diagonals while the rooks carry as a basic principle to dominate the open columns and rarely are seen playing in horizontal lines, however this does not mean that the rook was not that job even, along with the bishop of any square either white or black can get to create combinations simply wonderful to the eye of the chess spectator.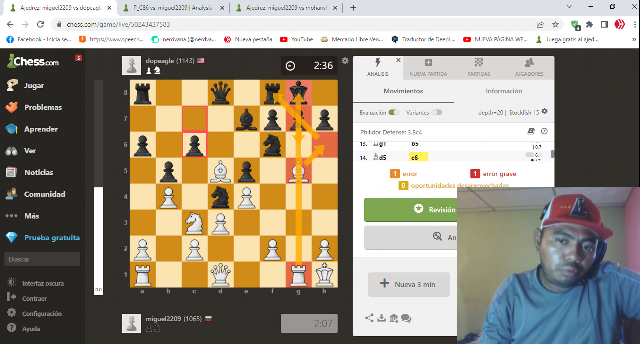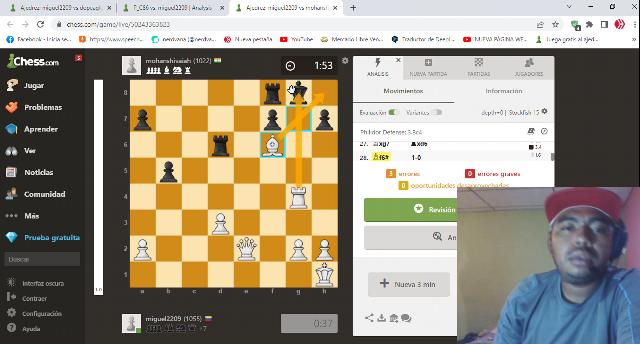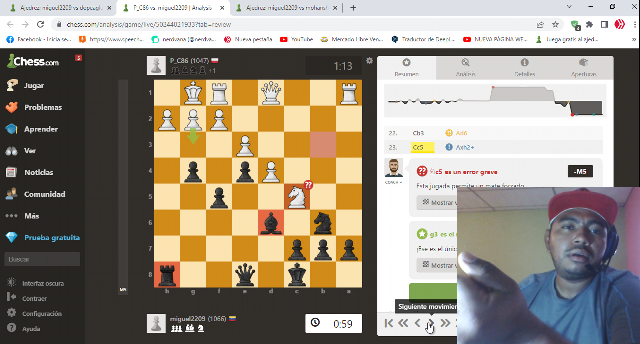 En cada una de las imágenes que les estoy mostrando acá en la descripción escrita, pueden notar que los verdaderos protagonistas aquí son los alfiles de Casillas negras que se vuelven un dolor de cabeza extremadamente agudo en el tablero debido a la ausencia de la misma pieza del bando contrario, jugadores como Bobby fischer descansaban en el argumento de que un alfil valía más que un caballo y dependiendo de la situación muchas veces así lo es como en este caso, al haber la ausencia de uno de los dos alfiles la dama debe tomar el lugar también no solo de ella sino de aquel alfil ausente en el tablero, Y esto es un traspié que debemos aprovechar de nuestro adversario ya que la dama está sobrecargada de trabajo al cuidar las casillas de un color determinado abandonadas por la pieza y sumado a esto debe hacer también su trabajo de atacar y defender al monarca, a causa de esto que acabo de nombrar, muchas veces las piezas rivales quedan desconectada de la defensa de su rey los alfiles son excelentes haciendo cortocircuito, es decir, son excelentes interviniendo en las líneas defensivas de las piezas rivales cortando así la comunicación con las casillas importantes alrededor de su Rey, en el video te explico más claramente cómo funciona esta combinación entre torre y alfil y cómo debemos aprovechar esas desventajas debido a la ausencia del alfil en el bando rival, cada una de las imágenes que estoy utilizando en esta breve descripción son capturas de pantallas sacadas durante la edición del video, también te dejo el link de mi perfil en la página de chess para que vayas a visitar y puedas ver cada una de las partidas que te estoy mostrando. Muchas gracias por tu visita, saludos y un fuerte abrazo.
In each of the images that I am showing you here in the written description, you can notice that the real protagonists here are the black squares bishops that become an extremely acute headache on the board due to the absence of the same piece on the opposite side, players like Bobby Fischer rested on the argument that a bishop was worth more than a knight and depending on the situation it is often so as in this case, And this is a setback that we must take advantage of our opponent because the queen is overloaded with work to take care of the squares of a particular color abandoned by the piece and in addition to this must also do its job of attacking and defending the monarch, because of this, many times the rival pieces are disconnected from the defense of their king, the bishops are excellent at short-circuiting, that is, they are excellent at intervening in the defensive lines of the rival pieces, thus cutting off the communication with the important squares around their king, in the video I explain more clearly how this combination between rook and bishop works and how we must take advantage of these disadvantages due to the absence of the bishop in the opponent's side, each of the images I am using in this brief description are screenshots taken during the editing of the video, I also leave you the link to my profile on the page of chess so you can visit and see each of the games I am showing you. Thank you very much for your visit, greetings and a big hug.

---
▶️ 3Speak
---
---