CineTV Contest #22 - Favorite Sports Movie 📽️Based on real events the life of Olympic gymnast Simone Biles. // Basada en hechos reales la vida de la gimnasta olímpica Simone biles

peakd.com
A cordial greeting today I want to participate in this contest because I missed the last contest even though I had already chosen my favorite animal character so before I miss the time I do not want to miss this proposal of
@cinetv
to talk about sports movies one that I loved very much and I saw it for the first time in the lifetime channel was the life of Simone Biles a real life case an Olympic gymnast who between highs and lows achieved several medals.
Un cordial saludo hoy quiero participar en este concurso ya que me perdí el último concurso a pesar que ya había escogido mi personaje animal favorito así que antes que se me pase el tiempo no me quiero perder está propuesta de
@cinetv
de hablar de películas deportivas una que me encantó muchísimo y la Vi por primera vez en el canal lifetime fue la vida de Simone biles un caso de la vida real una gimnasta olímpica que entre altos y bajos logro varias medallas.

Peakd.com
This girl is the living example that if you can dream and go far she comes from a dysfunctional home drug addicts and alcoholics parents raised in orphanages countless emotional problems until her maternal grandfather decided to adopt her love this sport started at a very young age has an extensive career that began in 2011. 2011 she overcame a very difficult childhood her sporting abilities were discovered at the age of 6 years old where in a school outing the instructors noticed Simone's skills as she was doing pirouettes that other girls her age were not. When she returned home they sent a note to her parents suggesting that she be enrolled in gymnastics.
Está chica es el vivo ejemplo de que si se puede soñar y llegar lejos ella viene de un hogar disfuncional padres drogadictos y alcohólicos criada en orfanatos infinidad de problemas emocionales hasta que sus abuelo materno decide adoptarla su amor este deporte inicio desde muy pequeña posee una amplia trayectoria que inicio en el año 2011 logro superar una infancia muy difícil sus capacidades deportivas fueron descubiertas a los 6 años dónde en un salida de colegio los instructores notaron en Simone habilidades ya que hacía piruetas que otras niñas de su edad no cuando retorno a casa le enviaron una nota a los padres sugiriendo qua la inscribieron en gimnasia .
---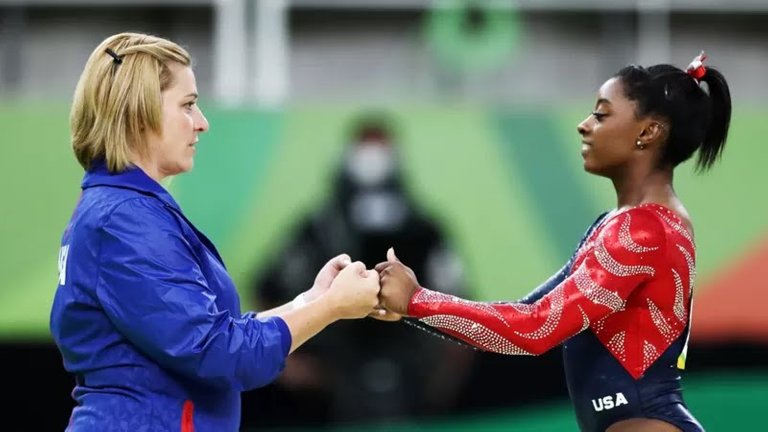 Fuente
---
At the age of 8 she was discovered by artistic gymnastics coach Aimee Borman who believed in her abilities and has been in charge of her training since 1996 to the present day. This film shows both the frustrations and the overcoming of this great gymnast dedicating her life to the sport, she not only had a complicated childhood but was also a victim of sexual abuse by the team doctor and it was not until 2018 that she decided to break the silence, however this event, although it affected her, did not bend her desire to be one of the best gymnasts of the Olympic Games.
A los 8 años fue fue descubierta por la entrenadora de gimnasia artística Aimee Borman que creyó en sus habilidades se ha encargado de sus entrenamientos desde el año 1996 hasta la actualidad está película mostro tanto las frustraciones como la superación de esta gran gimnasta dedicando su vida al deporte ella no solo tuvo una niñez complicada también fue víctima de abuso sexual por parte del médico del equipo no fue sino hasta el año 2018 que decidió romper el silencio sin embargo este evento a pesar que le afecto no doblegó sus ganas de ser una de las mejores gimnastas de los juegos olímpicos.

Peakd.con
This movie based on real events for me was very inspiring when I saw it I loved it despite all the adversities if you can fight and overcome fears and achieve success despite his small stature a person of color today Simone Biles is a great gymnast who achieved Olympic medals the self-improvement obtained through hard work and perseverance an example for all youth.
Está película basada en hechos reales para mí fue muy inspiradora cuando la ví me a encantó a pesar de todas las adversidades si se puede luchar y vencer los miedos y lograr el éxito a pesar de su pequeña estatura una persona de color hoy día Simone biles es una gran gimnasta que logro medallas olímpicas la superación personal que obtuvo a través de trabajo duro y constancia un ejemplo para toda la juventud.
---
📽️📽️📽️📽️📽️📽️📽️
📽️Thank you for visiting my publication📽️Gracias por visitar mi publicación 📽️
I would like to invite @elisa2021 @gabilan55 @nara61📽️Me gustaría invitar a @elisa2021 @gabilan55 @nara61
---
---