Basque sports exhibition [Spa][Eng] | My Actifit Report Card: March 3 2023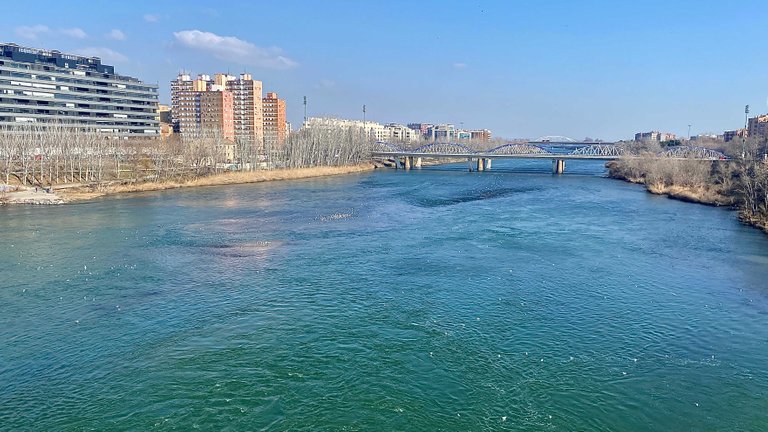 Durante esta semana aquel ánimo que sentí en días anteriores, debido al buen clima que había comenzado a hacer, comenzó a desvanecerse junto a esa media que intenté mantener de 15k pasos.
Condiciona mucho el ritmo de trabajo que lleve en el día, si logro mantener controlado los tiempos de descanso para no permanecer sentada demasiado tiempo, suelo estar más activa, pero los días en que se me pasa el tiempo concentrada en las tareas pendientes frente al ordenador, comienzo a notar el molesto dolor en la columna y solo pienso en acostarme un rato para que mi espalda descanse y no tenga que estar soportando ningún peso.
El remedio para estos dolores, además de no permanecer en la misma posición tanto tiempo, es el ejercicio, tengo que mantenerme activa, hacer mis estiramientos, mis pasos e ir al gimnasio cada vez que pueda. Lo tengo que escribir para recordarme a mí misma la importancia de mantener esa rutina y controlar la forma en que distribuyo mi tiempo en las horas de trabajo para que no me afecte tanto.
En otro orden de ideas, a pesar de haber sido un día sumamente frío, para mí 6°C es sumamente frio, el sol estuvo magnífico. No sentía para nada su radiación, pero la luz que irradiaba era perfecta para que el paisaje de los parques de la ciudad resultaran fáciles de apreciar y las fotografías quedaran preciosas sin tener que esforzarse mucho.
Haciendo la fotografía anterior, no solo quería retratar lo bonito que estaba el día, sino a un montón de gaviotas, creo que lo eran, que estaban posadas sobre el agua, eran muchísimas, si hacemos zoom a la imagen creo que pueden diferenciarse. No había visto tantas sobre el río Ebro antes, así que me pareció importante documentarlo.
This week the mood I felt in previous days, due to the good weather that had begun to do, started to fade along with that goal of 15k steps that I tried to maintain.

I am very affected by the pace of work I do during the day. If I manage to keep my resting times under control so as not to remain seated for too long, I tend to be more active, but on days when I spend my time focused on the pending tasks in front of the computer, I begin to notice the annoying pain in my spine and I only think about lying down for a while so that my back can rest and I don't have to bear any weight.

The remedy for these pains, besides not staying in the same position for so long, is exercise, I have to keep active, do my stretches, my steps and go to the gym whenever I can. I have to write it down to remind myself of the importance of maintaining that routine and to control the way I distribute my time during work hours so that it does not affect me so much.

On another note, even though it was an extremely cold day, for me 6°C is extremely cold, the sun was magnificent. I didn't feel its radiation at all, but the light it gave off was perfect to make the scenery of the city parks easy to appreciate and the pictures were beautiful without trying too hard.

Taking the above picture, I not only wanted to portray how beautiful the day was, but also a bunch of seagulls, I think they were, that were perched on the water, there were a lot of them, if we zoom the image I think they can be differentiated. I hadn't seen so many on the Ebro river before, so I thought it was important to document it.
Fitness tracking
Gimnasio en la mañana (-):
Morning gym (-):

Descanso



Rest day


Caminata por la tarde:
Afternoon walk:

10k pasos
16 plantas de escaleras



10k steps
16 flights of stairs


Costumbres mejorables
Habits for improvement

6/8 horas de sueño
1,5/3 litros de agua
16/16 h fst.

Aún no comienzo a meditar



6/8 hours of sleep
1.5/3 liters of water
16/16h fst.

Haven't started meditating yet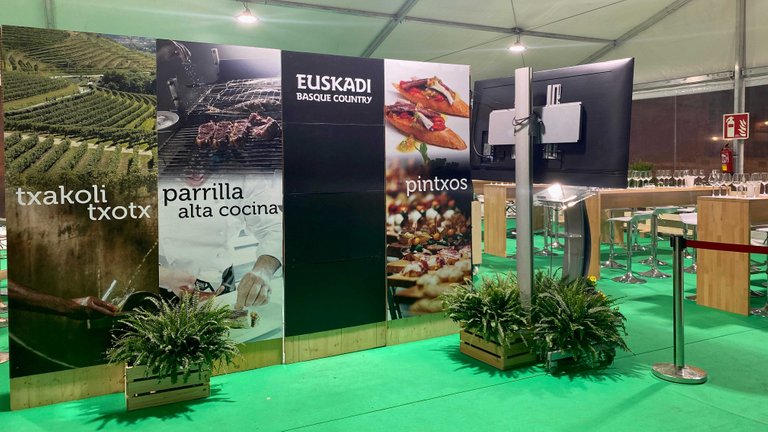 Al caer la tarde, cuando salí a despejar la vista de los ordenadores, me acerqué a la Plaza del Pilar y me encontré con una muestra de Destinos Euskadi, han habilitado una pequeña carpa en donde hay varias promotoras informando sobre los destinos y actividades turísticas que ofrece el Pais Vasco. También ofrecen algunas catas de vino y bebidas de la región.
Lo que realmente me gustó encontrarme fue con una muestra de las tradiciones deportivas de estas tierras, me encanta el ánimo deportivo que tienen los vascos y la fuerza que estos desarrollan con los juegos tan rudos que practican
Hacía mucho frío y sin embargo ahí estaban los levantadores piedras en ropas ligeras dando demostraciones de su fuerza. Un chico y una chica demostraban como maniobraban con piedras que pesaban entre 50 y 120 kilos, realmente una locura. Era imposible no sorprenderse con un deportista que subía un pesado saco con la fuerza de sus brazos y después se dejaba elevar por la caída del saco mientras sujetaba la cuerda. Temerario.
In the late afternoon, when I went out to rest my eyes from the computers, I went to Plaza del Pilar and I found a display of Destinos Euskadi, they have set up a small tent where there are several promoters informing about the destinations and tourist activities offered by the Basque Country. They also offer some wine and beverage tastings of the region.

What I really liked to find was a sample of the sporting traditions of these lands, I love the sporting spirit that the Basques have and the strength that they develop with the rough games they play.

It was very cold and yet there were the stone lifters in light clothes demonstrating their strength. A boy and a girl were showing how they maneuvered stones weighing between 50 and 120 kilos, really crazy. It was impossible not to be amazed by an athlete who lifted a heavy sack with the strength of his arms and then let himself be lifted by the fall of the sack while holding the rope. Reckless.


Pero creo que una de las demostraciones más conocidas y aplaudidas era la de los Aizkolaris, que es como se conocen a los cortadores de troncos, un deporte rural de su tierra en el que los competidores no solo deben contar con suficiente fuerza para mantener el ritmo durante el trabajo, sino que también deben tener mucha destreza y cuidado por el peligro que este conlleva.
Bueno la verdad es que todos esos deportes vascos parecen muy peligrosos, tengo entendido que hay muchos mas pero imagino que estos eran los más fáciles de exponer o quizá los más sorprendentes.
El cortador de troncos que logré ver en acción era el actual campeón, un joven de 26 años que se inició en este peligroso deporte a los 11 añitos según comentaba el animador del evento mientras preguntaba al público en cuanto tiempo creíamos que cortaría el grueso tronco. La apuesta más baja era de dos minutos y dijo que si el campeón lo hacía en menos tiempo le invitaría una cena bien caliente por el frio que estaba pasando.
El chico se ganó su cena sin problemas, porque al minuto con veinte segundos ya había terminado. Resoplaba del esfuerzo al final, aunque yo lo vi muy concentrado y tranquilo, golpeando con precisión, parecía que tenía muy bien calculado cada hachazo y lograba sacar cuñas triangulares bastante grandes sin gran dificultad.
But I think one of the best known and most applauded demonstrations was that of the Aizkolaris, which is how log cutters are known, a rural sport of their land in which competitors must not only have enough strength to keep up the pace during the work, but they must also have great skill and care because of the danger involved.

The truth is that all these Basque sports seem very dangerous, I know there are many more but I imagine that these were the easiest to expose or perhaps the most surprising.

The log cutter I managed to see in action was the current champion, a 26 year old young man who started in this dangerous sport at the age of 11 years old according to what the event's host said while asking the audience how long we thought he would cut the thick log. The lowest bid was two minutes and he said that if the champion did it in less time he would buy him a hot dinner because of the cold weather he was going through.

The guy won his dinner without any problems, because after one minute and twenty seconds he was done. He was snorting from the effort at the end, although I saw him very concentrated and calm, hitting with precision,he seemed to have very well calculated each axe stroke and managed to get quite large triangular wedges without great difficulty.
Un paseo muy divertido el de esta tarde. A pesar de no haber ido a entrenar en el gimnasio, ver a estos deportistas rurales me motivó bastante a cuidar de mi estado físico, ver a esa gente ahí que parecían tener superpoderes, sin importarles el frio y sonriendo tras lograr superar su reto es un gran aliciente.
Más aún cuando el animador comentaba que estos deportes, al no ser oficiales, les generan gastos a los deportistas que los practicarlos, no es algo en lo que suelan ganar dinero de forma recurrente o por lo que les paguen al entrenar, es una tradición local que deben organizar ellos mismos.
Creo que sería interesante asistir a alguna competición de estas en tierras vascas, tiene que ser espectacular ver en directo varias demostraciones juntas de este estilo. Además que seguramente está acompañado de buena comida y bebida.
A very fun walk this afternoon. Despite not having gone to train at the gym, seeing these rural athletes motivated me to take care of my physical condition, seeing those people there who seemed to have superpowers, regardless of the cold and smiling after overcoming their challenge is a great incentive.

Even more when the host mentioned that these sports, not being official, generate expenses to the athletes who practice them, it is not something in which they usually earn money on a recurring basis or for what they are paid to train, it is a local tradition that they must organize themselves.

I think it would be interesting to attend one of these competitions in the Basque Country, it must be spectacular to see live several demonstrations of this style together. Besides that it is surely accompanied by good food and drink.
---
Thanks for dropping by!

|

|



Animated GIFs: Bloggif
Referral Link: Join Actifit
Free Icons from: Iconfinder
Photo credits: All of the photos in this post were taken by me with my Iphone 11 and belong to me.





This report was published via Actifit app (Android | iOS). Check out the original version here on actifit.io




10162

---
---