(Evaluating Leeds' EPL crucial Performances). Leeds United Held Manchester United to a Draw at Home.
It's been beautiful experiences for both of the uniteds in the couple weeks and it's been more tough for Leeds having them play three big England teams and yet lost to none of them. They have Manchester City defeated at Etihad some weeks ago, followed by a home 1-1 draw against Liverpool and today another goalless draw against Manchester United. Many weeks before today, I had seen this Leeds late fixtures in the EPL and I personally had concluded that Leeds United won't be able to make up to three points against these three teams in combination but it happened they earned five cool points even with a great form of not loosing to anyone of them. Prior to the performances against big teams this season, I've come to believe that the teams could qualify for the UEL and even perform better in the UEL with few signings next season.
---
Before tonight's against United, I had evaluated their performances against the big sides of the League this season, their very first match this season which was Liverpool and they lost beautifully by scoring 3 goals and conceded 4 goals to Liverpool, they had Chelsea too and conceded 3 goals while they scored just 1 at Stamford Bridge, and they lost woefully to Manchester United by scoring just 2 goals to concede 6 goals. Their best results with the big 5 in the first round of the EPL came against Manchester City when they secured a goalless home draw, and the same thing got repeated against Arsenal when they were also about to secure another goalless home draw.
---
Their results against the big 5 in the first round of the EPL was quite understandable for a new squad in the EPL, but even as a fan of Manchester United, I still have this urge to always want to watch Leeds United play, why? For an average and new team in the EPL, they play matured football and the the normal traditional patterns we know well with the likes of Newcastle United, Crystal Palace WestHam, and Southampton. These teams unlike Leeds play against big teams with such respect and consciousness whereby, they just let the big side play and they defend and look forward for any available counter attack, for Leeds United, it's not so! Leeds United play with the sense that you can win them and they could win you, it's just about who uses the ball well enough. They hardly defend a goal or a point, they just play out to score more goals, though sometimes, it doesn't work for them well like it happened this season, but I believe it all happened like that due to the fact that they are new and don't understand the traditions with the other teams yet but currently, if one is to measure their level of growth, development, and understanding of the EPL, one could tag them the best average team of this season in the EPL. Yes, Westham had been quite wonderful and successful this season but then, they aren't new to the league of the tradition like Leeds are.
---
LEEDS BEST IMPRESSIONS!
I've talked about Leeds results with the big 5 earlier this season which was quite rough and untidy whereby they score 7 goals and conceded 14, but considering the returning legs, they took up Chelsea at Elland Road to secure for themselves a point in a goalless match. They had Arsenal and lost to them at The Emirates by 4 goals to 2. They have Manchester City at Etihad with them having man sent off in the first half of the game and yet won by 2 goals to 1. They hosted Liverpool at Elland Road just immediately after their beautiful experience with Manchester City at Etihad and they secured another goalless draw for them to savage a point. Just immediately after the draw much against Liverpool, they also hosted Manchester United tonight, and it turned out to be a United derby whereby no neither of the teams were able to secure a single goal, it was another goalless draw for them. Evaluating their returning legs results, they achieved massive 6 points against the big 5 and lost to only Arsenal. They scored 5 goals against 3 of the big 5 and conceded 6 against the same 3 of the 5, tough they conceded more goals but they earned more points then expected, the conceded less than they had in the first round. I've said so much this team already, I guess I just have to love them naturally, they play what I truly enjoy in football to a very large extent!
---
THE UNITED DERBY!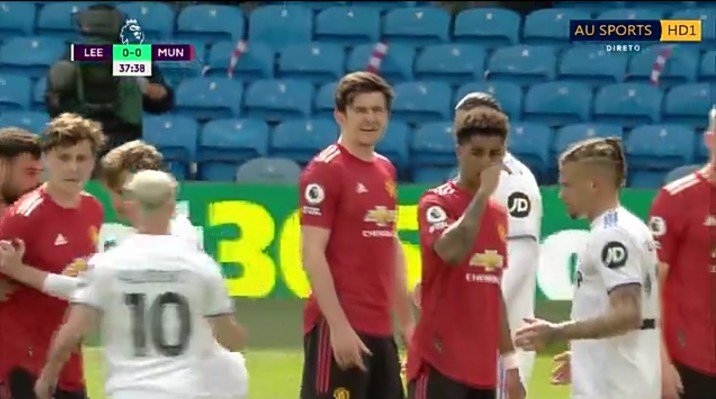 Even as a Fan of Manchester United, I knew it was going to be either a win for Leeds a draw considering their form and what they are actually looking forward to still achieve in the EPL which is a spot in the UEL but on the other hand for Manchester United, they had the best they could achieve in the EPL this season already, which is the second place. I just decided to see the match just for the love of good football, and I almost got pissed when I first saw United's line up but then, I realized Ole (Manchester United's Manager) was only trying to save more good legs for the UEL Semifinals.
---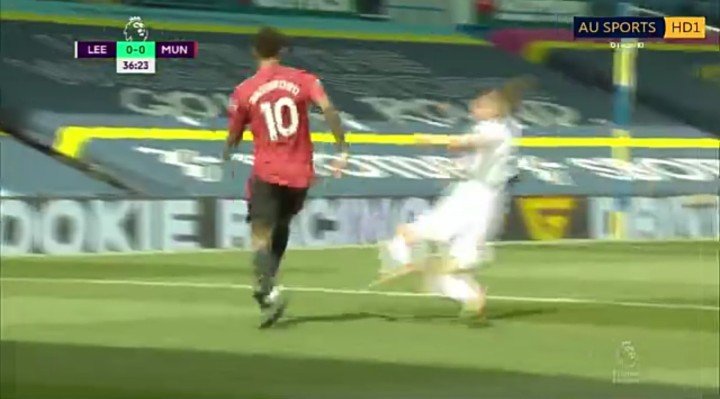 For the first time this season that I've been seeing Leeds match, I could say this was the first time I saw them played to absorb pressure instead of attacking for more goals. For Manchester United, I could say, it was more like having more or all focus on Rashford because more of the ball usage for Manchester United was on Rashford and Shaw's flank but for Leeds, they played tonight like having or earning a point is very much important to them than scoring more goals because, I believe if only they had played all out against Manchester tonight to score more and just more goals, fine they could get to concede goals but then, they could also win the game but that's also not so certain, and luckily for them, at the end of day, it seems like they eventually achieved what they truly came for!
---
All pictures are screenshots on my mobile phone.
---
Thanks for Reading!
---
---