Fantasy Premier League Storms Me With Premium Faults.
It's been a very long time since I last gave reports from my FPL results and performances. Though, I've been having a terrible experience with my favorite team's current state and form but then, my FPL activities had been going on all those weeks too but I wasn't really feeling the whole vibe I was catching from it.
It's been look but I would like to take a close look at my results and performances from the last two game weeks.
---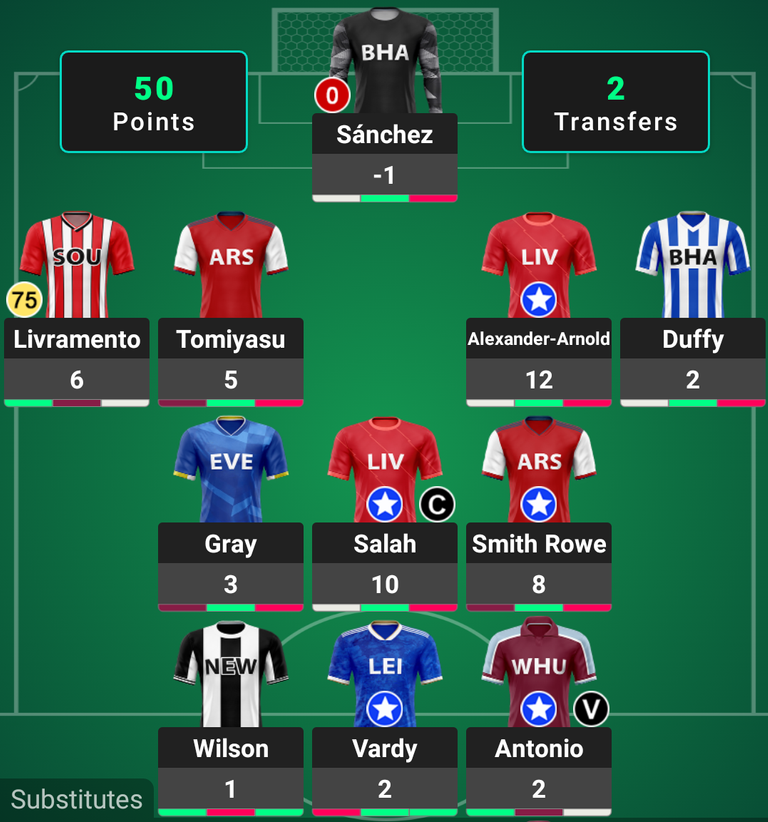 This is my results from the just concluded game week. I can't say much but I'm pained, I had it in mind somehow to make Arnold of Liverpool my captain but at the same time, I was quite convinced that Westham United would surely get a goal and that made me thought of having Salah who is likely to get involved in scoring as my captain and sincerely, he tried by supplying an assist in the match which led to Arnold's free kick goal against Westham.
Salah delivered, but I wanted more!
It was another painful thing to see my trusted Sanchez sent off the pitch with less than 3 mins to finish the match. Just the fact that the sending off was that late made it so painful and just that act made me lost 3 good points.
Aside from Sanchez picking up a red card, my defense line really impressed me and it's been like that for some couple of weeks now. My midfielders and strikers are not on the good tracks yet but my defenders are gradually bringing in the clean sheet points.
I might have to sell Sanchez and bring in Arsenal's goalkeeper (Ramsdale) he has been quite exceptional since he joined the Gunners.
For Livramento and Tomiyasu's playing time in Southampton and Arsenal respectively, I've been able to attain a strong trust in keeping both of them in my defense lines, and not until any of these two picks up an injury, I don't think they would be leaving till perhaps ending of the first half of the season.
Arnold is definitely a constant does, I'll always have him in there until I perceive Liverpool not being a league contender this season anymore. Duffy, though from a struggling team such as Brighton has been keeping me smiling from the comfort of clean sheet results this season but I really can't say how long he would still remain in my team for.
---
My midfield with last week's performance was just a little bit fair and not strong enough for me. Salah tired just has Gray and Smith but I felt I should have earned at least 30 points from my midfield considering the fixtures for that game week and the fact that my captaincy band domiciles there.
---
Take a good look at my frontline and tell my you don't trust these guys! I just couldn't fathom how it came about that not even one of them was able to score a goal last weekend. It can be bad but not these bad! They all had fixtures that could earned them goals but it's funny how this kind of result isn't a surprise in football.
---

I took a look at my bench and I'm like, there's actually nothing to be worried about or to regret here. If Sanchez never took the red card, he would have scored at least 2 points just like Martinez did.
I wasn't expecting Greenwood to feature for Manchester United last weekend at all not even as a starter but with the current problem with the club's manager, he's a gambler and I'm not so surprised to see him gamble in every match.
Even Cresswell and Dallas didn't deliver much just like I expected. I knew none of them would survive the weekend's fixtures with a clean sheet and my predictions came through. It's been a while I scored huge points as I'd been missing out on picking the right captain but I'm sure and convinced that the turn would be massive and beautiful from now!
---
All pictures are screenshots from my FPL application.
---
---
THANKS FOR READING MY SPORT BLOG!
---
---