FPL - My Preparations for Game week 12.
My FPL experience so far this season has been very terrible. In the past 11 matches, I've made a score above 70 points just once which was the first game week and after that, I think I've made it above 60 points just twice and that's quite terrible knowing the FPL cup would be starting in no time.
I've been struggling since the beginning of the season with who was going to hold my captain bad and I realized I did myself some harm by trusting the likes of Bruno, Kane, and Vardy who aren't in great form yet and neglecting Salah who should have been helping me earn so much points as a captain.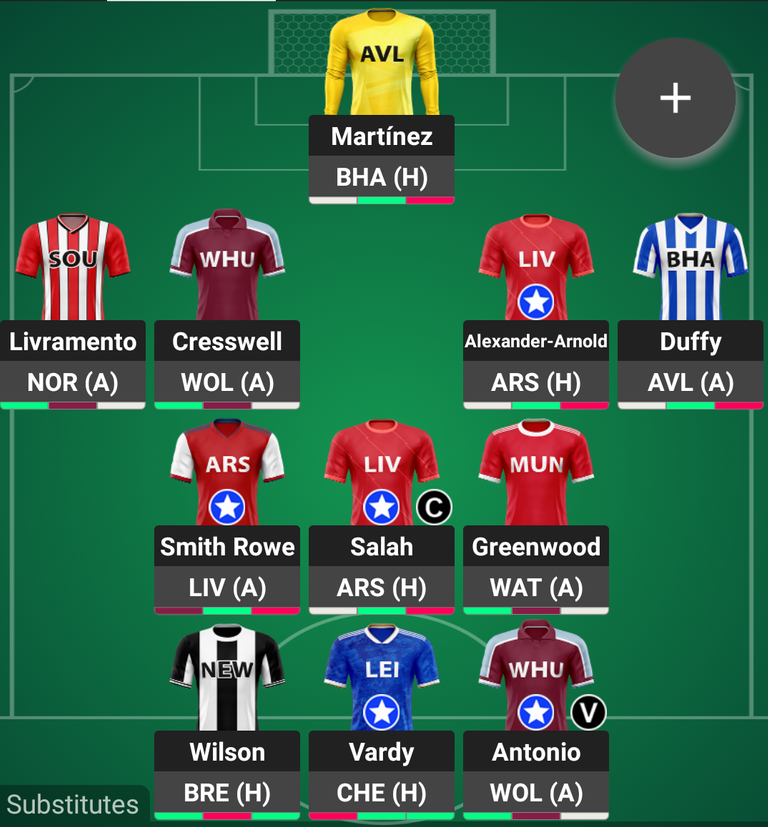 This is my team for this weekend but then, I'm having an issue again with trusting Salah with my captain band considering that he'll be facing Arsenal. Arsenal has been on a great bounce back record recently and for me, it makes it tougher to think Liverpool would be able to take them down easily this weekend. I really don't trust Arsenal though but football can be full of surprises sometimes.
I've read some comments and suggestions that Cristiano Ronaldo would be the best option for a captain this weekend know that he would be starting for United over the weekend against Watford FC. That sounds like an easy fixtures for United but trusting Ronaldo to be the deliverer for the team is something I am not sure about.
It's definitely going to be not a regular match for Salah against Arsenal but at least, I am sure that he'll be the one taking it if peradventure Liverpool gets to win a penalty but for Cristiano, I can't really say. Even as a United fan, I can't say I know who would take on the penalty kick if any gets awarded to United this weekend.
---
Aston Villa VS Brighton, I am personally trying to seeing the match end in a goalless draw and than helped me to keep Martinez of Aston Villa as my goalkeeper for the weekend and Duffy of Brighton as one of the defenders for the weekend.
I feel very much confident in my defense for this weekend's fixtures. Considering the fixtures, Livramento, Cresswell, and Arnold are all open to contributing to goals, though I do not see much of the clean sheet points coming in this weekend but goal contributions should make my points count high enough I guess.
I've got three stars in my midfield but I'm still very much scared. Firstly, I don't know if United would eventually start Greenwood this weekend, and as for Smith, he's been great this couple of weeks but this weekend, he's facing a strong side (Liverpool) and I can't trust him to deliver just so much has he's been doing. As for Salah, the only strong hope I am having in him now is that fact that he's never found it so hard to get a goal against Arsenal and if any penalty kick goes up, it is definitely going down to him!
---
From my three strikers, there are lots of potentials but less promises due to the fixtures. I can't really trust any of them to be a goal scorer this weekend but it is very much possible. Antonio has been one of a beast so far in this season and......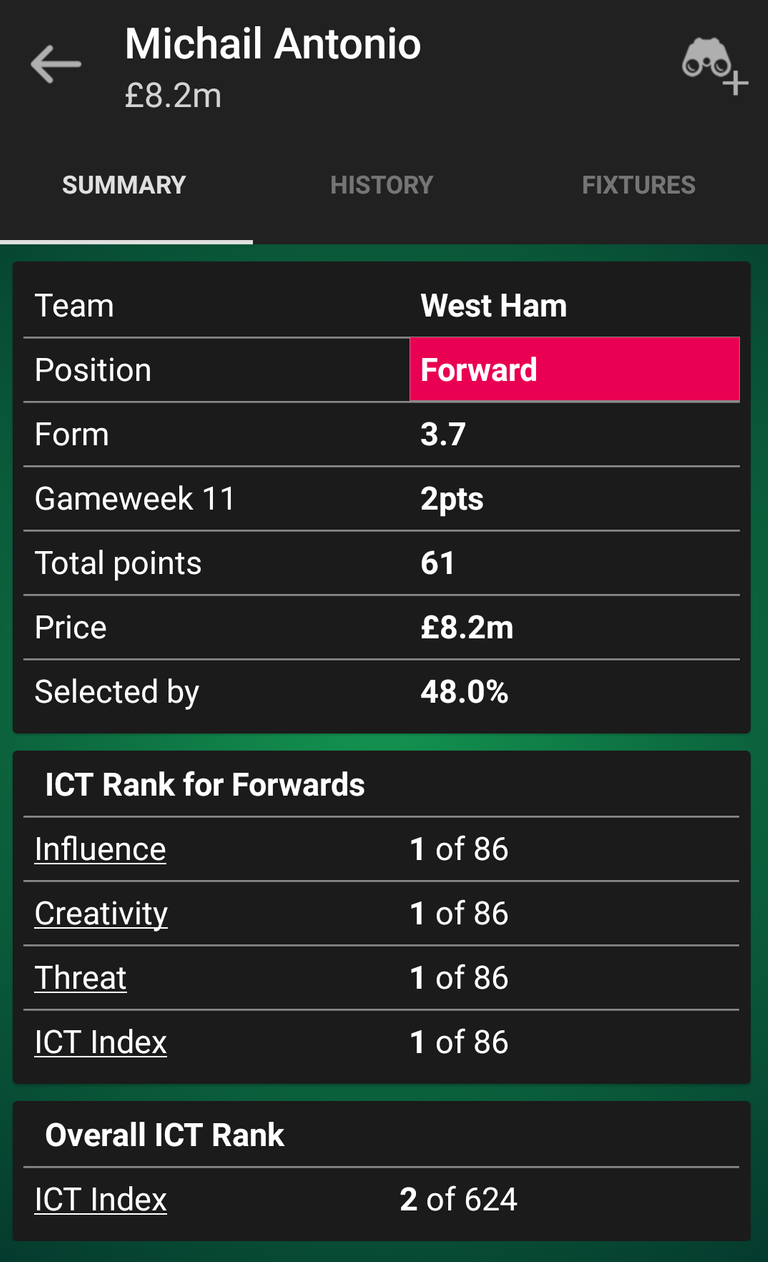 Looking at his form and ranking, I don't just find it easy to do away with him. I watched his game against Liverpool two weeks ago, he didn't get a goal but then, he never stopped having Liverpool see him as a great threat, and that's a huge potential for a striker in the EPL!
Wilson had seen so much red sides this season due to injuries but whenever I think of an anytime scorer, his name finds it easy to creep into my head and that's because he's always open to goal contributions in any kind of match. More reasons why I have him around till date.
Vardy? I am sincerely yet to be convinced this season. It even seems like Iheanacho and Daka are even more promising this season but just like I said about Wilson, Vardy is a very big anytime scorer too.
---
Let's just wait to see the games this weekend!
---
all pictures are screenshots from my FPL application.
---
---
THANKS FOR READING MY SPORT BLOG!
---
---