My FPL Flexibilities for Game Week 5.
The EPL is currently a massive war zone, the Giants of the league are subsequently finding it difficult to stand firm like they use to in the previous season, and that's simply because even the underdogs spent quite some amounts to secure some sort of quality players into their teams too.
The money spent on players by EPL teams so far this season is really massive and it's not just the big teams but almost all the teams in the league and now it kinds of makes the league even more difficult and interesting.
---
So far this season, my FPL experiences has been bitter sweet but then, Game Week 5 was quite a tough week too until the hat trick from Haaland decided to set all records straight and interesting for me.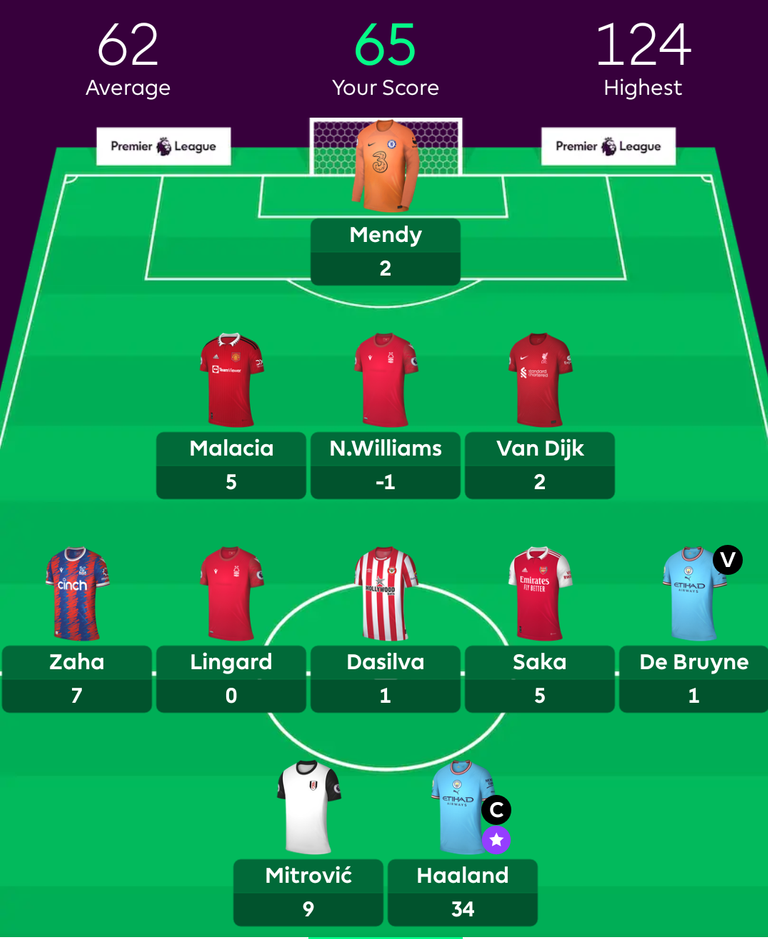 Starting the report of my feelings about the performances of my defenders; I wasn't and not yet expecting so much from Mendy of Chelsea yet and I am also not ready nor willing to make any changes in my goal post yet.
The Chelsea team as a whole isn't so healthy for the season yet but Mendy is one of the few goal keepers I do trust to make at least three saves in a match especially when the match seems to be going not in favour of Chelsea.
So, I still stand by my decision to keep Mendy in my team for now till there's an actual need to replace him.
---
The clean sheet against Southampton by United made Malacia possess 6 points but he had a yellow card and that's a minus one. Aside from Malacia, other defenders really had tough times and I am beginning to think that I might have to take Neco Williams of my team but I'm not sure I would be ale go get a starter into my squad considerably his market value.
Liverpool as a team isn't stable yet and much isn't coming from their defenders at all but I trust the team to pick up in no time and that was the main reason I decided to keep Salah off my team for now until Liverpool seems to be more stable in the league.
---
My midfield for game Week five was actually terrible. Pep has made it quite difficult to pick some certain players from Manchester City because we're yet to know who Pep's actual starters for the season are but then, I am sure KDB is eventually going to earn his full spot in the team again and for that conviction's sake, I'll still be keeping him in my team.
Zaha seems to be a fine investment in the FPL for now and I am not hoping or planning to lose him anytime soon. Saka is also a great investment for the season too.
Lingard is yet to find his stand in the N'forrest team and I think I am still willing to give him sometime to have a bounce back. Dasilva for me is just one of those bench investments but the lad is not so far from delivering surprises sometimes.
---
God Bless Haaland!
Haaland is definitely going to be the EPL's golden boy for this season and perhaps the golden Boot winner if he doesn't sustain any serious injury on the long run.
He has made it so easy for me to pick him as my captain in the recent weeks and with the performances of the likes of him, Jesus of Arsenal, Kane of Tottenham, and Nunez of Liverpool, I think unlike the previous seasons it would be difficult for a midfielder to dominate the FPL like KDB, Salah, and Bruno did in the past.
---

I've got absolutely nothing to say about my bench for now and I think I still have some valuable investments there for now and I'll just stick to them for now.
---
I am still fine with my FPL for now, let's see how and where it keeps going from here!
---
All images are snapshots from my Fantasy Premier League Mobile Application.
---
THANKS FOR READING MY SPORT REPORT.
---
---