My FPL Team, Results and Thoughts for Game Week 32!
I've been having so many terrible results for the past couple of weeks as far as my FPL team and EPL is concern. I've been making so predictions and decisions that often time ends up being the bad ones.
---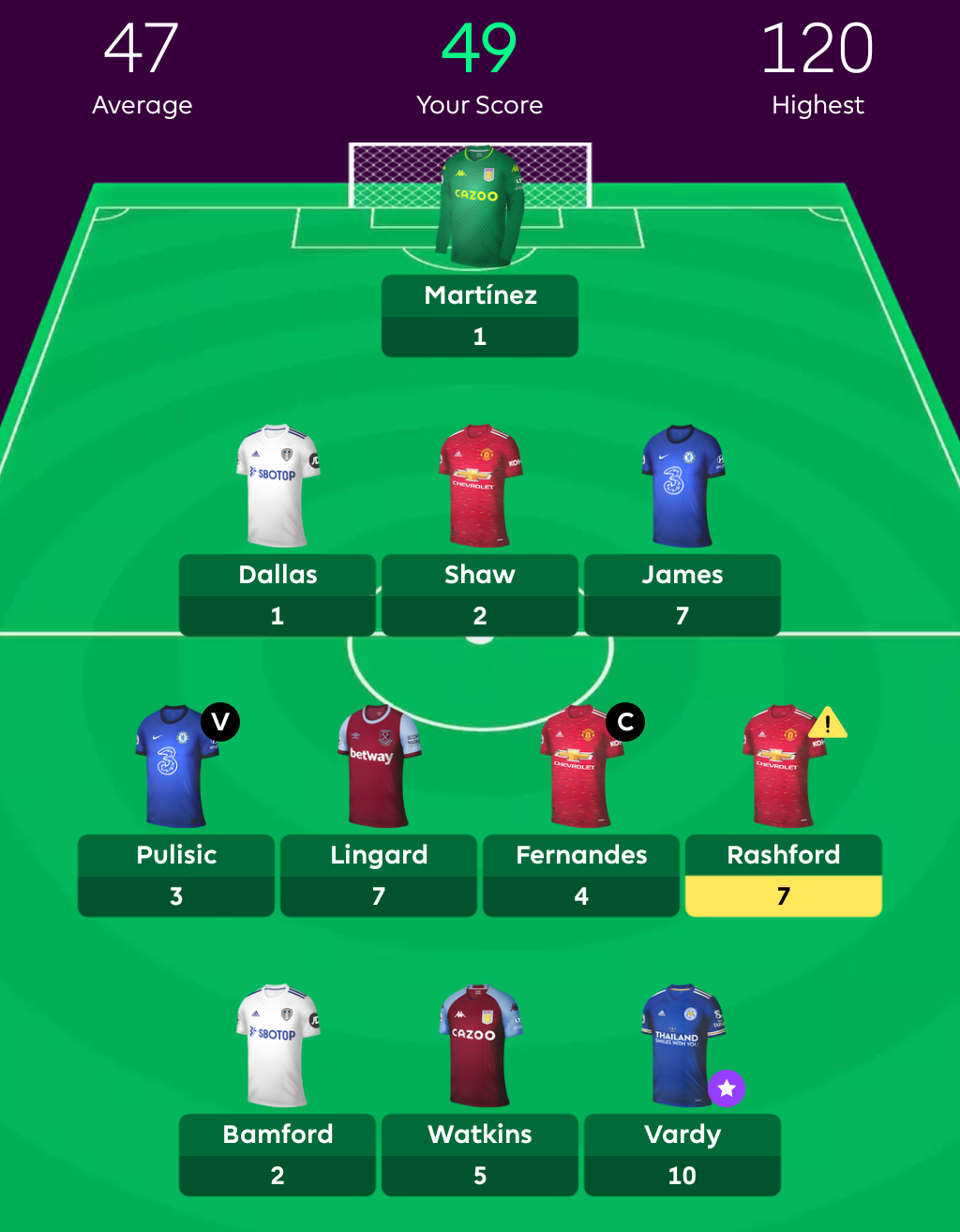 Like I say earlier, it's been a tough couple of weeks for me with my FPL squad and this previous game week with the results above seems quite fair, at least I was able to beat the average score of 47 by just two points. That was quite a relief after many weeks of bad hopes and results. Well, in my squad/team for the previous game Week 32, I made some little changes that actually brought about some good hopes for me in the FPL.
---
I brought in three new legs and they all performed above average, and I only regret not having one out of them as my captain for the recent but past game Week. I had Vardy, Lingard, and Pulisic all new into my squad last weekend and they all scored above 3 points which is the average score for a player in the FPL. It would have been quite a better result for me if only I had Vardy as my captain last weekend and it could have been fair also if I had considered Lingard too but then, it's been a beautiful mistake for the past few weeks that I just left my captain band with Bruno Fernandes, I guess I've been quite sentimental with that considering that fact that I am a Manchester United fan.
---
Starting from my goal post, I never expected much from Martinez due to that fact that his team was to take on the Mighty Manchester City in their past fixtures, I only had him in my squad hoping that he would make much saves against City but then, it never happened!
My defense line was just so disappointing, only James saved me with a clean sheet score which his team Chelsea had against Brighton in their past fixtures.
---
What a painful irony! In my midfield, only my captain performed or scored the least point, even my vice captain also had low score too but I sincerely never hoped to have much from Lingard maybe I did with Rashford but I wasn't sure then he was going to start the match for Manchester United against Burnley.
---
My front line which hasn't been the best yet but fair when I finally decided to bring in Vardy who made it more beautiful in the previous fixtures by scoring a goal and making an assist for Leicester City against West Brom. Watkins also was able to secure an assist but the then, Bamford was just a performer!
---

My Bench too last weekend was as good as not not needed due to the fact that both Cresswell and Raphinha weren't available to play their matches due to injuries, and Van Aanholt had his team Crystal Palace with no fixture for last week.
---
All pictures are screenshots on my mobile phone.
---
Thanks for Reading!
---
---