Why Didn't I Play My Wildcard? 😭
The case with match postponement in the EPL has affected quite a lot; from businesses even down to fun.
---
I actually got the alert that these matches were going to be postponed and for some reasons that I can't explain nor express now, I refused to work on my FPL squad and now I've been terribly affected.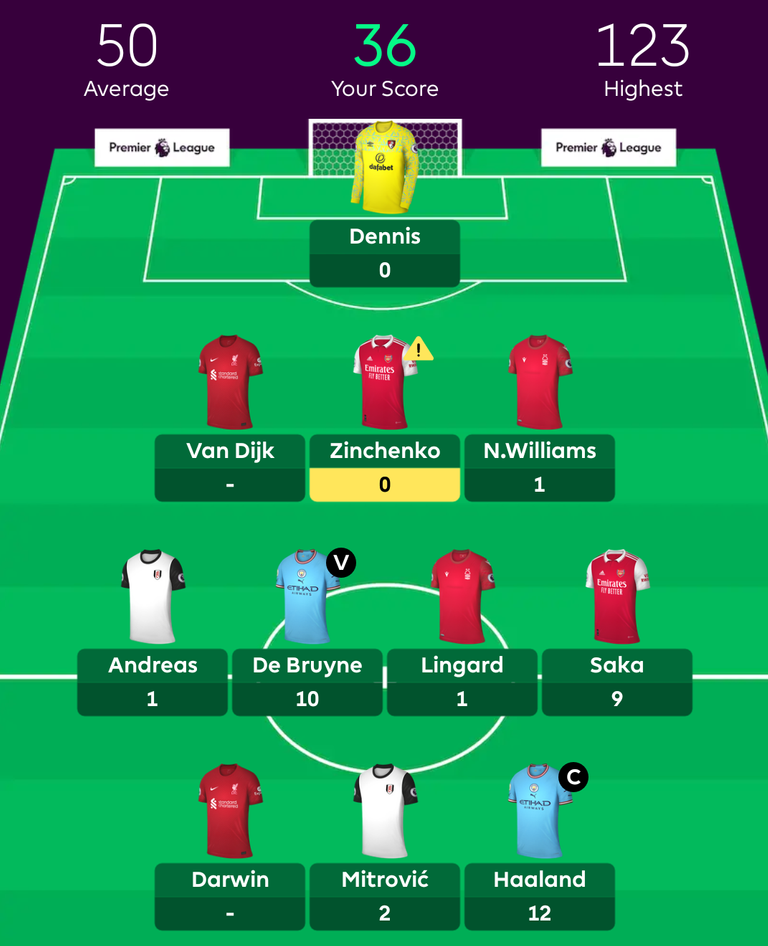 I think it was basically because I had Haaland and KDB playing still that was why I wasn't really moved to play my Wildcard but now I'm so pained.
Perhaps if i had captained KDB, I could have earned a little bit more but I actually trusted Haaland more. Saka also tried well to provide me with 9 solid points.
I eventually had 4 different positions blank and more of my starting players on the bench due to my carefree attitude.

Imagine, all players on my bench are actually on my starting team before the postponement. And I'm sure I would earn pretty more points if only all the matches were all available during the weekend.
My only hope now is that I get to earn much more when these teams are eventually going to play their outstanding matches in double game weeks.
---
Evaluating my team now and I think I need to let go of some players and then bring in some fresh legs. The major reason why I haven't made these necessary changes I just because I am waiting for Potter to settle in well in Chelsea;
I want to know if it would still be a nice decision to keep both James and Mendy in my starting team. I think after I've been able to confirm that then it would be much more easier for me to make my decisions on whoever is staying or leaving my starting team.
Aside from the Chelsea boys I've got, I am also considering the situation surrounding Darwin Nunez, I personally do expect much more from him this season.
Based on my beliefs and analysis, at the end of the season, I expect three strikers to top the scorer list and they are: Haaland, Nunez and Jesus.
At the moment, Haaland and Jesus are doing quite convincing but Nunez has not really been able to pin down my trust yet but then I still believe the season is still long and there's more to be seen.
---
Even as a United fan, do you observe how free my team is from United players? I actually use to have both Bruno and Sancho when the season had just started but I couldn't help it after the first two losses and I sold them out.
now I am considering brining in either Sancho or Antony but for now I would still be observing them both to figure out which one would actually be the better investment.
---
All images are snapshots from my FPL mobile application.
---
THANKS FOR READING.
---
---