Al-Naser followers grow massively after the big news.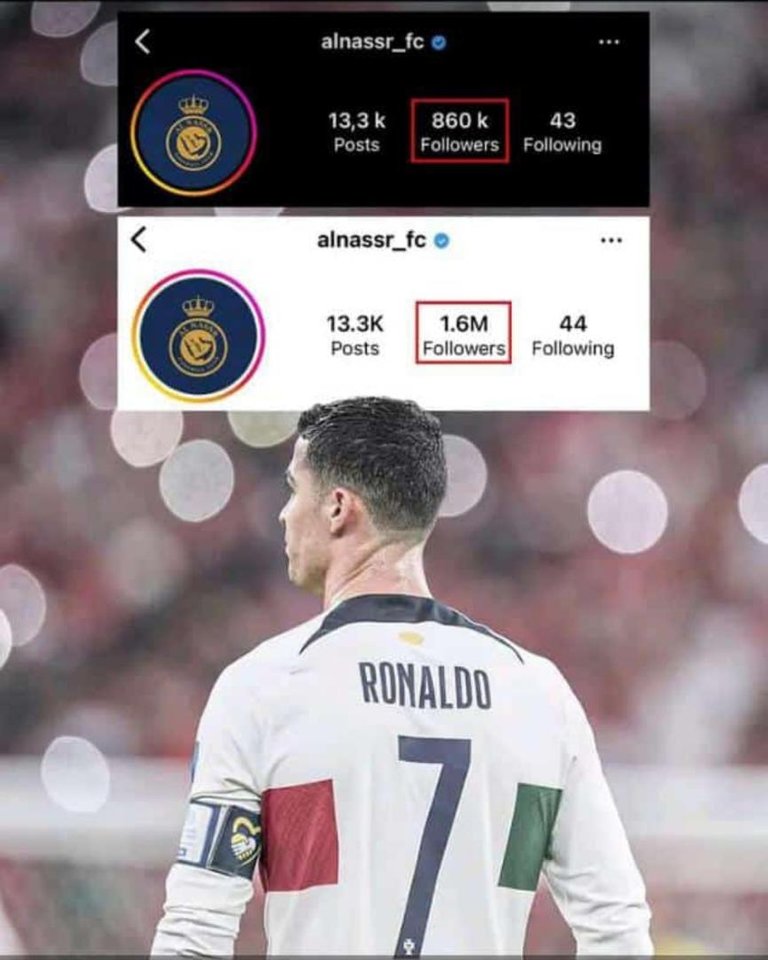 good day, guys happy holidays, all the rumors have now been cleared up it was rumored that Christiano Ronaldo was gonna be in a new contract with the Saudi Arabian league so many saw the news as false some waited to hear from the team while some prayed it never happened. we got the news so suddenly no one expected that huge move from the superstar but they are always time for a change in everyone's life maybe it was his turn to make a change.
Messi fans and other fans have made fun of the transfer they have said all sorts of things just to make it look bad or make me feel sad but I made it known to them that I will always support the decision of my GOAT because I know he is a wise man and will not make a hasty decision, I respect him and his decision. one of my friends was laughing about how I will start watching him on StarTimes cable network lol as if I care what cable he would be watched.
anyways he is already a player in the club and we can't do a thing about it. he has promised to take the clip to the winning level and that he can do it while active. well another question I ask myself is won't the coach over there make him sit on the bench? like other coaches he worked with do well I can't say much rather I will observe. would he be ending his career with the Al-Naser club? or he has another club in mind after his two years contract with the Saudi club? Ronaldo without a doubt will be the highest-paid player he will be more wealthy I think he is laying a foundation for his family he is working now so his family never suffers even after his retirement.
I wish him all the best in his new team he should go ahead and blow the minds of fans as he always does. another thing that got me was the way fans rushed to the Twitter page of Al-Naser club if you look at the image I used you can see the tremendous growth of the club's followers before and after signing Cristiano Ronaldo. that man is indeed an influence, Al-Naser will now be watched by many around the globe even me, in fact, I never know such a team exists if not for Ronaldo I am partially an Al-Naser fan thanks to Ronaldo with his influence he has made the club and teams in the Saudi league popular. But they are a little clause in Ronaldo's contract with the Al-Naser club. If Newcastle united qualifies for the champions league Ronaldo can also go on a loan to Newcastle united, they are also owned by Saudi Arabia.
Happy new year to you my friend, I welcome you into the new year. I am glad you and I made it through stay safe you are special to me.
---
---