EURO 2020/ DONE DEAL ✅ ITALOO MADE IT THROUGH 💃💃❤️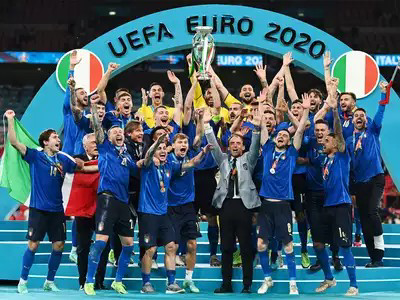 source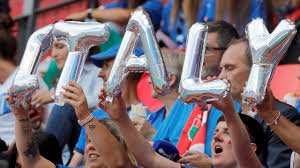 source
Good morning guys, finally the long awaited final of the Euro 2020 has come to an end, but before I say anything else, hope you all are doing great? Me am just fine over here.
Went to church yesterday came back and it would not have been possible, but because I serve a living God he made that come to pass,one teaching I got yesterday form church was the importance of PRAYERS. please guys learn how to pray, it is through prayers we communicate with God almighty.
Who knows maybe England players where all physically prepared but maybe before going they didn't spend time to ask God to see them through to the end and make them victorious😂 well I wouldn't know or maybe it was already decided by God😃.
Hey!! No doubt those guys were all good I mean they performed very well. I see my guy Kane, luke, Maguire, rashford... And the rest I couldn't mention they all did their best. Just as the saying goes in my place an elder will say body no be fire wood 😅 it is the same as to say the body needs rest it's not too strong compered to fire woods.
They played at the beginning it was as if the trophy will go to England, but in the second half of the game the table immediately turned, with an equalizing goal from italy. Even after this I thought the ball is now how it should be that maybe England will step up a little and keep the goals coming, unfortunately my guess was wrong.😰
Because italians side became even stronger, England tried all their possible beat to break in, they missed a lot of chances too. Italian players vowed never to receive an equalizing goal from England side. And the battle was up till the last and final whistle from the referee.
It ended 1-1, but as it should be they must be a winner so they went on to penalty kick. Which was another thing else, I was shocked at the performance of some star players. Two great teams, and although it is always a pain when games go to penalties, tonight's was a world-class show.
Something shocked me, and what shocked me was the way England keeper risked his life to put them through, but still they missused that opportunity. How can Rashford miss penalty? I thought he changed 🤔 but no. Was it over confidence or nervousness that pushed him?🤔😁.
There in the match you will find some world class players who disappear in the final and then you have chiesa and neymar what a player chiesa single handedly brought back Italy in the game and if he was not injured by kalvin philips' tackle I believe they would have won the match much earlier. Well done Italy 🇮🇹 👏 even though im born and bread Englishman i totally thought every game you played was unreal and my dear England boys made me proud either way 👏 enjoy celebrating, I celebrate with you guys 💃💃 Gracias amigos 🙏
Now am waiting patiently for the premier league games to start. Let's see great performance from different teams😁😎
---
---