Morgan freeman's opening speech worth $1billion.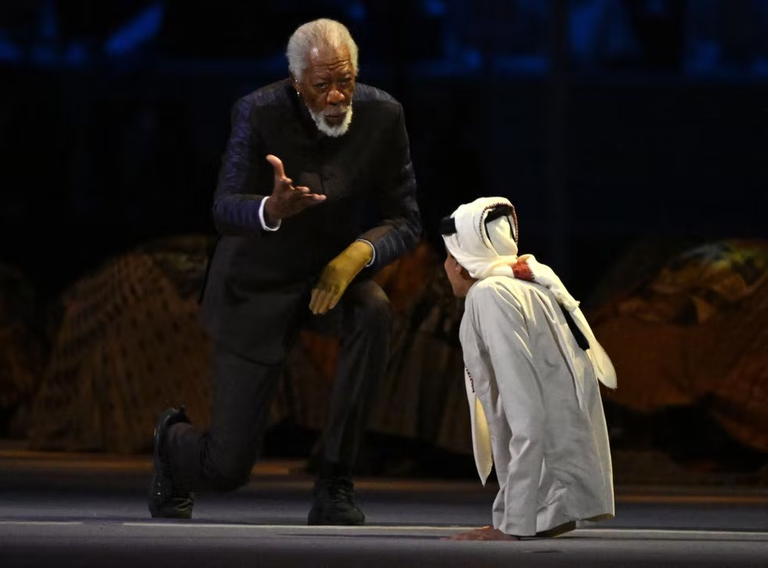 source
Good morning football fans, the world cup opening speech by Morgan Freeman and Ai Muftah was top-notch, I enjoyed every bit of it. We all know Morgan Freeman the 85 years old superstar-born Liberian American actor. Somewhere concentrating on his left hand on why he had the gloves on not even listening to his speech, they end up criticizing him rather than listening to that wonderful opening speech.
I was curious as to how Ai Muftah was so short that Morgan have to go down to reach him. From my find outs, I discovered he was born with caudal regression syndrome, am happy how he survived up till this day being born like that. You might wonder why I had said his or Her speech was worth billions of dollars.
They stood out to the entire world and spoke firmly on what we all need right now "peace tolerance and togetherness" these are what we need and should be talking about in times like this, where hatred and jealousy are almost taking over the world and making it unbearable for people to live. Speech like this is what we need to hear and after hearing we act upon it not criticizing.
Now I wonder why they are controversial as Qatar was chosen to host the world cup, thus it matters who or where the world cup competitions are taking place. Nations must agree to the decisions of the FIFA government and not be angry. I hear people say they should have given the world cup host to this and that nation. What is so special about that nation? This is what we should stop doing. Not create unessarray problems.
God bless whoever brought the idea of the world cup competitions, this competition is one of its kind. That unites people from all races together and in unity, how I wish the world cup competitions are held more often. Even someone close to me that I know never liked watching football or was even Interested in watching was all of a sudden interested and was curious to know the score between Argentina and Saudi Arabia yesterday I was shocked. That is the power of world football that everyone loves.
How I wish the world will be united not only in world cup competitions like this but even after the competitions. And how I wish that after this competition countries with rumors against one another will embrace peace and unity. How I wish we all will not discriminate against who is black or white but love and embrace everyone in peace. How I wish those nations that have started nursing war against another nation will embrace peace and also stop all acts of war.
The world will be a better place to live in if we embrace peace, even here in Nigeria those terrorists that are terrorizing our villages and towns are going in to watch the world cup games. They drop their weapons at home and come out to involve in the game that's the love am talking about how I wish it will continue even after the competitions.
Those words from Morgan Freeman are priceless even though $1b won't buy them🤣🤣 seriously, that's why I call his speech a billion-dollar speech how I wish everyone cared to listen rather than look at the dress he wore or how wrinkled his face is. He said it all, I kept his speech on replay and ponder over it.

source
I just watched Spain vs Costa Rica, what the hell was that? I mean why was Spain so cruel why must they disgrace a nation like that in public don't they have hearts? They kept scoring and scoring without pity. The score is 7:0 Spain squad is not in Qatar for jokes they mean business, it seems they are the most serious set of teams present in Qatar. Please they should take it slow🤣.
Thanks for reading through you are special.
---
---