Morocco have, and is making Africa proud.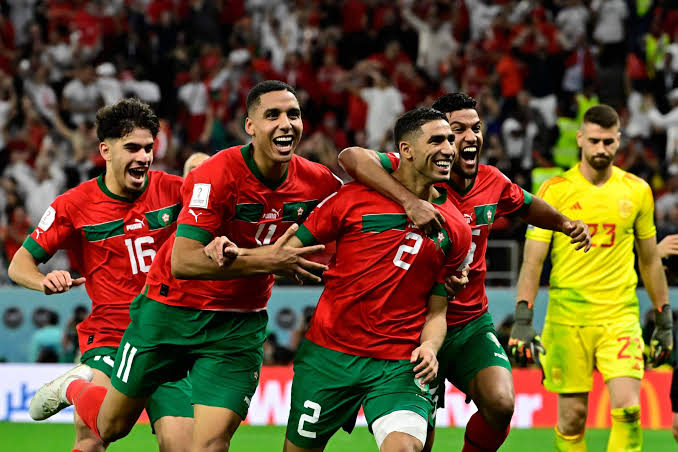 source
Good afternoon friends after watching yesterday's world cup match between Morocco and Spain. my spirit was lifted that Africa has hope In this world cup competition all our representative countries were sent home except Morocco. I refused to watch the match because I was very certain Spain will send Morocco back to Africa.
but it was a big shocker for everyone. they played with all Their strength and achieve success, who would have thought any African country would have made it this far? Spain has always been a big name when it comes to world cup competitions who would have thought one small African country would be the one to send them home?
to tell you how hard it was for Spain to win in the first or second half till it got to the penalty and even during the penalty they couldn't get a goal. I would say this is pressure and tension at its peak. because why the hell did Spain's team lose penalty kicks not even once time, after practicing 1000 penalty kicks when the time come for them to put what they have practiced into action it was difficult as if they did not know what was going on at that time. it's a big shocker and a lesson for the other big guys not to underestimate these small countries with little or no history.
Seeing how African countries support Morocco, that alone is a booster for them they have struggled so much to get to where they are today so they must achieve something big I wholeheartedly support them. Thier keeper has been a best choice so far he is damn good I pray he stays healthy and fit till the end.
next will be the turn of Portugal another strong team Morocco is ready to bring down and send them home. see, for me, the only reason why Morocco has been able to come this far is because of the unity, love, and charisma they have. I have watched some of Their games and I saw the love from fans in the stadium that alone is enough to boost their inner strength. from day one they were focused on the game instead of politics, they put their focus on the game.
Portugal destroyed Switzerland last night 6 goals to 1 the goals keep coming they enjoyed themself to the fullest 🤣🤣 Saturday we gonna know who is who I know Morocco can face Portugal with ease. I wish them luck, I have a very strong positive spirit about the winner of this world cup competition but I will keep it to myself for now. or what do you think is there already a winner?
---
---