MUFC transfer update! All you should know.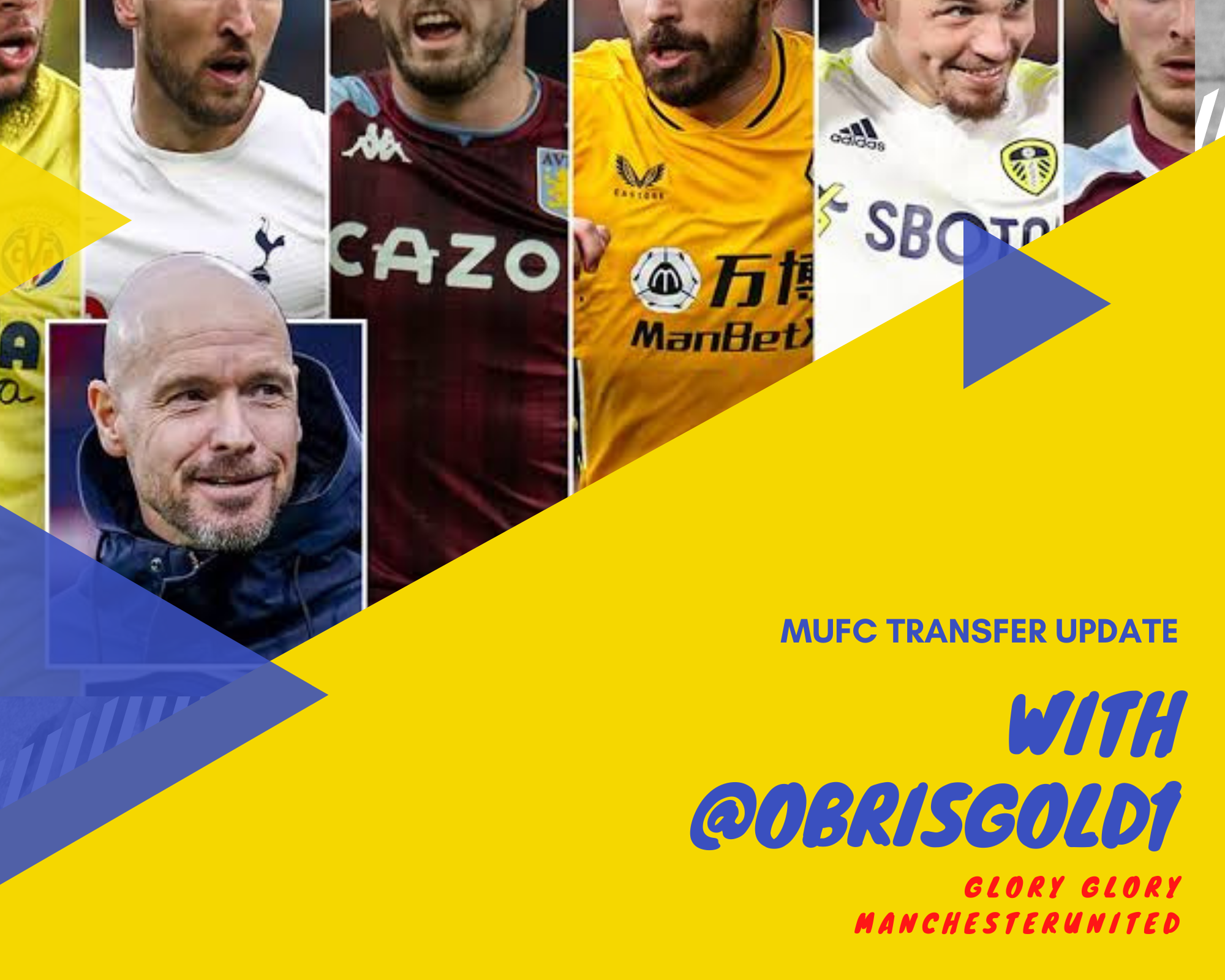 We all know the new face manchester united are in, they are now undergoing serious rebuild of all weak pillars and replacing new strong pillars to all angles. well just stay tuned and read down you will see all what I have to say in this post.
New MUFC coach Mr Erik Ten Hag is making sure to put everything in place before the friendly game he have with liverpool and other clubs. Erik ten Hag is interested in "more bad technical, aggressive, quick-thinking players" that have a very "deep responsibility to work without the ball and for each other.
Manchester united now believe Erik ten Hag's continental exploits with former team Ajax, and his ability to improve players will definitely prove attractive enough for all their targeted players.
Just so you know another important element that is being sold to potential recruits by mufc is the opportunity to "re-write a new Manchester United story." Of course who wouldn't want to be involved in something new and promising. Manchester united should stop chasing players who play hard to get, such as de Jong. so i pray, manchester united should please speed transfers up like Liverpool and man city, this slow negotiation is killing the reputation of this great club ...
Come to think of it after Barcelona were eliminated from the Champions League before, tell me what games did the following teams play? I sincerely think Manchester United shouldn't lick their face to sign a player who feels so good about himself! That is being proud.
It is made known that Crystal Palace have great interest in bringing Aaron Wan-Bissaka back but on loan, any move is dependent on manchester united sanctioning his departure, and allowing it to be temporary. A permanent return to manchester united at this stage is really not possible.
Erik ten Hag told mufc to really make the signing of Jurrien Timber and Darwin Nunez a priority. However he has spent his first few days at Old Trafford drawing up a list of potential targets after speaking with great administrative personnel, John Murtough, Darren Fletcher and Ralf Rangnick.
I feel really surprised Me Erik ten Hag wants to make six important signings this summer am glad he understands that his wishes hinge on him being able to shift unwanted players out of the bloated squad he has inherited to raise cash.
He is also targeting two new full-backs, a midfielder and another forward. he accepts that moving for Timber and Nunez will come at the cost of most of his transfer budget. Erik ten Hag has already successfully managed to make an impression at mufc. His early start to the job has set the standard and has been well received by people in the club. It's seen as a strong message that people must work hard and not least together.
Manchester united are prioritising two central midfield additions, Erik ten Hag wants to sort it first before moving onto other positions. Which I know Attack is next on the list, also talks on centre-back targets are only expected to progress once other positions have been sorted.
As Erik ten Hag pressed further for mufc to explore signing Frenkie de Jong. A move for N'Golo Kante is also being considered I don't know how accurate this news is but it will be awesome if it is successful. he's expected to be made available for a reduced price. Edson Alvarez is another player rated highly by the United manager.
Serious Talks have taken place over Nunez, Mendes has told Benfica he can get them at €80m, but manchester united are willing to wait rather than be pressed into paying the initial demand. Which I think shouldn't be because time is not friendly at all. United might make an approach for Nkunku if RB Leipzig soften their stance on not selling him. Erik Tan Hag has been turning the transfer tables lately hopefully he get what he wants.
Thanks for reading through my blog post please feel free to drop your comments on this matter in the comments section of the post I sincerely appreciate for visiting my blog.🙏
The image used was designed by me on canvas.
---
---