Super Eagles most brilliant win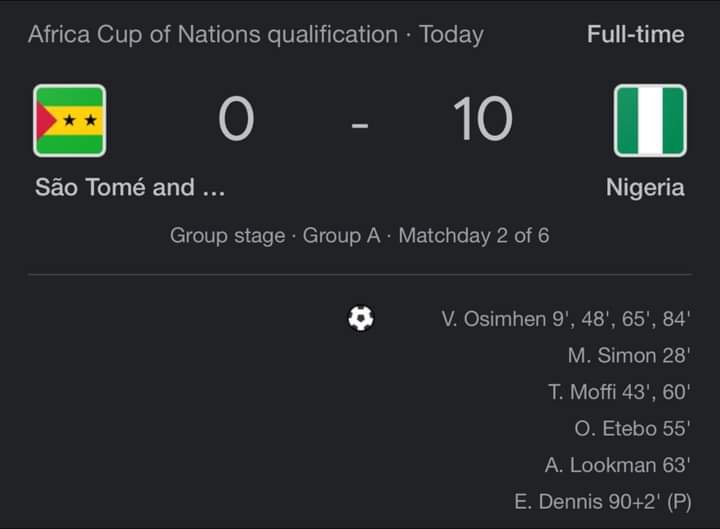 Yesterday was all about the super eagles of Nigeria Thier brilliant win vs são tomé and principe. Over the years the super eagles of Nigeria have never had such a big win, it was very sad that they couldn't qualify for the world cup but they refuse to get beaten and sent back home so they fought to at least qualify for AFCON.
Which they successfuly did qualify, but with the new coach Mr josé peseiro it wasn't easy at the beginning since he is a new coach he was under pressure from the fans of super Eagles and Nigeria at large to at least make the team qualify for the Africa cup of nations. And he as a new coach needed time to know his players and to know who and who to carry along.
I remembered his first match as the super eagles coach they played and lost to the Mexican national team in mexico it was 2 goals to 1. They also played with sierra lione and win 2 goals to 1, even with that fans where still not satisfied they wanted the team to be at thier very best.
With the new coach on seat his promise to fans and Nigeria at large was to take the team to Africa cup of nations and they will as well win the trophy so with that they where all expectant. Hoping to see him make it happen immediately but Thier first match was not a success fans started complaining that they where not sure how f he could take the team to Africa nations cup and be successful.
José peseiro started by getting to know his players and Thier strength his first match with the team in mexico he invited some players from the Nigeria football league to play against the Mexican team and trust me some it wasn't successful, the guys didn't play at their best just few who try to impress the coach.
Thier next match with sierra lione he brought in the main super eagles players to do the job and they delivered. It was good he invited some NFF players but most of them don't have experience in playing outside the country on different pitch hence Thier performance was poor.
And yesterday during the match with soe tome principe they delivered Thier best, how I wish they used this same strength during the world cup qualifiers match with Ghana it will have been epic. I still celebrate them Thier very first victory that has not been in record since the existence of the super eagles of Nigeria.
I think with this win they have set a good record for themselves and the country at large, am glad because they will now be more attacking force from the team and I just hope for the better.
---
---