REAL MADRID, ANCELLOTI OUT!
Hi there.
Hope this meets you all well?
Suddenly some Real faithfuls are vehemently calling for Mr. Carlo Ancelloti's exit. Two things are their major irritation:
that their team sits 2nd, 9 points behind first placed Barcelona.[at the time of writing]

and most importantly they see Ancelloti's style of football as lacking innovation, dull and too unpredictable.
Well, my job today is to do a little summary of what has become of this footballing giant this season. Let stat start it–
"On paper, Madrid is performing even better in league play than during last season's title run. Its attacking numbers are almost identical (0.22 shots per possession and 0.12 xG per shot, compared to 0.21 and 0.12 last season), and it is allowing both fewer shots (0.13 per possession vs. last year's 0.14) and far lower-quality shots (0.08 xG per shot, well below last year's 0.11)."
I guess the "Ancelloti out" army might be surprised at the above stat. Yet it's a fact coming from the trusted ESPN. It therefore shows that statistically, it's not so much of Madrid not doing well, as it is Barca upping their ante this season. Madrid is only two points off, last season's pace. They've also had quite a number of injury worries this season– from Ballón d'Or holder, Karim Benzema to Courtious to Alaba to Kroos to Carvajal. None of them missing less than 5 matches straight,Benzema missed 9.
Well one would say, with a team that won virtually everything last season, where can they go from there? Maybe down. They won the Champions League, LaLiga,the Supercopa de Espana and the Club World Cup trophies last season.
COMMENCE
Now let me get into it,if you don't mind. A set of statistical fact don't always tell the whole truth. It takes a combination of various checks to get a holistic picture of things. I'd say Real Madrid were caught napping in the transfer market, they were quite arrogant if I may use a better term.
Let's start with the lefting(sic) of Casemiro to Manchester United last summer. It was expected that Carlo Ancelloti will instantly replace him. Ancelloti felt this pressure and he came out to insist that his team is not short of personnel to comfortably run the season. This is what I tag as a bit of arrogance. What did Ancelloti have, he had the Uruguayan, Valverde,who has become a utility kind of player, he plays the defensive midfield at times, then a,French teenager,Tchouameni,who was signed by Madrid in June last year on a 6-year deal. He was rated as the best younger defensive midfielder in Europe and France picked him for the World Cup in Qatar. Casemiro left United in August,by which time Tchouameni had had a nice feel of the Real Madrid environment, starring in games.
source
However, the truth remains that Casemiro's shoe was to big to fill in that way, plus it was a World Cup year. There are things like leadership, character,mentality that Casemiro had that is not easy to replace. At 30 years of age United signed him for as much as €70 million, that tells you a lot about his quality. January this year, Tchouameni was sidelined by injury for some matches and Madrid's results plummeted. Why won't it? Essentially only one player for the defensive midfield role, a role that is the bedrock of Ancelloti's style of play. It's the reason people were calling for a new defensive midfielder once it became clear a Casemiro will leave, it wasn't a sudden exit, Madrid had enough time to add an extra body in the defensive midfield department. But Ancelloti blatantly refused.
Things got so shaky for Ancelloti this season that a point he began to prefer a Kroos in defensive midfield over Tchouameni. That's a repeat of the 2015 method,when Casemiro was injured, which cost Ancelloti his job.
It is not as if Ancelloti didn't know that his midfield was aging,he's being around this club for ages now, but his slow reaction is what is alarming now. Years back, in 2016, Madrid signed a 16-year-old Odegaard as a guy tipped to replace Modric,Ancelloti was the coach then. Ancelloti when on to reveal that, "he[Odegaard] was not a player who I asked for", it was the choice of the club President.
Left for Zinedine Zidane, the immediate past coach of Madrid, Paul Pogba would have been a Madrid player today. That's taking decisive action.
REALITY CHECK
What has happened now is like a sudden collapse of the Madrid machinery. The Kroos-Modric magical duet is no longer a staple in the Madrid symphony. Since Ancelloti won't transition quickly, transition has visited suddenly without notice. I mean Modric is 37yrs and Kross 33. The only new thing we saw is a certain French man,Eduardo Camaviga who was signed in August 2021 from the French top flight on a 7-year deal. He was 18-years-old at that time,very highly rated that Manchester United and PSG were very keen, United even discussed with him informally. He was bought as an understudy to Modric. You still remember another teenager, Tchouameni, I spoke of above?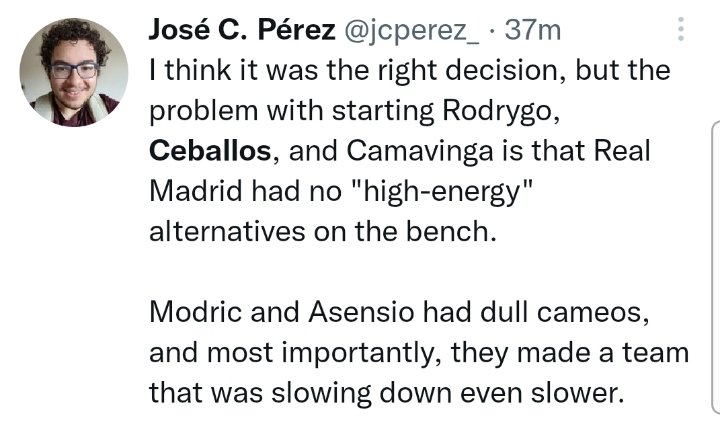 screenshot from a chat group
They were never meant to take-over now, but that is what we have. Only last month, Ancelloti himself said,"Modric and Kroos are untouchable, but that doesn't mean they have to play every game,..."
That's the reality of things today, that impregnable partnership of Kroos and Modric is no longer a given, but the point is that it was a very sluggish preparation for transition that Ancelloti had in place and that's essentially why they have struggled this season. Cabellos has forced his way into reckoning this season and he has helped to steady the ship somewhat. His deal expires this summer and Ancelloti is feeling pretty good about him.
There has been the age old situation of a situable replacement for Benzema. What of Vinicius jnr, does he have a proper deputy? These are the questions Ancelloti must answer after all the not too inspiring results lately plus a 1 nil loss in the recent El Classico.
The got a 3–1 win over Espanyol today, with Camaviga playing as left-back, a role he is doing best in these days. It's just a further show of how unprepared Ancelloti was for this sudden dip in form by his trusted midfield Lieutenants,that is apart from injury worries that are common to all teams and that all teams should pre-empt.
We await to see the solutions to these things going forward by the giant club, the most successful club in all of Europe.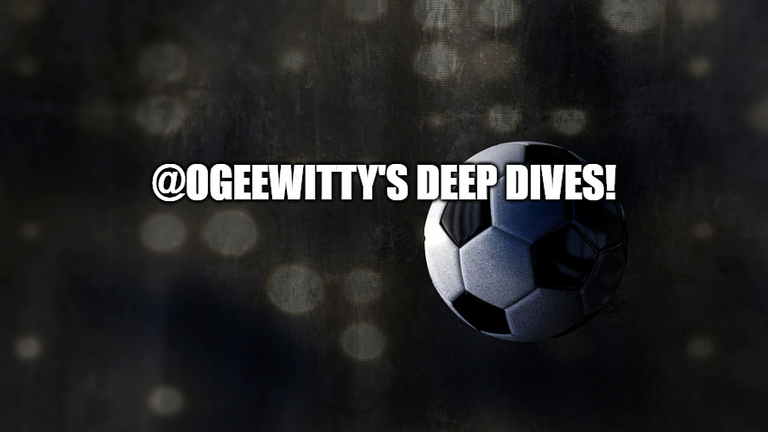 Cheers
---
---