Tipestry | 100,000 SuperDog Airdrop For Every $DOG (not DOGE) Held In BSC Wallet
-----------******--------------
Disclaimer: This is absolutely what you think. It is indeed financial advice, and if you follow it, take responsibility for your decision to follow it. You are a grown-up now. Don't come wailing back to me if it did not work.
I was kidding. This is not financial advice.
-----------******--------------
Good Day
Being an author, freelancer, and crypto-writer, I keep engaging with many sites for content and sharing my content. I do engage with non-crypto writing sites, but for our article over here, I will be discussing only the crypto side and, particularly, Tipestry.
Much like many writing sites that I discovered, I fumbled to Tipestry at the beginning of this year. The site had Dogecoin as the tipping coin at that time. This was before Dogecoin took off for the first time and definitely before Elon Musk's tweet. So, yeah, the site had pre-planned using Doge as one of the tipping coins. Of course, they hit pay dirt with their selection of coins.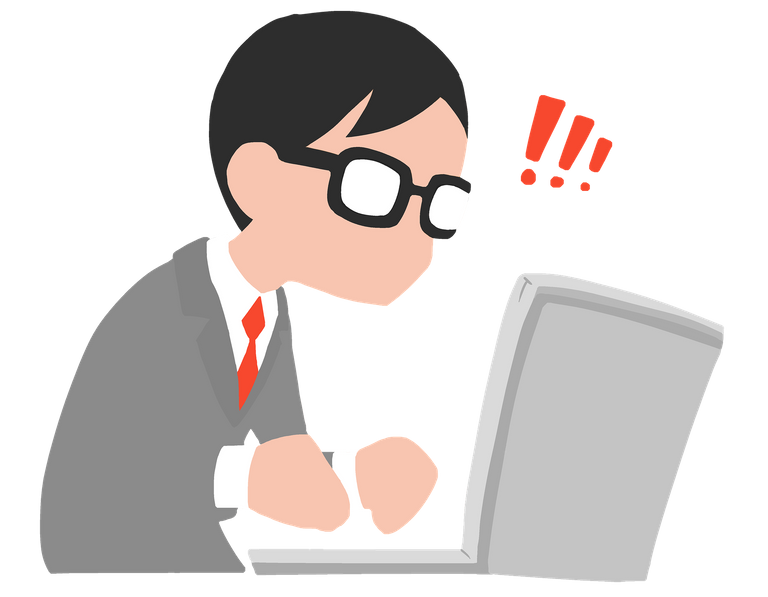 How does the tipping work? Well, you put out your content – mainly links to write-up, pictures, videos, etc. Then based on the upvotes you receive, you get paid in Doge. The Doge comes from the site based on the engagement and upvotes we are able to garner. I am not quite sure about the logic for the payment, but I have had got a good amount of tips on the site.
If you intend to join, you can do so here: JOIN TIPESTRY
Anyway, so what was my point? Well, that's what we are getting at.
-----------******--------------
Tipestry | Dogecoincash ($DOG) and SuperDog (POM) Join the Ranks
As I was off the site for few months, when I returned recently, I gathered that the site also tips in other cryptocurrencies. It even has one with Donald Trump's image. I wonder what token is that. Take a look.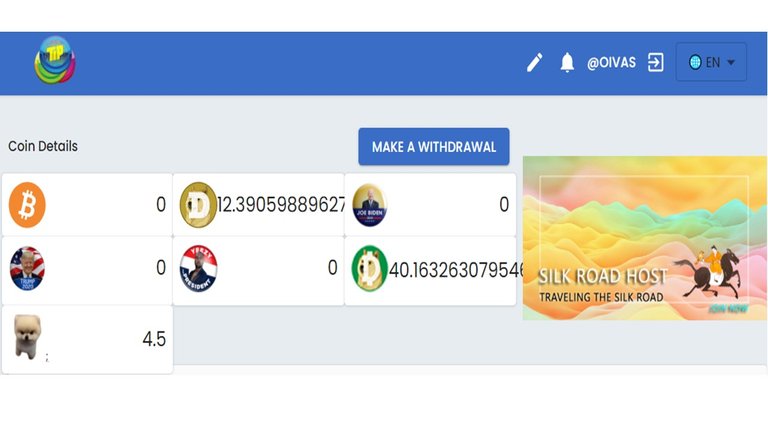 Those are my balances despite not having used the site for nearly three months. From those tokens, I intend to talk about Dogecoincash (see my 40 balance. That one) and SuperDog (the one with a 4.5 balance). These two tokens are used alongside Doge (the real Doge) for tips on the site. But that's not the news.
The news is that the site will be working on an airdrop very soon. By very soon, I mean the snapshot will be carried out on 15th October on all BSC wallets. What is that all about? Well, all Dogecoincash ($DOG and not DOGE) hodlers will get 100,000 POM for every Dogecoincash held in the wallet. So, it is an excellent way to get an airdrop pretty easily.
What's more, you can continue on the site and continue earning DOG, DOGE, and SuperDog for writing on the site. This, of course, is your choice. But if you intend to try it out, you can join the site here:
If you intend to join, you can do so here: JOIN TIPESTRY
But what's so great about these two tokens that you should invest in it?
-----------******--------------
Why Should You Buy Dogecoin Cash for Getting SuperDog?
My reason was to get the airdrop since I anyway write on the site. It is much like getting the airdrop of any token on any site that you engage. Why miss it? And that's not all.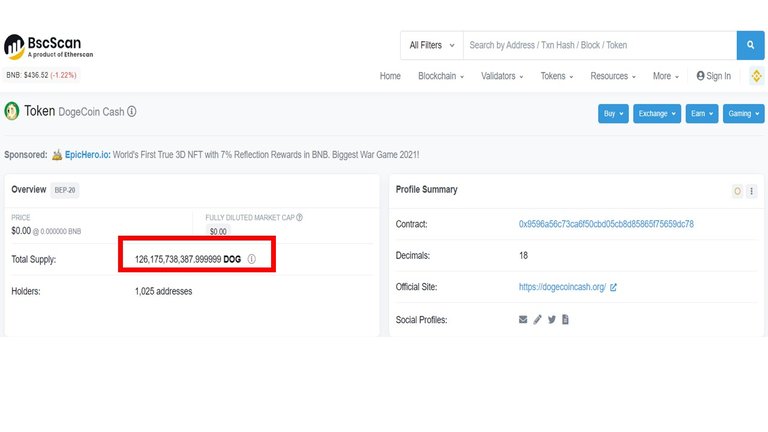 Dogecoin Cash has a supply of just 126 billion (see the image above from BSC Scan). Now, that may sound like a significant number, but considering other meme coins have a total supply of trillions or even quadrillion, this is not bad. This means price discovery and price appreciation will be a faster reality.
Also, they burn tokens at well-defined intervals. They just burned 300 million Dogecoincash. Here is the team's tweet.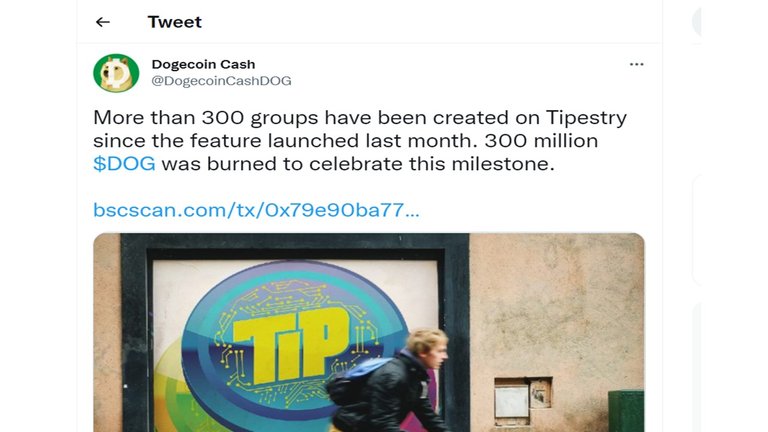 Now, even a newbie crypto user would know that a token having less supply and being burned at intervals has a great chance of finding price appreciation. There is no rocket science there. These were the two reasons for which I bought Dogecoin Cash.
Not only do I get Dogecoin Cash but also, just for buying it, I will be getting SuperDog, post 15th October. How cool is that? Remember, all we said about Dogecoin Cash so far is true for SuperDog, too, albeit it has a higher supply.
Also, both - Dogecoin Cash and SuperDog - can be used for tipping on Tipestry and boosting our posts. So, it has utility right there on the site.
Any reason not to buy? 😊
-----------******--------------
How Do I Buy?
Dogecoin Cash can be bought on Pancakeswap. You can use your BSC wallet to carry out the swap and buy the token. Ensure that the tokens are in your wallet for the airdrop snapshot. That's it. We wait for the airdrop, post the snapshot on 15th October 2021.
Also, if you intend to earn DOG, DOGE, and POM, you can try out Tipestry. You can join on the link below.
Enjoy exploring the site. Have fun earning the tokens and, most of all, the airdrop!! 😊
-----------******--------------
Image Courtesy: Ijmaki @Pixabay | Tipestry Resources | Dogecoin Cash Tweet
-----------******--------------
Some Useful Sites to Give You More
Some of the good crypto-writing-earning sites:
Publish0x: Earn ETH || Read.cash: Earn BCH || Trodl
----------------------
Some good earning sites for Tweet size posts
Torum: Earn XTM || Noise.cash: Earn BCH || Tipestry: Earn Dogecoin, Dogecoincash & SuperDog
----------------------
Some crypto-faucets and jewelry earners:
Horizen: Earn ZEN || Mene: Earn $5 on signup || Earn Litecoin || Earn Bitcoin || Pipeflare: Earn ZEC, FLR, DOGE
----------------------
Few Gaming-cum-earning sites
Splinterlands || Drugwars ||
----------------------
Spot and/or Futures Trading Exchange
----------------------
Search Tool That Pays in Crypto
----------------------
---
---