[Esp] A Mover los Trenes... Acción superior e inferior, para una tonificación total [Eng] Move the Trains... Top and bottom action, for total toning
Con la misma motivación de todos los días estamos prestos para que toda mi familia de #hive y #fulldeportes, se activen con estos maravillosos ejercicios que los invitan a mover los trenes. Y que ¿trenes?; bueno hermanos míos vamos a desarrollar nuestro tren superior (hombros, trapecios, brazos, pecho); tren medio (abdomen) y tren inferior completo (glúteos, piernas). Aquí vamos a seguir desarrollando y tonificando todo nuestro sistema muscular, y no podría ser de otra forma que a través de su entrenador personal @omarcitorojas, quien a lo largo de un año ininterrumpido se ha convertido en la preferencia de muchos. Hoy no será la excepción porque durante la rutina les propongo el uso de algún peso, yo utilicé una pesa la cual no es limitante de ningún tipo porque existen un par de botellas que ustedes pueden conseguir y llenarlas de agua, de arena, de plomo, o de cualquier elemento de su agrado que genere peso. Pueden usar mancuernas si las tienen, pueden ser ladrillos, o simplemente usar su propio cuerpo porque sus músculos son una máquina de ejercitar y podrán utilizar sus propios brazos para los ejercicios de golpeo. Vamos con mucha emoción a la acción pura. Activos.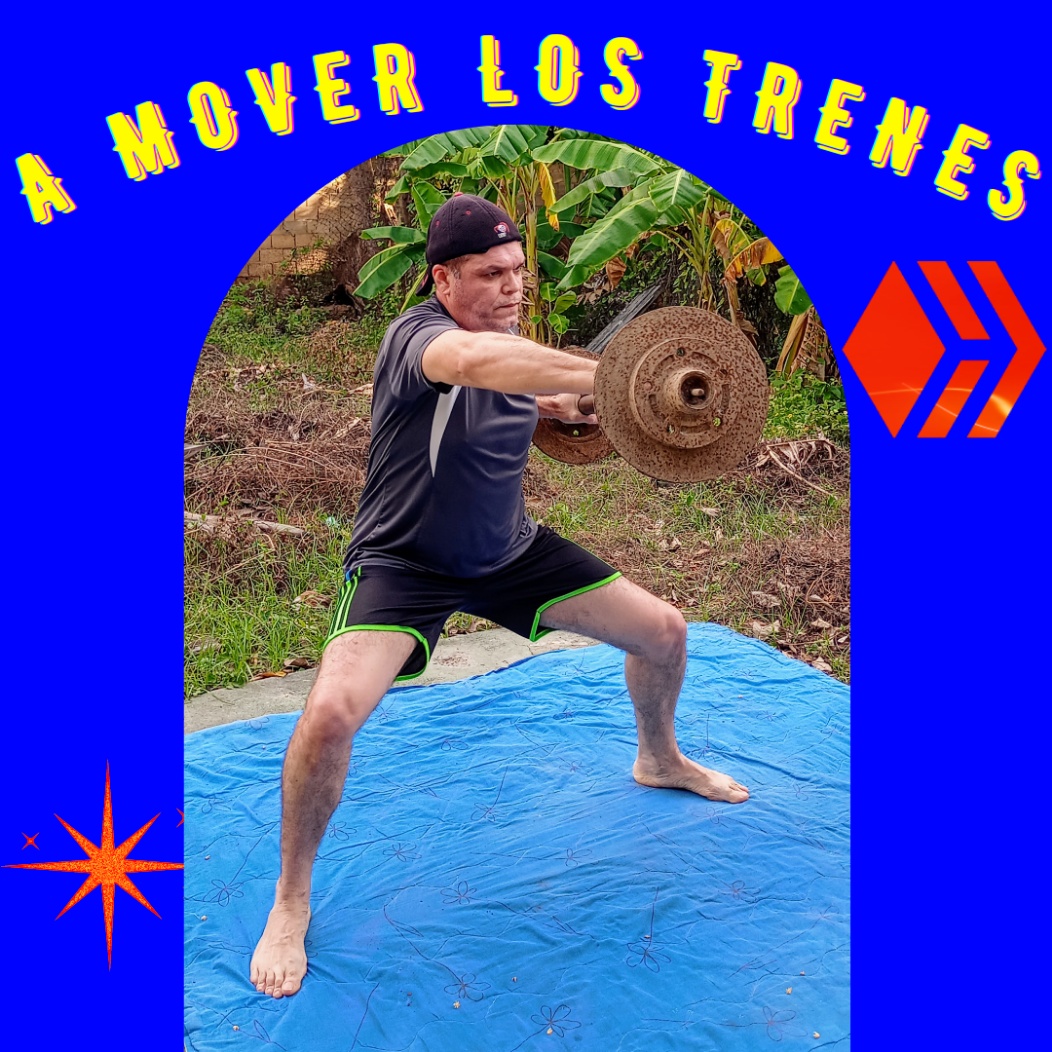 Imagen de mi Autoría Editada por/Image of my Authorship Edited by Canva
Gifs creados en la aplicación/Gifs created in the application HD Video To Gif Converter
With the same motivation as every day, we are ready for my whole #hive and #fulldeportes family to be activated with these wonderful exercises that invite them to move the trains. And what about trains?; well my brothers we are going to develop our upper body (shoulders, traps, arms, chest); middle train (abdomen) and complete lower body (buttocks, legs). Here we will continue to develop and tone our entire muscular system, and it could not be otherwise than through his personal trainer @omarcitorojas, who throughout an uninterrupted year has become the preference of many. Today will not be the exception because during the routine I propose the use of some weight, I used a weight which is not limiting of any kind because there are a couple of bottles that you can get and fill them with water, sand, lead, or any element of your liking that generates weight. They can use dumbbells if they have them, they can be bricks, or they can just use their own body because their muscles are an exercise machine and they will be able to use their own arms for striking exercises. We go with a lot of emotion to pure action. Assets.

Calentamiento Corporal
Nadador de espalda.
Salto de tijera.
Sentadilla + golpe frontal con peso.
Sentadilla diagonal + golpe individual.
Zancada lateral + bíceps.
Sentadilla + elevación frontal con peso.
Relajación Corporal
Giro de hombros hacia atrás.
Body Warming

Back swimmer.
Scissors jump.

Squat + frontal blow with weight.
Diagonal squat + individual hit.
Lateral lunge + biceps.
Squat + front elevation with weight.

Body Relaxation

Calentar antes de entrenar
Dinámica: En circuito
Trabajo por ejercicio: entre 10 Y 20 (se indica) repeticiones.
Series: 4 por circuito completo.
Descanso entre ejercicios: de 10 a 20 segundos.
Descanso entre series: de 1 a 2 minutos.
Warm up before training
Dynamics: In circuit
Work per exercise: between 10 and 20 (indicated) repetitions.
Series: 4 per complete circuit.
Rest between exercises: 10 to 20 seconds.
Rest between series: 1 to 2 minutes.

Calentamiento Corporal
Preparados porque inicia un viaje único que hará mover cada músculo de tu cuerpo. Sin embargo, para que eso suceda y todo salga bien debemos iniciar con los calentamientos. Este momento es imperdible.
Body Warming

Prepared because it begins a unique journey that will make every muscle of your body move. However, for that to happen and everything to go well we must start with the warm-ups. This moment is unmissable.

Nadador de espalda
Aquí simulamos que estamos nadando de espaldas. Estando de pie vamos girando cada brazo hacia atrás, llega adelante y de nuevo hacia atrás. En cada movimiento del brazo el cuerpo gira un poco hacia el mismo lado. 3 minutos de acción.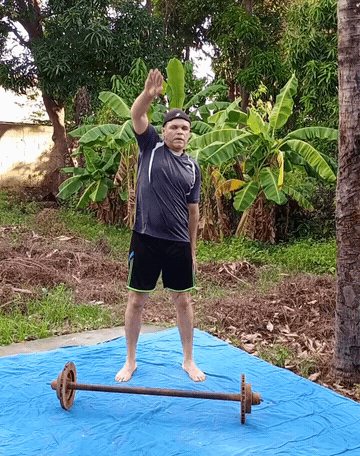 Backstroke

Here we pretend that we are swimming on our backs. While standing we turn each arm backwards, reaches forward and backwards again. In each movement of the arm the body turns a little to the same side. 3 minutes of action.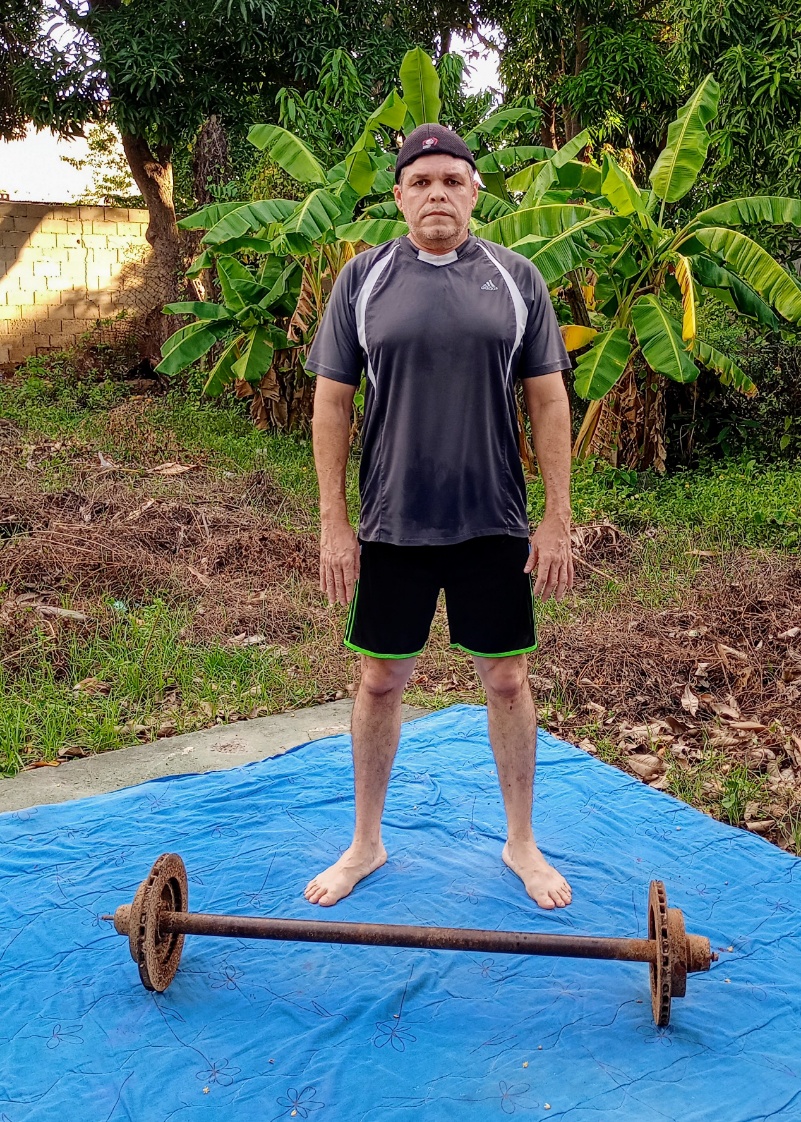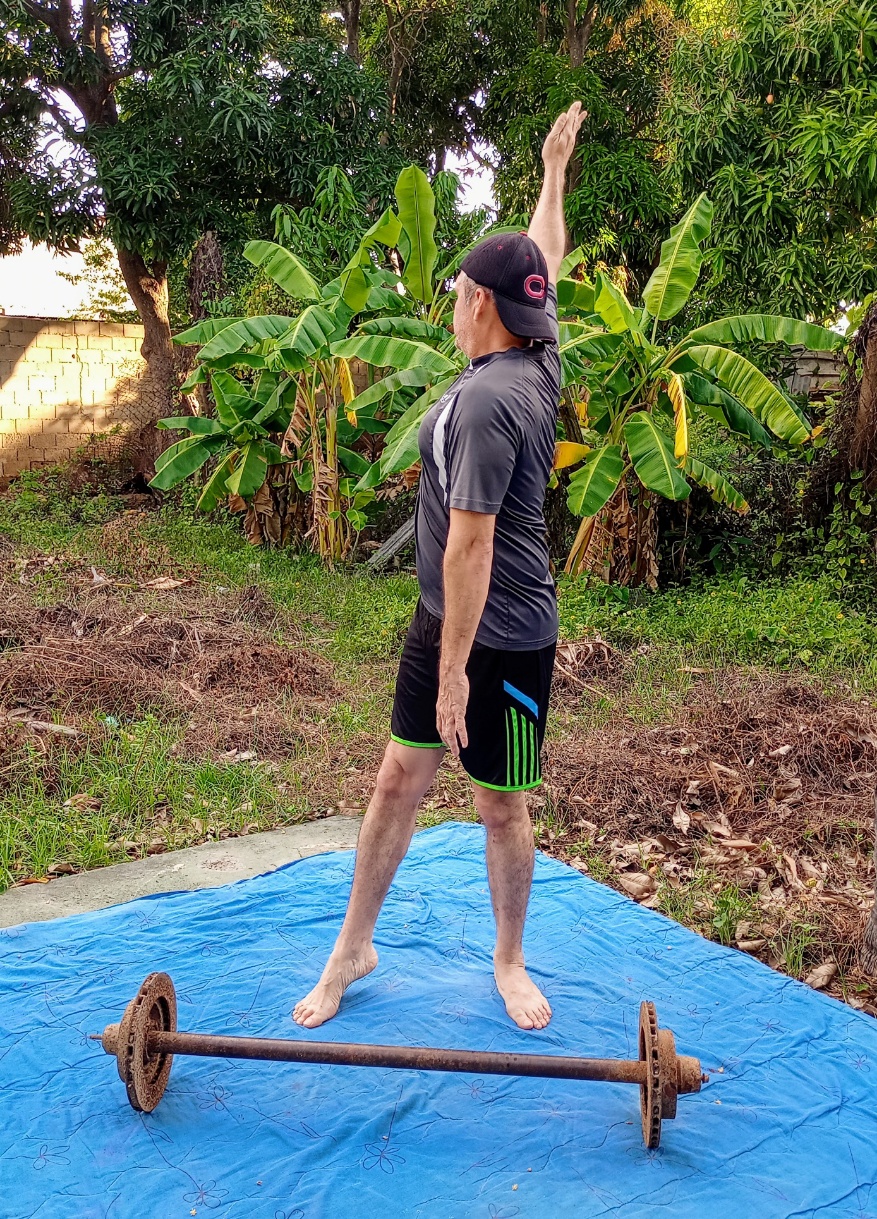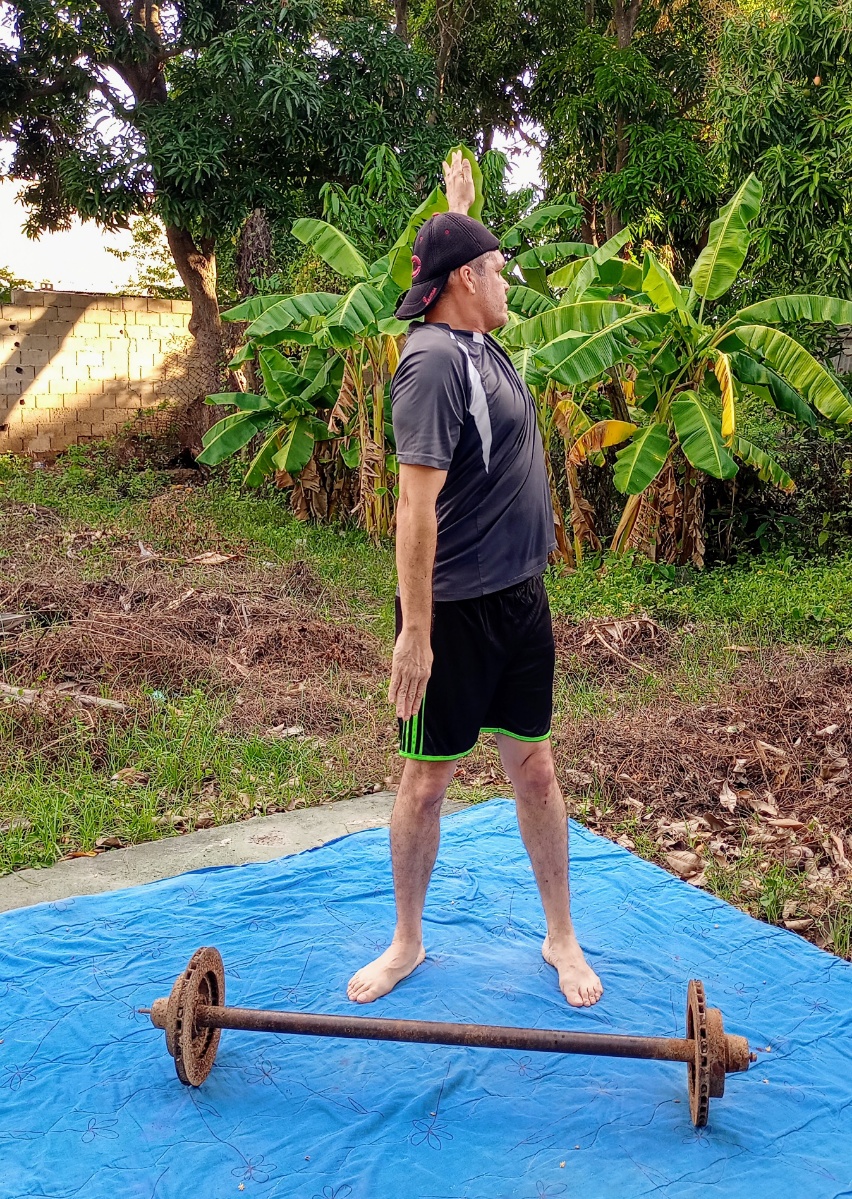 Saltos de tijeras
De pie con piernas juntas y brazos a los lados. Ahora, al mimo tiempo y a través de saltos, abrimos y cerramos brazos y piernas por 3 minutos continuos.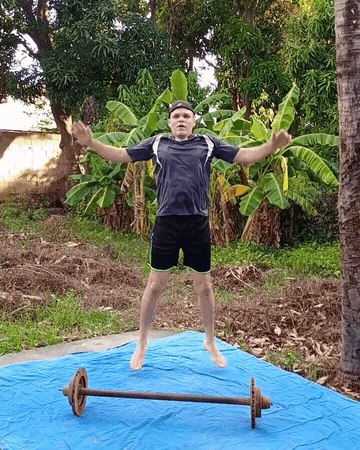 Scissor jumping

Stand with legs together and arms at your sides. Now, at the same time and through jumps, we open and close arms and legs for 3 continuous minutes.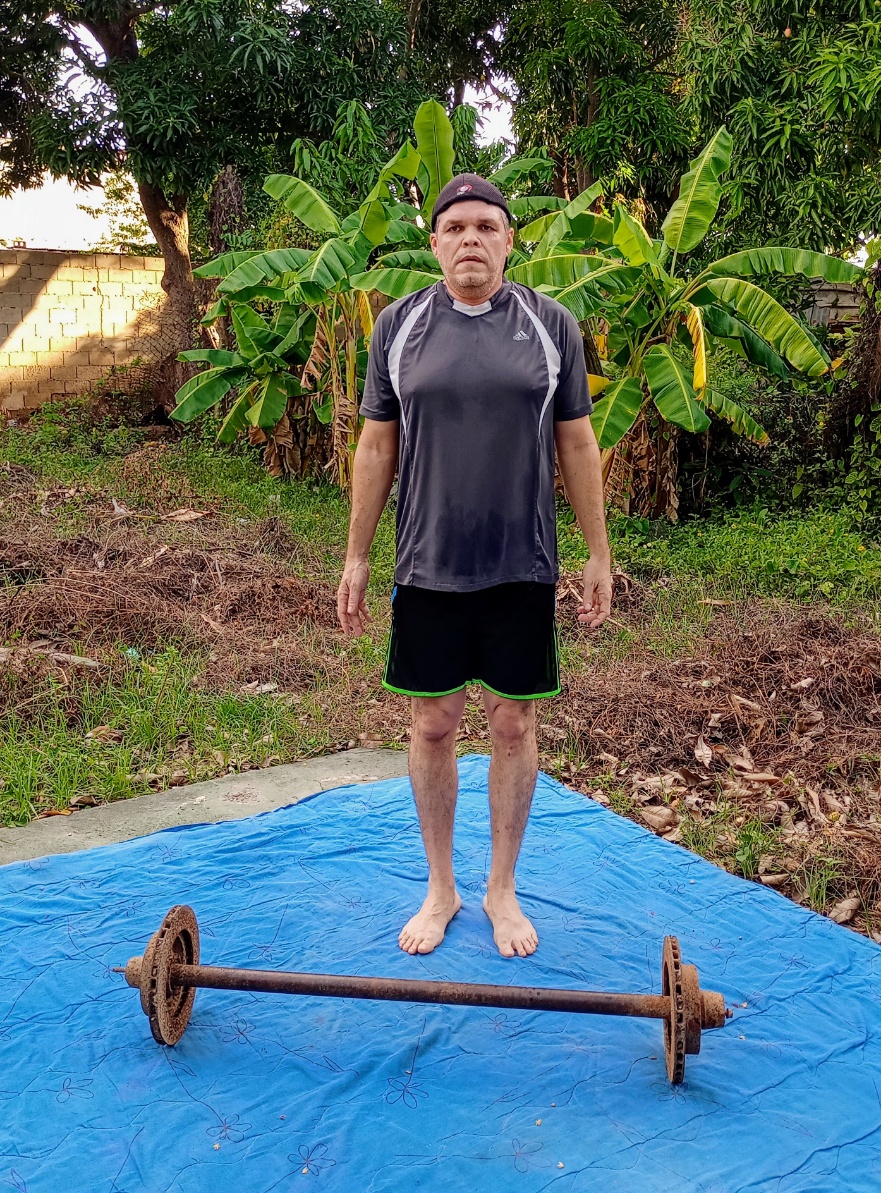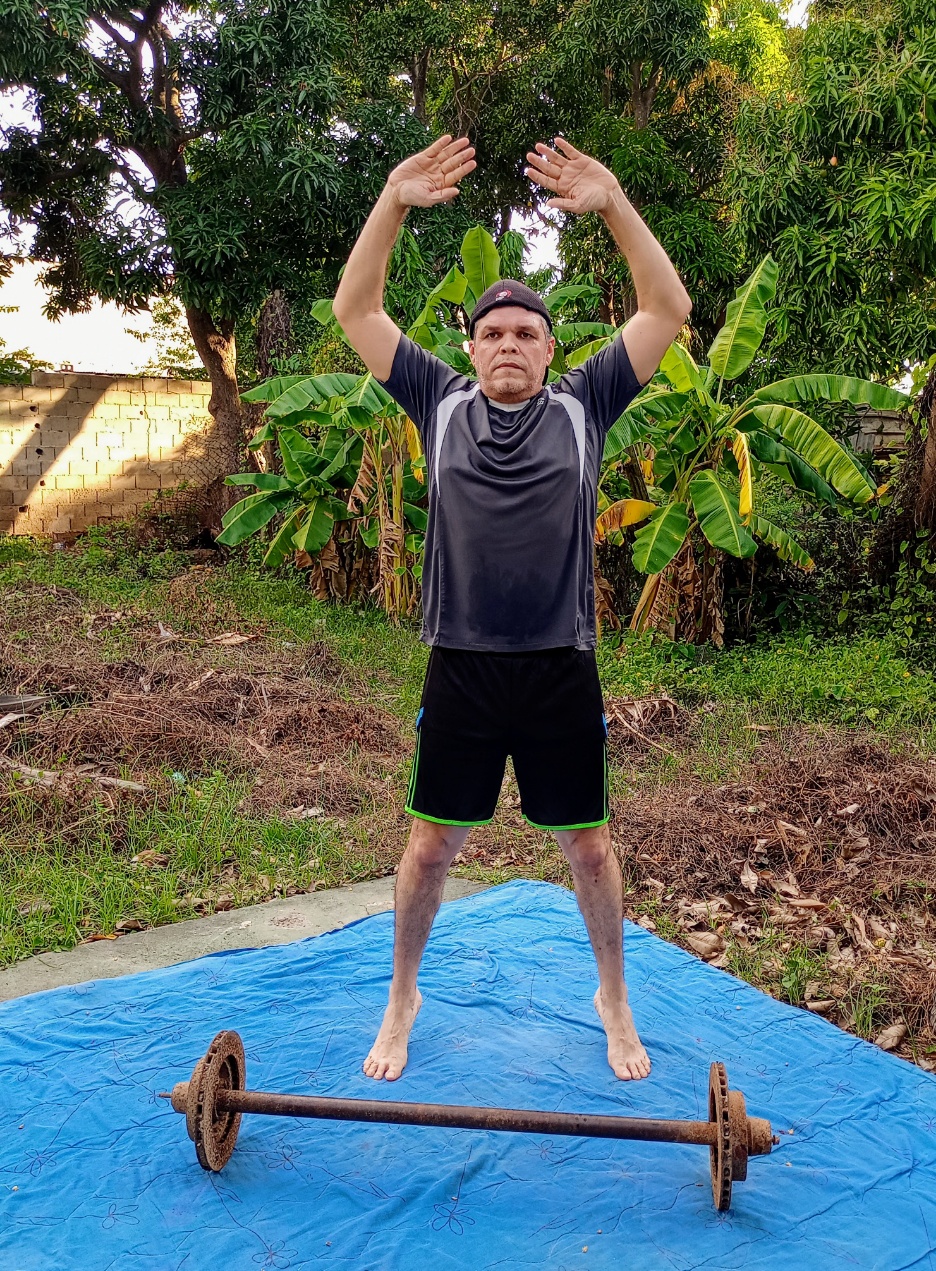 Como todos sabemos, en este momento vamos a tratar a nuestro cuerpo como un sistema, y como todo sistema cada una de sus partes se relacionan como un todo. Esto quiere decir que cada movimiento activa todo el cuerpo en su totalidad. Vamos de lleno con los movimientos, descansen entre series e hidrátense. Las repeticiones de los ejercicios serán mínimo 10 en 4 series. No obstante, dependiendo del peso que usen dichas repeticiones puede variar, son mínimo 10 pero ustedes pueden incrementarlas.
As we all know, at this time we are going to treat our body as a system, and like any system, each of its parts are related as a whole. This means that each movement activates the entire body in its entirety. We go fully with the movements, rest between sets and hydrate. The repetitions of the exercises will be a minimum of 10 in 4 series. However, depending on the weight used, these repetitions can vary, they are a minimum of 10 but you can increase them.

Sentadilla + golpe frontal con peso
Nos ubicamos de pie con piernas abiertas. Ubicamos la pesa, el material de su agrado o las manos con los brazos flexionados a nivel del pecho. Ya en esa posición hacemos la sentadilla lo más profundo que puedas, y estando abajo llevamos la pesa al frente dando al golpe con ambos brazos. Subimos para volver a la posición inicial para ejecutar 10 repeticiones en 4 series.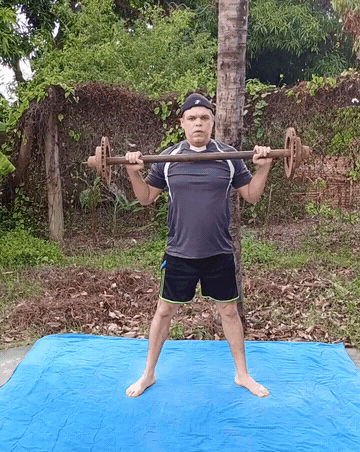 Squat + front punch with weight

We stand with legs spread. We place the weight, the material of your liking or the hands with the arms flexed at chest level. Already in that position we squat as deep as you can, and being down we bring the weight to the front giving the blow with both arms. We go up to return to the starting position to execute 10 repetitions in 4 series.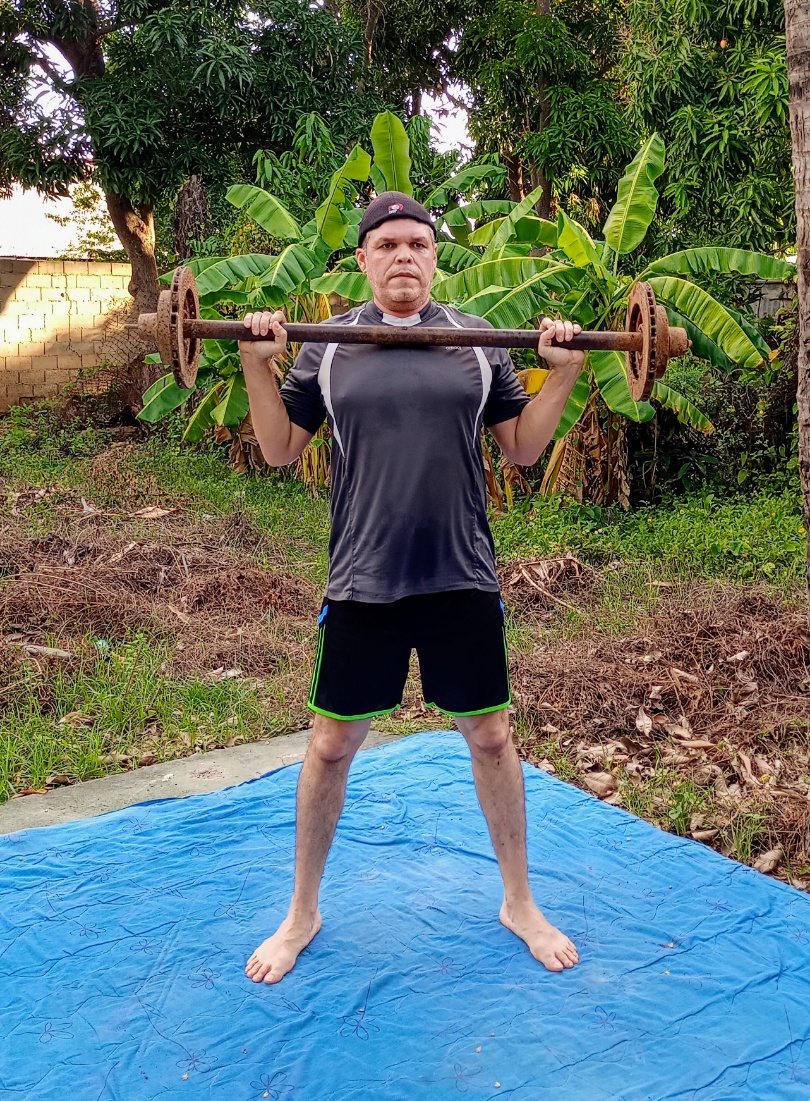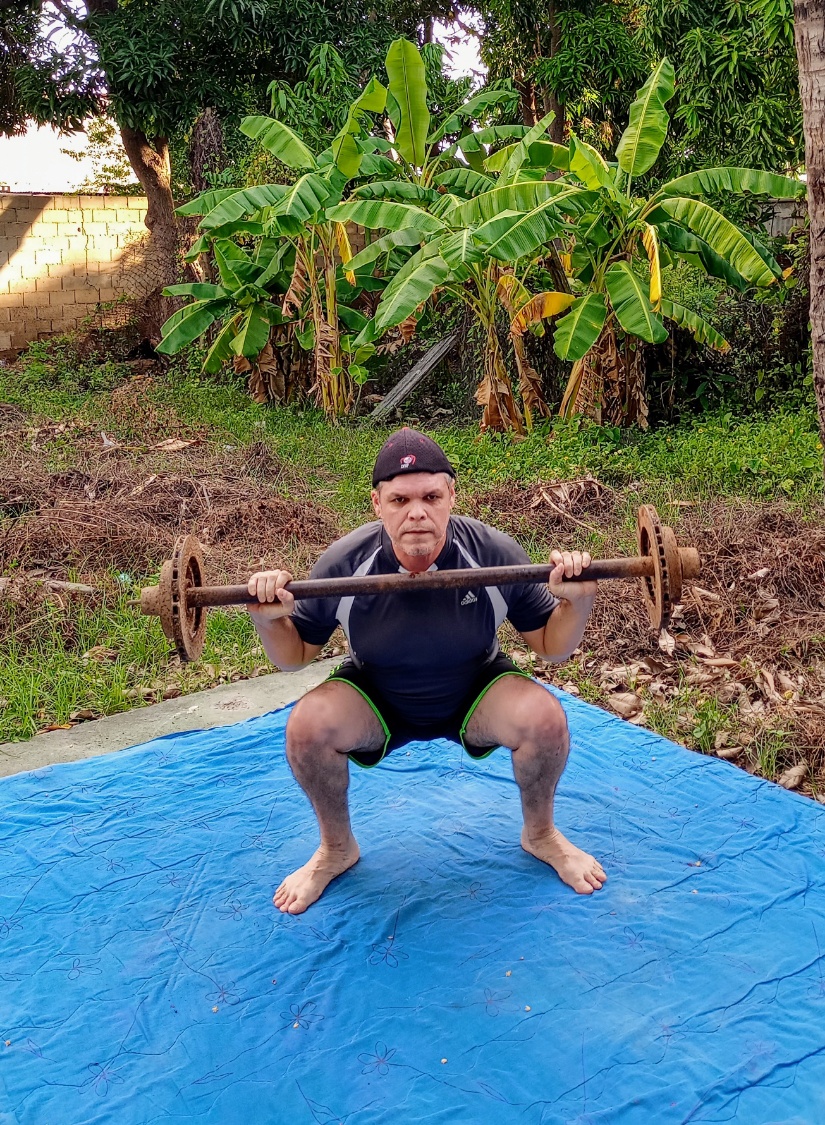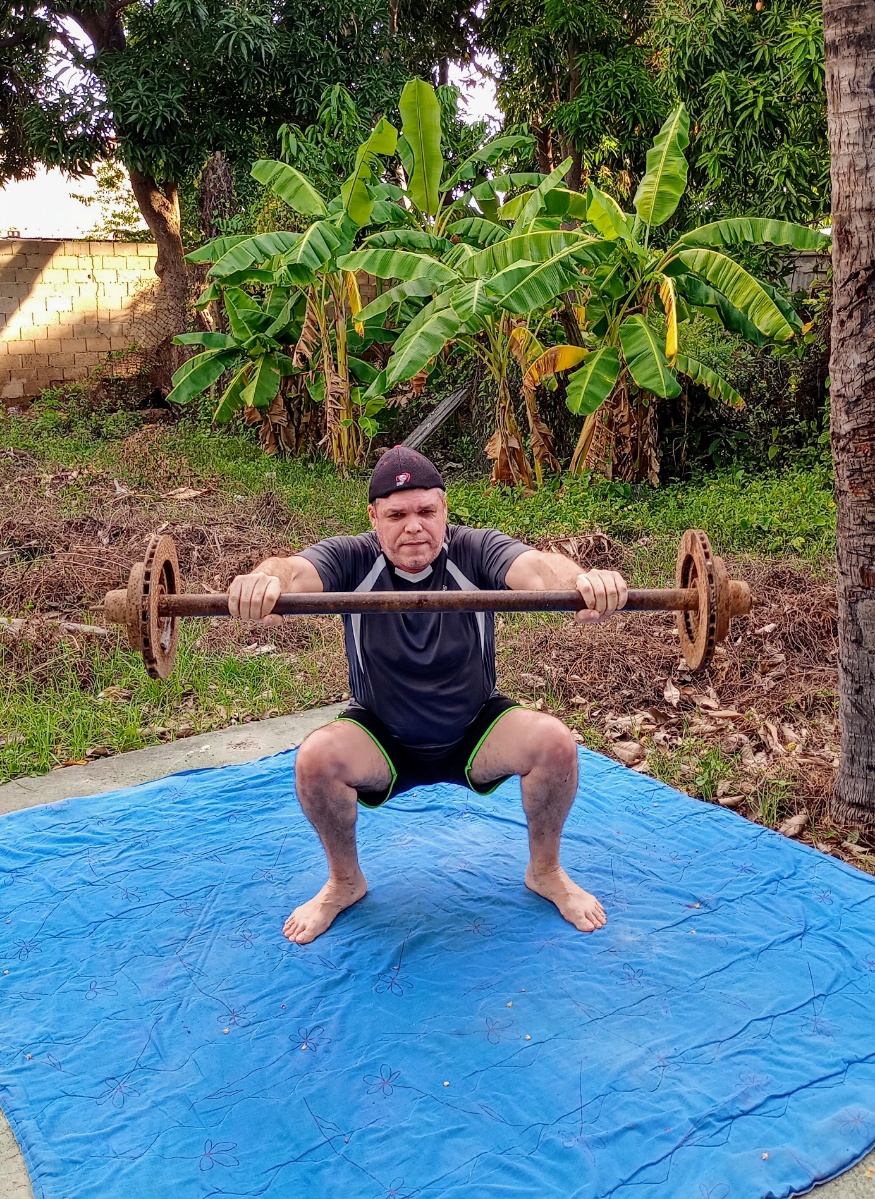 Sentadilla diagonal + golpe individual
Aquí adoptamos la misma posición que en el ejercicio anterior con la salvedad de que las piernas estarán juntas. Igualmente la pesa, el material de su grado o las manos se ubican a nivel del pecho. Acto seguido, abrimos la pierna por ejemplo a la derecha, quedamos en posición diagonal, hacemos una sentadilla y golpeamos solo con el brazo derecho. Es decir el brazo izquierdo queda en la misma posición y el derecho queda extendido. Recogemos el brazo, extendemos piernas y volvemos a posición inicial, para luego abrir la pierna del lado izquierdo, sentadilla y pum, golpe izquierdo extendiendo solo ese brazo. 10 repeticiones por lado en 4 series.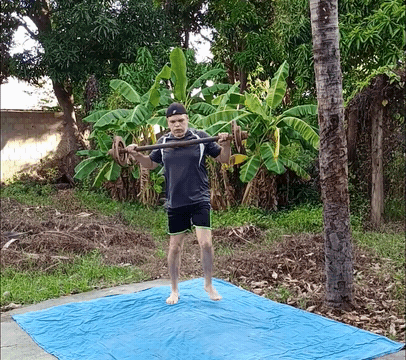 Diagonal squat + single shot

Here we adopt the same position as in the previous exercise with the exception that the legs will be together. Likewise, the weight, the material of its grade or the hands are located at chest level. Immediately afterwards, we open the leg for example to the right, we remain in a diagonal position, we do a squat and we strike only with the right arm. In other words, the left arm remains in the same position and the right remains extended. We pick up the arm, extend the legs and return to the starting position, and then open the leg on the left side, squat and bang, left blow extending only that arm. 10 repetitions per side in 4 series.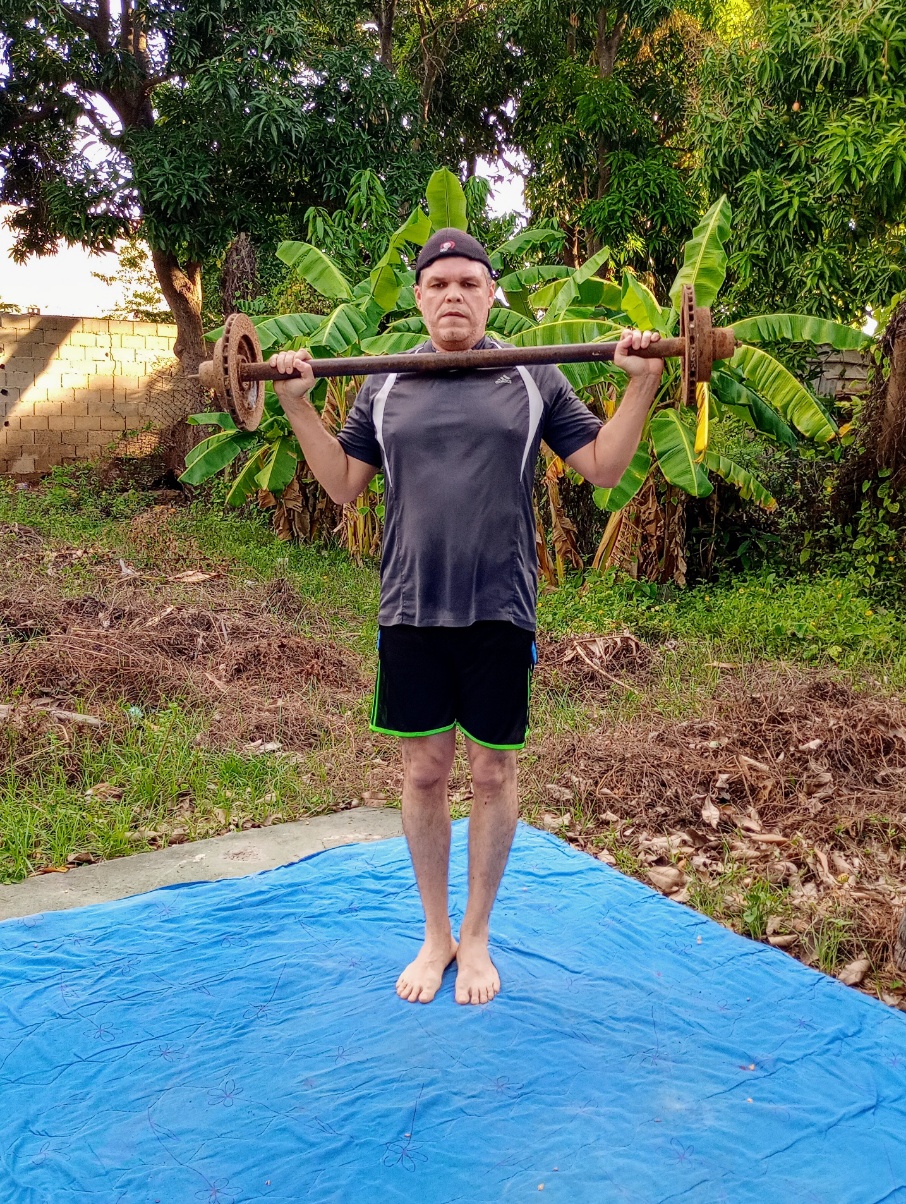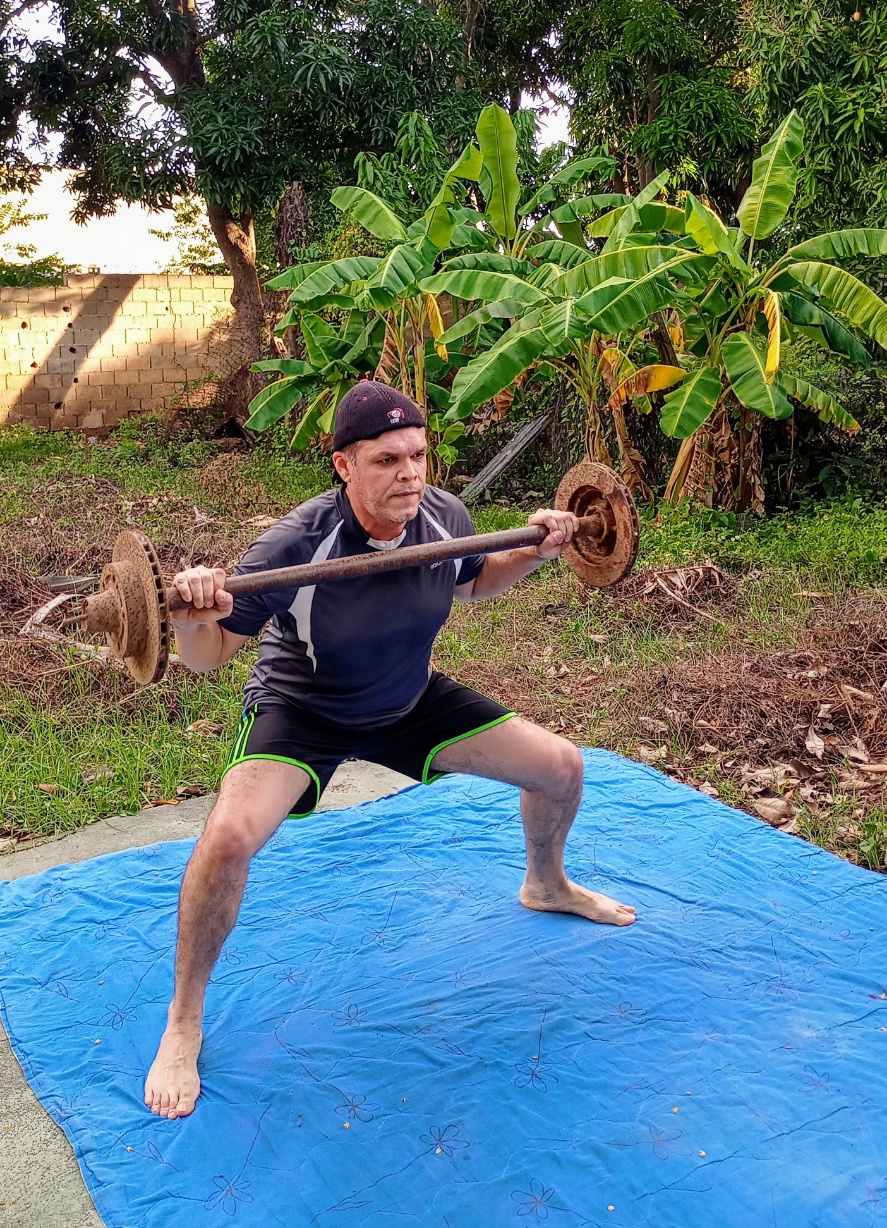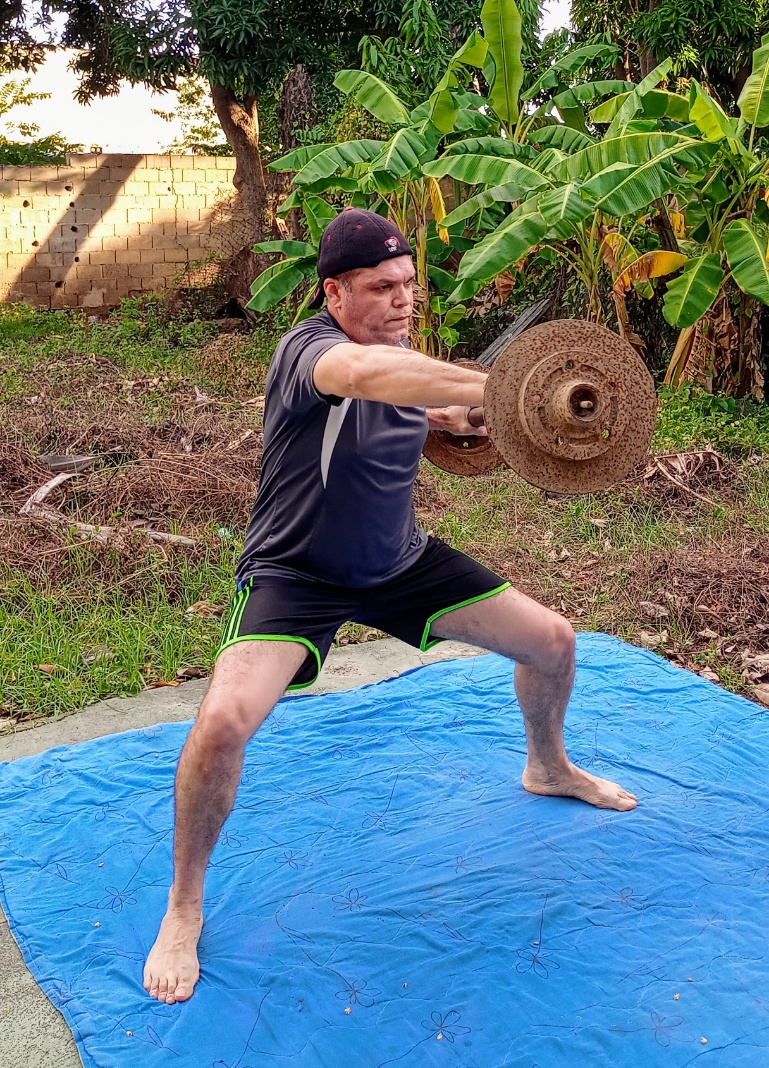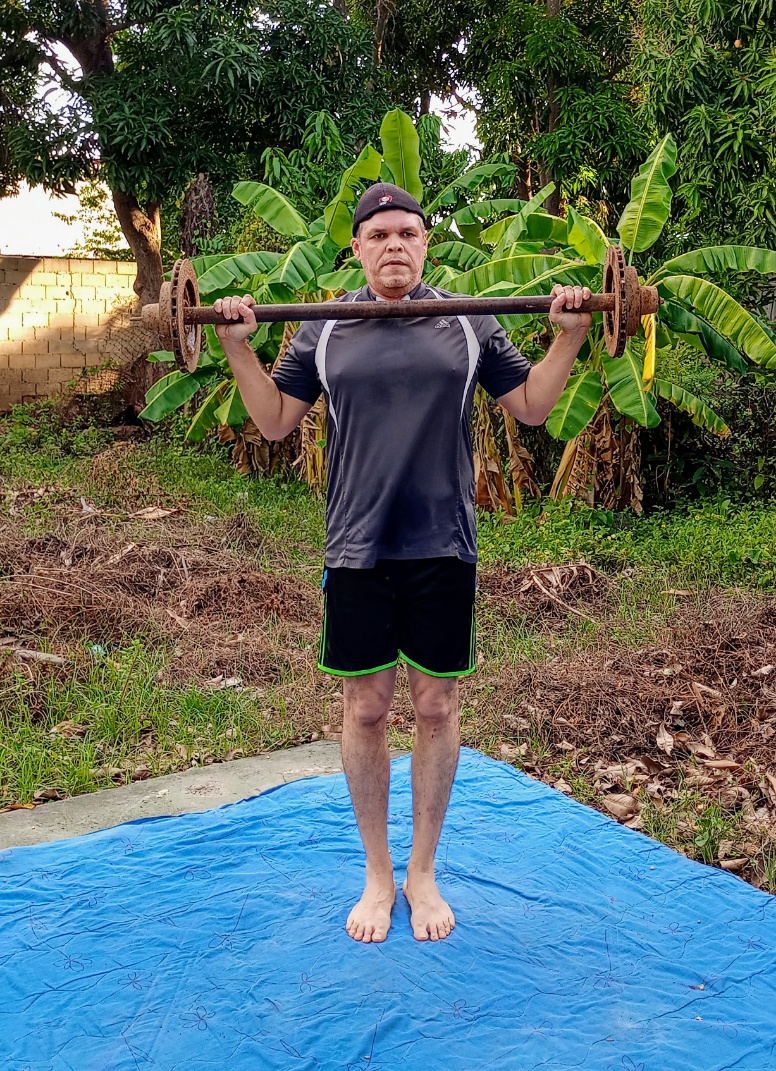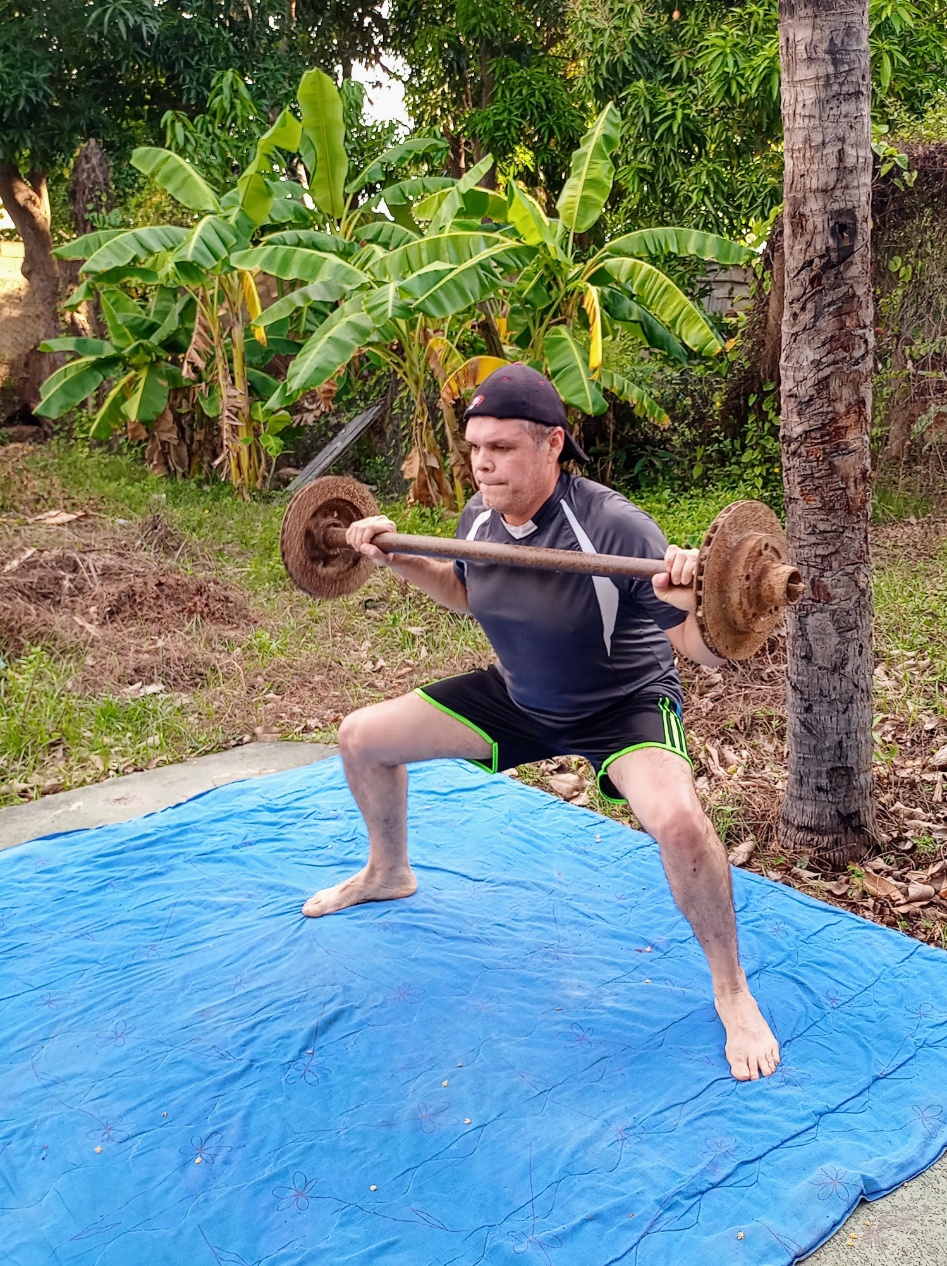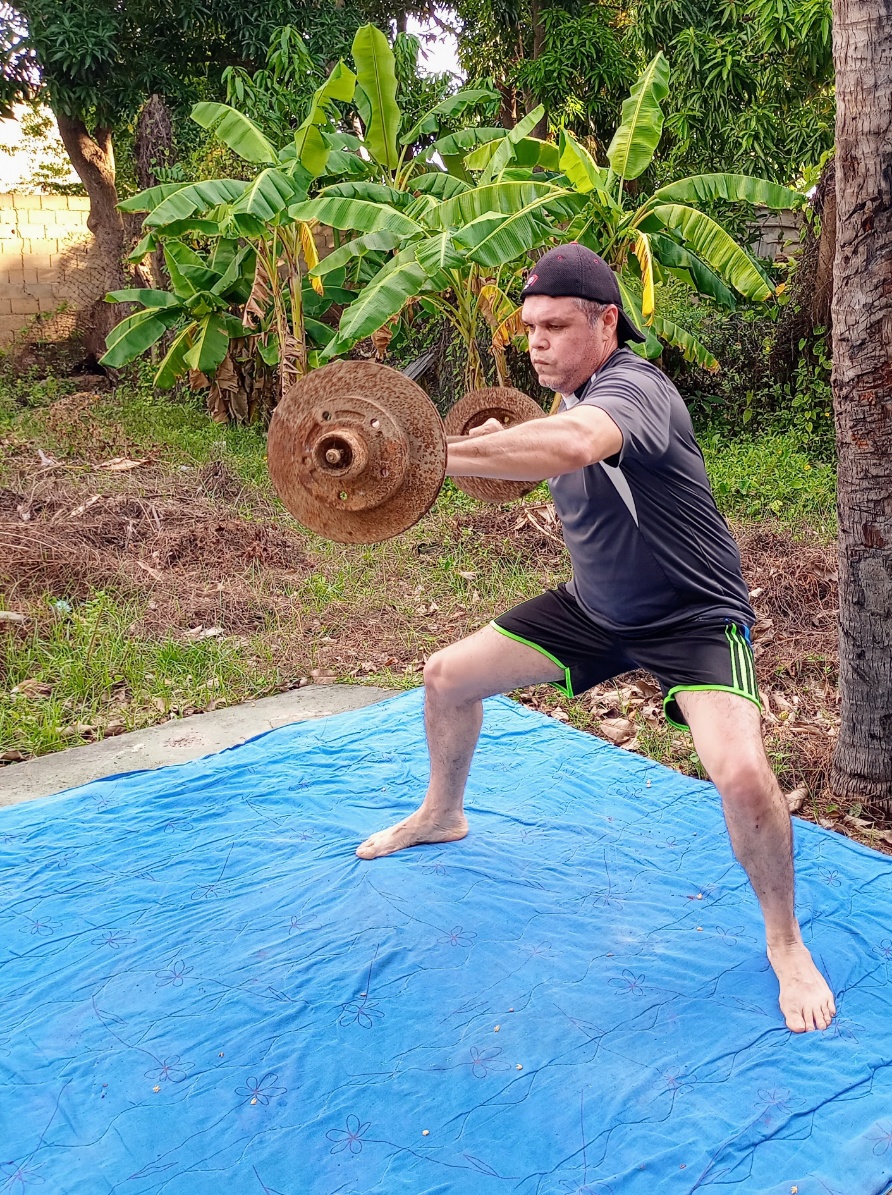 Zancada lateral + bíceps
Ejercicio poderoso para todo el cuerpo. De pie con piernas casi juntas. En este caso la pesa o el material se ubica a nivel de la cintura con los brazos flexionados en forma de L. Ya en posición hacemos la zancada a la derecha, aquí queda extendida la pierna izquierda y flexionada la derecha. Mantenemos la zancada y ejecutamos el ejercicio de bíceps, flexionando los brazos elevando la pesa a nivel del pecho. Volvemos a postura inicial y ahora viene la zancada a la izquierda, flexiona los brazos hacia arriba para ejecutar el ejercicio de bíceps. 10 repeticiones por lado en 4 series.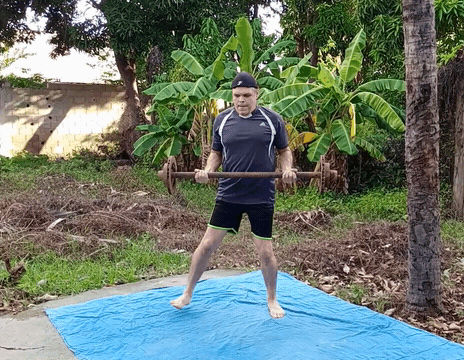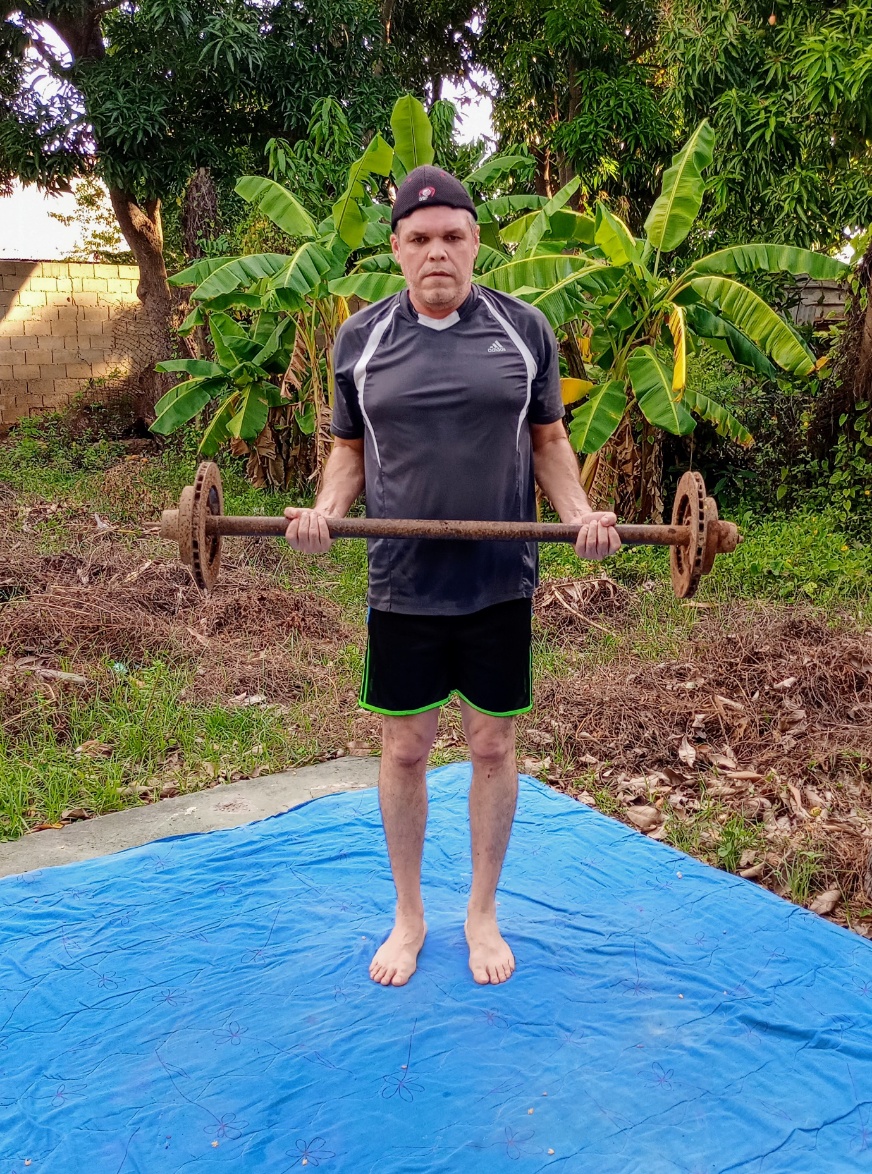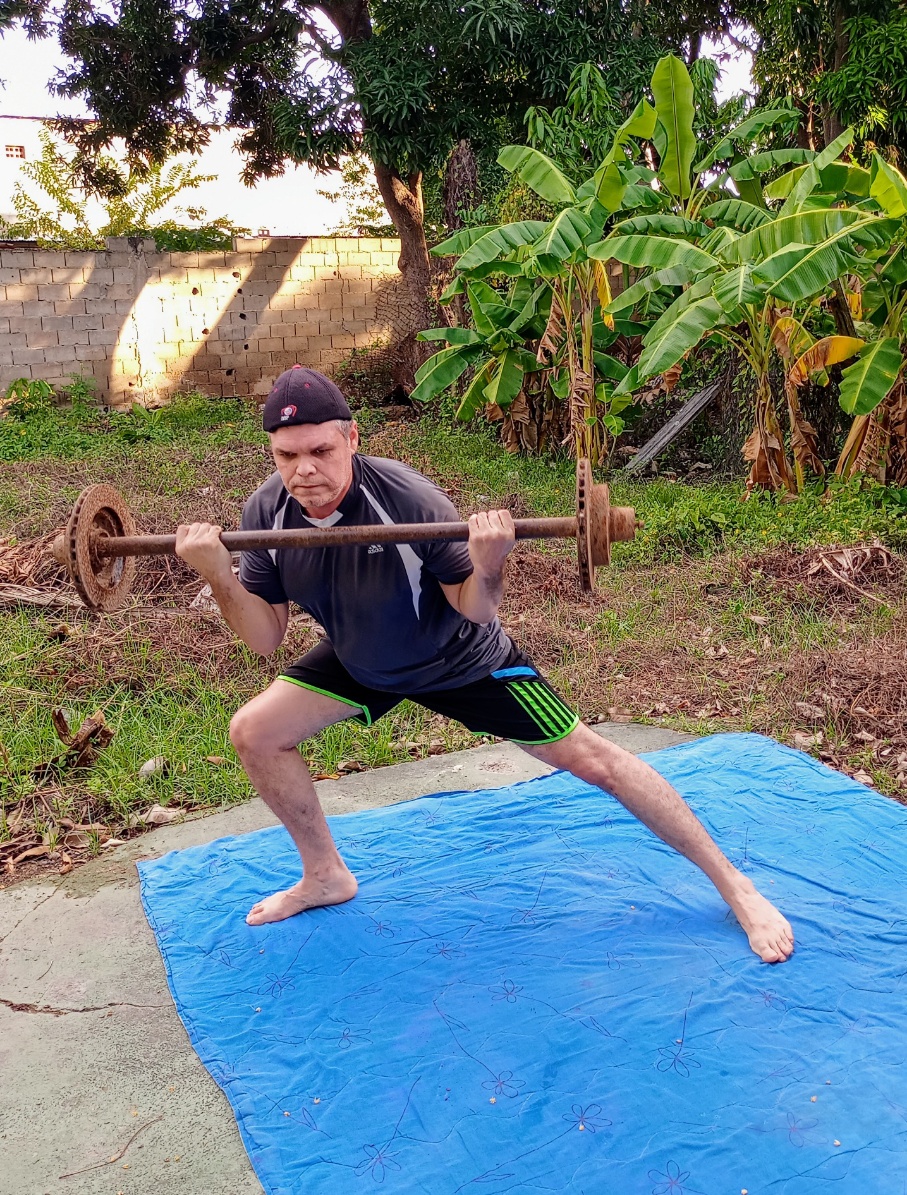 Lateral lunge + biceps

Powerful exercise for the whole body. Standing with legs almost together. In this case, the weight or the material is located at the waist with the arms flexed in an L shape. Once in position, we stride to the right, here the left leg is extended and the right leg bent. We maintain the stride and execute the biceps exercise, flexing the arms raising the weight to chest level. We return to the initial position and now the stride comes to the left, flex the arms upwards to execute the biceps exercise. 10 repetitions per side in 4 series.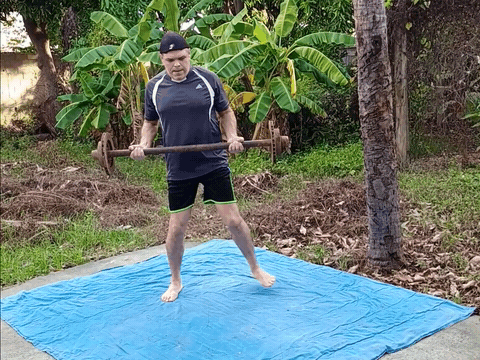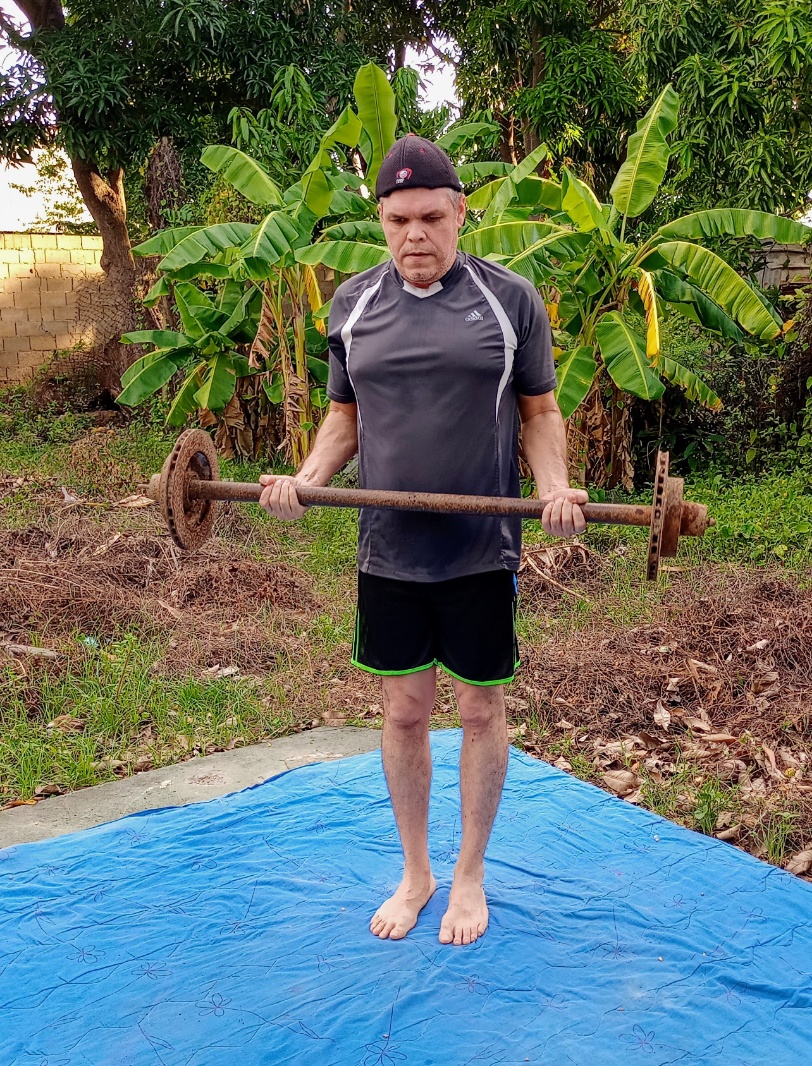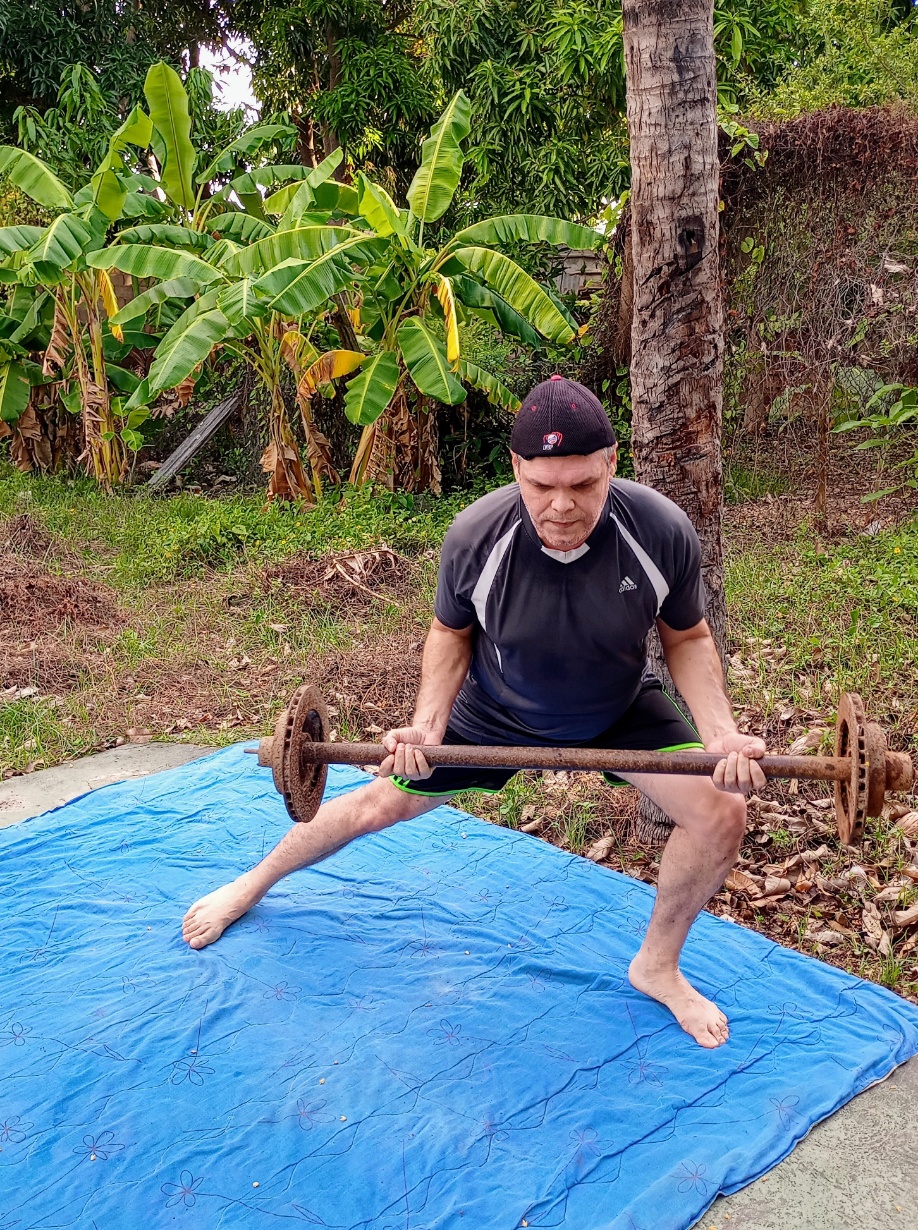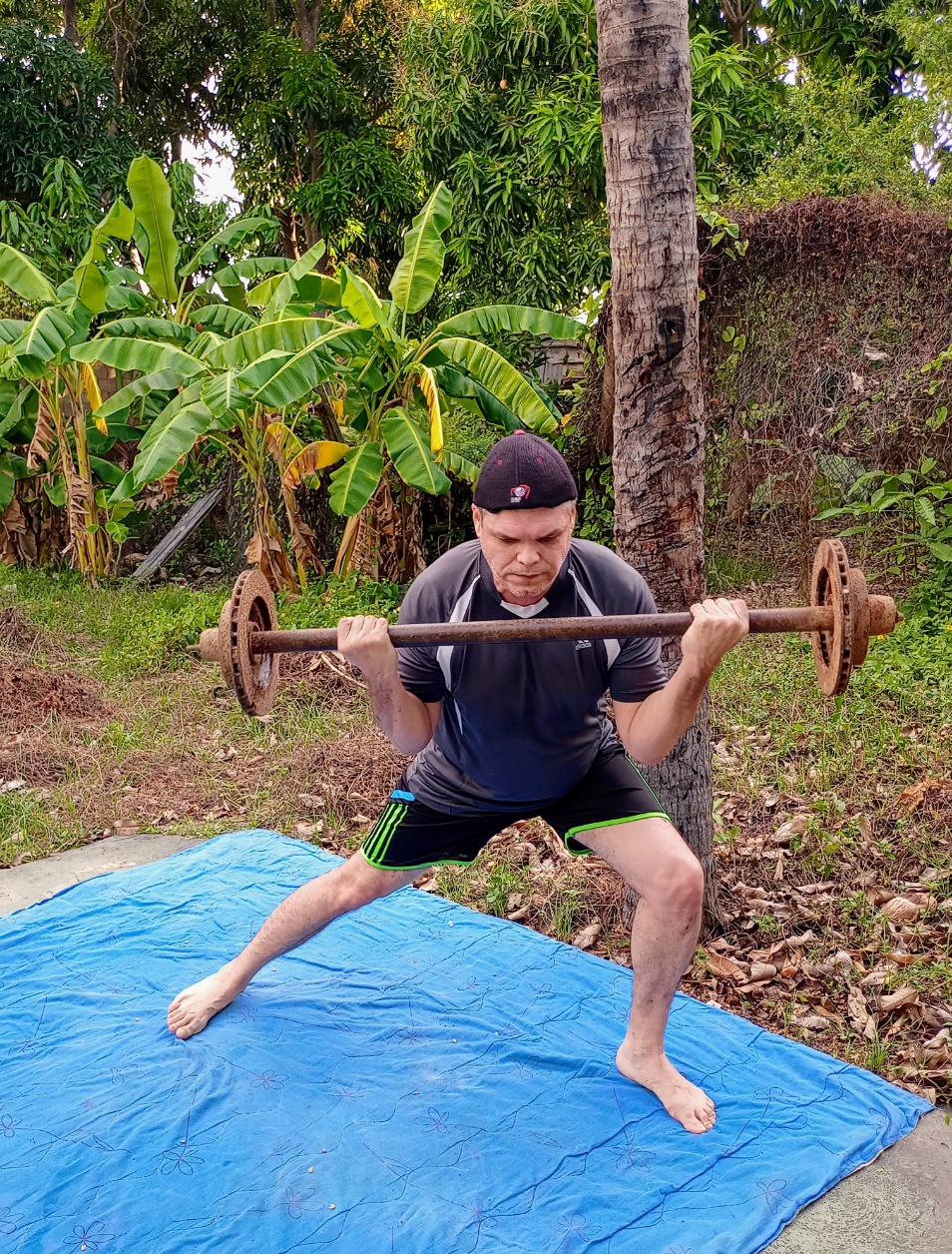 Sentadilla + elevación frontal con peso
De pie con piernas abiertas. Brazos hacia abajo agarrando el material o la pesa. Despegamos un poco la pesa del cuerpo para que no pegue al momento de hacer la sentadilla. Ejecutamos la sentadilla, estando abajo y manteniendo los brazos extendidos elevamos la pesa a nivel del pecho. Subimos, volvemos a postura inicial y repetimos el ejercicio en 10 oportunidades por 4 series.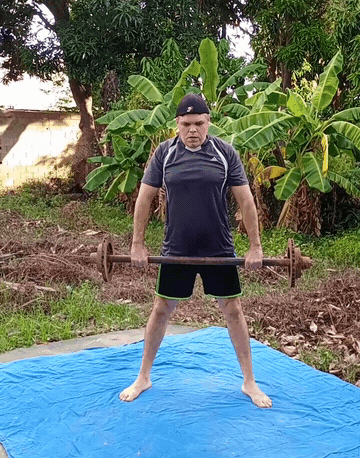 Squat + front raise with weight

Stand with legs spread. Arms down gripping material or weight. We detach the weight a bit from the body so that it does not hit when doing the squat. We execute the squat, being down and keeping the arms extended, we raise the weight to chest level. We go up, return to the starting position and repeat the exercise 10 times for 4 series.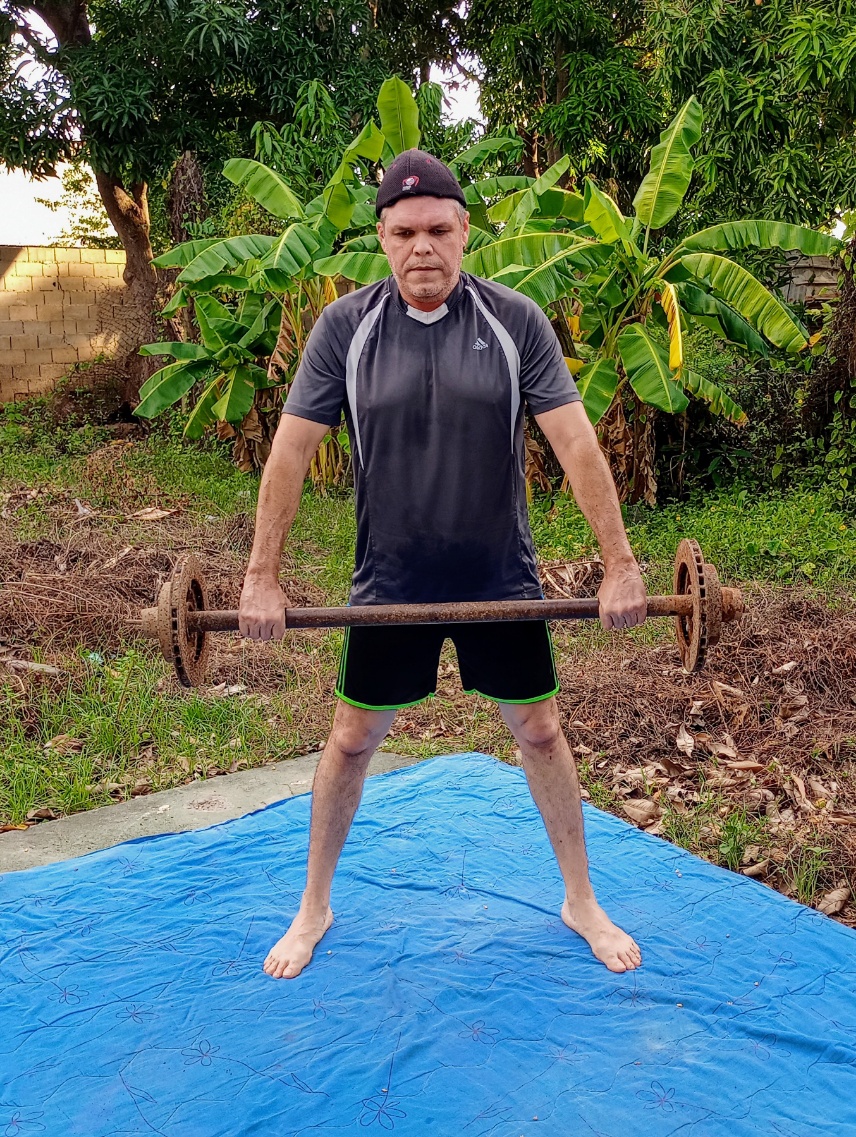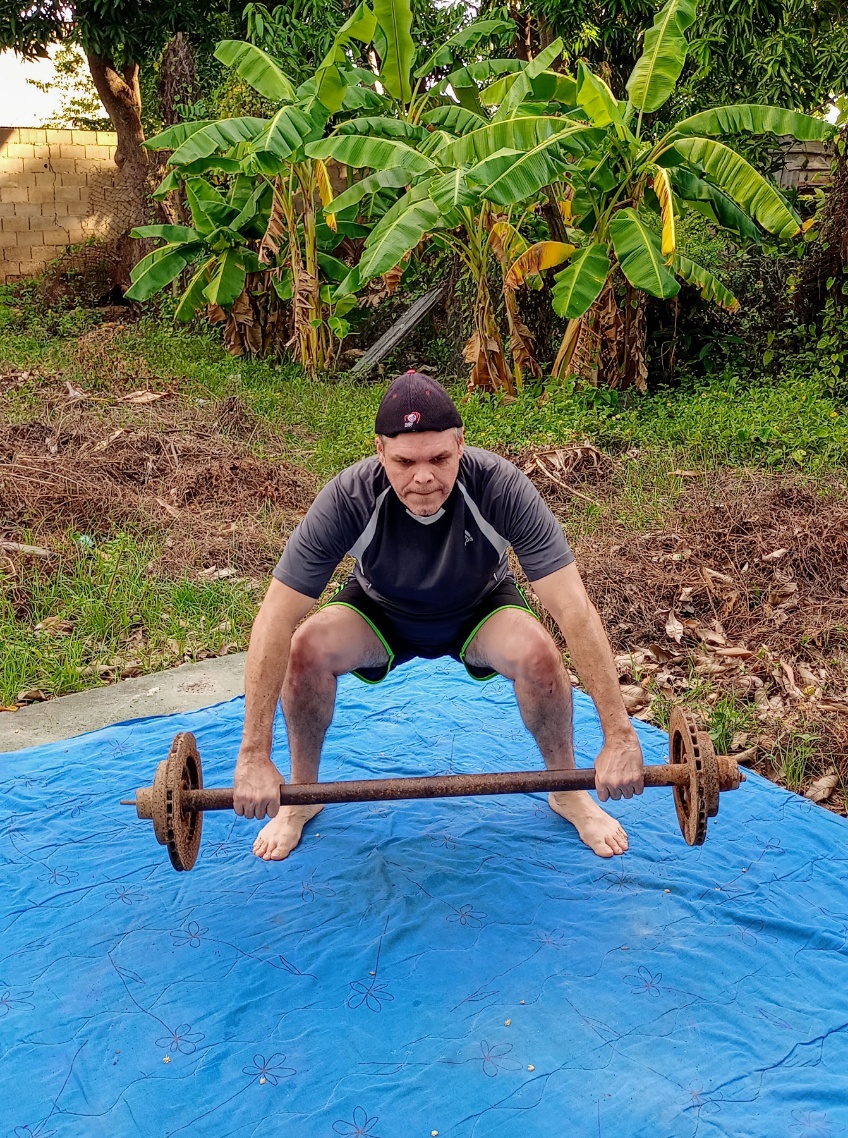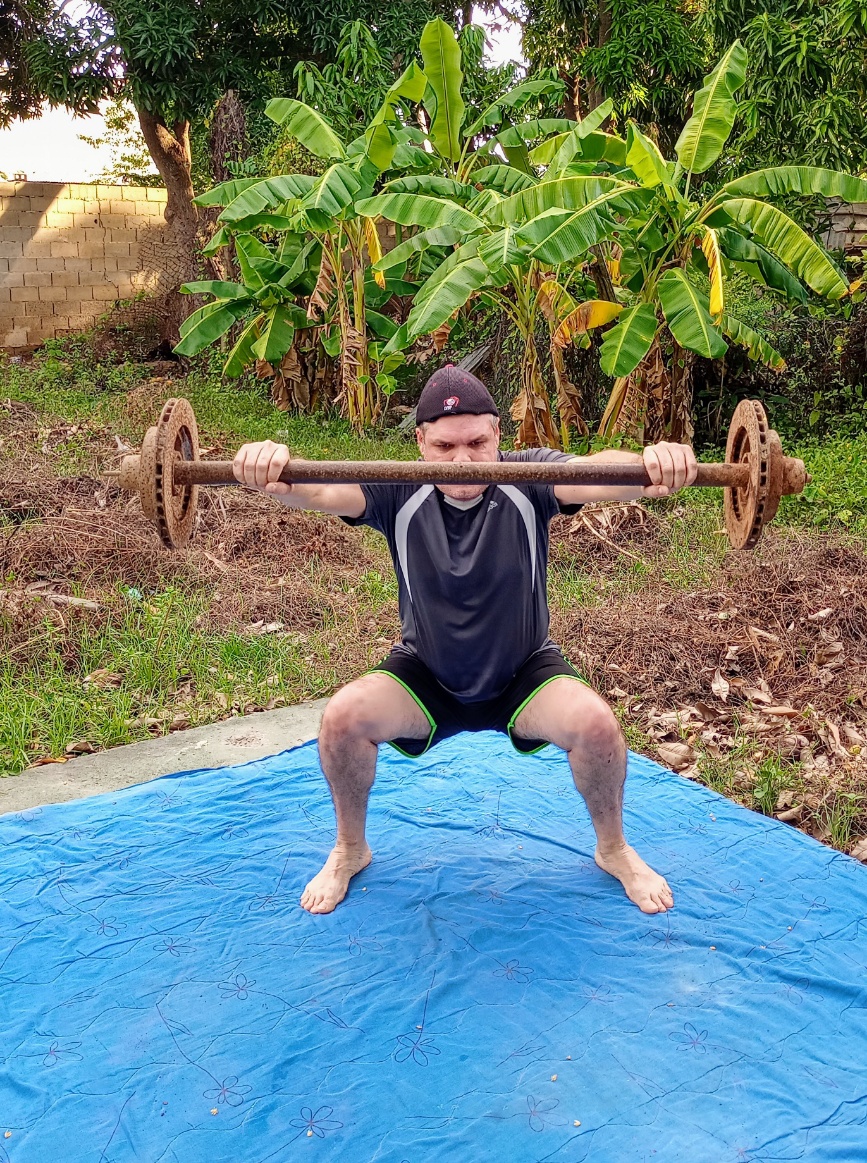 Relajación Corporal
Luego de esta fabulosa rutina, nos vamos con la relajación muscular. Paso necesario para que el cuerpo vuelva a su estado inicial.
Body Relaxation

After this fabulous routine, we go with muscle relaxation. A necessary step for the body to return to its initial state.

Giro de hombros hacia atrás
Nos ubicamos de pie. Brazos hacia abajo. Iniciamos a girar los hombros hacia atrás. Con el movimiento los brazos se abren un poco. 3 minutos de acción. Repitamos y exhalamos.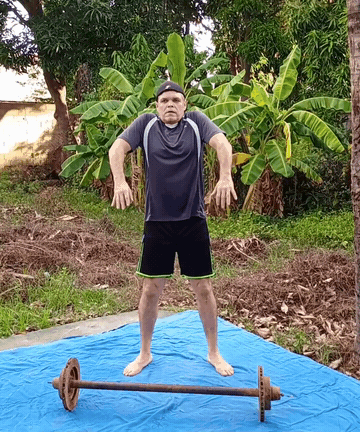 Shoulder roll back

We stand. Arms down. We begin to roll the shoulders back. With the movement the arms open a little. 3 minutes of action. Repeat and exhale.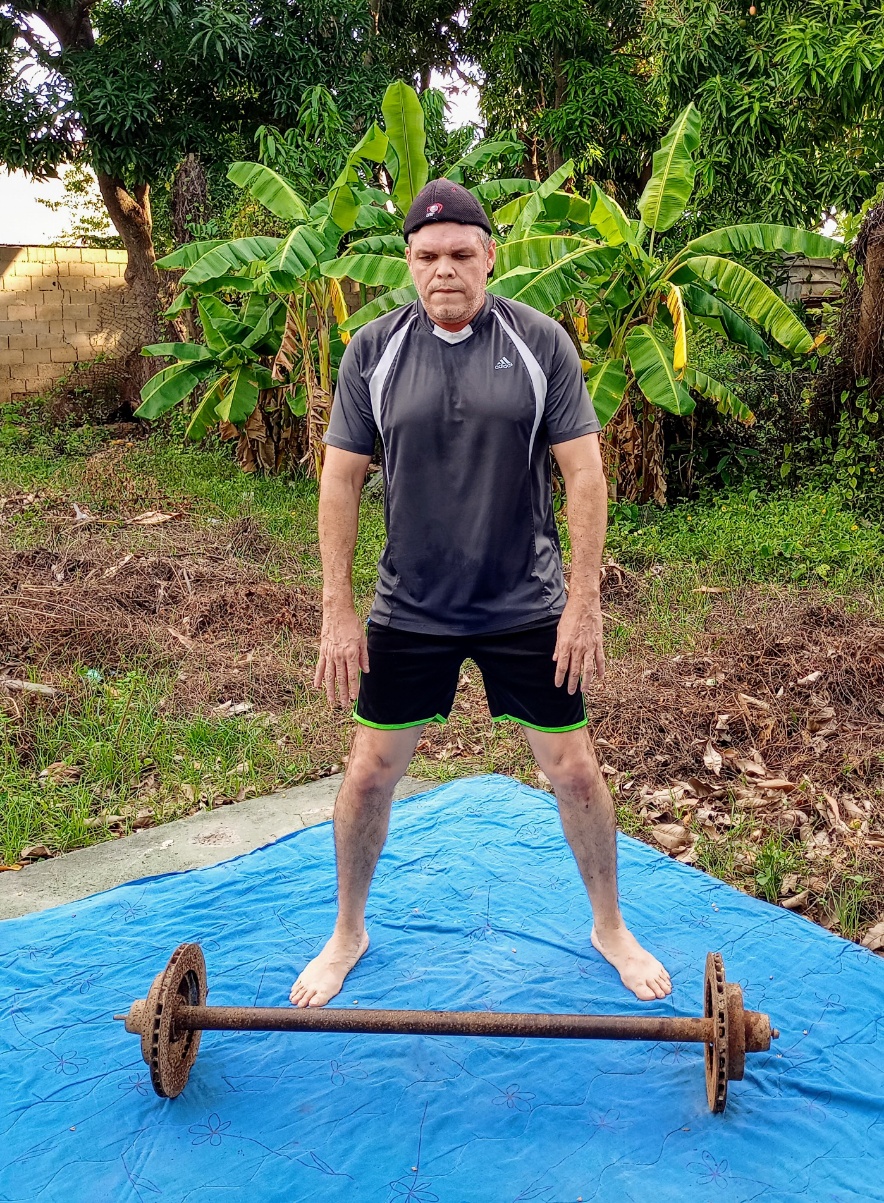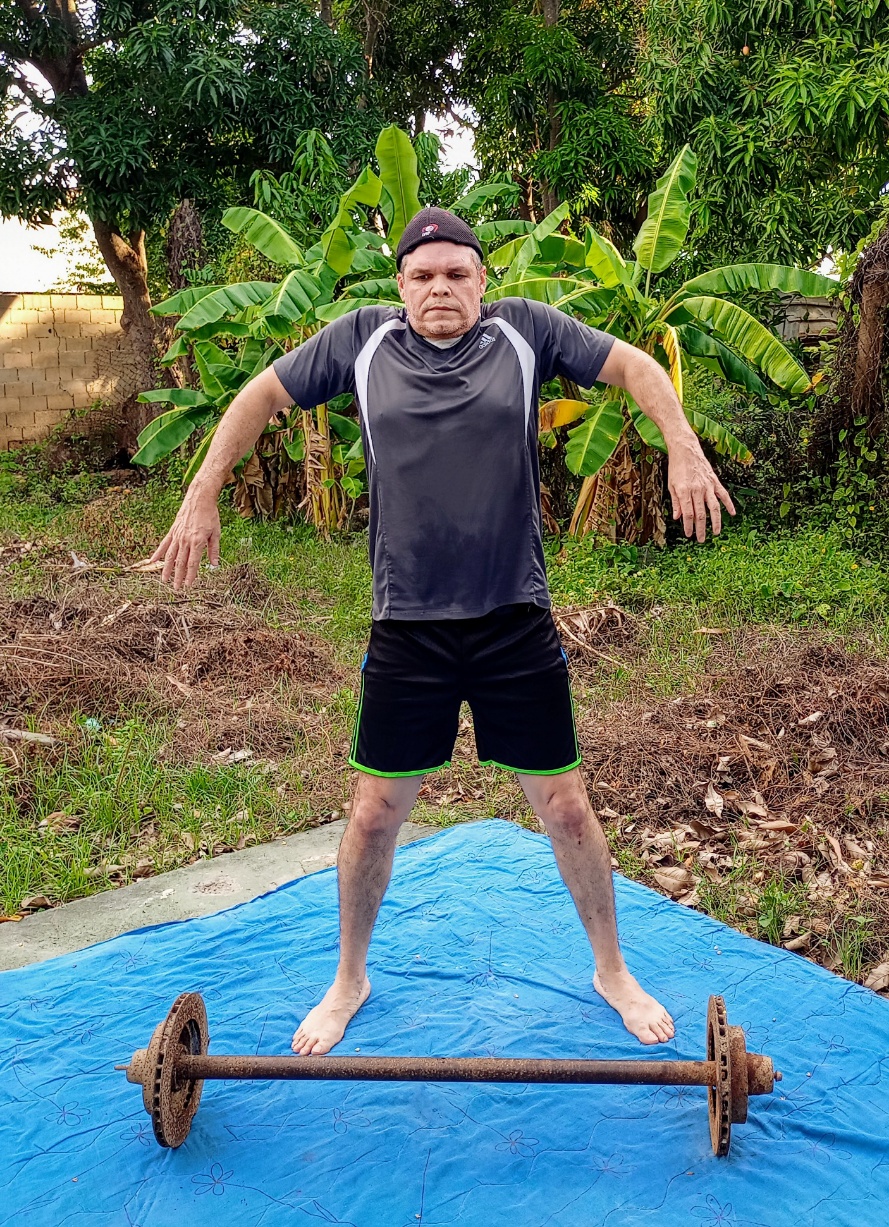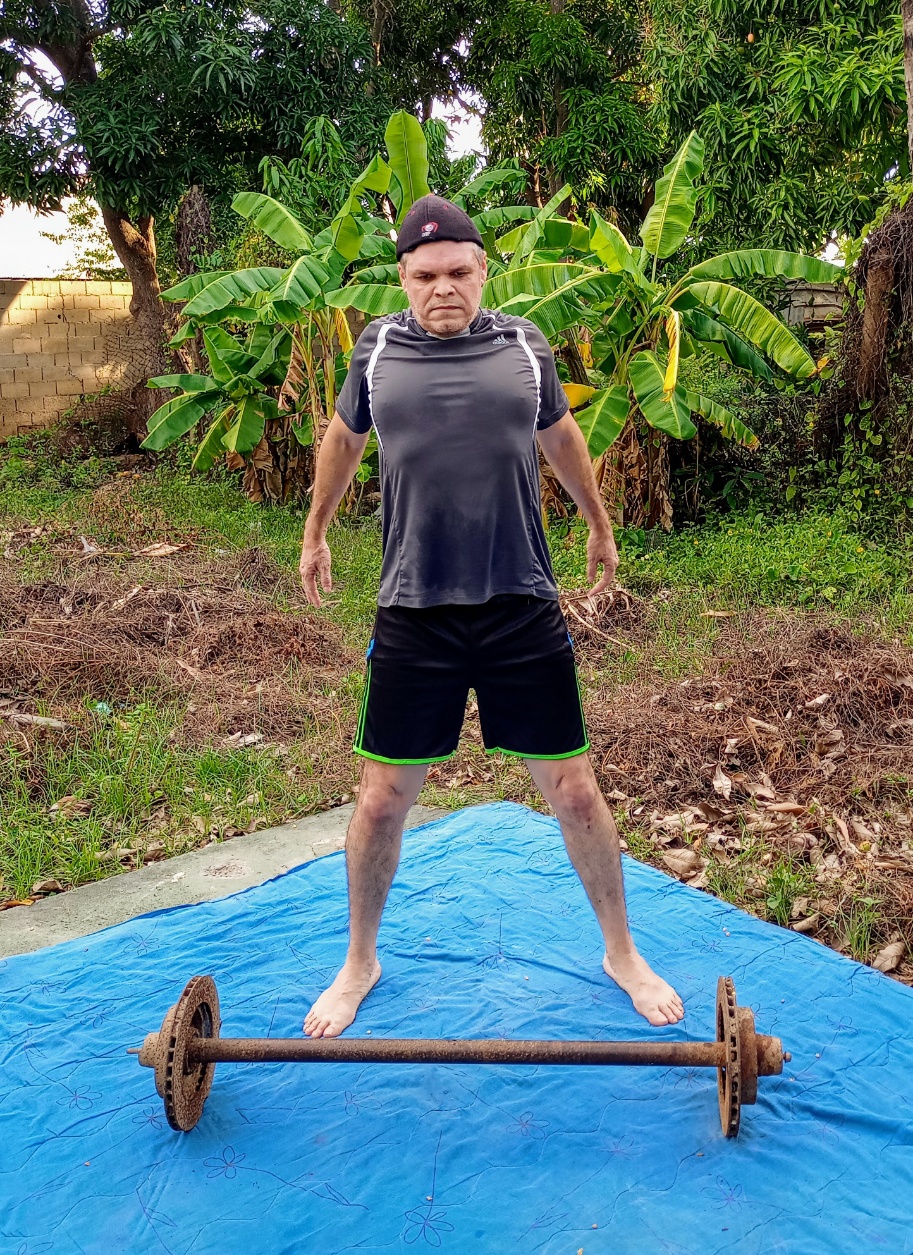 Estamos orgullosos de llevar a toda nuestra gente bienestar para todo su cuerpo. Nos sentimos felices que todos ustedes sean portadores de toda la acción que motiva, que emociona y divierte en cada momento. Ustedes nos inspiran. Saludos y hasta pronto.
We are proud to bring wellness to all of our people for their entire body. We are happy that all of you are carriers of all the action that motivates, excites and amuses at every moment. You inspire us. Greetings and see you soon.
...Gracias Por Visitar...
...Thanks for visiting...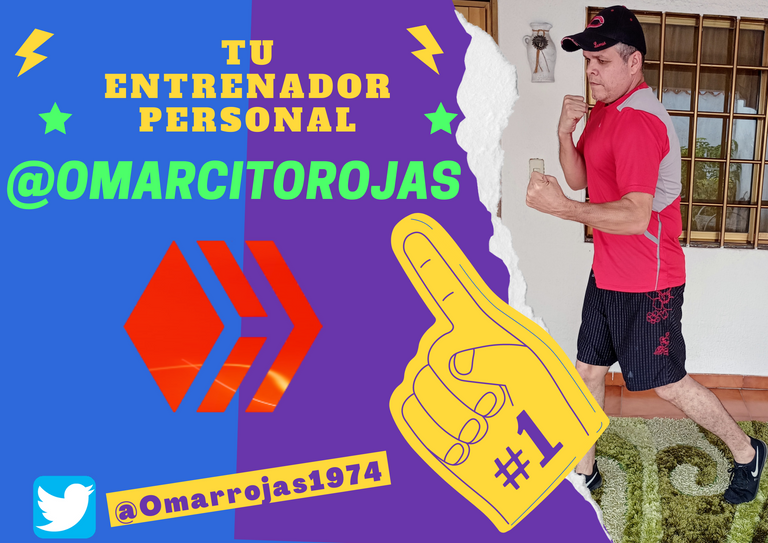 Imágenes Fotográficas, tomadas por mi amor Suhaill Núñez.
Photographic images, taken by my love Suhaill Núñez.
Sorry. English is not our native language. Therefore, a web translator is used for texts in English. (Spanishdict)
---
---